(With training camps starting soon around the league, we're looking ahead at the 2019 fantasy football season and attempting to answer the burning questions around the league. For each team, we'll ask, and hopefully answer, 3-4 questions about their season to come in fantasy. This is 100 Questions.)
From a historical perspective, the Jacksonville Jaguars 2017 season looks like an aberration. This is a team that hasn't won more than 5 games or finished better than third in the division in any of the last eight years outside of that season, when it went 10-6, won the division, and came a hair away from a Super Bowl appearance.
But that's as of now. If the Jaguars, still with a strong defense and now with a quarterback who isn't Blake Bortles, can put things back together in 2019 and going forward, then the regression in 2018 will be the historical aberration, and Jason in The Good Place will be so happy. But can they?
#20: What is Nick Foles' ceiling?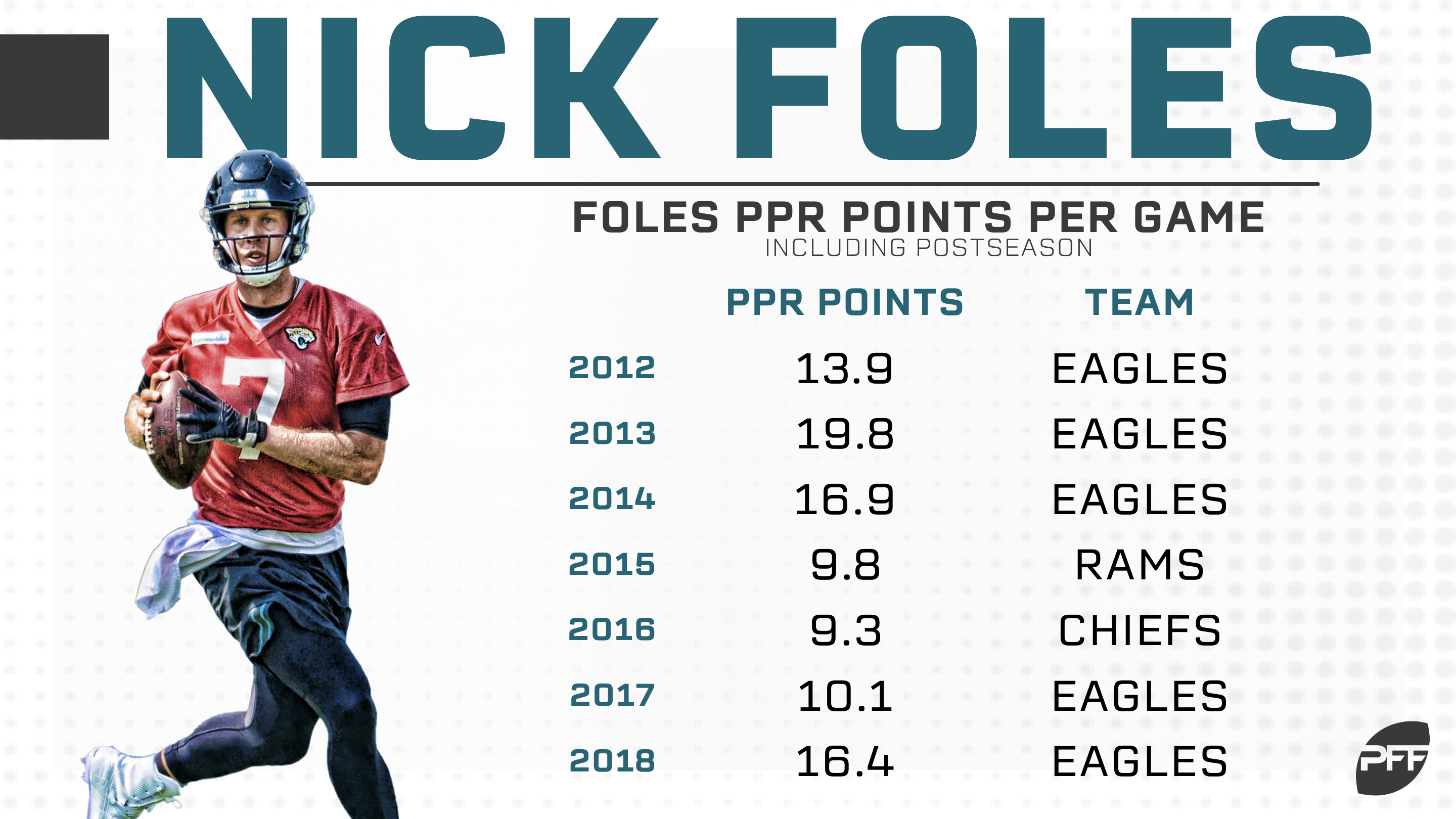 Foles started eight regular-season games for the Eagles in the last two years. He had one four-touchdown game each year, and totaled four touchdown passes in the other six games combined. That's a Ryan Fitzpatrick-esque range of outcomes. And it doesn't stop there — he's been a wide-ranging guy his whole career, from his monster 2013 with 27 touchdowns and 2 interceptions to his miserable 2015 with a 7:10 ratio and a lost job. Now, he's tasked with heading up a Jaguars team that doesn't need him to be a monster, but does need an improvement on the five-year tenure of Bortles that never saw a PFF grade of even 70.0.
Best guess: The question was about ceiling. Foles has displayed a ceiling of one of the league's elite fantasy quarterbacks, even if it's been six years now since it has made an appearance. And the sticking point for fantasy is that the Jaguars probably aren't even going to try to access that ceiling. Foles is there to hand the ball to Leonard Fournette, let the defense do its thing, and pass just well enough not to screw things up. Foles is the No. 26 QB in Fantasy Football Calculator ADP, No. 28 QB in our PFF Fantasy staff rankings, and not worth a draft pick outside of super-deep and/or two-QB leagues.
#21: Speaking of Leonard Fournette, can he rebound?
You'd have to call Fournette's two years in the league a disappointment at this point, especially considering the top-drafted running back the year before him was Ezekiel Elliott and after was Saquon Barkley. He hasn't been bad, but he certainly hasn't been top-four-pick-worthy (or as top-four-pick-worthy as it's possible for a running back to be). Add to that a 2018 that saw him miss time to injury and suspension, and he's underwhelmed.
Best guess: But! For fantasy, we don't care about quality as much as quantity, as our own Scott Barrett has shown. Fournette doesn't have to be a monster on a per-touch basis if he's dominating backfield touches, and with a backfield that includes Alfred Blue, Benny Cunningham, Thomas Rawls, and Ryquell Armstead as his primary competition four touches, there should be plenty of quantity — even more if his increased work in the passing game from 2018 continues. You can get him 14th among running backs right now, but he's 12th in our staff ranks.
#22: Is it even worth trying to sort out the receiver depth chart?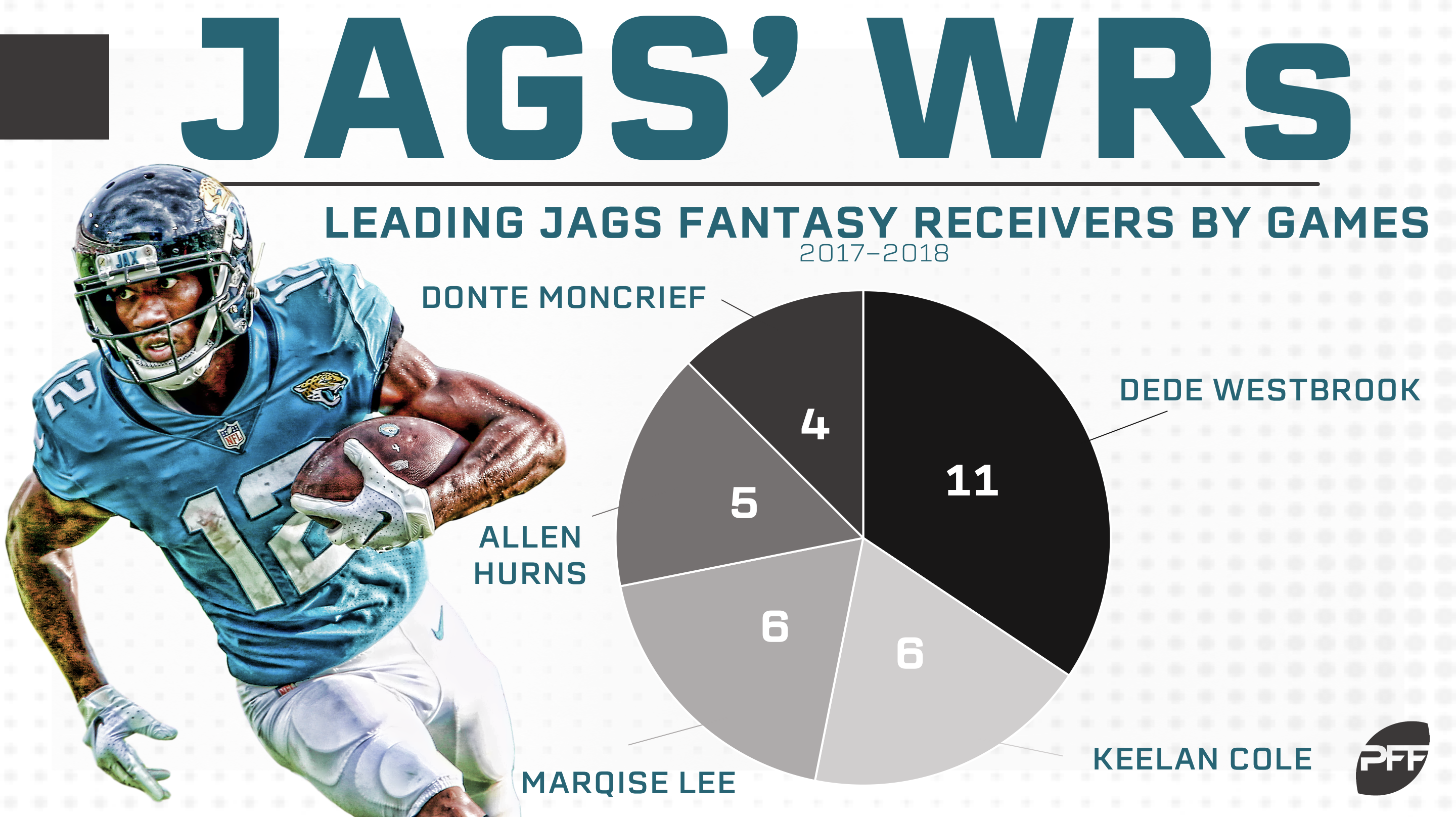 The Jaguars have played 32 games the last two years (obviously). Marqise Lee and Allen Hurns played in 2017 and not 2018; Donte Moncrief played in 2018 and not 2017. Of the other relevant names, Dede Westbrook and Keelan Cole appeared in both seasons, but neither was relevant for all 32. So there's a mishmash of players who have led the team in receiver PPR scoring in a given game, with Westbrook the closest thing we have to a standout. Lee should return from injury this season, with Westbrook and Cole still around, plus Chris Conley, D.J. Chark, even Terrelle Pryor.
Best guess: Probably not. Westbrook is currently the team's highest-drafted and highest-ranked receiver, while Lee has been called the likely No. 1 whenever he's 100% but that might not be for a bit, and Conley was described as the most impressive in offseason workouts. Just like with Foles, though, this isn't likely to be an offense that is pass-heavy enough to matter for fantasy, so no matter who takes the No. 1 gig, you probably won't care.