The draft positions of the 2019 running back prospects will inform the delay and duration of their eventual opportunities, but that doesn't mean you should sort those backs by that order for fantasy football and call it a day. Some backs are better or worse equipped to contribute in fantasy because of their red zone and receiving aptitudes.
I've tried to identify the important plus (+), neutral (=), and minus (-) contributors in those aspects of the game and sort them into their likely future roles.
If that provides more detail than you care to know, you can check out the staff's dynasty rookie rankings.
(College player names link to my personal profiles of them on Twitter.)
Looks like an early-down back

I only have a pair of projected early-down backs in my top 10 rookies at the position for fantasy, and Rodney Anderson and Elijah Holyfield earn that consideration with their touchdown potential. They were near the top of the position with 25 and 26 bench reps at the combine, respectively, and Anderson was also a positional leader scoring a touchdown on 8.0% of his college carries. Benny Snell is their peer in terms of size, style, and college scoring, but he fell short of standout with 16 bench reps. That gives me some concerns for his ability to play at the next level of competition and drops him a few spots in my rankings.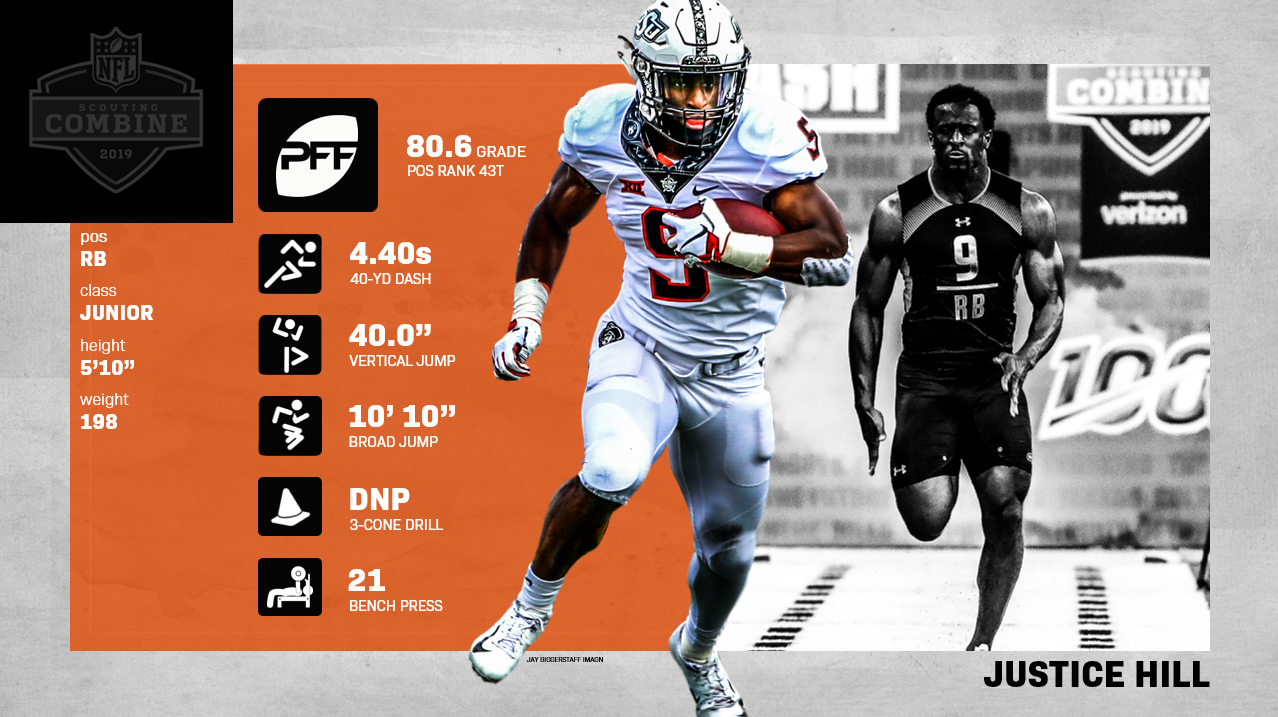 Bryce Love and Justice Hill are likely too small to be impact red-zone options, but their quickness and athleticism offer them chances to score from longer distances similar to players like Jamaal Charles and Phillip Lindsay. They also suggest more potential to catch passes than Anderson and Holyfield, but neither player was used that way in college. Love and Hill caught a pass on just 7.9 and 7.2% of their college touches, respectively.
The rest of the early-down candidates have pronounced flaws but still plenty of reasons for optimism. Myles Gaskin and Karan Higdon would be small to carry fantasy-relevant NFL workloads, but the former was a prolific college scorer with 63 touchdowns in 4 years at Washington and the latter an impressive combine performer with a 4.49-second 40 time and 21 bench reps at his size. Ryquell Armstead and LJ Scott had solid speed and quickness combine times, as well, but both had worryingly low college yards-per-carry averages. Jordan Scarlett was a good combine performer, but he hurt his chances of being drafted with his marijuana and credit card fraud suspensions.
Looks like a third-down back

Trayveon Williams is definitely a projection to be a third-down back because his 298-touch 2018 SEC season and 9.9% college reception ratio point to three-down potential. But Williams' times and measurables point strongly to a passing-down role. Most of his best comps, like Duke Johnson and Elijah McGuire, skewed that way in the pros. Don't sleep on his fantasy potential regardless.
Tony Pollard, in contrast, put up an extreme 42.8% college reception ratio. That is one of the highest ratios in recent history and could make him an impact receiving back in PPR leagues if he doesn't settle as an exclusive special teams player.
Like Williams, Travis Homer is big enough to make you question his ceiling. In addition to his 10.0% college reception ratio, solid pass-blocking and a tendency to fumble could push him to mostly receiving work on third downs.
Looks like an every-down back

Every-down backs offer the most potential for fantasy production, and the trio of Josh Jacobs, David Montgomery, and Damien Harris will likely land at the top of most rookie rankings in some order. None of those backs is a Saquon Barkley or Ezekiel Elliott no-brainer first-round prospect, but Jacobs stands out as the best fantasy prospect thanks to great size and an excellent 16.1% college reception ratio.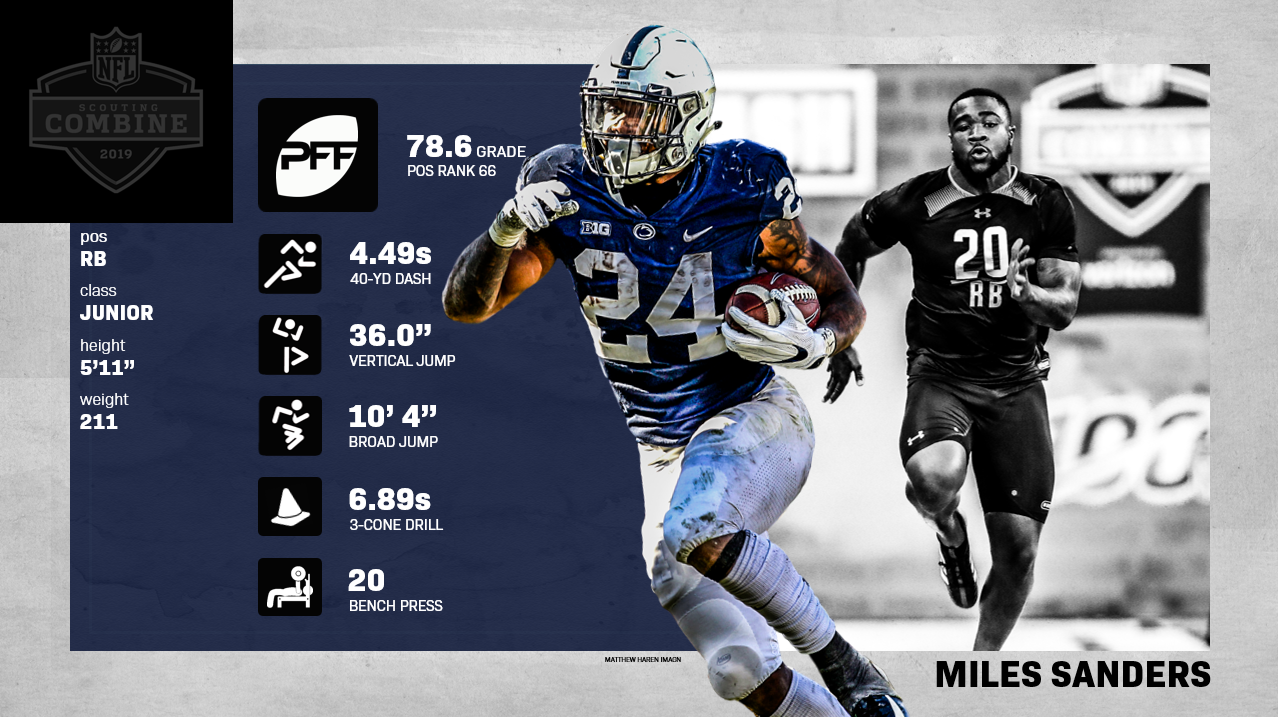 Speaking of Barkley, his heir at Penn State, Miles Sanders, is one of my favorite prospect sleepers. Thanks to Barkley, Sanders has just one year of major college workload. But his efficiency in limited opportunities plus excellent 4.19-second shuttle and 6.89-second three-cone times bodes well for a better pro career similar to his comp Sony Michel. Dexter Williams is also inexperienced and showed similar times in the combine quickness drills but will likely fall further in the draft and on fantasy boards because of an arrest and suspension in his college career.
Devin Singletary and Darrell Henderson round out my top-seven rookie backs. Singletary isn't as undersized as his 203-pound weight would suggest since he's just 5-7. He actually scored 67 times in 3 seasons at Florida Atlantic. Henderson had the third-highest college receiving ratio (12.8%) of the notable running back prospects.
Mike Weber and Devine Ozigbo are lower-level prospects who also caught a pass on more than a 10th of their college touches. Alexander Mattison and Alex Barnes cannot boast the same, but they showed good quickness in the shuttle and three-cone drills and averaged more than 8.0 yards per reception in college on their smaller volumes.