Pundits love to remind you that there are no sure things in the NFL draft. That doesn't, however, mean that every prospect presents the same level of risk. At PFF, we firmly believe that producing at a high level in college is one of the best predictors of success in the NFL. It at least gives you a high-floor starting point as a prospect.
Now, anyone can tell you that Joe Burrow or Chase Young is legit and graded out absurdly well for us here at PFF. These are the 10 prospects who are a tier or two below that, but have graded out in such an elite manner that we feel great about how they'll project to the NFL.
CB Kristian Fulton, LSU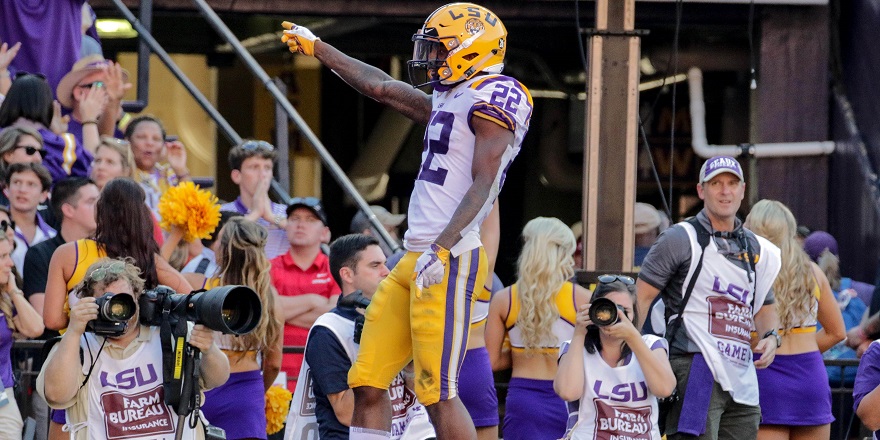 © Derick E Hingle-USA TODAY Sports
Fulton has one of the most impressive grading profiles we've ever seen from an SEC cornerback. The biggest thing with Fulton has been the consistency. The redshirt junior has back-to-back seasons of elite grades and elite grades in conference play as well. He outgraded Greedy Williams in 2018 with an 89.7 coverage grade and followed that up with an 88.9 coverage grade this year. For his career in SEC play, Fulton's earned a 92.8 coverage grade and allowed a completion percentage of only 41.3 against. Those are some damn good numbers to put up when looking ahead to the NFL.
DT Jordan Elliott, Missouri
It may surprise you to find out that it was Elliott and not Auburn's Derrick Brown who was the highest-graded defensive tackle in all of college football last season. Elliott earned a 92.4 overall grade this season with a 91.1 in both run defense and as a pass-rusher. For some context, Brown earned a 90.8 overall grade this season while former SEC defensive tackles Quinnen Williams and Jeffery Simmons earned grades of 96.0 and 92.8, respectively, last season. That's some nice company to keep for a guy with little to no first-round buzz at the moment.
OT Josh Jones, Houston
There are two boxes we love to see ticked from an offensive line prospect. The first, quite obviously, is pass protection proficiency. If you can't block up college defensive linemen, it ain't going to get easier in the NFL. The second is continued improvement over the course of a career. Offensive line is such a technical position that if someone isn't putting in the work to refine their craft, they won't last long in the league. No one comes to the NFL a finished product, and so to see a guy make improvements over the years is necessary. Jones ticks both those boxes with flying colors. He allowed all of four pressures on 325 pass-blocking snaps this past season and saw his pass-blocking grade improve every single year of his career. His most notable leap came from junior to senior year, where his overall grade jumped from 71.9 to 93.2.
OG Netane Muti, Fresno State
Muti has been tossing college defensive lineman around since the first day he stepped on a college football field back in 2017. That year, he allowed only 11 pressures and earned an 80.4 overall grade. Injuries have limited him to only 318 snaps since between left tackle and left guard, but on those he's allowed only three pressures. Back in that 2017 season though, Muti ranked third among all guards in the nation with seven big-time run blocks. His highlight tape is reminiscent of former top-10 pick Quenton Nelson in its utter physical dominance.
TE Hunter Bryant, Washington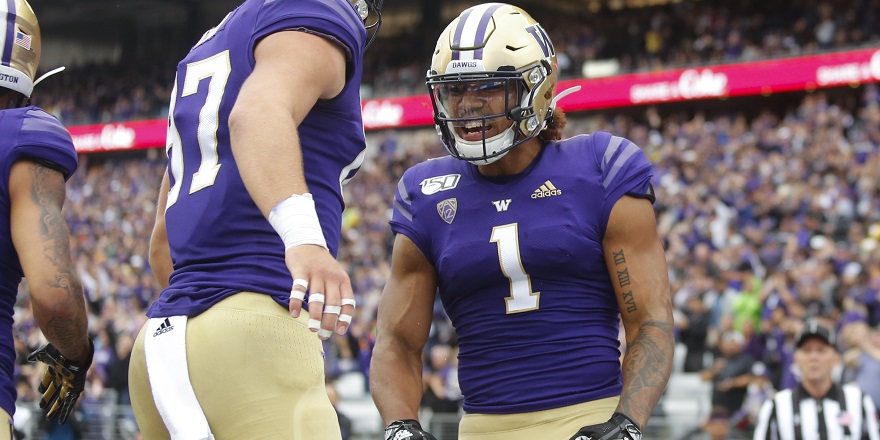 © Jennifer Buchanan-USA TODAY Sports
When Bryant has been on the football field for the Huskies, he's produced at an elite level — it's the whole "on the football field" part that was a struggle for Bryant his first couple seasons for the Huskies. He was stuck behind Drew Sample as a freshman/sophomore and missed much of 2018 with an offseason knee surgery. Because of that, he only saw 338 snaps over those two seasons, but still managed 569 yards on them. Fully healthy in 2019, Bryant broke out in a big way with 52 catches for 825 yards. Over his three-year career, Bryant has averaged 2.74 yards per route. For comparison, only FAU's Harrison Bryant averaged more than that among full-time tight ends this past season. The Washington tight end is a bit of a tweener size-wise, but his movement skills are closer to a receiver than a tight end.
S Xavier McKinney, Alabama
On 1,848 snaps in three seasons at Alabama, McKinney has proven that there's not much on the football field he can't do. He's earned grades of 84.7 in run defense, 90.9 as a pass-rusher, and 91.2 in coverage for his career. The true junior is as well-rounded a safety as exists in this draft class and has only been getting better. He's not only graded out exceptionally well in both seasons as a starter, but McKinney has actually improved his grade in every facet from 2018 to 2019.
Edge Curtis Weaver, Boise State
If Chase Young didn't exist, we'd talk a lot more about how dominant Weaver has been. Even with his effectiveness being limited by playing through an ankle injury down the stretch this season, Weaver still finished his second consecutive season with a pass-rushing grade over 92.0. In all three of his seasons at Boise State, he's had double-digit sacks and 20-plus combined sacks and hits. That's elite production and consistency. While the level of competition is certainly a concern, we haven't seen other group-of-five rushers put up numbers close to this.
OL Calvin Throckmorton, Oregon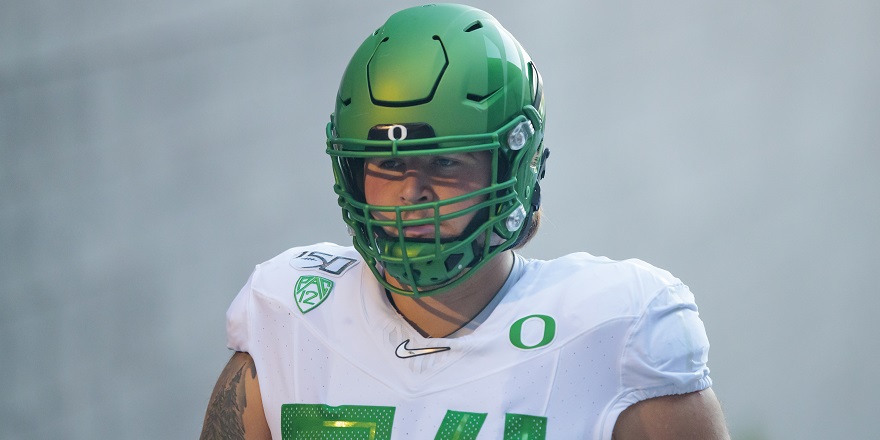 © Mark j Rebilas-USA TODAY Sports
We haven't quite seen an offensive lineman with the durability, versatility, and consistency quite like Throckmorton. The Oregon offensive lineman amassed 3,650 snaps in his career and took at least one at every single position along the offensive line. His main position though was right tackle, where he took 2,644 snaps and held up admirably in pass protection. He allowed only 18 pressures as a true freshman, then nine as a sophomore, 13 as a junior, and finally nine this past year as a senior. His best position is likely on the interior at the next level, which makes those numbers all the more encouraging.
WR Tee Higgins, Clemson
Even though he hasn't even averaged 100 yards a game in either this season or last season, Higgins has still graded out at an elite level for us. There are a few reasons for that. The first is that he rarely drops passes, with only six on over 120 catchable the past two seasons. The second is that he rarely plays in the second half for Clemson. Higgins actually finished sixth in the nation during the regular season averaging 3.59 yards per route. The final reason? Circus catches abound on Higgins highlight tape as he possesses some of the best ball skills in the country.
RB Zack Moss, Utah
We love running backs who can break tackles at the college level, as we've seen how well that translates to the NFL. Over the past three seasons, Moss has consistently been an elite tackle-breaking machine. His 204 broken tackles over that span are the second most in college football and his 0.37 broken tackles per attempt this past season is the third-best figure we've ever seen. Of his career 5.8 yards per carry average, 3.9 have come after contact. Those are all excellent figures for a running back prospect.