Georgia standout Jon Ledbetter, a 2015 four-star recruit and Peach State native, is a 6-foot-4, 280-pound chess piece with experience up and down the 'Dogs defensive line. And regardless of where he puts his hand in the ground, he is an impact run defender.
Among the 2019 draft class' 129 Power 5 defensive linemen, Ledbetter ranked seventh in run-defense grade (88.7) in 2018. He's now turned in 81.0-plus run-defense grades in each of the past two seasons in Athens, and his two-year run-defense grade (90.0) ranks ninth among the 85 Power 5 defensive linemen with 400-plus run-defense snaps since 2017.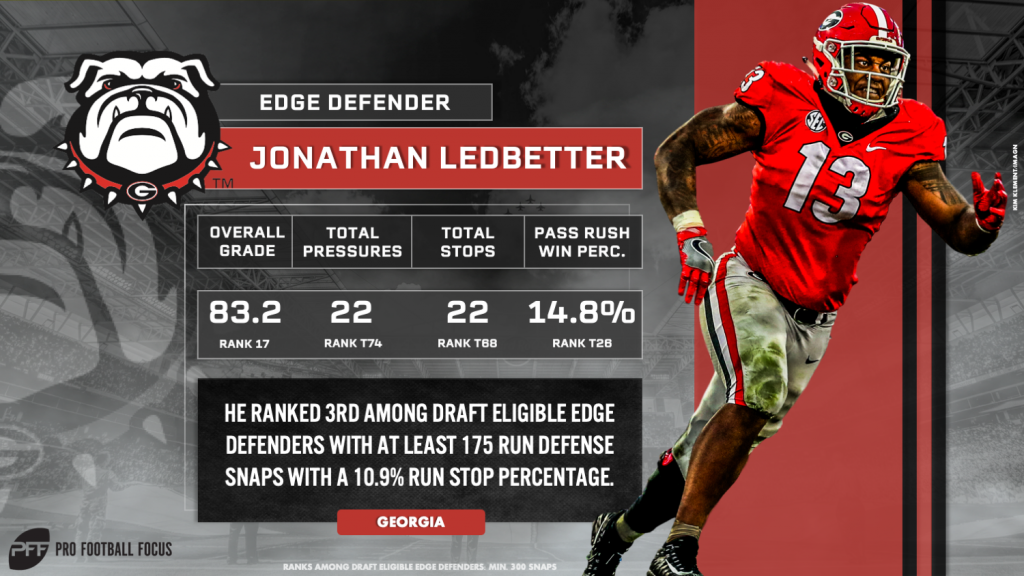 That's, well, very good. And it's as good as it is hard to make happen. 
"A lot goes into it," Ledbetter said of his run defense in a March interview with Pro Football Focus. "You don't just become a great football player or great run defender overnight… It just goes back to putting those man hours in, watching tape, studying my opponents, learning tendencies, learning backfield sets and where the strength was set.
"Hard work, definitely technique, breaking down film, learning tendencies, pre-snap and post-snap reads; that's pretty much it."
So much goes into Ledbetter's craft, and the results speak for themselves. In addition to his impressive run-defense grades, he made first contact with the ball carrier on an absurd 16.06% of his run-defense snaps in 2018, ranking fourth among draft-eligible defensive linemen in the Power 5.
The lion's share of Ledbetter's stellar run defense is a product of his own work ethic, attention to detail and tape study, but he also threw in coach Kirby Smart's Bloody Tuesdays and Bloody Wednesdays as a key player in his positive development.
"It's exactly what it sounds like," Ledbetter said. "They're our longer practices. We start off with a lot of handwork… We do good on good, ones on ones. It's ones on ones the whole time. A lot of teams won't do that; a lot of teams will just go against their scout team. But at Georgia, to beat the best, you have to go against the best. That's what's made the game so much easier.
"At first, we didn't like it. I'm going to be honest with you… But once we started embracing it and everyone started getting after it, it was just like let's just get the man across from you better."
Georgia's good on good practices in addition to the program's willingness to move Ledbetter all over the defense directly contributed to his success against the run and now his rising draft stock.
In his career at UGA, Ledbetter has played 251 defensive snaps shaded over the guards, 519 shaded over the tackles and 537 outside of the tackles.
"Georgia's definitely prepared me for the next level from the standpoint of versatility, being able to move around and play different positions," Ledbetter said.
Of course, Ledbetter is well aware the NFL is increasingly transitioning into a passing league and therefore needs to improve as a pass rusher to be a three-down player at the next level. To do so, he is working with pass-rush specialist Chuck Smith in Atlanta to add to his moves list and improve eye discipline, angles and timing.
"It just takes practice," Ledbetter said. "Practice really makes perfect. And my tape is a testament to that. I pride myself on practice every day. Practices are like games for me. I make it my mission to go out there and give it my all because it will make the game 10 times easier."
Ledbetter earned a 67.2 pass-rushing grade a year ago, ranking 46th in the draft class among qualifying defensive linemen, but he has the tools and drive to improve on such marks at the next level and become a complete defensive lineman in the NFL.