While there isn't a surefire top-10 interior defender pick in the 2022 NFL Draft, there are very good players in the late first and early second rounds who will become starters in the NFL.
With NFL defenses looking at three-techniques and nose tackles to man their run defenses at a high level, those positions are becoming more valuable in the NFL. The Los Angeles Chargers, set to pick at No. 17 overall, are going to be a prime spot for one of the top players at this position, as their scheme necessitates great interior run defense. Jordan Davis seems like the perfect fit for them, but it's another Georgia Bulldog who takes the top spot in the overall rankings.  
---
Click here for more PFF tools:
Rankings & Projections | WR/CB Matchup Chart | NFL & NCAA Betting Dashboards | NFL Player Props Tool | NFL & NCAA Power Rankings
Best Bets Tool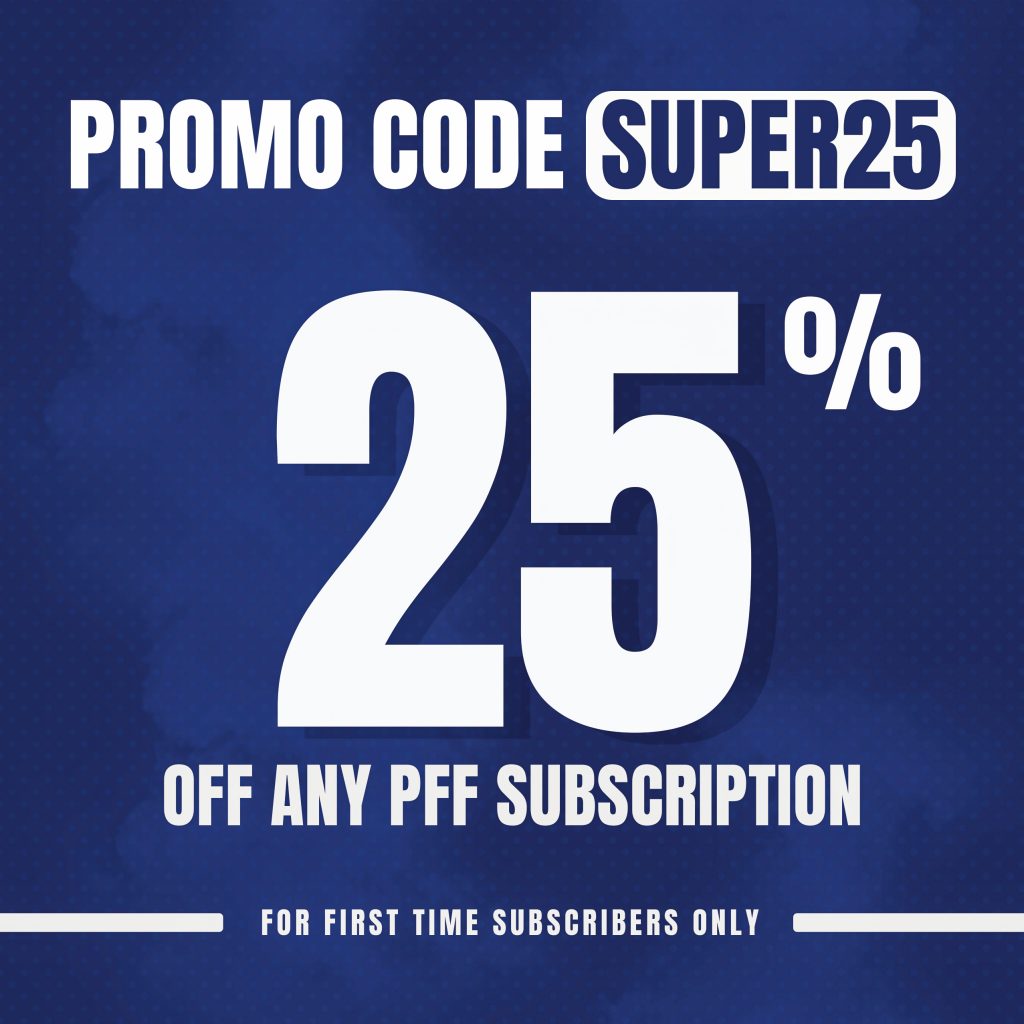 ---
Wyatt looks like a prototypical NFL three-technique at 6-foot-3 and 315 pounds, and he has the ability to kick down even further inside to play nose tackle. He still has room to grow from a technical standpoint, but he's shown glimpses of a great get-off and nice hand usage to root opposing guards on their spot and then blow past them. His development has been great as well. As a pass-rusher, his grade jumped by quite a bit from 2020 to 2021:
Devonte Wyatt Pass-Rush Grade on non-screen, non-RPO dropbacks 
| | |
| --- | --- |
| Season | Pass Rush Grade |
| 2019 | 74.6 |
| 2020 | 68.2 |
| 2021 | 88.2 |
Georgia tends to ask its interior defensive linemen to hold blocks and then make plays toward the ball carrier or quarterback as opposed to penetrating quickly off the snap, especially on early downs. This has allowed their "goblin" crew of linebackers to make huge splash plays chasing the ball down. NFL defenses are starting to play with those same techniques, but we still see a more penetrating style of defense for the most part. Wyatt's versatility is going to help him out in both cases. 
Projection: Late First Round
The ranking between Davis and Wyatt will really be in the eye of the beholder. Wyatt is closer to what we think of as an impact three-technique in the NFL, but Davis is just different. For such a big man — he's 6-foot-6, 340 pounds — his first step is as good as anyone at the position. Georgia was big on stunting its interior defensive players, and it only achieved success in those calls often because Davis could move quickly off the ball. He uses his strength extremely well to hold up offensive linemen in the running game and then make the tackle in his "secondary gap." Again, this is how Georgia likes to play its defensive linemen, and it remains to be seen what type of player Davis is in a one-gap system. 
The issues stem from his pass-rush acumen. He's still mostly a pocket-pusher, but he has a tendency to stop working his pass rush if the offensive line gives him a little bit of pushback and his first move doesn't work. Georgia's defense played 202 snaps of third-and-3 or longer — Davis played just 17 of those snaps. The coaching staff did not put him on the field in any obvious passing situations.
Whichever NFL team drafts him will have to be conscious of that, although Georgia has moved to putting as much speed on the field as possible in those down-and-distance situations. Wyatt played only 49 snaps as well, while Jalen Carter, a potential top pick in the 2023 NFL Draft, played 100. 
Projection: Late First Round
---
Related content for you:
2022 NFL Mock Draft: Jacksonville Jaguars select Mississippi State T Charles Cross at No. 1 overall, Kayvon Thibodeaux lands in Atlanta
via Seth Galina
---
Hall is one of the more underrated prospects in this class at any position. He plays three-technique like NFL teams want that player to play — he's long and explosive and is never satisfied with just pushing the pocket. Hall is also always working his hands and trying to beat guards with that explosiveness and quickness. He is a really violent player, but he does have his issues. At times he can play very high — almost jumping to get into his pass-rush moves — and buries his head into guards' chests and lose vision.
At 6-foot-6 and 260 pounds, Hall is also lean. You'd like to see him fill out more, but it does allow him to get some snaps on the edge and be able to play "inside-out," instead of Davis and Wyatt, who are "outside-in" type of players. 
swipe-rip from Logan Hall. Explosive day for him yesterday. pic.twitter.com/uz5jd1xjMJ

— Cory (@realcorykinnan) February 3, 2022
Teams will fall in love with Hall and think they can mold him into their image of a Michael Bennett–type of player. The Houston product could really be one of the steals of the draft. 
Projection: Early Second Round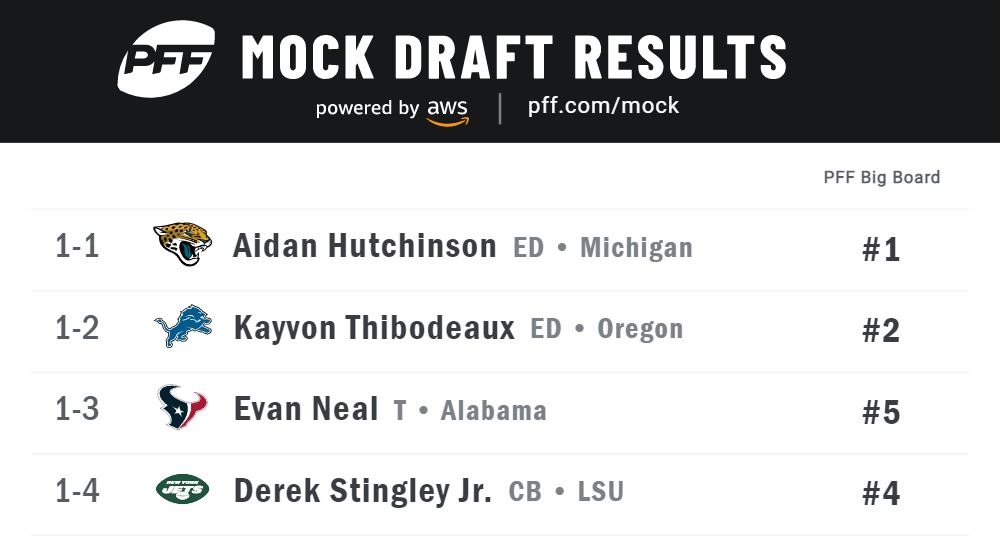 There is really great value in either Hall or Phidarian Mathis somewhere in the second round. I will always fall for a defensive lineman who is always trying to use his hands to beat offensive linemen rather than through brute strength.
Mathis certainly has the strength to do that, but he's not content unless he's trying to club and rip through the opposing lineman. When you look at him compared to Christian Barmore, who manned the same position a year prior at Alabama, you can see why Barmore was picked 38th overall and then had an outstanding rookie season as a pass-rusher, finishing with a 76.1 pass-rush grade but only a 44.7 run-defense grade.
Mathis is the opposite. His strength will allow him to play the run right away in his NFL career, but he doesn't have the same quickness that allowed Barmore to be a solid pass-rusher right off the bat. If Mathis falls below the middle of the second round, someone is getting a good player with really nice pass-rushing upside.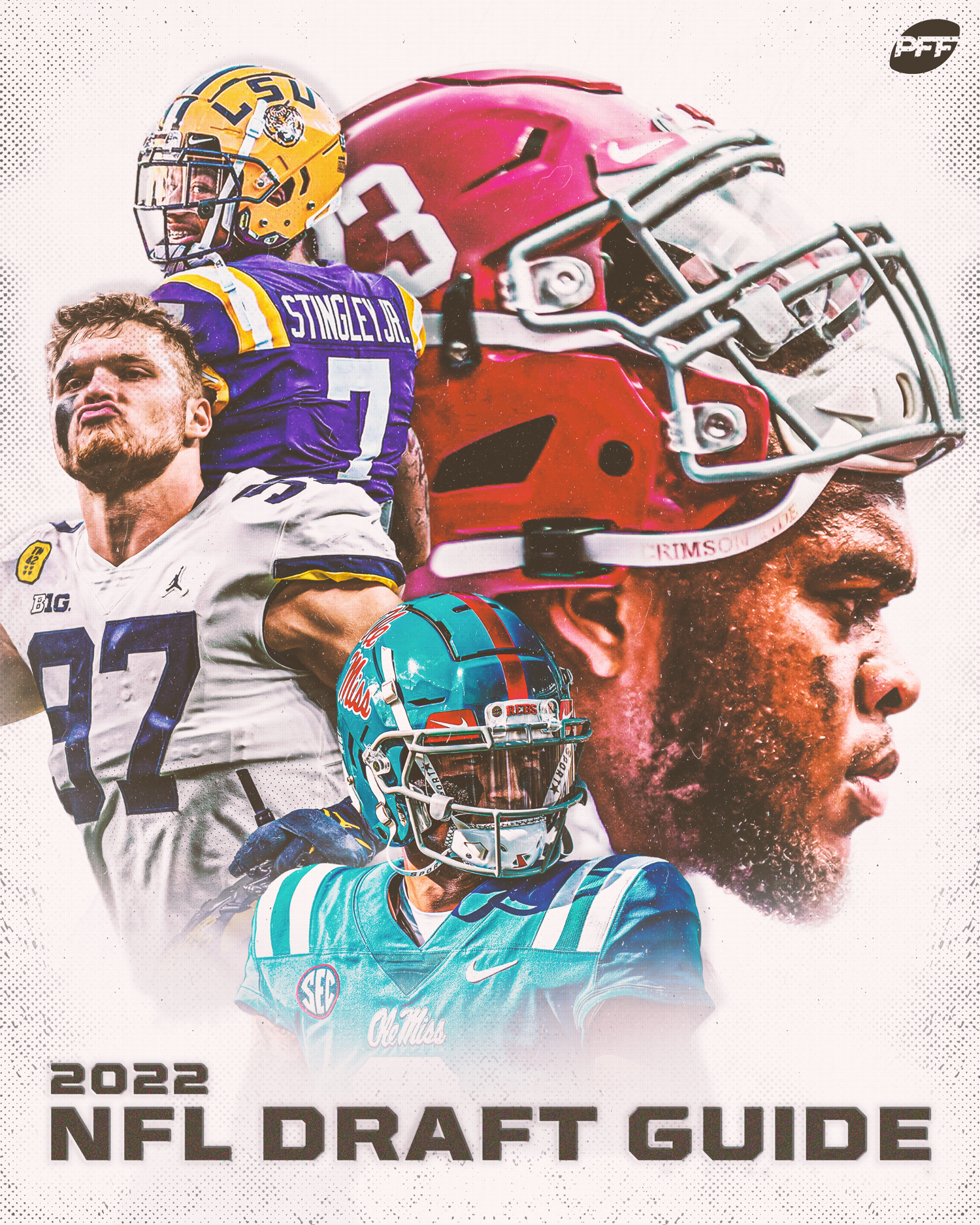 If taking Jordan Davis somewhere in the first round is too rich for some teams, they can find Travis Jones in the late second or early third round. Playing at Connecticut meant the strength of schedule wasn't ideal, and we didn't even see him play in 2020, but he came alive in 2021 and was at his best against Power Five competition. He played 149 snaps against the three Power Five teams on the Huskies' schedule — Clemson, Purdue and Vanderbilt — so the sample size is very small, but he recorded the highest grade by any interior defender against Power Five competition in the FBS last year. 
Interior Defensive Linemen vs. Power Five Competition in 2021
| | | |
| --- | --- | --- |
| Player | Team | PFF Grade |
| Travis Jones | UCONN | 89.5 |
| Devonte Wyatt | Georgia | 89.4 |
| Neil Farrell Jr.  | LSU | 86.5 |
| Jacob Slade | Michigan State | 85.4 |
A strong player with some nice pass-rush acumen, Jones showed out in the toughest games on Connecticut's schedule and will give an NFL team a boost in the middle.