The ACC went from one of the more loaded conferences in terms of draft talent at this point last year to now a nearly barren wasteland. Even with Notre Dame included for the purposes of this exercise, the conference features only four players on PFF's top 50 draft board — the fewest of any Power Five conference.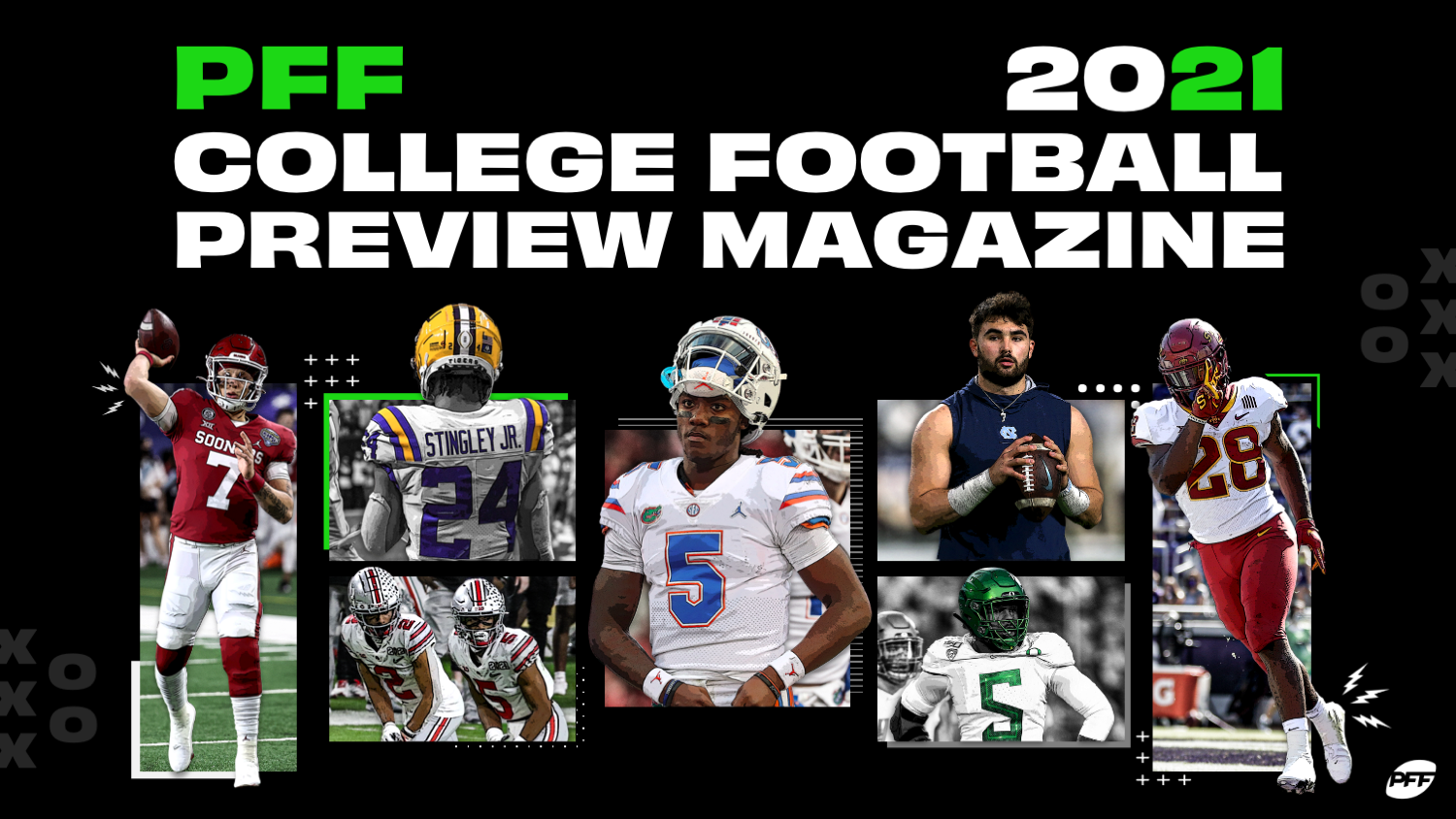 Hamilton has been special from Day 1. In his very first game for the Irish, Hamilton broke up both of his two targets and hasn't stopped being an impact player since, posting a 90.1 coverage grade for his career.
Notre Dame's Kyle Hamilton had more interceptions plus pass breakups (9) than catches allowed (7) as a true freshman.

He's pretty good at football: https://t.co/7TEsts4Or8 pic.twitter.com/H1jSf30b4r

— Anthony Treash (@PFF_Anthony) January 17, 2020
Hamilton's playmaking ability isn't particularly unique, but the fact that he's doing it at 6-foot-4 and 219 pounds is unique. That size is a game-changer when it comes to breaking up passes downfield or taking on blocks in the box. Hamilton is not only the highest-ranked ACC player on PFF's draft board (fourth overall) but also on Bruce Feldman's Freaks List, where he checked in at third.  He can be the versatile defensive chess piece everyone is looking for in the NFL.
Howell started his career with one of the highest-graded true freshman seasons we've ever seen. He racked up a ridiculous 30 big-time throws en route to an 83.3 passing grade that season. For an encore, Howell cut his turnover-worthy plays nearly in half and saw his passing grade leap up to 91.5 last season.
Sam Howell this was a DIME ???? @TarHeelFootball @Sam7Howell

(via @accnetwork) pic.twitter.com/rCpc5ebO57

— The Checkdown (@thecheckdown) October 10, 2020
Some of that grade is bolstered by the simplistic North Carolina offense. He threw more RPOs than anyone else in the country in 2020. He also threw more pure go-balls (39) and had more yards on them (684) than any other Power Five quarterback in the country. This year will be the ultimate test for him, as he loses his top two receivers and running backs from last season.
Ekwonu is the definition of a road grader. You will not find many reps of him moving backward in one-on-one interactions. It's why he's earned 85.0 and 91.2 run-blocking grades as a freshman and sophomore respectively.
Highest percentage of positively graded run blocks among Power 5 OTs in 2020, per @PFF:

???? Ikem Ekwonu, NC Statepic.twitter.com/1psERHU0o1

— Austin Gayle (@PFF_AustinGayle) June 9, 2021
While he's played mostly left tackle in his career, Ekwonu looked like a better fit in his 239 snaps at left guard. He's a phone booth type of player whose 25 pressures allowed last season are not going to fly when projecting to tackle.
Booth has the second-fewest career snap count of any player on PFF's initial preseason top-50 draft board, seeing the field for only 401 snaps in his career, 333 of which came last season. While he's been stingy, allowing only 169 yards allowed on 219 career coverage snaps, Booth has rarely been tested. Outside of his 21 coverage snaps against Ohio State in the playoffs, Booth has rarely had to go toe-to-toe with top competition for full games.
Andrew Booth full extension oh my goodness

— PFF College (@PFF_College) November 28, 2020
In his limited playing time, Booth has shown some exceptional ball skills. He's a former five-star recruit who has ideal balance and athleticism for the position. The tools are all there to be a first-rounder, but the tape is simply limited at this point.
Ross was all but penciled into the 2021 first round after a monster freshman campaign in 2018 that saw him go for 1,000 yards and set the PFF record for yards per route (4.98). His sophomore year didn't come close to living up to those lofty expectations, however. Ross only managed 864 yards on 66-105 targets while going only 11-25 in contested situations. The latter is not the kind of number you'd expect from a 6-foot-4, 205-pound wideout.
Justyn Ross.

That's it. That's the tweet. pic.twitter.com/zzP37lOuhA

— Clemson Football (@ClemsonFB) August 6, 2021
Ross never got his chance at a bounce-back in 2021 after undergoing congenital fusion surgery in the offseason. He's back now and gets his chance as the lead dog in the Tigers offense.
Nelson is the kind of natural athlete who can thrive on the outside at tackle. His easy mirroring ability shines through in pass protection. Nelson made a massive jump in that regard last year, going from 38 pressures allowed as a freshman in 2019 to only 12 as a sophomore.
Todd Mcshay talking about Miami's Zion Nelson being a top 5 pick in next years NFL draft pic.twitter.com/isivybgC70

— Grantlong (@Grantlonggg) May 9, 2021
Now, he still has a ways to go from a strength perspective, which is why he's still midway down this list. He could easily be one of the biggest risers on the PFF draft board should that issue be fixed in 2021.
Davis stepped onto Clemson's campus a starter for the Tigers. He earned an impressive 79.6 overall grade as a true freshman and racked up 31 pressures in the process. Unfortunately, his sophomore campaign was marred by injury. Defensive coordinator Brent Venables even stated he wasn't the same. That's likely to change in 2021 as he forms arguably the best defensive tackle duo in the country with sophomore Bryan Bresee. Davis' stout lower half holds up with ease in the run game and makes him a physical force as a pass-rusher.
Recording our #ACC preview today on the Journey To The Draft Podcast.

One guy who will get more national recognition for #Clemson this year is DT Tyler Davis. 13-game starter as a true freshman last year. He's my "Future Stud" pick on today's showhttps://t.co/eDpgJLJRyX pic.twitter.com/CUMRLNVe2T

— Fran Duffy (@EaglesXOs) August 4, 2020
Patterson is a two-year starter and the lone returning member on the Notre Dame offensive line. He's taken every snap the past two seasons at center. At 6-foot-5, 305 pounds, however, Patterson has the size to fill any interior line spot. He's one of the steadiest centers in the country in pass protection and has yet to allow a sack in his career.
3rd-and-short. Notre Dame RG Tommy Kraemer (78) and C Jarrett Patterson (55) get nasty. pic.twitter.com/khaQ2bbRz6

— Matt Freeman (@mattfreemanISD) October 27, 2020
Patterson's biggest area for improvement is his play strength. He's still on the slimmer side for the interior and struggles to generate movement one-on-one. While he can get by in a gap scheme, Patterson has been much more impressive when on the move. He's likely to fall somewhere in the Day 2 mix.
Lindstrom — much like his brother, Atlanta Falcons first-rounder Chris Lindstrom — is one heck of an athlete on the interior. Unlike his brother, though, Alec is still well on the smaller side for the position after four seasons with the Eagles. At 6-foot-3, 295 pounds, he'd be a center only in the NFL and likely a zone-scheme one at that. Still, his ability to play in space is undeniable, and he covers a lot of ground in pass protection.
C Alec Lindstrom – Boston College

One of top center prospects in CFB – brother of Chris, now with Falcons. This kid is fun @MoveTheSticks

Lindstrom plays a physical brand of 'Bully Ball' – you're in for a fight against this OL. Always looking to finish defenders! @BigDuke50 pic.twitter.com/Xgb9QCwY0m

— Ben Fennell (@BenFennell_NFL) September 27, 2020
Thomas is yet another Tigers prospect who was once thought of in a higher regard. Thomas saw 318 snaps as a true freshman in 2018 on a Clemson line that featured Clelin Ferrell, Dexter Lawrence and Christian Wilkins. With Thomas' 84.2 pass-rushing grade that season and status as a consensus top-five recruit in the country, there were many — including myself — who thought he would ultimately be the highest-drafted one from that defensive line.
Outrageous bend here from Clemson's Xavier Thomas. pic.twitter.com/R6t3KpkotC

— Ty Wurth (@WurthDraft) September 30, 2018
Then the proverbial wheels fell off. Thomas did little in 437 snaps as a sophomore with a 69.8 overall grade. After complications with COVID in 2020, Thomas only saw 119 snaps as a junior and earned a 63.5 overall grade. Not only is his lackluster tape a concern, but the backward trend we've seen from him is the opposite of what you want to see from a prospect.