While a defensive player didn't come off the board until the eighth overall pick in 2021, the 2022 NFL Draft will assuredly be different. This class is loaded on the defensive side of the ball, with nine of the top 14 players on PFF's board residing there.
The cornerback class, in particular, could be special. And although this quarterback class won't match the 2021 version anytime soon, there's a lot of talented, intriguing signal-callers at this point in the process.
Subscribe to
It wasn't a perfect redshirt freshman year for Rattler by any means, but he showed more than enough in his first year as a starter to be considered a franchise-type quarterback talent. He oozes arm talent and playmaking ability after earning a 92.5 passing grade in 2020.
Stingley is an uber-athlete at the cornerback position with a press-man pedigree. As a starter since Day 1, he's allowed a catch on only 40.3% of his targets in his college career.
Thibodeaux has notched 68 pressures through two seasons with the Ducks and doesn't even possess much in the way of pass-rushing moves yet. He finished 2020 on a tear with 23 pressures in his final three games.
At 6-foot-4 and 220 pounds, Hamilton has an almost unheard-of physical skill set for the safety position. It's helped him notch 16 combined interceptions and pass breakups on only 54 career targets.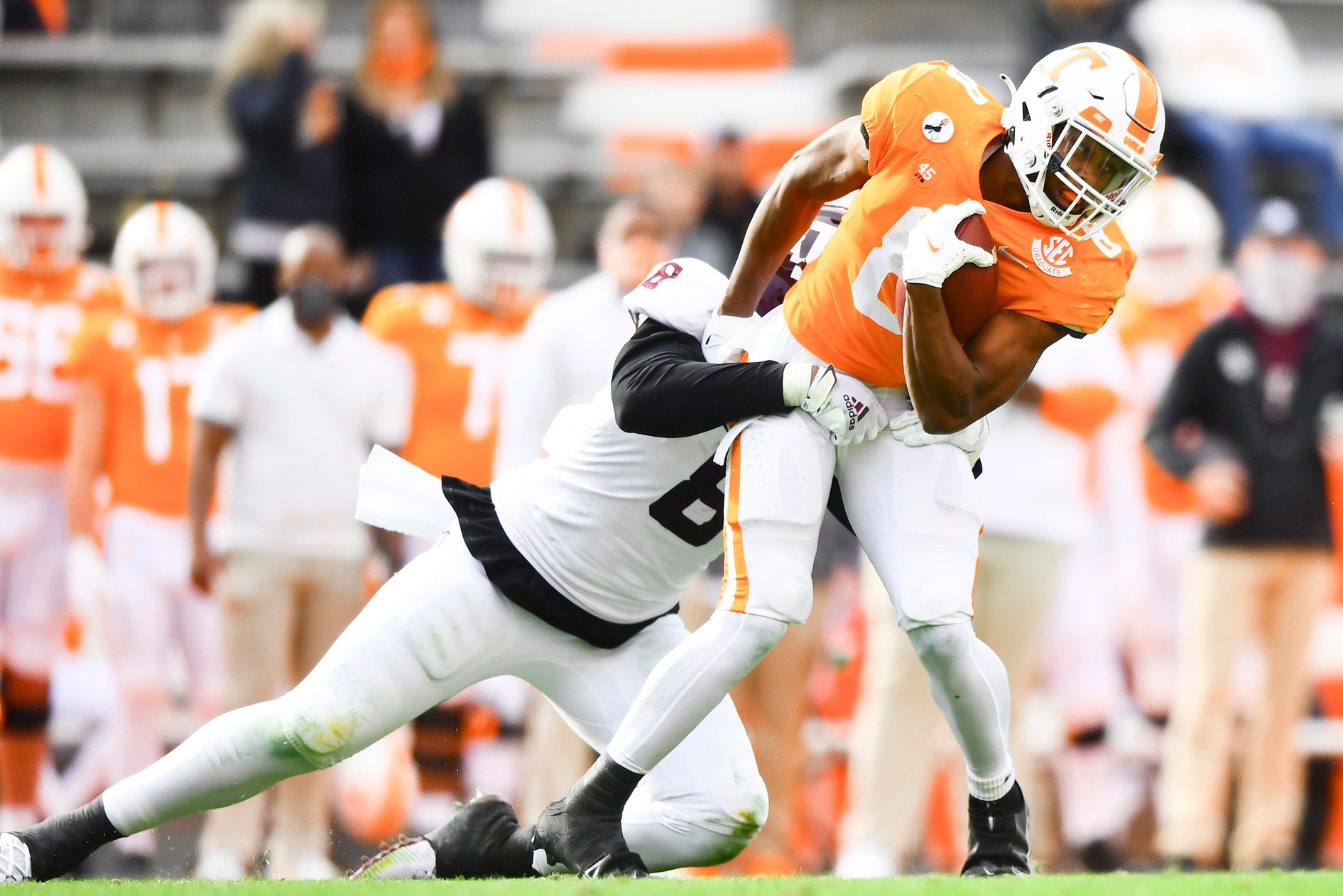 You don't see too many 290-pounders move the way Leal does. He's such an impressive athlete that he plays edge defender for the Aggies. After a slow start as a freshman and into his sophomore year, Leal notched at least three pressures in each of his final eight games in 2020.
At 6-foot-7 and 360 pounds, Neal has a unique blend of size and athleticism for the position. He's also been starting since his true freshman year for the Crimson Tide. He'll flip from right tackle to left tackle this season and look to improve upon his 83.7 overall grade from 2020.
Howell may be short at a hair over 6-foot, but don't call him undersized. He has a running back build at 225 pounds and a JUGS machine arm. Over his two years as a starter, Howell has proved he can attack every inch of the field about as accurately as any quarterback in the country.
Wilson boasts such natural receiving ability. He has an uncoachable way of sinking in his route breaks and attacking the football. After 723 yards in eight games last year, he could put up some silly numbers in a full season in 2021.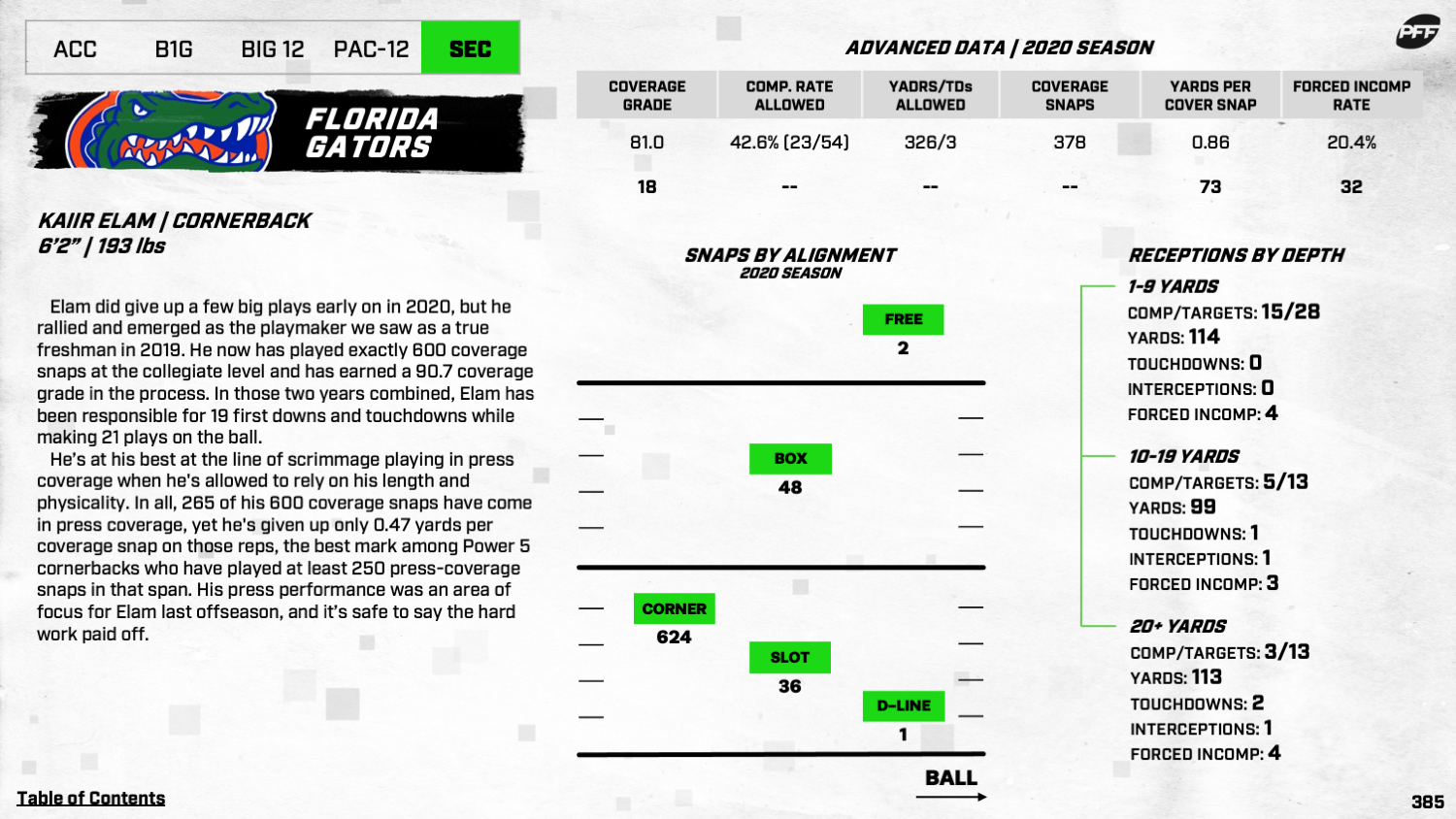 Elam has quietly been a lockdown cornerback since his true freshman year in 2019. He's allowed a mere 47.2 passer rating on 77 career targets.
Enagbare is a toolsy edge defender who's only just scratching the surface. The scary thing is, he already earned an 89.2 pass-rushing grade last year. Enagbare plays with violence and a motor that will have NFL fans enamored.
Linderbaum may overtake Frank Ragnow to end up the best true center prospect we've scouted in the PFF college era so far. He's earned overall grades of 81.7 and now 91.5 in his two years as a starter. Linderbaum is one heck of an athlete for the position and has been able to maintain that while putting on 20-plus pounds from his first season as the starter.
Battle has been starting since his true freshman 2019 season and really made his presence felt this past fall with an 80.9 overall grade. His versatile skill set and ideal size (6-foot-1, 210 pounds) make him a good bet to buck the "no first-round safety" trend alongside with Kyle Hamilton.
While I don't often bring up tackling for a cornerback, McDuffie's physicality when bringing down ball carriers deserves some love. He's missed two tackles on 64 career attempts and is exceptional in run support. He may not be an island man corner, but he's very instinctive and smooth in his own right.
How does a player with 337 career snaps and no more than 130 in any single season end up this high, you ask? Turn on the tape, and you'll find your answer. His get-off and explosiveness as a pass rusher are up there with Kayvon Thibodeaux's. And as a designated pass rusher last year, Anderson generated pressure on 23 of his 86 pass-rushing snaps.
If Kirkland had played more than four games last season, he might be preparing for his first training camp right now. He allowed only two pressures in his first season at left tackle after two years starting at guard.
Willis has running back-esque ability on the ground and one of the strongest arms in the country. He led all quarterbacks in college football with 1,043 rushing yards and 14 rushing touchdowns last season.
One of the most physically gifted offensive linemen you'll ever see, Green can simply do things others can't. After spending time at both guard spots the past two seasons, he'll get a shot at left tackle this year where that athleticism can thrive.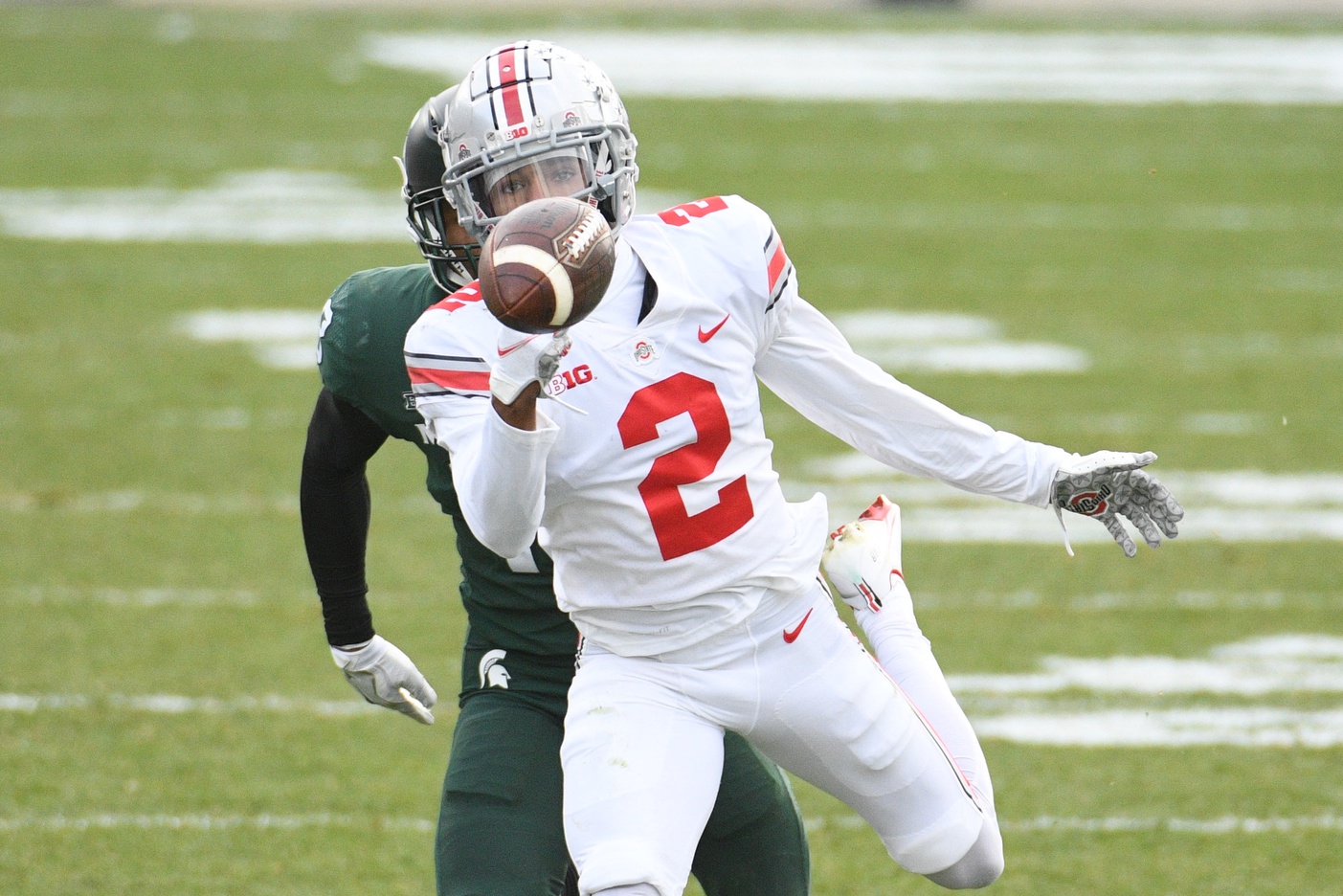 Olave is such a dangerous route-runner at the intermediate and deep levels of the football field. He's averaged 3.17 yards per route for his career, along with a deep 16.0-yard average depth of target.
Slovis has been the most accurate returning quarterback in college football over the past two seasons. And he's going to have to maintain that because his physical ability leaves a lot to be desired. With marginal arm strength, Slovis still has more career turnover-worthy plays than big-time throws.
Bonitto was the most efficient pass rusher in the country last season after recording a 93.6 pass-rushing grade. He's also barely scraping 240 pounds. He needs to add mass and a power element to his game.
Gardner has dominated ever since stepping onto the field as a true freshman in 2019. He's a lanky 6-foot-2 corner who beats up opposing receivers in press coverage all game long. He's allowed only a 35.3 passer rating for his career.
London was also a member of the USC basketball team, and it shows on the football field. He has a ridiculous catch radius, dropping only two of 74 catchable passes in his career.
Dean is a ball of explosiveness at 6-foot and 220 pounds. At that size, he has no issues lighting up 320-plus-pound offensive linemen in the hole and making plays.
Joseph possesses some scary range for the position. It's why he picked off six passes in only nine games and allowed just 50 yards into his coverage last season.
Ekwonu notched the highest positively graded run-block percentage of any returning offensive lineman in the country. He boasts jaw-dropping play strength but still needs to improve upon the 25 pressures he allowed in 2020.
At 6-foot-3 and 230 pounds, Burks isn't a typical wideout. He can win easily at the catch point and, even at that size, he has home-run deep speed.
Harrison is a long, explosive athlete who started to live up to his five-star billing down the stretch last season. He racked up 19 pressures in his final four games.
Daniels has to prove he can stay healthy after injuries limited him to only four games the past two years. In those four games, though, Daniels allowed only six catches on 18 targets for 100 yards and broke up five passes.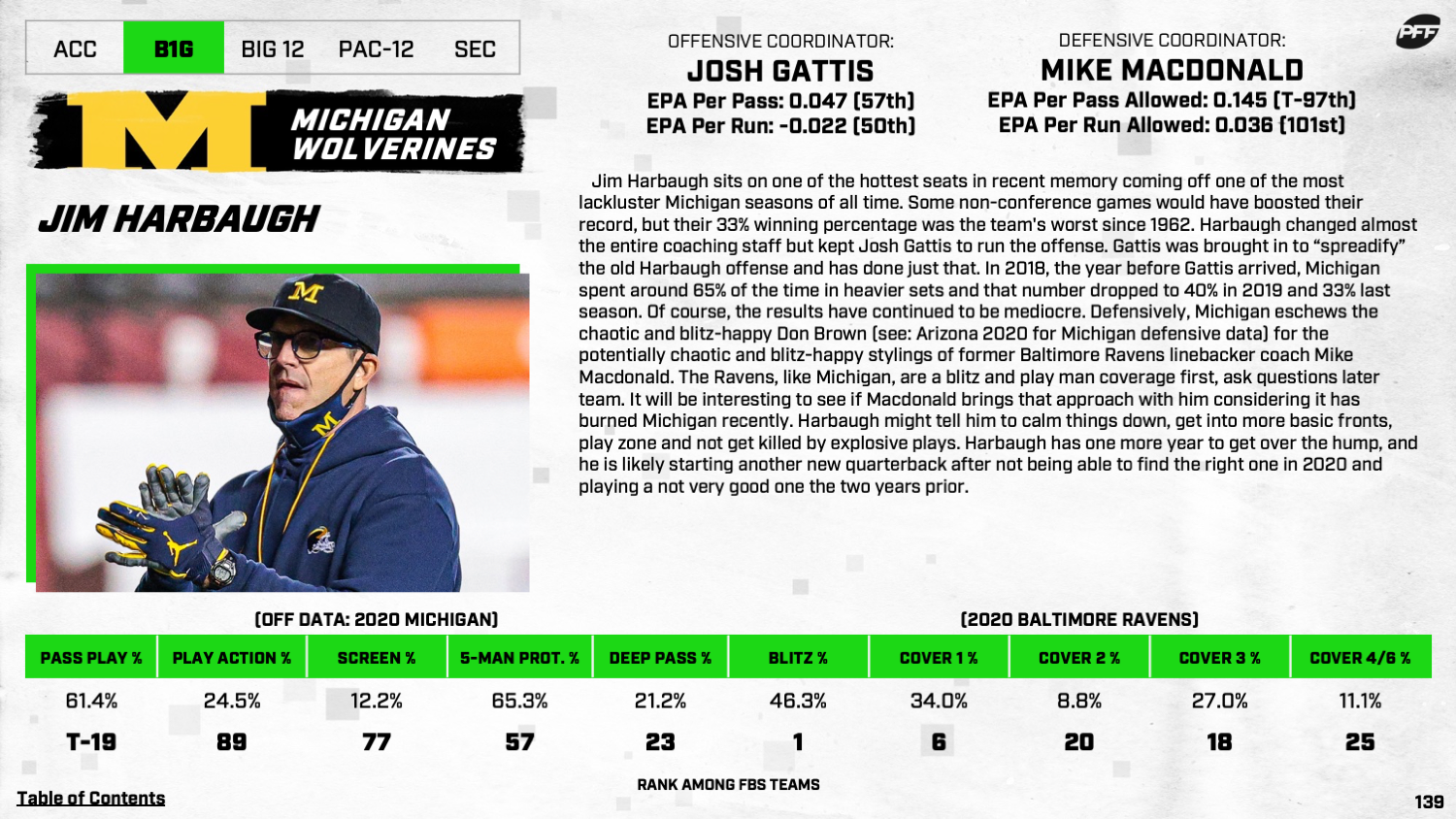 Hutchinson is a powerful base end who looks about as sure a thing in the class against the run. He's got the kind of length to consistently two-gap in the run game, where he earned an 88.8 grade on 149 snaps before he got hurt last year.
Between his size and length, Harris has the ideal body type to be a versatile linebacker in today's NFL. He is a weapon as a blitzer, too, notching 31 pressures a year ago.
Davis has some of the most impressive reps you'll see from a college defensive tackle, but they are too few and far between. At 6-foot-6 and 330 pounds, he can overpower even the strongest offensive linemen.
Sanders dominated Group of Five competition last season with a 90.1 pass-rushing grade and three or more pressures in every game. His build, at 6-foot-5 and 258 pounds, is ideal for the edge.
Doubs put up over 1,000 yards in only nine games last season even though every defense had their eyes on the 6-foot-2, 200-pound speedster. He looks like he'll be a problem on the vertical route tree.
Metchie is an advanced route-runner with the speed necessary to challenge deep. He just needs to get a little more physical after hauling in only four of his 13 contested targets last year.
Hall has an all-around combination of size, speed and elusiveness to be a bell-cow running back at the NFL level. He's broken 120 tackles on 464 carries in two seasons.
Karlaftis had a wash of a sophomore season with only three games, but his 55-pressure true freshman campaign showed what he's capable of. That year, he overpowered linemen as only an 18-year-old. At 270 pounds, Karlaftis may be best suited for the interior.
Strong has one of the quickest releases in the country as well as one of the strongest arms. He can zip it to any level with ease and took a massive step forward last season with an 85.8 passing grade.
Jones is a smooth athlete for the linebacker position. He played the overhang/slot role at Clemson last year before transferring. He's a virtual unknown in the run game but can match and mirror with ease in coverage.
Pickens would be higher up on this list were it not for an ACL tear suffered this spring. He had 726 yards as a true freshman before Georgia's quarterback woes and injuries limited him to 513 last year.
Brisker is one of the most physical safeties in the country and could even make the transition to linebacker if he wanted to. Last season, he missed one tackle on 60 attempts.
Kinnard is an easy people-mover in the run game who is likely to end up at guard in the NFL. He's earned run-blocking grades of 89.1 and 91.9 the past two seasons.
Munford looked like a different player altogether in his third year starting at left tackle for the Buckeyes in 2020. He allowed only three pressures on 264 pass-blocking snaps after surrendering 24 across the previous two seasons.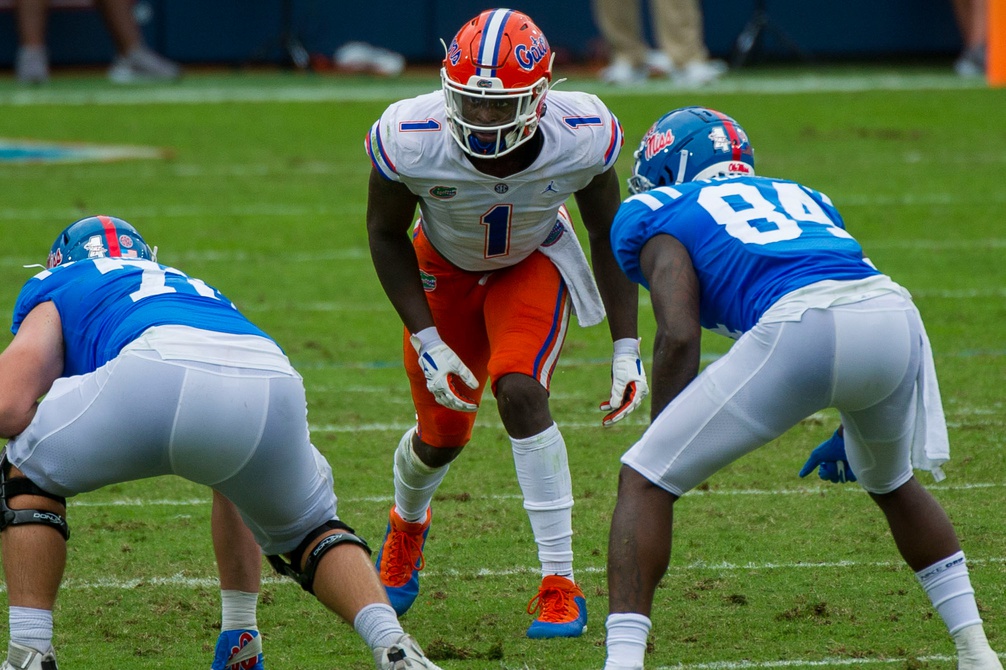 Cox broke out in his first year with the Gators in 2020 after being dismissed from Georgia. He was an impact player against both the run and the pass, posting 48 pressures and 20 run stops on the season.
Lole is an incredibly stout 6-foot-1, 310-pound defensive tackle who can win with leverage and quicks. He put up 18 pressures in only four games last season.
ZTF is yet another player who would have been higher were it not for an offseason injury. His torn Achilles puts his 2021 season in jeopardy after he earned a 91.8 pass-rushing grade across four games last year.
Spiller is a bruising 225-pounder who has multiple ways to win. His feet are exceptional for a bigger back, and he can dance through slim holes with ease.
Wydermyer was one of the best blocking tight ends in America already as a true sophomore in 2020. He's no slouch as a receiver, either, with 78 catches for 953 yards and 15 broken tackles through two seasons.
Emerson is a long, physical outside corner who thrives with his instinctual play. He sees routes develop and puts a cap on receivers despite not having top-end speed. He broke up 12 of his 59 targets last season.
Walker is such an easy mover who simply needs to get more consistent down to down. Not many tackles in the class can match his high-end reps, but he still finished with only a 70.6 overall grade in 2020.
Booth has impressed about as much as one can on only 401 career snaps. He possesses some of the best balance you'll see at the position and allowed only 160 yards on 192 coverage snaps last year.
---
Dive into PFF's guides to get the most out of the 2021 season, from the 2022 NFL Draft to college football to fantasy football!