While a defensive player didn't come off the board until the eighth overall pick in 2021, the 2022 NFL Draft will assuredly be different. This class is loaded on the defensive side of the ball, with nine of the top 14 players on PFF's board residing there.
The cornerback class, in particular, could be special. And although this quarterback class won't match the 2021 version anytime soon, there's a lot of talented, intriguing signal-callers at this point in the process.

Click here for more PFF tools:
PFF Fantasy Draft Kit | PFF Betting Dashboard | PFF Fantasy Rankings
PFF Fantasy Projections | NFL Premium Stats | Win Totals Tracker
---
It wasn't a perfect redshirt freshman year for Rattler by any means, but he showed more than enough in his first year as a starter to be considered a franchise-type quarterback talent. He oozes arm talent and playmaking ability after earning a 92.5 passing grade in 2020.
Stingley is an uber-athlete at the cornerback position with a press-man pedigree. As a starter since Day 1, he's allowed a catch on only 40.3% of his targets in his college career.
Thibodeaux has notched 68 pressures through two seasons with the Ducks and doesn't even possess much in the way of pass-rushing moves yet. He finished 2020 on a tear with 23 pressures in his final three games.
At 6-foot-4 and 220 pounds, Hamilton has an almost unheard-of physical skill set for the safety position. It's helped him notch 16 combined interceptions and pass breakups on only 54 career targets.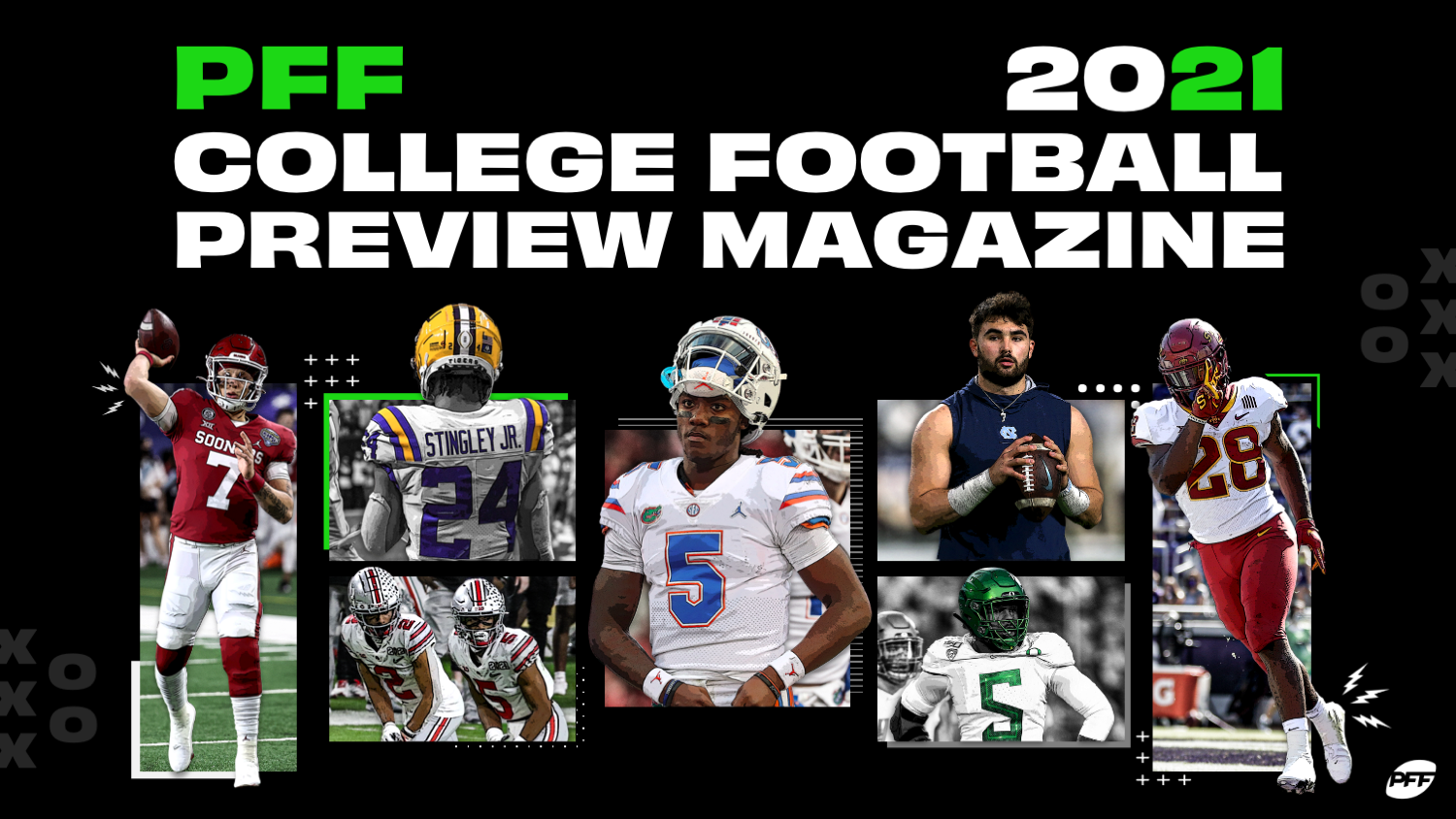 You don't see too many 290-pounders move the way Leal does. He's such an impressive athlete that he plays edge defender for the Aggies. After a slow start as a freshman and into his sophomore year, Leal notched at least three pressures in each of his final eight games in 2020.
At 6-foot-7 and 360 pounds, Neal has a unique blend of size and athleticism for the position. He's also been starting since his true freshman year for the Crimson Tide. He'll flip from right tackle to left tackle this season and look to improve upon his 83.7 overall grade from 2020.
Howell may be short at a hair over 6-foot, but don't call him undersized. He has a running back build at 225 pounds and a JUGS machine arm. Over his two years as a starter, Howell has proved he can attack every inch of the field about as accurately as any quarterback in the country.
Wilson boasts such natural receiving ability. He has an uncoachable way of sinking in his route breaks and attacking the football. After 723 yards in eight games last year, he could put up some silly numbers in a full season in 2021.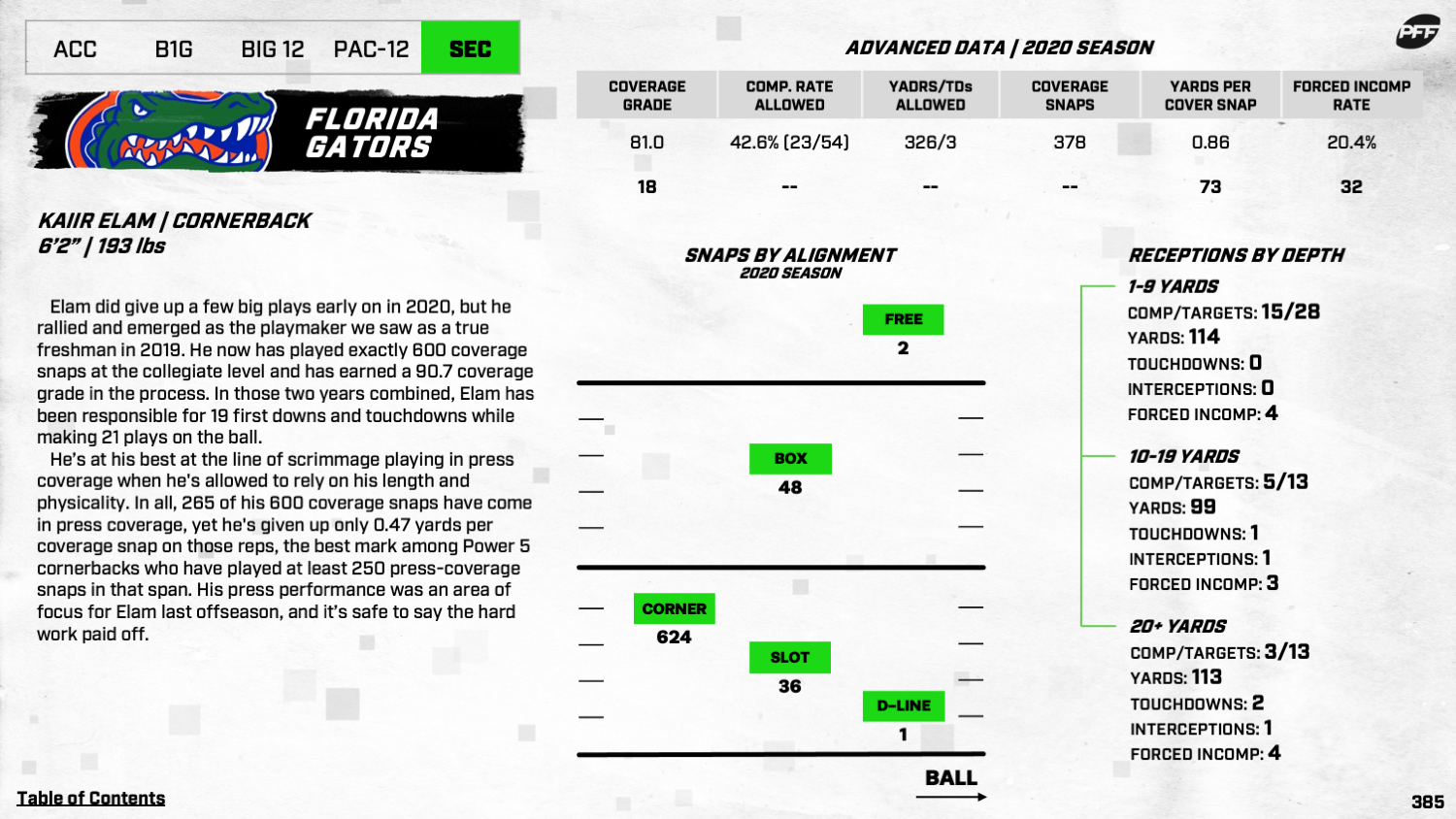 Elam has quietly been a lockdown cornerback since his true freshman year in 2019. He's allowed a mere 47.2 passer rating on 77 career targets.
Enagbare is a toolsy edge defender who's only just scratching the surface. The scary thing is, he already earned an 89.2 pass-rushing grade last year. Enagbare plays with violence and a motor that will have NFL fans enamored.
Linderbaum may overtake Frank Ragnow to end up the best true center prospect we've scouted in the PFF college era so far. He's earned overall grades of 81.7 and now 91.5 in his two years as a starter. Linderbaum is one heck of an athlete for the position and has been able to maintain that while putting on 20-plus pounds from his first season as the starter.
Battle has been starting since his true freshman 2019 season and really made his presence felt this past fall with an 80.9 overall grade. His versatile skill set and ideal size (6-foot-1, 210 pounds) make him a good bet to buck the "no first-round safety" trend alongside Kyle Hamilton.
While I don't often bring up tackling for a cornerback, McDuffie's physicality when bringing down ball carriers deserves some love. He's missed two tackles on 64 career attempts and is exceptional in run support. He may not be an island man corner, but he's very instinctive and smooth in his own right.
How does a player with 337 career snaps and no more than 130 in any single season end up this high, you ask? Turn on the tape, and you'll find your answer. His get-off and explosiveness as a pass rusher are up there with Kayvon Thibodeaux's. And as a designated pass rusher last year, Anderson generated pressure on 23 of his 86 pass-rushing snaps.
If Kirkland had played more than four games last season, he might be preparing for his first training camp right now. He allowed only two pressures in his first season at left tackle after two years starting at guard.
Willis has running back-esque ability on the ground and one of the strongest arms in the country. He led all quarterbacks in college football with 1,043 rushing yards and 14 rushing touchdowns last season.
One of the most physically gifted offensive linemen you'll ever see, Green can simply do things others can't. After spending time at both guard spots the past two seasons, he'll get a shot at left tackle this year where that athleticism can thrive.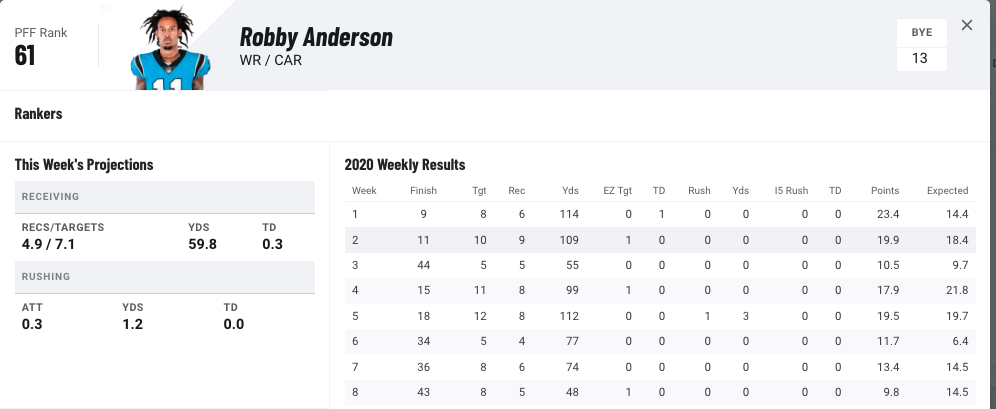 Olave is such a dangerous route-runner at the intermediate and deep levels of the football field. He's averaged 3.17 yards per route for his career, along with a deep 16.0-yard average depth of target.
Slovis has been the most accurate returning quarterback in college football over the past two seasons. And he's going to have to maintain that because his physical ability leaves a lot to be desired. With marginal arm strength, Slovis still has more career turnover-worthy plays than big-time throws.
Bonitto was the most efficient pass rusher in the country last season after recording a 93.6 pass-rushing grade. He's also barely scraping 240 pounds. He needs to add mass and a power element to his game.
Gardner has dominated ever since stepping onto the field as a true freshman in 2019. He's a lanky 6-foot-2 corner who beats up opposing receivers in press coverage all game long. He's allowed only a 35.3 passer rating for his career.
London was also a member of the USC basketball team, and it shows on the football field. He has a ridiculous catch radius, dropping only two of 74 catchable passes in his career.
Dean is a ball of explosiveness at 6-foot and 220 pounds. At that size, he has no issues lighting up 320-plus-pound offensive linemen in the hole and making plays.
Joseph possesses some scary range for the position. It's why he picked off six passes in only nine games and allowed just 50 yards into his coverage last season.
Ekwonu notched the highest positively graded run-block percentage of any returning offensive lineman in the country. He boasts jaw-dropping play strength but still needs to improve upon the 25 pressures he allowed in 2020.
At 6-foot-3 and 230 pounds, Burks isn't a typical wideout. He can win easily at the catch point and, even at that size, he has home-run deep speed.
Harrison is a long, explosive athlete who started to live up to his five-star billing down the stretch last season. He racked up 19 pressures in his final four games.
Daniels has to prove he can stay healthy after injuries limited him to only four games the past two years. In those four games, though, Daniels allowed only six catches on 18 targets for 100 yards and broke up five passes.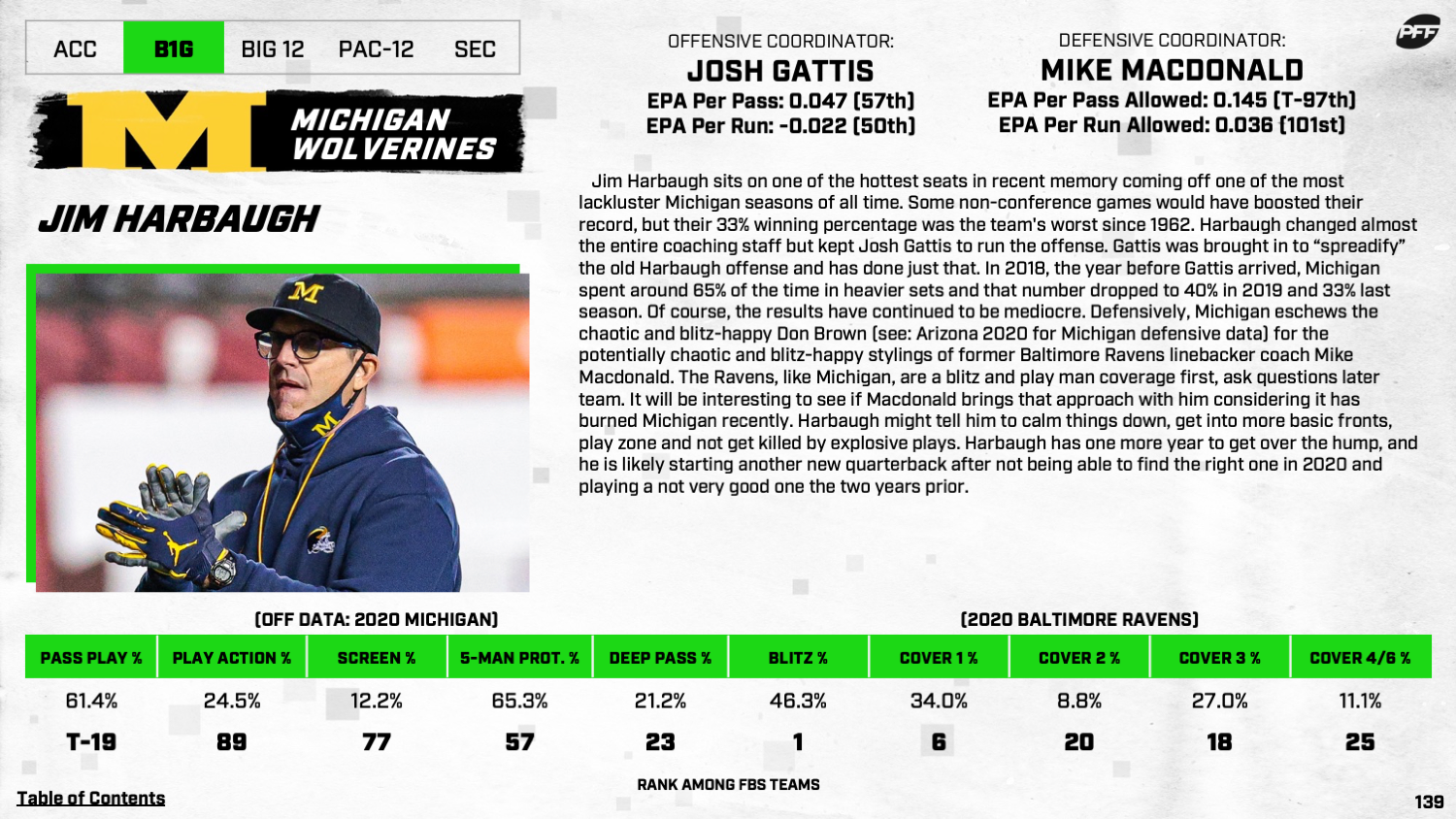 Hutchinson is a powerful base end who looks about as sure a thing in the class against the run. He's got the kind of length to consistently two-gap in the run game, where he earned an 88.8 grade on 149 snaps before he got hurt last year.
Between his size and length, Harris has the ideal body type to be a versatile linebacker in today's NFL. He is a weapon as a blitzer, too, notching 31 pressures a year ago.
Davis has some of the most impressive reps you'll see from a college defensive tackle, but they are too few and far between. At 6-foot-6 and 330 pounds, he can overpower even the strongest offensive linemen.
Sanders dominated Group of Five competition last season with a 90.1 pass-rushing grade and three or more pressures in every game. His build, at 6-foot-5 and 258 pounds, is ideal for the edge.
Doubs put up over 1,000 yards in only nine games last season, even though every defense had their eyes on the 6-foot-2, 200-pound speedster. He looks like he'll be a problem on the vertical route tree.
Metchie is an advanced route-runner with the speed necessary to challenge deep. He just needs to get a little more physical after hauling in only four of his 13 contested targets last year.
Hall has an all-around combination of size, speed and elusiveness to be a bell-cow running back at the NFL level. He's broken 120 tackles on 464 carries in two seasons.
Karlaftis had a wash of a sophomore season with only three games, but his 55-pressure true freshman campaign showed what he's capable of. That year, he overpowered linemen as only an 18-year-old. At 270 pounds, Karlaftis may be best suited for the interior.
Strong has one of the quickest releases in the country as well as one of the strongest arms. He can zip it to any level with ease and took a massive step forward last season with an 85.8 passing grade.
Jones is a smooth athlete for the linebacker position. He played the overhang/slot role at Clemson last year before transferring. He's a virtual unknown in the run game but can match and mirror with ease in coverage.
Pickens would be higher up on this list were it not for an ACL tear suffered this spring. He had 726 yards as a true freshman before Georgia's quarterback woes and injuries limited him to 513 last year.
Brisker is one of the most physical safeties in the country and could even make the transition to linebacker if he wanted to. Last season, he missed one tackle on 60 attempts.
Kinnard is an easy people-mover in the run game who is likely to end up at guard in the NFL. He's earned run-blocking grades of 89.1 and 91.9 the past two seasons.
Munford looked like a different player altogether in his third year starting at left tackle for the Buckeyes in 2020. He allowed only three pressures on 264 pass-blocking snaps after surrendering 24 across the previous two seasons.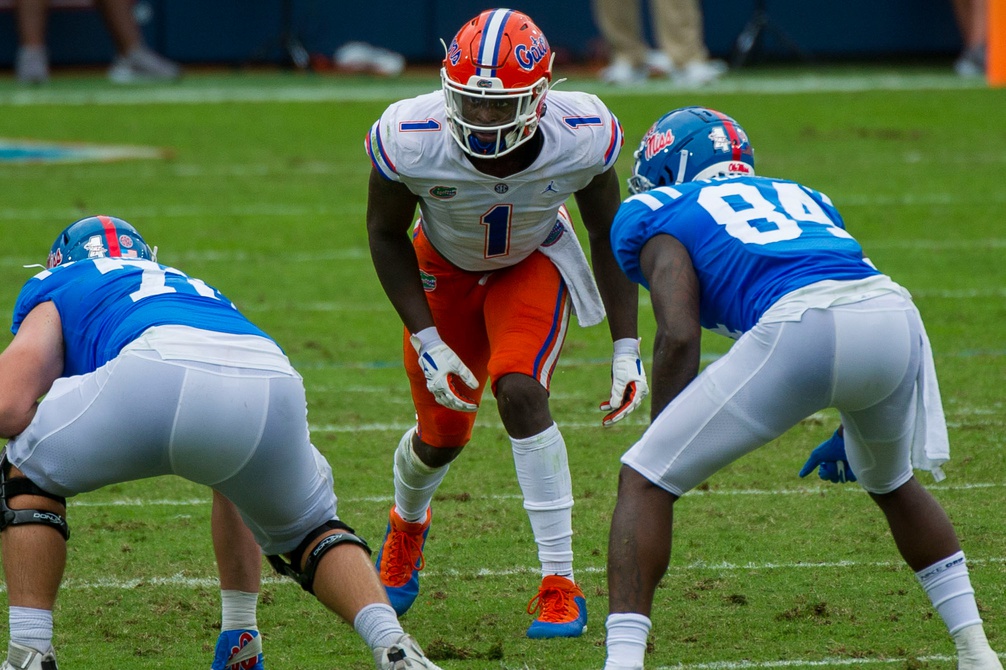 Cox broke out in his first year with the Gators in 2020 after being dismissed from Georgia. He was an impact player against both the run and the pass, posting 48 pressures and 20 run stops on the season.
Lole is an incredibly stout 6-foot-1, 310-pound defensive tackle who can win with leverage and quicks. He put up 18 pressures in only four games last season.
ZTF is yet another player who would have been higher were it not for an offseason injury. His torn Achilles puts his 2021 season in jeopardy after he earned a 91.8 pass-rushing grade across four games last year.
Spiller is a bruising 225-pounder who has multiple ways to win. His feet are exceptional for a bigger back, and he can dance through slim holes with ease.
Wydermyer was one of the best blocking tight ends in America already as a true sophomore in 2020. He's no slouch as a receiver, either, with 78 catches for 953 yards and 15 broken tackles through two seasons.
Emerson is a long, physical outside corner who thrives with his instinctual play. He sees routes develop and puts a cap on receivers despite not having top-end speed. He broke up 12 of his 59 targets last season.
Walker is such an easy mover who simply needs to get more consistent down to down. Not many tackles in the class can match his high-end reps, but he still finished with only a 70.6 overall grade in 2020.
Booth has impressed about as much as one can on only 401 career snaps. He possesses some of the best balance you'll see at the position and allowed only 160 yards on 192 coverage snaps last year.
Petit-Frere came into his own so much at right tackle last season that he reportedly may push incumbent left tackle Thayer Munford inside to guard. He only allowed four pressures on 264 pass-blocking snaps and didn't allow a single sack last year.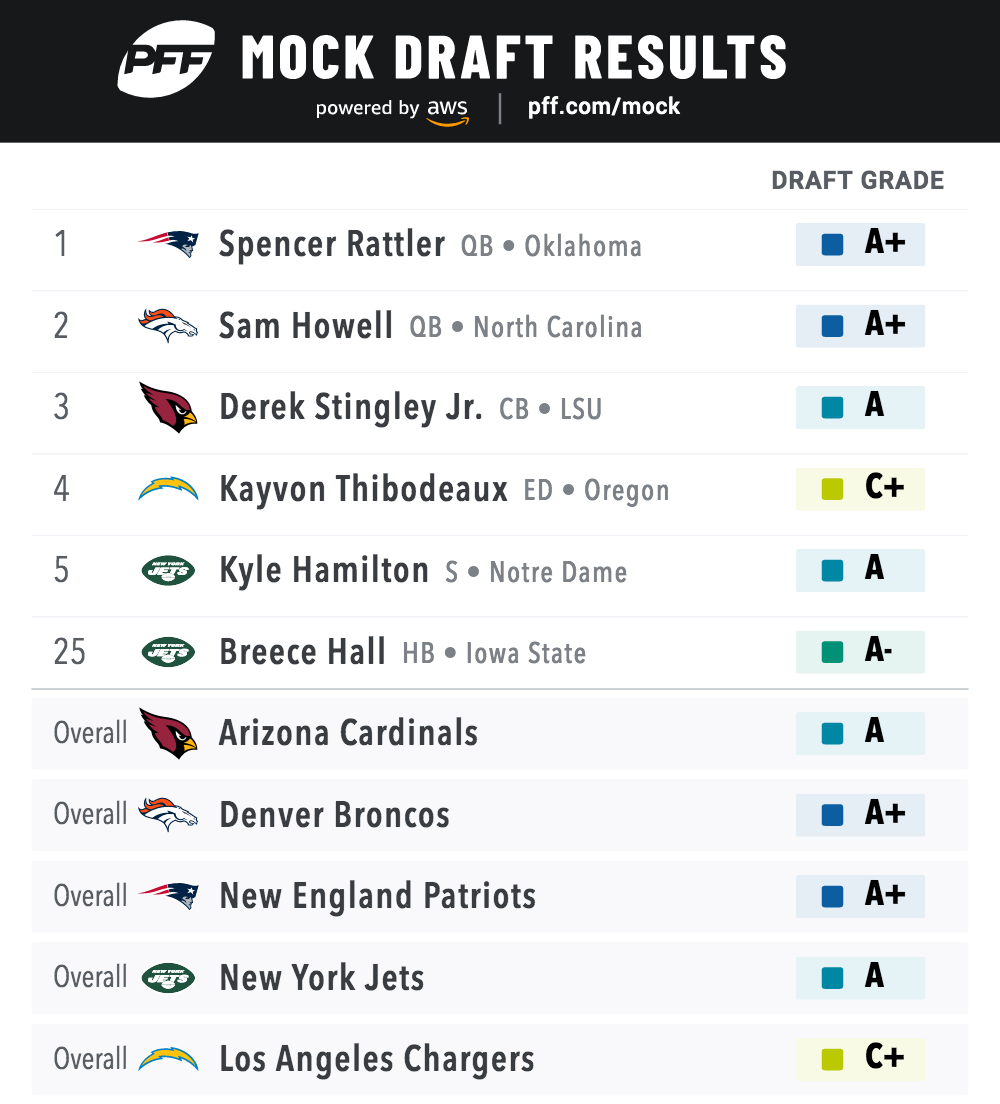 Jackson was one of the most impressive true freshman defensive linemen back in 2019 but failed to make a meaningful next step in a COVID-shortened 2020. He only managed 17 pressures on 159 pass-rushing snaps last year. The USC edge is one of the loosest athletes at the position in the class and only scratching the surface at the moment.
Jones is a bit of a forgotten man hailing from a small-time program that didn't even have a 2020 season. Coaches can't stop raving about the work he's done to remake his body after a sophomore campaign that saw him earn a 78.7 run-defense grade and 78.9 pass-rushing grade. At 6-foot-5, 333 pounds, Jones is a handful for college linemen.
The largest man in college football, Faalele blocks out the sun on the right side for the Golden Gophers at 6-foot-9 and 375 pounds. He only started playing football in 2017 after moving from Australia to Florida to go to IMG academy. For how new he is to the game, his 72.3 overall grade in 2019 before opting out last year is all the more impressive.
Nelson may be best known for being thrust into action Week 0 against Florida as a true freshman in 2019 and looking wholly out of place. That's changed drastically over the past two years, as Nelson has added muscle to his frame and allowed only 12 total pressures as a sophomore just one year after giving up 38.
Wright has played a considerable role ever since his true freshman year in 2019 despite a secondary loaded with veterans. For his career, he has only allowed 26 catches from 57 targets for 313 yards on 437 coverage snaps. He's a touch undersized at 5-foot-11, 178 pounds, but he is the kind of athlete that can make up for it.
Lloyd was quite clearly the leader of the 2020 Utah defense, racking up 27 stops in only five games. He's got three-down athleticism combined with enough physicality to take on blocks. It was honestly a bit surprising he even returned for his redshirt senior campaign in 2021.
Garrett was a bit of a late bloomer, but he was in full bloom last season. As a redshirt junior, he put up an 88.1 overall grade. He's a penetrating 3-tech who has a quick first step and nifty hand usage in his arsenal.
The Georgia Southern transfer spent his 2020 dogging the Sun Belt. He racked up 37 pressures, including 11 sacks, on only 251 pass-rushing snaps. He's a long athlete at 6-foot-5, 250 pounds who will get a chance to prove himself in the SEC this season.
Cross is still a bit more athletic projection than he is a polished product at tackle. He allowed 44 pressures on 574 pass-blocking snaps in his first year as a starter in 2020. Mike Leach's offense isn't a picnic for tackles, though, as he's left on an island more than pretty much any other tackle in the SEC.
Catalon is another short yet stout safety. At 5-foot-10, 200 pounds, he doubles as a brick wall coming downhill. In his first year as a starter in 2020, Catalan allowed only 18 catches from 28 targets for 189 yards with three picks and five pass breakups.
Hall is a unique projection because the ultra-long 6-foot-6, 260-pounder was stuck on the inside last season playing mostly 3-technique. That's obviously not going to be his position at the next level, but he still earned a 90.2 pass-rushing grade in that role. He could have a Payton Turner-esque rise up draft boards this year.
Ruckert was a small surprise to return to Ohio State, as he could have likely been a Day 2 pick had he declared last season. He's a physical route-runner with strong hands, but his real value comes in the ground game. Ruckert is easily the best returning run-blocking tight end in the country, with crushing blocks littered all over his tape.
Fehoko is an uber-physical power end who's added 30-plus pounds since coming to San Jose State. Barely coming off the field last season, Fehoko earned an 86.6 run-defense grade and 79.9 pass-rushing grade in eight games for the Spartans.
Ross was thought of much higher than this after going for 1,000 yards on the dot as a true freshman in 2018. His disappointing sophomore campaign and subsequent spinal surgery leave lingering doubts as to what the imposing 6-foot-4 receiver will look like when back on the football field.
Jobe has the talent to push higher on this list, but he simply has to clean up the penalties. It's easier to reel in physicality than coach it into someone, but 11 penalties last year is a lot of reeling in.
Winfrey impressed as mainly a sub-package rusher in his first year with the Sooners in 2020 after transferring from junior college. He was so limited with his move set on tape that if he develops any sort of go-to, he could be in store for a big 2021 season.
Corral's physical stature in no way matches up with his arm. He's got a boomer of a right arm but stands a meager 6-foot-1 and 205 pounds. He's a solid athlete with the ability to extend and make plays on his own. He just needs to reel in his attacking nature and learn to take better chances with the football downfield.
Click here for more PFF tools:
PFF Fantasy Draft Kit | PFF Betting Dashboard | PFF Fantasy Rankings
PFF Fantasy Projections | NFL Premium Stats | Win Totals Tracker
The West Virginia transfer was the highest-graded slot cornerback in the country last season. While he has the height of your typical slot corner at 5-foot-10, Smith is far stronger than most slots. He blew up screens left and right on tape last season. Now, he just needs to show he can fill a versatile role.
West has been starting ever since he was a true freshman in 2019 and played well already across all three interior positions. He'll start at center in 2021, which is likely his ideal position in the NFL, given his limited length. He's a plus athlete for the position with tremendous balance who only allowed two pressures in four games last season.
Patterson is the lone returning starter from Notre Dame's 2020 offensive line. He's a bit high-cut for a center at 6-foot-5, and as such, he wins with technique over pure leverage in the run game. In two seasons as a starter, Patterson has yet to allow a sack.
Listed as a receiver here, Smith fills the "offensive weapon" role in Texas A&M's offense, moving seamlessly between running back and the slot. For his career, he's broken 21 tackles on 65 receptions.
Wisdom plays the game of football like a heat-seeking missile. Listed at 5-foot-9 and 205 pounds, that missile packs a punch, too. He's been starting since his true freshman year in 2019 and earned coverage grades of 76.3 and 78.0 over that span.
I'll trust the tape I saw from Davis as a true freshman when he earned a 79.6 overall grade and generated 31 pressures in 2019. His injury-plagued tape in 2020 wouldn't come close to earning a spot on this list, but I expect a bounce back to form healthy this season.
Overshown is a new-age linebacker and more closely resembles a wide receiver than your traditional backer. At 6-foot-4, 223 pounds, the former safety has a wide sphere of influence and broke up five passes a season ago.
Flowers is a shifty route-runner who may be more of a slot at the next level. At 5-foot-10 and 177 pounds, though, he still ran more routes split wide than from the slot last year in Boston College's offense en route to 892 yards.
Tolbert had a breakout 2020 campaign that saw him go for 1,085 yards on 64 catches with eight scores. He can really go up and get it with his 6-foot-3, 190-pound frame and had 14 contested catches last season.
The former Clemson corner saw his draft stock plummet against Ohio State last year in the playoff. After now allowing a single catch in his first four games last year, Kendrick allowed four catches on four targets for 122 yards and two scores against Ohio State alone. He transferred from Georgia this offseason and should see his fair share of press-man in the SEC.
The former five-star looked like the next big thing after his freshman year in 2018. That season he earned an 84.2 pass-rushing grade alongside three first-round picks en route to a national title. He took a step back to a 64.2 pass-rushing grade as a sophomore in a Brett Venables 3-1-7 defense before complications with COVID limited him to only 119 snaps in 2020.
Hodges-Tomlinson plays the game with a chip on his shoulder that has to weigh almost as much as he does. At 5-foot-9, 177 pounds, Hodges-Tomlinson doesn't fit the physical profile for literally any position other than maybe kicker. But if you watched him play down the stretch last season, you'd see why he's still this high. Over the final nine games last year, he allowed only 12 catches from 45 targets for 123 yards with 14 pass breakups.
Despite being listed at 6-foot-3 and 241 pounds, it was Smith who played the overhang/slot role in Penn State's defense. It takes one heck of an athlete to even consider playing there at that size. It's that athleticism that landed at No. 32 on Bruce Feldman's Freaks List earlier this year.
The best draft-eligible scatback in the country, Ealy excels on both Auburn's football and baseball teams. The 5-foot-8, 190-pounder broke 40 tackles on 147 carries a season ago.
Hill is still on the skinnier side for the safety position, but he's not afraid to play a physical game. He broke up four passes and picked off another in only six games last season. The rising junior has the ability to cover the slot as well as range from deep.
Arguably the best true receiving tight end in the country returning for 2021, Likely is more receiver than tight end, unfortunately. He is listed at 240 pounds, but that may be inflated a touch. Still, he's exceptional after the catch and broke 10 tackles on 30 catches last year.

Eze has been the left tackle for Memphis the past two seasons before transferring to TCU. Standing 6-foot-8 and 334 pounds, Eze engulfs smaller defenders. He took a big step forward as a pass-protector from 2019 to 2020 and only allowed 12 pressures last season.
Parham was on the other side of Memphis' offensive line last year, as he had a career year in his first at right tackle. He earned a 90.6 overall grade and dominated with his high-level athleticism. Parham's likely going to be a center at the next level at his listed 285 pounds and can excel there with his hand usage.
You want tools? Jurkovec has them. You want consistency? Jurkovec is not your man … yet. Last season was his first year as a starter after transferring from Notre Dame, and he alternated high-end plays with boneheaded decisions all year long. He finished with 24 big-time throws in 10 games with 18 turnover-worthy plays, as well.
Billingsley is oozing raw talent but needs to continue to fill out at only 6-foot-4 and 230 pounds. He caught 18 of his 19 targets last year for 287 yards but may need to get out of Nick Saban's dog house to build on those numbers in 2021. He reportedly fell down the depth chart and Saban went on a rant decrying Billingsley's attention to detail in practice.
Rhyan has been a two-year starter at left tackle for UCLA but has the physical profile to excel on the interior in the NFL. He moves well for a 320-pounder and saw his grade leap from 57.6 as a freshman to 73.9 last season.
All Knight needs is the workload. He's yet to have more than 18 carries in any game in his career for some reason. When he gets the touches, Knight produces. He broke 48 tackles on only 143 carries last season for one of the highest rates in the nation.
McCreary is a two-year starter for the Tigers and has held up well on the outside in the SEC. He's earned coverage grades of 81.1 (2019) and 79.9 (2020) the past two seasons. Last season, opposing quarterbacks shied away from him altogether, as he saw only 38 targets on 354 coverage snaps.
Pappoe is one of the best athletes at the linebacker position in the country. He covers ground with ease and ran a 4.47 40-yard dash coming out of high school. Still a tad undersized at 226 pounds, Pappoe needs to prove he can play physically between the tackles. If he does that, he'll shoot up this board.
Young is a big, physical corner at 6-foot-1 and 205 pounds. He's been starting since 2018 for the Scarlet Knights and is an ideal fit in their Cover 2 heavy scheme.
Bell is one of the best receivers in the country at the catch point. He's been pumped targets in Purdue's offense in his career and hauled in 30 contested catches over the past two seasons.
Mullen is one of the best slot corners in the country, but he's dabbled on the outside as well over the course of his career. In two seasons, he's broken up 15 passes and only allowed 32 catches from 70 targets for 374 yards.
Sweat may be the best nose tackle only in the country at 335 pounds. Even at that size, he's not purely a phone booth player. Sweat can put a little shake on opposing centers, as evidenced by his 73.5 pass-rushing grade.
Williams may be on the smaller side at only 199 pounds, but he's still an every-down back. He is featured heavily in the Notre Dame passing attack, with 35 catches for 311 yards and nine broken tackles last season.
Playing on the same offensive line as third-rounder Spencer Brown in 2019, it was Penning who earned the higher overall grade. He tosses around FCS competition on tape and is fairly nimble for a 6-foot-7, 321-pounder.
Gunter is a freak of nature any way you slice it. He has absurdly long arms on his 6-foot-4, 260-pound frame and is a workout warrior, as well. Gunter reportedly has jumped 39-inch in the vertical and 10-foot-2 in the broad. He's still figuring out the position, but he showed massive improvement last year en route to an 81.5 pass-rushing grade.
Allgeier had the highest overall rushing grade of any returning back in the country. He averaged a ridiculous 7.6 yards per carry, of which 4.7 came after contact last season. He's a hulking 220 pounds and the definition of a one-cut runner.
---
Dive into PFF's guides to get the most out of the 2021 season, from the 2022 NFL Draft to college football to fantasy football!