It's finally NFL Draft week. After one of the most uncertain buildups in the event's history, the 2020 NFL Draft is just days away.
It's time to drop our final three-round mock — but this edition has a bit of a twist. Instead of getting one analyst's opinion on all 32 teams, we have asked 10 PFF analysts to get into the action and explain what they would do if they were tasked with running the at-home war room on Thursday and Friday night.
[Editor's note: Check out PFF's 2020 Mock Draft Hub, NFL Draft Big Board and NFL Mock Draft Simulator. PFF Elite subscribers can also download the 1,100-page 2020 NFL Draft Guide.]
Round 1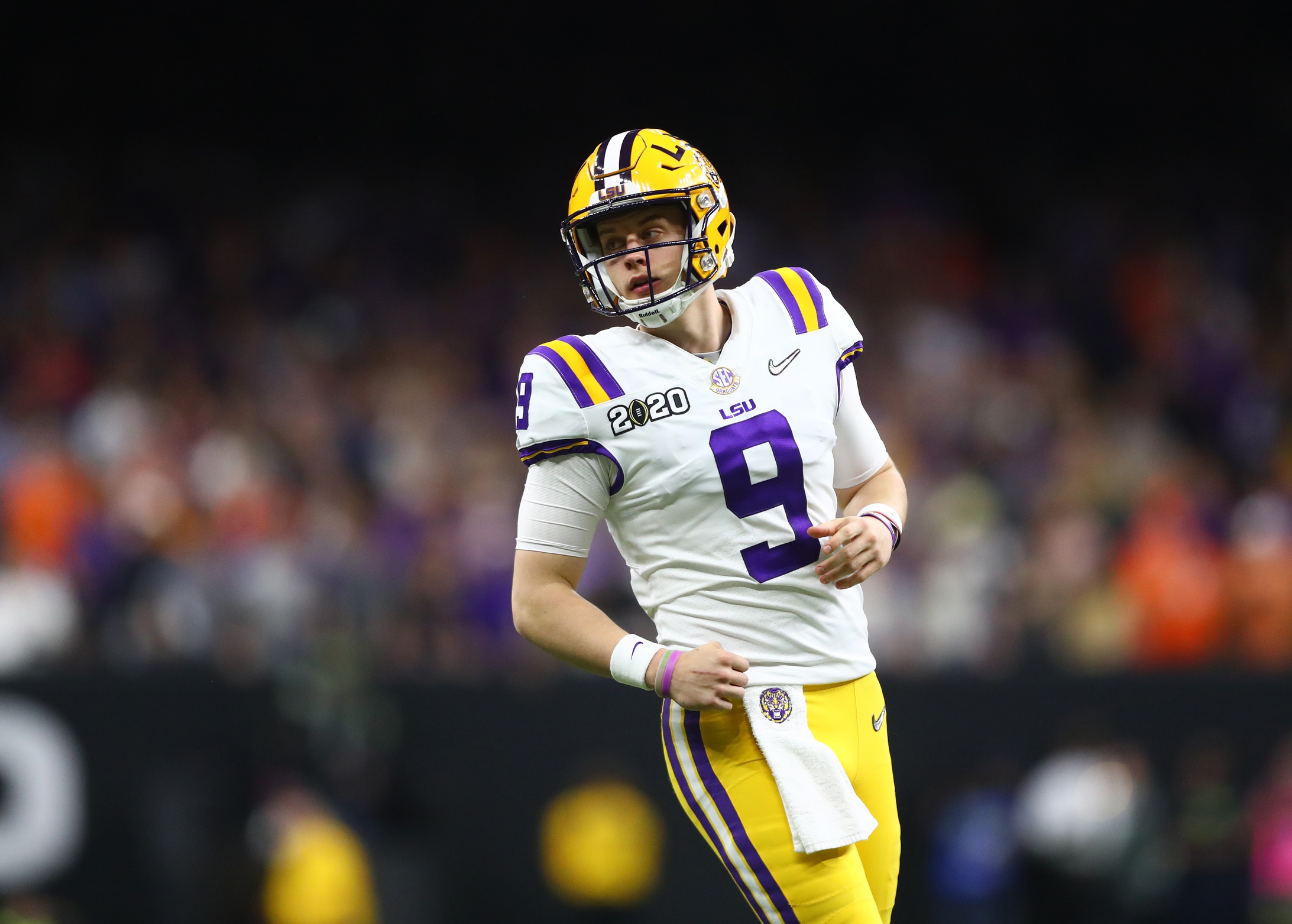 George Chahrouri: There is zero debate on who the most valuable prospect in this draft class is. Not only is Burrow the best QB, but he is arguably the best overall player regardless of position — making this a no-brainer.
Eric Eager: There are two quarterbacks worthy of a first-round pick in this draft, and Tua is one of them. While Dwayne Haskins had a promising second half to his rookie campaign, being able to increase your chances of getting at least one franchise quarterback is worth substantially more than the best edge player in the NFL, let alone the best one in a given draft.
3. Detroit Lions — CB Jeffrey Okudah, Ohio State
Kevin Cole: If Okudah lives up to his immense potential and Desmond Trufant bounces back in new surroundings, the Lions will be well on their way to building the kind of back-to-front defense that's most valuable in today's NFL.
Timo Riske: Jeudy can play outside opposite Darius Slayton or in the slot next to Golden Tate, which would allow the Giants to max out any potential hidden in Daniel Jones or realize that there is none. I value this move more than drafting Chase Young, a move that would have them repeat their 2016 campaign at best.
5. Miami Dolphins — EDGE Chase Young, Ohio State
Sam Monson: Both of the top quarterbacks are off the board, and while some may love Justin Herbert enough to take him here, I certainly don't. Let's grab the draft's surest thing and hope the quarterback value looks better lower down.
Steve Palazzolo: WIth Burrow and Tua off the board, the Chargers have a decision to make: reach for a quarterback or continue to build the roster. We've decided to take the top offensive tackle on the board in Thomas, and we'll think about quarterback later. From a grading perspective, Thomas is the best combination of pass- and run-blocker in the draft.
Mike Renner: Pairing Simmons with Shaq Thompson gives the Panthers one of the most athletic and versatile linebacking corps in the NFL today. He won't replace what Luke Kuechly did in the run game, but he can do things athletically that even a Hall of Famer like Kuechly couldn't. Positionless defense is coming to Carolina.
Austin Gayle: The offense Kliff Kingsbury wants to run in Arizona needs athletes at offensive tackle, and Wirfs is one of the better athletes in this class regardless of position. He set records at the 2020 NFL Scouting Combine for a 320-pounder. He projects as one of the more productive offensive tackles in this class and is still just 20 years old.
Anthony Treash: The Jags have committed themselves to Gardner Minshew for one more year, and considering D.J. Chark Jr. was the only wide receiver on the roster to crack the 25th percentile in PFF grade in 2019, it's time to get him a brand-new weapon. Our analytics team loves Ruggs (sorry for taking him away from your Niners at pick 13, George) and no wide receiver generated a higher rate of explosive plays in 2019 than the Alabama pass-catcher (38.2%).
Ben Linsey: Despite adding Jack Conklin in free agency, the Browns are still in need of another starting tackle. Wills is an elite athlete who has all the potential to make an early impact paving the way for Nick Chubb and Kareem Hunt in the run game.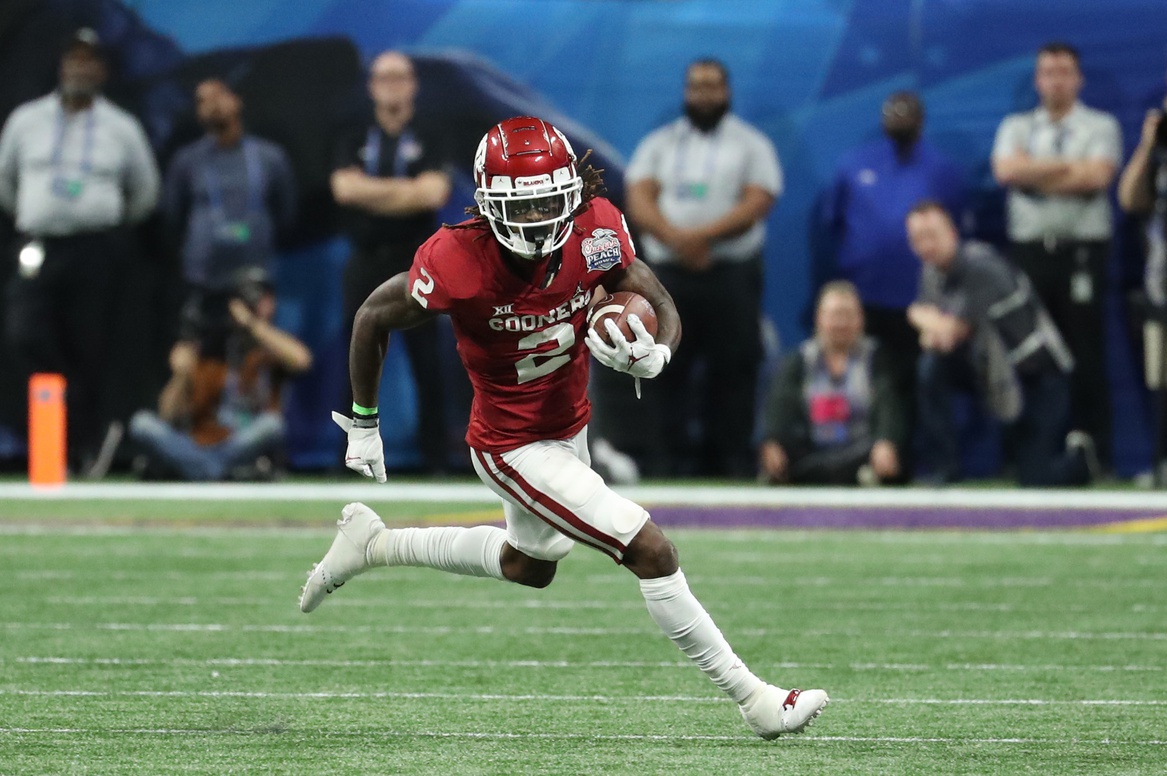 11. New York Jets — WR CeeDee Lamb, Oklahoma
Kevin Cole: It's put up or shut up time for Sam Darnold "truthers," and Lamb gives the third-year quarterback the WR1 he desperately needs. The Jets now have a sneaky deep receiving group, with Jamison Crowder roaming underneath, Breshad Perriman clearing out deep and Lamb working all areas of the field.
Eric Eager: With all of the acquisitions the Raiders made this offseason, they really don't have that many "open" positions (one can argue how good their acquisitions are, but alas). Fulton is, to this point, the second-best cornerback prospect and would likely start right away for a Las Vegas defense that needs to be able to compete with Patrick Mahomes and the Chiefs for the next decade.
George Chahrouri: This is not a result of any hand-timed 40 at a makeshift pro day. Reagor is a track athlete who showed that athleticism in spades during his college career, despite putting up with very poor play at the QB position. This is a perfect blend of value and need for the 49ers.
Timo Riske: With the consensus top tackles off the board, the Bucs select what's missing for the continuation (regression be damned) of their defensive turnaround: A versatile safety who can not only play deep, but can also blitz and cover quick passes. These traits fit him perfectly in Todd Bowles' aggressive scheme.
15. Denver Broncos — DI Derrick Brown, Auburn
Sam Monson: This is not the best situation in the world for the Denver Broncos to be faced with, and I think there's a definite ceiling to what Derrick Brown can be in the NFL, but I think the fit inside in Denver is perfect. It's a situation he could quickly maximize his potential in.
16. Atlanta Falcons — CB C.J. Henderson, Florida
Steve Palazzolo: Henderson may be the dream scenario for Atlanta, as they must improve in the secondary. Henderson has the athleticism and ball skills to be a next-level playmaker. He can play off coverage or press-man coverage, it's just a matter of playing to his impressive 2018 level rather than his 2019 disappointment.
17. Dallas Cowboys — DI Javon Kinlaw, South Carolina
Mike Renner: The Cowboys signed a couple of free agents on the interior and drafted a defensive tackle in the second round last year, but none of that is stopping me from adding a talent like Kinlaw. His physical tools are immense, and he gets to learn from one of the league's craftiest pass-rushing defensive tackles in Gerald McCoy.
Sam Monson:  Miami still doesn't love the value at quarterback but can still get excellent value at other positions of need. Here they snag one of the best tackles in the draft in Josh Jones. With the other top tackles off the board several picks ago, this was value too good to pass up.
Eric Eager: Delpit, despite a poor final season at LSU, has the highest projected pass breakup rate at his position and should compete right away with last year's first-round pick Johnathan Abram and free-agent acquisition Damarious Randall, neither of whom is a better player than Delpit at this point.
Anthony Treash: After trading away Jalen Ramsey and A.J. Bouye, the Jaguars are left with a depleted and pretty poor cornerback unit. Jaylon Johnson has some of the best instincts of any cornerback in this draft class and is a playmaker in coverage. On 58 targets of 10-plus yards downfield the last two years, Johnson actually made more plays on the ball (16) than catches allowed (14).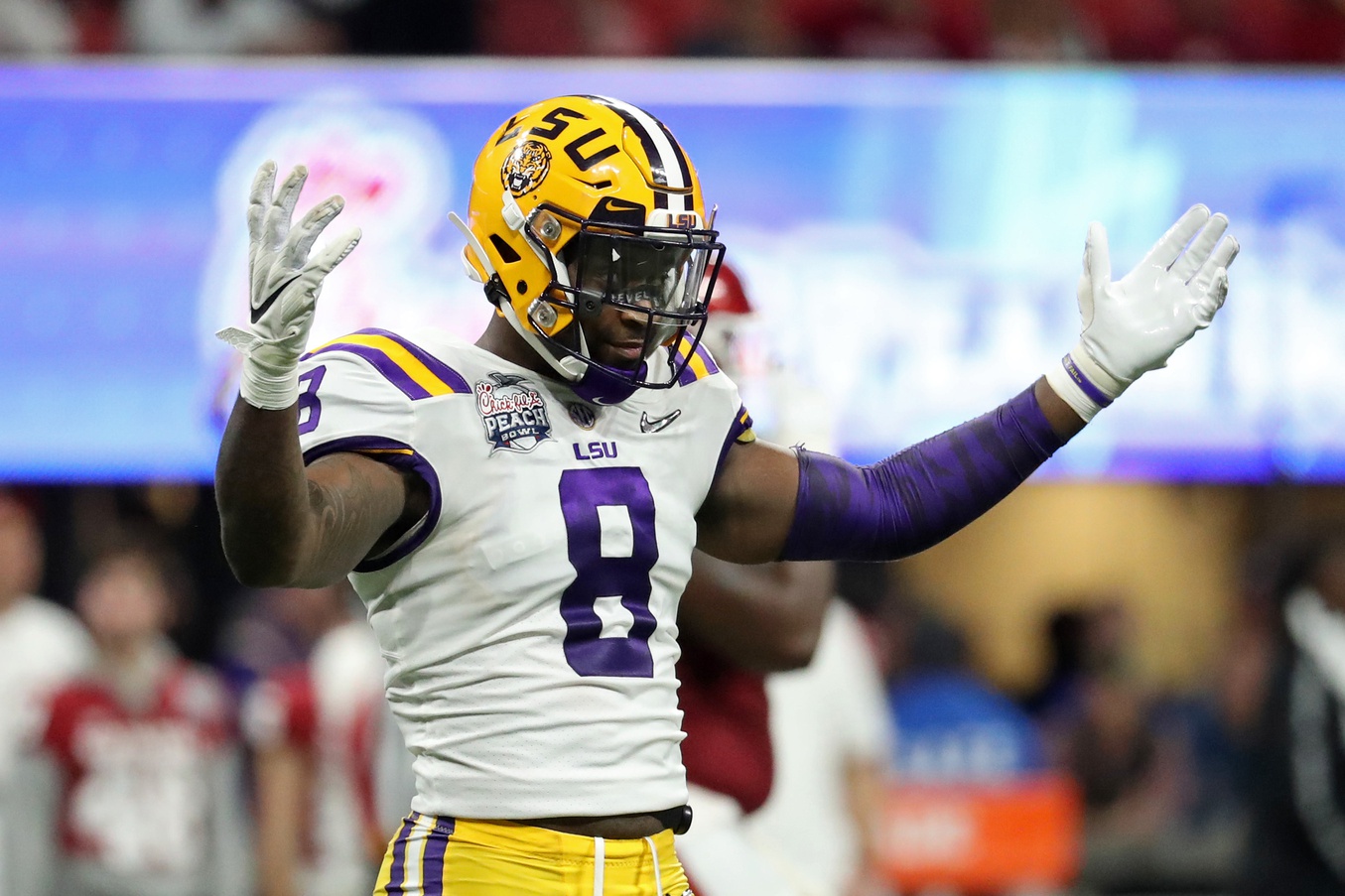 Austin Gayle: With Jerry Jeudy, CeeDee Lamb, Henry Rugs and Jalen Reagor already off the board, the Eagles ignore positional value a bit and reach for LSU off-ball linebacker Patrick Queen. He is hands down the best off-ball linebacker prospect after Simmons and an arm and a leg better than Oklahoma's Kenneth Murray. His combination of processing/play recognition and athleticsm is rare and should be coveted at the next level.
Austin Gayle: Terrell isn't as sexy as some of the other cornerback prospects with better ball production (Jeff Gladney, Kristian Fulton, Trevon Diggs), but he is still a smooth-moving cornerback with desirable match-and-mirror ability. His game against LSU's Ja'Marr Chase was one to forget, but he was at the catch point on several of his losses in coverage and showed high-end potential on several of his reps.
Ben Linsey: Epenesa lands at the former home of one of his more common comps (Trey Flowers) to bolster a thin front seven. His lack of athleticism has dropped him down boards and may kick him inside at the next level, but it's hard to ignore the production at Iowa where he was a force as a pass-rusher and run defender.
George Chahrouri: Giving the Saints a weapon like Shenault should make other teams cringe. Shenault adds an explosive game-breaking element to that offense that it simply has not had of late — his 44 missed tackles forced leads this WR draft class.
Austin Gayle: Pittman isn't in the same league as a separator as the receiver Minnesota traded away in Stefon Diggs, but he's a better separator than he's given credit for considering his size (6-foot-4, 223 pounds). He and Adam Thielen make up for a duo quarterback Kirk Cousins should be able to rely on in 2020. Both receivers are as sure-handed as they come with plus ability in contested-catch situations.
Sam Monson: Justin Herbert is far from a sure thing at quarterback, and banking on him to be the future is risky indeed for the Dolphins, but at least in this scenario, they do so having already secured the best player in the draft and a quality tackle with their two previous first-round picks. At this point, Herbert is a gamble worth taking.
Eric Eager: Seattle played base defense more than any team in the league a season ago, in many ways because they didn't have enough defensive backs to field a nickel defense effectively. While Quinton Dunbar was acquired this offseason, you can never have enough good corners. Fade the recent reports that Diggs is a Day 2 or 3 pick and rebuild the new Legion of Boom.
28. Baltimore Ravens — DI Jordan Elliott, Missouri
Kevin Cole: Some will view Elliott as a reach in the late first round, but the 23rd-ranked prospect on PFF's Big Board posted the highest overall grade of any SEC defender (92.4) in 2019. Elliott has all the tools to be an elite player against the run and rushing the passer.
Steve Palazzolo: When healthy, the Titans have had a strong trio of cornerbacks in Malcolm Butler, Adoree' Jackson and Logan Ryan, but Ryan is gone in free agency and Jackson's in the last year of his contract. Gladney is good in the short and long term after allowing just 47.0% of passes to be completed into his coverage against top passing offenses in the Big 12.
Mike Renner: Higgins was the back-shoulder king at Clemson, and he and Trevor Lawrence were one of the top duos in all of College Football on those throws the past two seasons. Rodgers hasn't had a receiver with that kind of connection since Jordy Nelson — Higgins could be the guy they've been missing.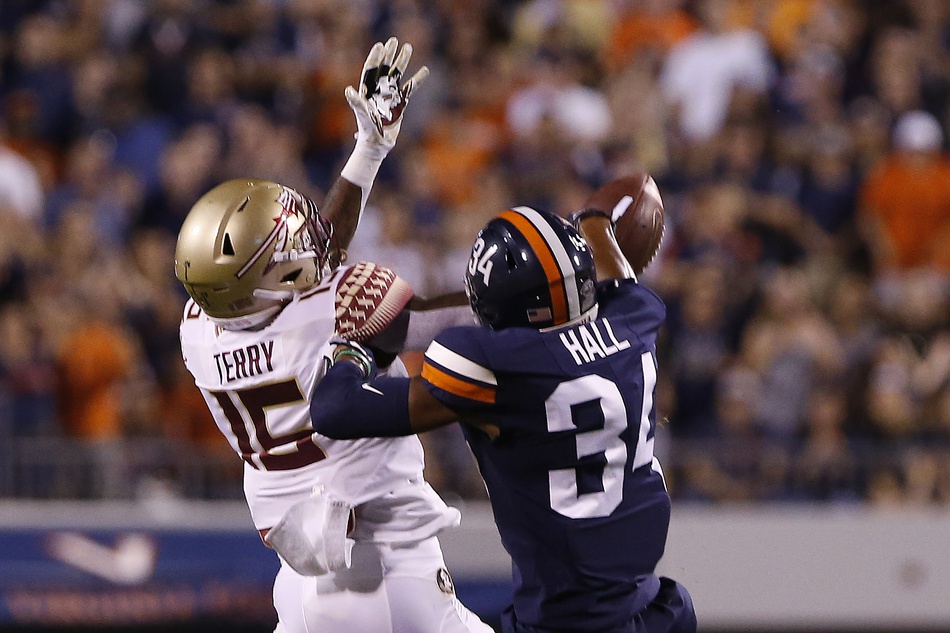 George Chahrouri: I strongly considered grabbing a tackle (Cleveland or Becton), but coverage is too valuable and Bryce Hall is a steal considering that he earned a 91.6 grade in 2018, second among all cornerbacks.
32. Kansas City Chiefs — EDGE, Curtis Weaver, Boise State
Sam Monson: The Chiefs could go in a number of different directions with this pick. In the end, they elect to grab Weaver, one of the best pass-rushers in the draft. There are concerns that some of the competition he faced wasn't strong, and his athleticism and body type won't wow scouts, but his movement was always fluid. He just won over and over and the production was there.
Round 2
35. Detroit Lions — DI Marlon Davidson, Auburn
36. New York Giants — Julian Okwara, Notre Dame
39. Miami Dolphins — G Jonah Jackson, Ohio State
41. Cleveland Browns — LB Willie Gay Jr., Mississippi State
43. Chicago Bears (from Las Vegas) — WR Brandon Aiyuk, Arizona State
46. Denver Broncos — CB Cameron Dantzler, Mississippi State
48. New York Jets — T Ezra Cleveland, Boise State
50. Chicago Bears — QB Jalen Hurts, Oklahoma
51. Dallas Cowboys — Edge Zack Baun, Wisconsin
54. Buffalo Bills – Edge Josh Uche, Michigan
58. Minnesota Vikings — DI Justin Madubuike, Texas A&M
59. Seattle Seahawks — WR Tyler Johnson, Minnesota
60. Baltimore Ravens — Edge Terrell Lewis, Alabama
62. Green Bay Packers — LB Jordyn Brooks, Texas Tech
Round 3
67. Detroit Lions, Edge Darrell Taylor, Tennessee
69. Carolina Panthers — DI Neville Gallimore, Oklahoma
70. Miami Dolphins — WR K.J. Hill, Ohio State
74. Cleveland Browns — WR/TE Chase Claypool, Notre Dame
77. Denver Broncos — WR Antonio Gandy-Golden, Liberty
79. New York Jets — Edge Kenny Willekes, Michigan State
81. Las Vegas Raiders (from Chicago) — QB Anthony Gordon, Washington State
82. Dallas Cowboys — TE Hunter Bryant, Washington
84. Los Angeles Rams — LB Akeem Davis-Gaither, App State
90. Houston Texans — TE Adam Trautman, Dayton
93. Tennessee Titans — WR Jauan Jennings, Tennessee
94. Green Bay Packers — CB Josiah Scott, Michigan State
99. New York Giants — CB John Reid, Penn State
106. Baltimore Ravens — RB Jonathan Taylor, Wisconsin