As soon as the 2021 NFL Draft drew to a close, NFL teams quickly began the process of signing the best available prospects who, for some reason or another, went unselected in the draft.
Undrafted free agents have had a long history of making a lasting impact on the NFL, with notable undrafted rookies from the past including Hall of Fame quarterback Kurt Warner and five-time Pro Bowl wide receiver Wes Welker. This year's class is shaping up to be no exception, and with the variance in the scouting process due to COVID-19, it is almost certain that a gem has fallen through the cracks and landed in a lucky franchise's lap.
Here are PFF's 10 favorite undrafted free agent signings from the 2021 NFL Draft.
More of PFF's 2021 NFL Draft tools here: 
2021 NFL Draft Big Board | 2021 NFL Draft Guide | 2021 NFL Draft Stats Export | NFL Mock Drafts | NFL Mock Draft Simulator
Ranked as the No. 57 overall prospect on PFF's 2021 NFL Draft Big Board, Washington was the top player remaining when the seventh round concluded Saturday evening.
At 5-foot-8, 178 pounds, Washington is undersized for a safety, but that has yet to stop him from wreaking havoc in the secondary. He was PFF's second-highest-graded safety in 2019 (91.7), with Mike Renner comping him to Super Bowl champion Tyrann Mathieu in PFF's 2021 NFL Draft Guide.
Baltimore wasted no time signing the TCU product, adding him to an already elite Ravens secondary. His versatility should be a fine addition to Baltimore's defense, as Washington played 100-plus snaps covering deep, in the box and the slot in both the 2019 and 2020 seasons.
The Browns cannot stop winning right now. Cleveland just put on a clinic on how to draft, ultimately earning an A+ grade in PFF's 2021 NFL Draft Grader. And the addition of Wilson only puts a bow on what was a stellar effort by the Browns front office.
The Florida State product was one of the best defenders in the country over the 2018 and 2019 seasons, earning a PFF grade of 90.1 and 90.7, respectively.
Wilson entered the 2020 season as PFF's top-rated interior defender and No. 9 overall prospect, but his production dropped drastically through the year. He recorded only 10 total pressures and a 67.7 PFF grade in just six games.
But from 2018 to 2019, Wilson was often the most powerful player on the field. He threw linemen with ease at times, displaying a pass-rush toolbox that is not commonly found in 6-foot-5, 305-pound interior defensive linemen and finishing that two-year stretch with a 15.9% pass-rush win rate that ranked sixth among the 294 interior defenders who rushed the passer at least 300 times.
If the Browns can bring back that version of Wilson, then that's just one more of many draft-day wins for Andrew Berry and the Browns.
Johnson was one of my favorite underrated prospects heading into this year's draft. He's slightly undersized (5-foot-10, 180 pounds), but his quickness and change of direction from the slot have NFL potential written all over it.
Johnson recorded an 89.5 career receiving grade when targeted in the slot, first among all wide receivers during that span. Yes, he did do this against inferior competition, but the South Dakota State star also balled out at the Senior Bowl, producing the highest grade among wide receivers in the one-on-one drills.
Johnson now gets to learn the tricks of the trade from Seahawks wideout Tyler  Lockett — Johnson's player comp in the PFF 2021 NFL Draft Guide — and having Russell Wilson as his quarterback is just icing on the cake.
There isn't a wide receiver on the planet Griffin isn't willing to go up against, and that's both a blessing and curse for the undersized corner. Griffin arrived at USC at 172 pounds and left at 175, which is a small cause for concern, but that lack of size did not stop him from posting the 12th-highest coverage grade by a cornerback in 2020 at 81.5.
The former Trojan has displayed a physical playstyle despite his size but makes up for it with great feet and an elite ability to break on routes. He compares to a more explosive Levi Wallace, another undrafted free agent signed by the Bills. Wallace has been a serviceable member for Buffalo, allowing a sub-85.0 passer rating allowed on throws into his coverage in two of his three seasons.
Brown made just 12 career starts at the college level, but he has shown that he has the potential to hold his own on an NFL field. Brown recorded the seventh-highest overall grade in the nation last season (82.2) to go with the highest PFF coverage grade in the Big Ten (84.2).
Steelers sign Michigan State CB Shakur Brown, per @TomPelissero

Highest coverage grade in the Big Ten last season (84.2) pic.twitter.com/PFNJNBlSRi

— PFF Draft (@PFF_College) May 1, 2021
Brown has just about everything you want in a corner, from outstanding ball-tracking skills to confidence in coverage. You don't need much tape on Brown to know you want to go to battle with him. He's a versatile and feisty corner.
A five-star recruit out of high school, Justin Hilliard was supposed to be the next big thing in college football after receiving over 35 scholarship offers from top-tier programs. Unfortunately, injuries derailed his first two years as a Buckeye, and it wasn't until 2020 when we finally saw him on the field for an extended period of time.
Hilliard was Ohio State's best linebacker last season. He recorded an 80.0-plus PFF grade in run defense and coverage, eventually earning a third-round grade from PFF's Mike Renner in PFF's 2021 NFL Draft Guide. The bottom line on Hilliard's scouting report reads: "If he stays healthy, Hilliard has an all-around skill set that can fit in any scheme at the next level."
The 49ers lost defensive coordinator Robert Saleh, so it is uncertain whether the defense will have the same prowess it once did, but Hilliard should be a much-appreciated addition, especially with his value as an undrafted free agent.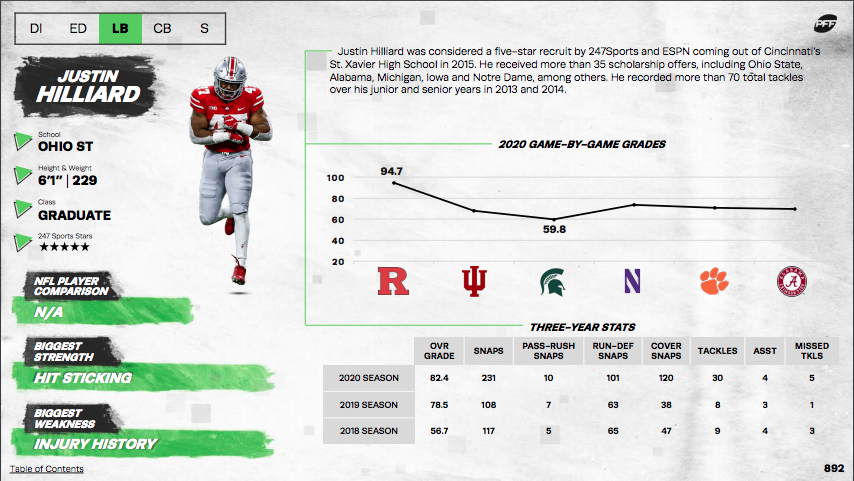 Despite his smaller stature (5-foot-9, 195 pounds), Jaret Patterson has been one of the best running backs in college football over the past two seasons. He earned an 88.0-plus PFF grade in both 2019 and 2020 while gaining the most yards after contact during that span (1,789).
Let us not forget Jaret Patterson's ridiculous two-week stretch this season

????67 carries
????710 yards
????12 TDs pic.twitter.com/WVUD1G2kDk

— PFF Draft (@PFF_College) February 23, 2021
Patterson is obviously limited by his size, but he's far too talented not to carve out a role in the NFL and with the Football Team.
It's still very much up in the air whether Jalen Hurts will pan out as the Eagles QB1, so snagging a quarterback with as much potential as Jamie Newman was a great move by the Eagles front office.
Once a top-50 prospect, Newman saw his draft stock plummet to No. 174 on PFF's big board after opting out of the 2020 season. Despite the fall, Newman has a ton of positives in his game and has the ideal build and athleticism of an NFL quarterback.
Grade on Deep Throws (20+ yards):

1. Joe Burrow: 98.5
2. Jamie Newman: 96.5
3. Dustin Crum: 96.3

— PFF Draft (@PFF_College) January 11, 2020
Newman's ball placement on deep passes (passes thrown 20 or more yards in the air downfield) is excellent. In 2019, he ranked behind only former No. 1 overall pick Joe Burrow on deep passing grade (96.9) and was the second-highest-graded quarterback in the ACC (85.2).
So, why did he fall so much? The last we saw of him was in a uber-simplistic Wake Forest offense that featured mainly run-pass options and go-balls. It is still uncertain whether he can handle the complexities of an NFL offense, but having his athleticism to fall back early in his career could be a saving grace.
Jamie Newman is a true dual-threat QB and showed it again this weekend!

(Via @accnetwork)pic.twitter.com/FxCqmD9yNE

— PFF Draft (@PFF_College) November 26, 2019
It's still a mystery as to what Syracuse defensive back Trill Williams can specialize in at the next level. In 2018, he lined up out wide on 66% of his snaps and put up solid numbers, allowing a passer rating of 54.7 on throws into his coverage. He gave up a 46.9% completion percentage in that outside role in 2018.
Trill Williams never allowed 70+ yards in a game across three seasons at Syracuse pic.twitter.com/MSesR3RuOA

— PFF Draft (@PFF_College) February 4, 2021
Williams was then moved to the slot for his 2019 and 2020 seasons, where he showed a lack of instincts at times. He earned a solid but unspectacular PFF coverage grade of 66.2 in 2019 and 78.7 in 2020, giving up a passer rating of 78.8 over those two years.
Williams is still a project, but rarely is there a complete player available as an undrafted free agent. The risk-reward taking a flier on a player like Williams is well worth it.
The Lions already have center Frank Ragnow to lead their offensive line, but signing a lineman with as much college success as Drake Jackson is an excellent move regardless of roster situation.
Jackson was the crucial part of a dominant Kentucky offensive line. Since 2018, Jackson has been on the field for exactly 1,000 pass-blocking snaps and has surrendered just one sack. The Kentucky product is also an elite run-blocker, having earned the fourth-highest run-blocking grade among centers in 2020 (85.4).
The lone knock on Jackson is his thin frame, but that did not hinder him against SEC defenses. Not many undrafted free agents are as close to pro-ready as Jackson is.
---
More of PFF's 2021 NFL Draft tools here: 
2021 NFL Draft Big Board | 2021 NFL Draft Guide | 2021 NFL Draft Stats Export | NFL Mock Drafts | NFL Mock Draft Simulator