We here at PFF will always approach certain aspects of the team-building process far differently than most NFL front offices, and the draft is obviously one of those processes.
However, four NFL teams used their first two picks of the 2021 NFL Draft in exactly the same way we would have done, given the teams' rosters and the draft prospects available at the time. Those teams, unsurprisingly, are No. 1 to No. 4 on this list.
Here are PFF's 10 favorite drafts from the past weekend.
More of PFF's 2021 NFL Draft tools here: 
2021 NFL Draft Big Board | 2021 NFL Draft Guide | 2021 NFL Draft Stats Export | NFL Mock Drafts | NFL Mock Draft Simulator
Key Value Picks
CB Greg Newsome II (PFF Board Rank: 20)
LB Jeremiah Owusu-Koramoah (PFF Board Rank: 19)
DI Tommy Togiai (PFF Board Rank: 83)
The Browns were one of only two teams that got two top-20 players on the PFF draft board — and they didn't even possess a top-20 pick. They completed their defensive overhaul in a big way, with two of the smoothest coverage players at their respective positions with their first two picks. On paper, at least, the Browns now have arguably the most complete roster in the NFL.
Key Value Picks
QB Justin Fields (PFF Board Rank: 3)
OT Teven Jenkins (PFF Board Rank: 31)
CB Thomas Graham Jr. (PFF Board Rank: 76)
There was no single bigger value selection than the Bears getting PFF's No. 3 overall player in the draft at No. 11 overall. A talent like Fields simply shouldn't slide outside the top 10, and the Bears immediately go from hapless to having hope for the future because of that pick alone. They then doubled down on Day 2 to get Fields some pass protections, drafting one of our favorite tackles in the draft with Teven Jenkins.
Key Value Picks
DI Christian Barmore (PFF Board Rank: 12)
EDGE Ronnie Perkins (PFF Board Rank: 43)
While this draft class obviously hinges on quarterback Mac Jones, the Patriots crushed Day 2. In a very weak defensive tackle class, I figured Barmore would get over-drafted and not under-drafted. But after going at Pick 38, Barmore became one of the biggest steals of the draft, according to the PFF board. The Patriots also got themselves a steal at the end of the third in Ronnie Perkins. Perkins is one of the most well-refined and productive edge rushers in a class full of athletic projects. He's the only one who earned pass-rushing and run-defense grades over 90.0 last season.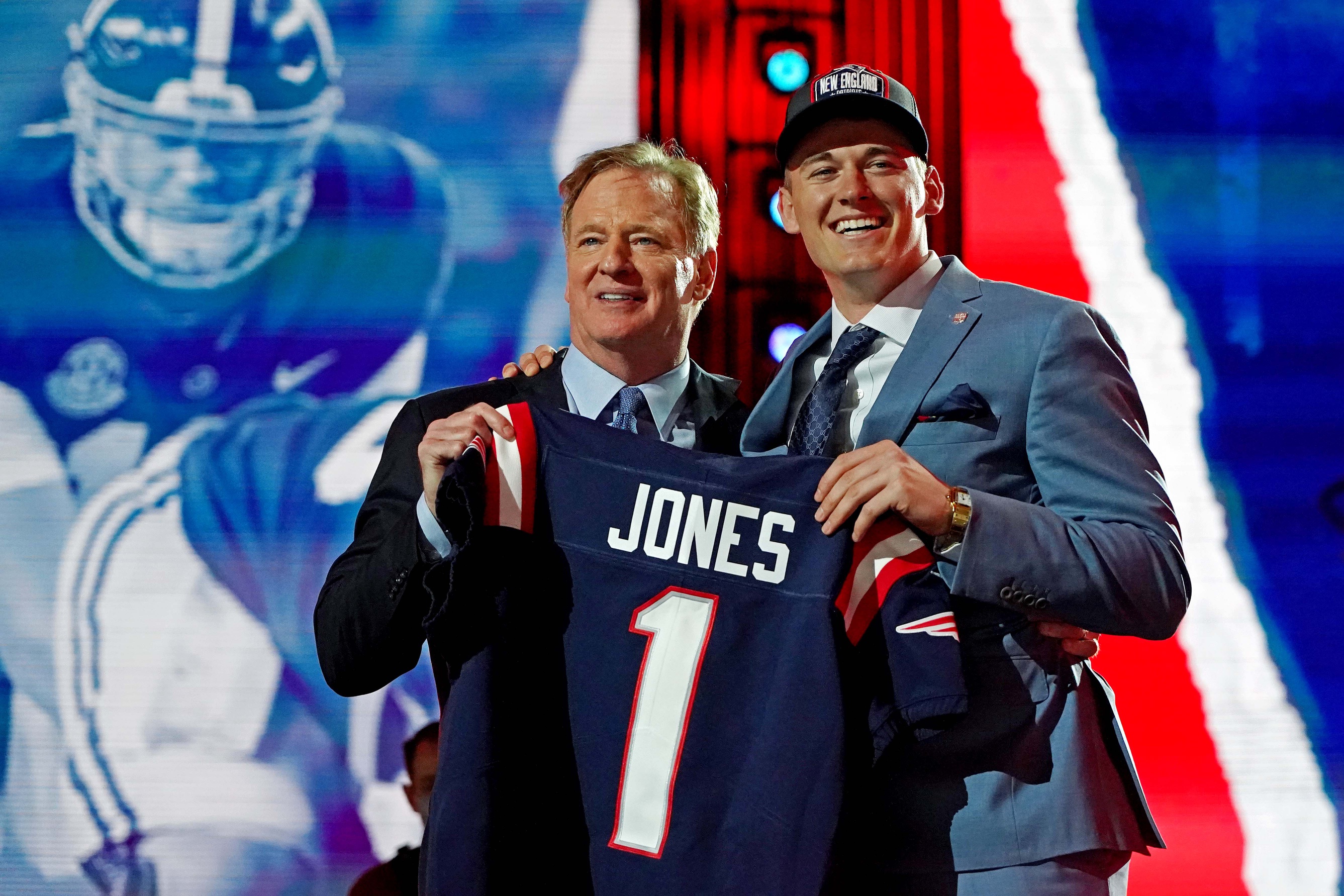 Key Value Picks
OT Rashawn Slater (PFF Board Rank: 11)
CB Asante Samuel Jr. (PFF Board Rank: 29)
WR Josh Palmer (PFF Board Rank: 71)
The last team to go straight off the PFF draft board for their first two picks. And truthfully, third-round pick Josh Palmer would have been the runner-up to who we would have gone in the same spot (we would have leaned North Carolina WR Dyami Brown). What I really like about the Chargers' draft is that these guys are Day 1 impact players. Slater is arguably more NFL-ready than even Penei Sewell and fills the only void still left after rebuilding their offensive line in free agency. Meanwhile, Asante Samuel Jr. will go to a Brandon Staley scheme that couldn't be more perfectly suited to his skill set.
Key Value Picks
OT Dillon Radunz (PFF Board Rank: 32)
S Elijah Molden (PFF Board Rank: 35)
EDGE Rashad Weaver (PFF Board Rank: 63)
Everyone knows why the Titans were able to nab Virginia Tech cornerback Caleb Farley at Pick 22, so it's difficult to call him a massive value. If he stays healthy after multiple back surgeries, he's far better than the 22nd-best prospect in the class. It's the Radunz and Molden picks that push this draft over the edge: Radunz is a far better prospect in our eyes than Isaiah Wilson was coming out and can immediately start on the right side, while Molden is easily the best slot cornerback prospect in the class and represents a massive upgrade over Chris Jackson, who was a liability in that role in 2020.
Key Value Picks
WR Elijah Moore (PFF Board Rank: 22)
RB Michael Carter (PFF Board Rank: 89)
While Zach Wilson and Alijah Vera-Tucker aren't necessarily "value" picks because that's about where we had both ranked on the PFF board, they're both cornerstone-type prospects. What I really love about their draft is the fact that the Jets continued to stockpile those guys. Moore is far more than just a slot receiver and provides a vertical threat at that position that Jamison Crowder does not. Carter is a do-it-all type of running back who is one of the shiftiest route-runners at the position in the class. For us to be calling a running back pick a value, you know we have to love the guy.
Key Value Picks
OT Penei Sewell (PFF Board Rank: 4)
DI Alim McNeill (PFF Board Rank: 54)
CB Ifeatu Melifonwu (PFF Board Rank: 70)
Prospects like Sewell flat-out shouldn't be available at No. 7 overall, so that pick was a no-brainer with him still on the board. With one of the weakest defensive tackle groups in the NFL, the Lions then got the best true nose tackle on the PFF draft board in Alim McNeill, who led the nation in run-defense grade last season. Finally, I love that they kept adding to their secondary this offseason, even with a bevy of options at the cornerback position. Melifonwu has some of the best developmental traits for the position in the draft class.
Key Value Picks
OT Samuel Cosmi (PFF Board Rank: 38)
WR Dyami Brown (PFF Board Rank: 45)
WR Dax Milne (PFF Board Rank: 105)
Cosmi is the single freakiest athlete of the top tackle prospects and has been ascending over the course of his Texas career. To get that guy at No. 51 overall was nothing short of surprising. Brown and Milne may not be the flashiest athletes in the class, but both are exceptional at getting off the line of scrimmage and are nuanced route-runners. Those are the kinds of receiver prospects we're going to gravitate toward at PFF. Suddenly, the situation around Ryan Fitzpatrick in Washington isn't looking too shabby.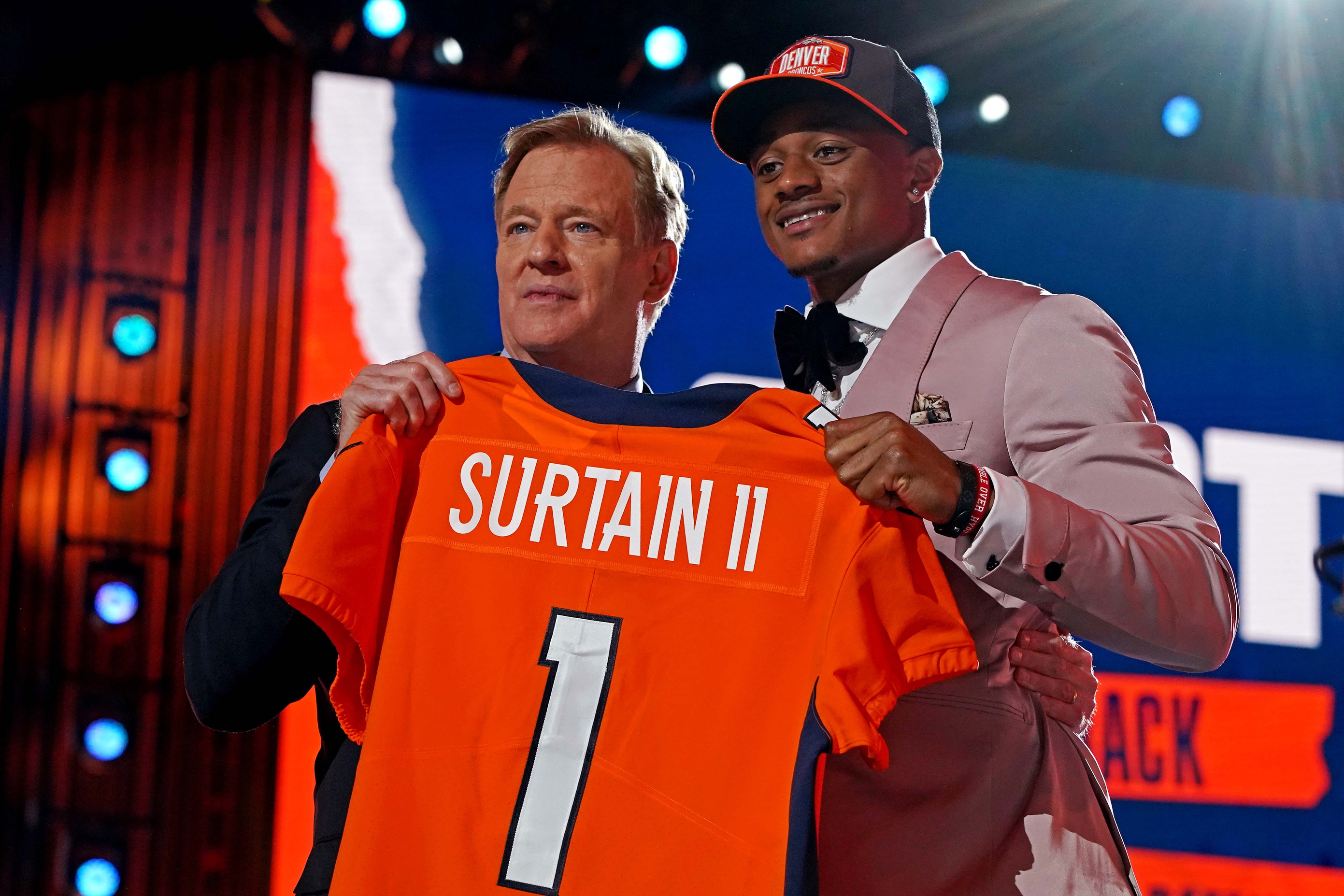 Key Value Picks
IOL Quinn Meinerz (PFF Board Rank: 51)
S Jamar Johnson (PFF Board Rank: 47)
The Patrick Surtain II and Javonte Williams picks may not have been "value" selections because our board had them in the same range, but they were CB1 and RB1, respectively, in this draft class. The only true problem spot on the Broncos roster then got filled by PFF's OC2 at No. 98 overall in Wisconsin-Whitewater's Quinn Meinerz, a Senior Bowl standout. My favorite pick of their draft, though, is Indiana safety Jamar Johnson, who goes to a perfect landing spot pairing with Vic Fangio and is one of the most versatile coverage safeties in the class.
Key Value Picks
OT Christian Darrisaw (PFF Board Rank: 15)
IOL Wyatt Davis (PFF Board Rank: 61)
To get two great value picks at easily the Vikings' biggest position group of need is nothing short of a home run for the franchise. Christian Darrisaw should have really been in play for the Vikings at Pick 14 when they were sitting on the clock, so to get him after a trade back was exceptional. They turned that Pick 14 into two immediate starters by using one of the third-rounders they got back to select Wyatt Davis. Davis would have been a borderline first-rounder had he declared a year ago, but a knee issue in 2020 dropped him down the board.
---
More of PFF's 2021 NFL Draft tools here: 
2021 NFL Draft Big Board | 2021 NFL Draft Guide | 2021 NFL Draft Stats Export | NFL Mock Drafts | NFL Mock Draft Simulator