With the NFL Combine in the books, it's a perfect time for a mock draft. Many potential first-round prospects solidified their status during the underwear Olympics, while others may have fallen to Day 2. Free agency will certainly throw a wrench in many draft plans, particularly at quarterback, but here's our latest mock draft heading into next week's free agent frenzy.
The 2018 NFL Draft Guide is here! For PFF Edge & Elite subscribers, a comprehensive guide featuring player profiles of signature stats, grades and exclusive PFF content including position by position rankings. Find out more information here and join PFF now!
As always, these picks are not a prediction, but what I would do as general manager of each team.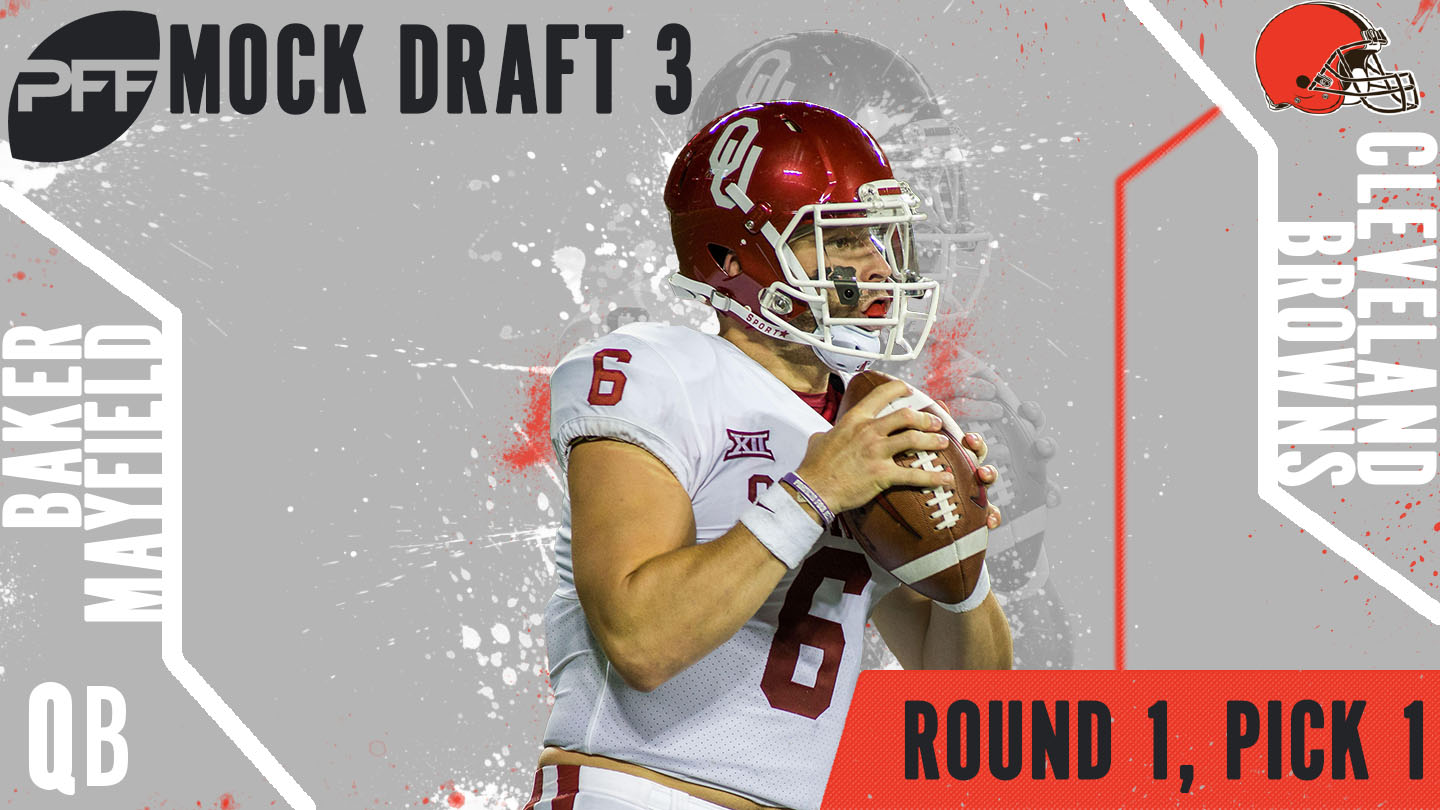 QB Baker Mayfield, Oklahoma
The nation's highest-graded quarterback for two straight years, Mayfield's production has been at another level than his peers, and every way the numbers are sliced, he comes out at or near the top. The NFL is more than just college production, but Mayfield has shown well in important areas, including his ability to make "NFL Throws" (as outlined in our QB Annual as part of PFF Edge), and has shown accuracy on tight-window throws. Mayfield's accuracy and decision-making make him the top signal-caller in the class.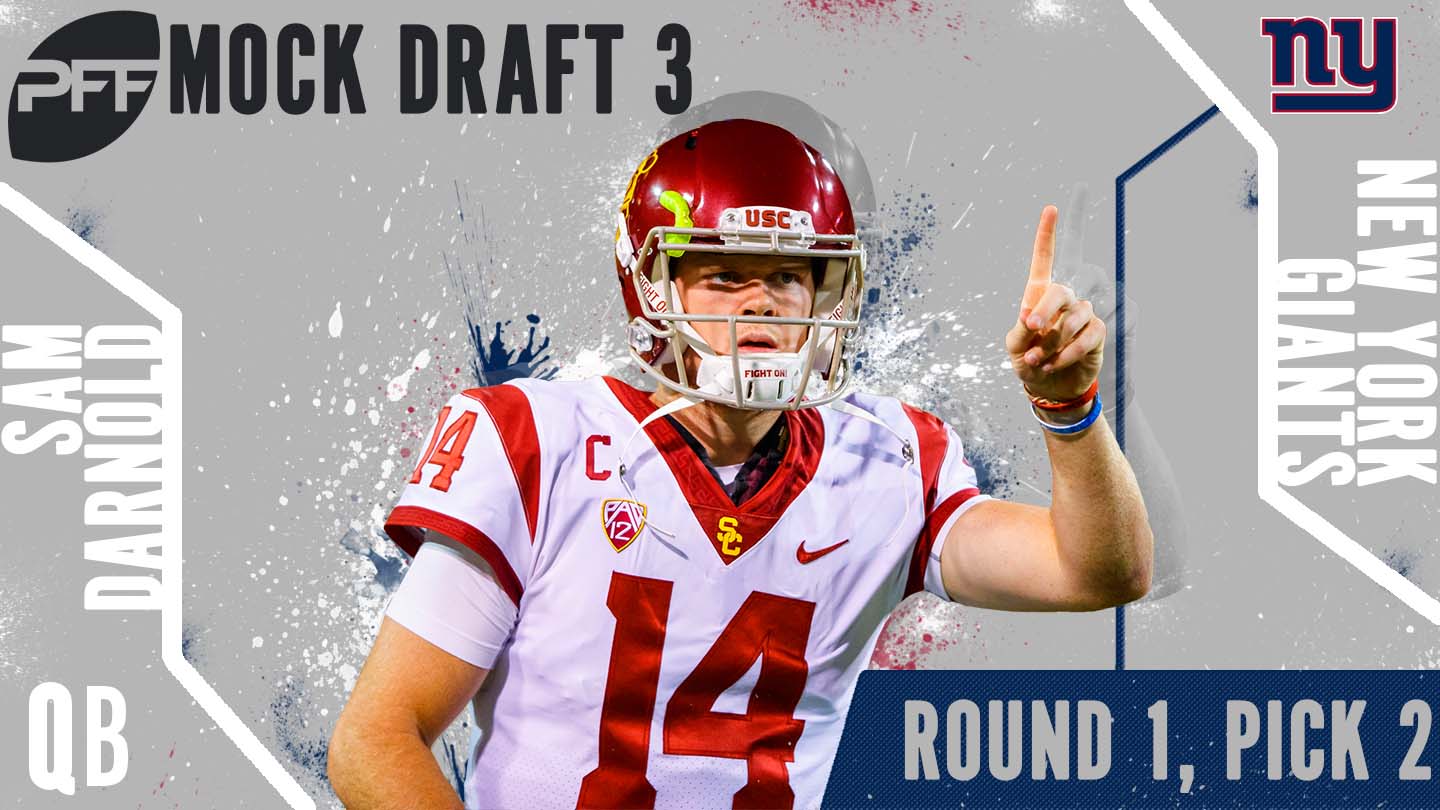 QB Sam Darnold, USC
Not far behind Mayfield, Darnold has a few questions to answer after a rough stretch in 2017, but it was a solid sophomore campaign after an exceptional debut as a redshirt freshman in 2016. He has the special throws in his arsenal, from his middle-of-the-field anticipation, to his ability to throw receivers open in tight windows, to his ability to create big plays outside of structure. The question for Darnold is the turnover-worthy plays that were a problem last year, particularly his ball security in the pocket, but Darnold's shown efficiency in all aspects of the game and there's a path to him being the top quarterback in the draft if he can clean up just a few parts of his game. The Giants must take advantage of their positioning at the top of the draft to select their signal-caller of the future.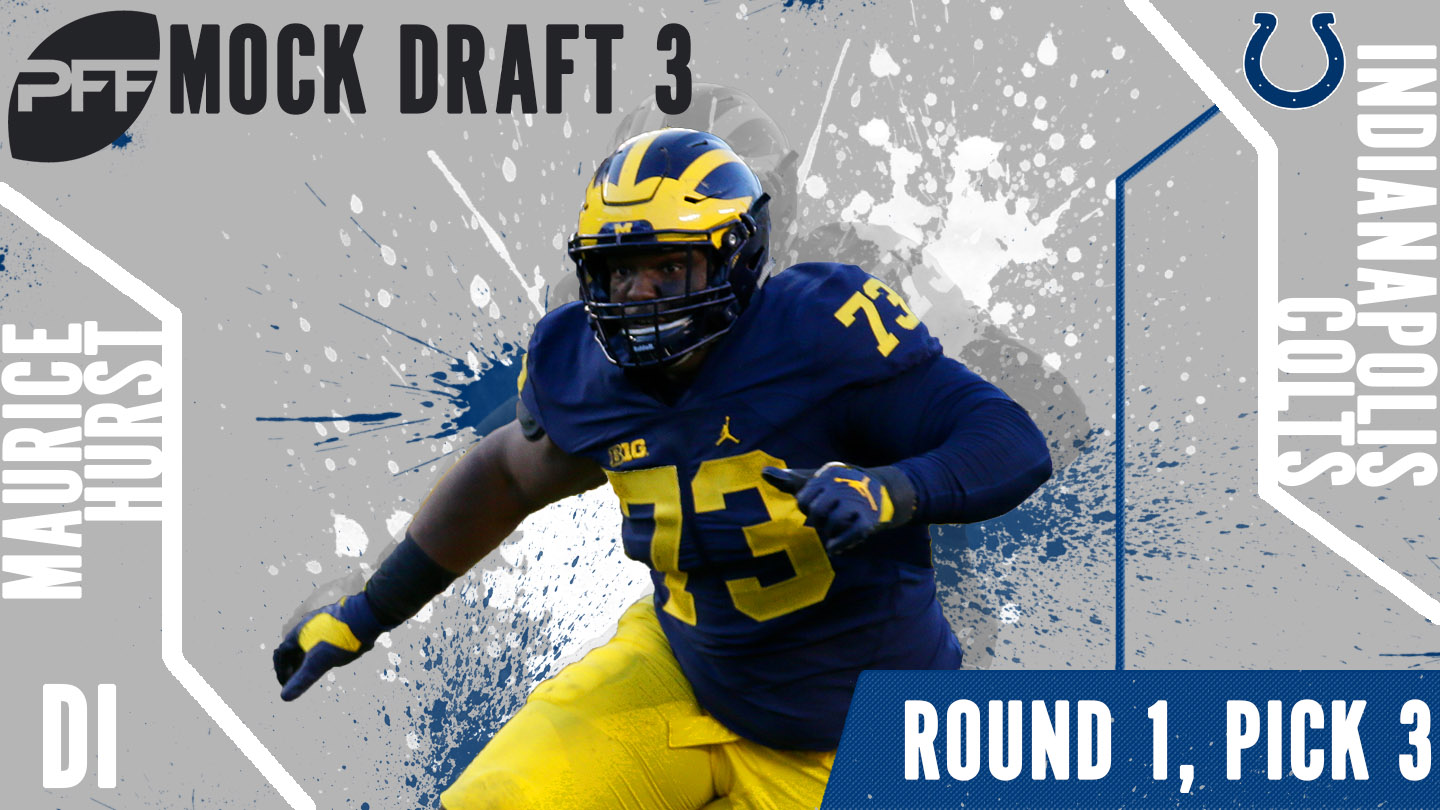 DI Maurice Hurst, Michigan
Hurst was diagnosed with an undisclosed heart condition at the NFL Combine, but he maintains top status among defensive players on our draft board until more information is revealed. Hurst's three-year production is the best in the class and he led all interior defensive linemen with a 92.2 pass-rush grade and also led with a 93.5 grade against the run. He's an explosive, interior disruptor and a perfect fit for a Colts front-seven in need of talent.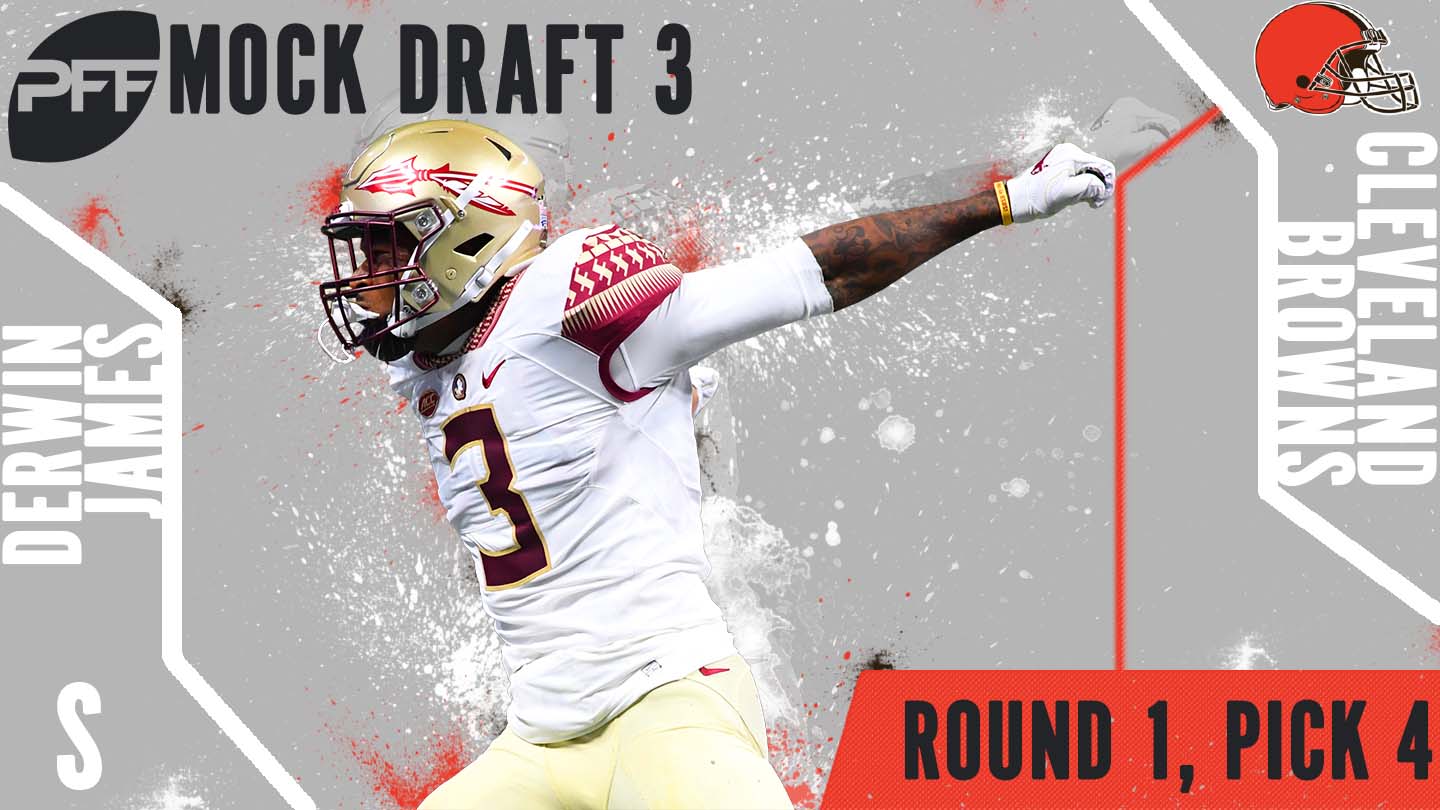 S Derwin James, Florida State
Perhaps the best all-around playmaker in the draft, James can fill multiple roles in his future defense, from traditional safety, to linebacker, to slot corner, to pass-rushing mismatch. James was the nation's top-graded safety as a true freshman in 2015 (91.2) and then again last season as a junior (92.0), and he showcased his skills from a variety of alignments at Florida State. James is a defensive chess piece capable of mitigating the advantage offenses have found with their versatile tight ends and running backs.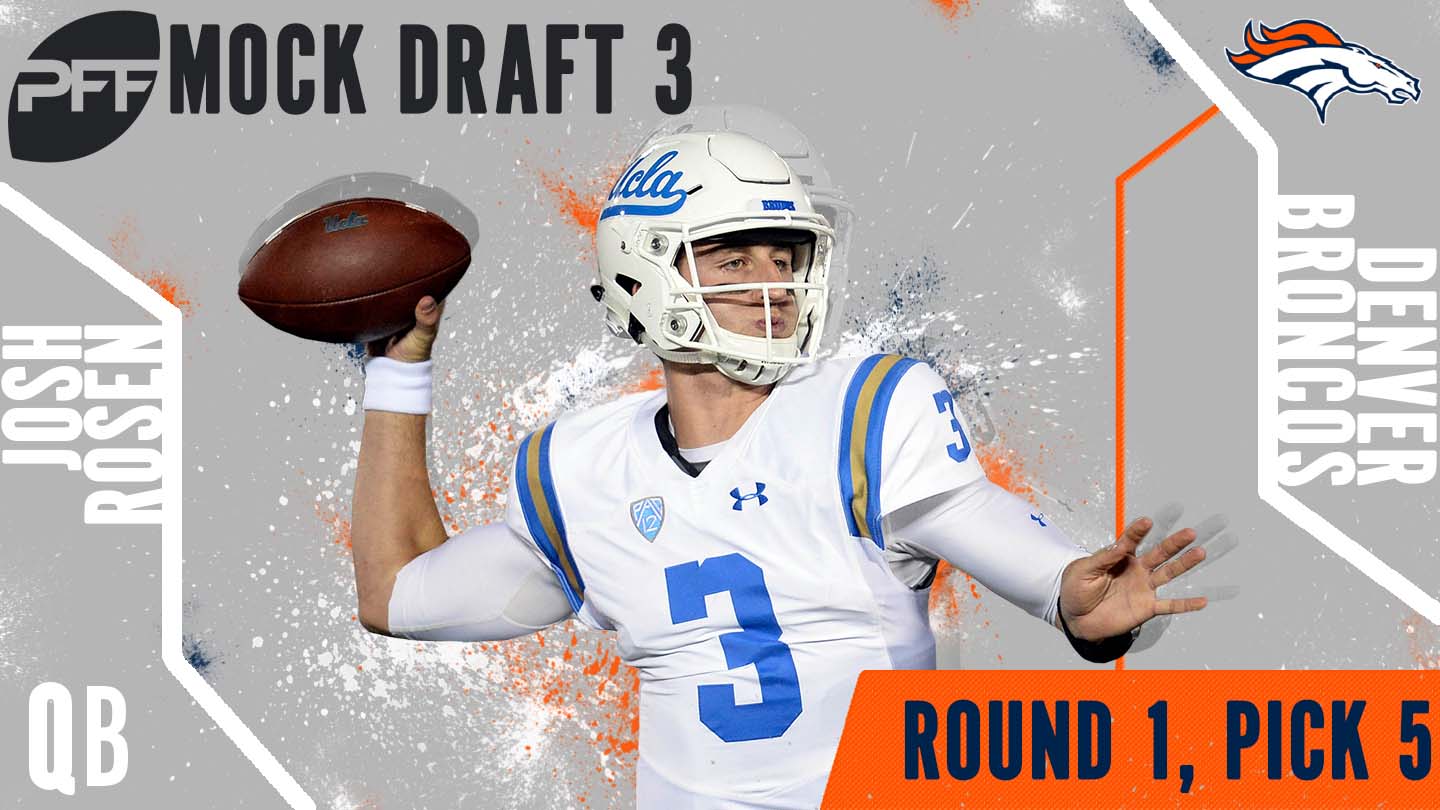 QB Josh Rosen, UCLA
Rosen put together three strong years of grading at UCLA, finishing last season as the top-graded quarterback on intermediate throws. He has the zip to make tight-window throws and the touch to create plays at all levels, and has good feel for the back-shoulder game. For Rosen, it's all about harnessing his natural aggressiveness, which leads to a mix of NFL throws and head-scratchers, but his positives outweigh the negatives and he's capable of leading an NFL team through the air.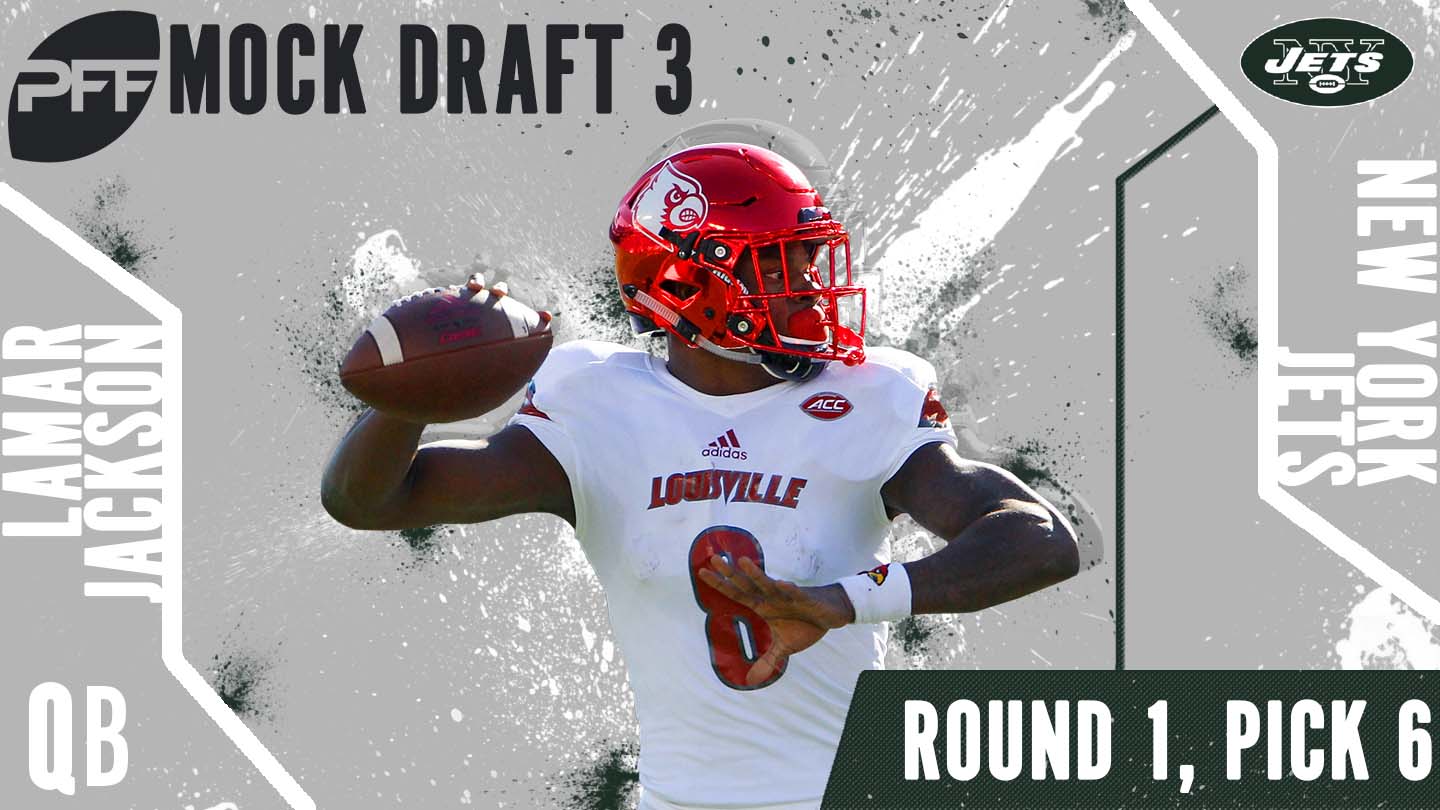 QB Lamar Jackson, Louisville
It's all about knowing what you're getting when it comes to Jackson, who is not the most polished passer in the class but is more than capable of making throws down the field. His athleticism is a next-level weapon (top rushing grade among quarterbacks each of the last two years) and his future offensive coordinator must tap into it in order to maximize Jackson's value.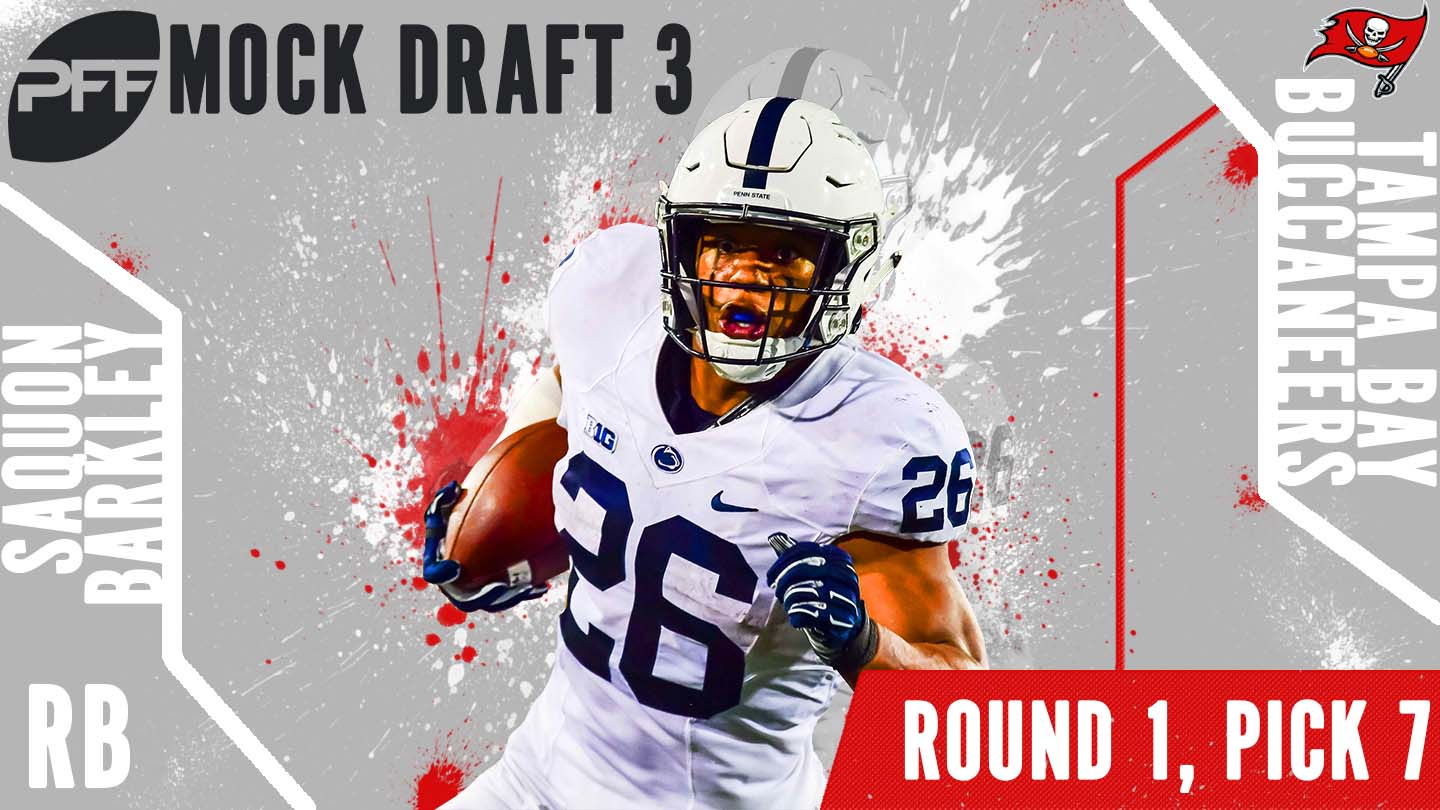 RB Saquon Barkley, Penn State
While Barkley is receiving top-3 hype, it's hard to slot him in over potential franchise quarterbacks and blue-chip defensive players. However, he's a nice fit here to the Bucs, who continue to assemble offensive playmakers for quarterback Jameis Winston. Barkley's receiving ability makes him more valuable than a traditional running back and he led FBS running backs with 632 receiving yards last season. He's shown the ability to win from multiple alignments and his value will be maximized if used all over the formation and as a check-down option for Winston.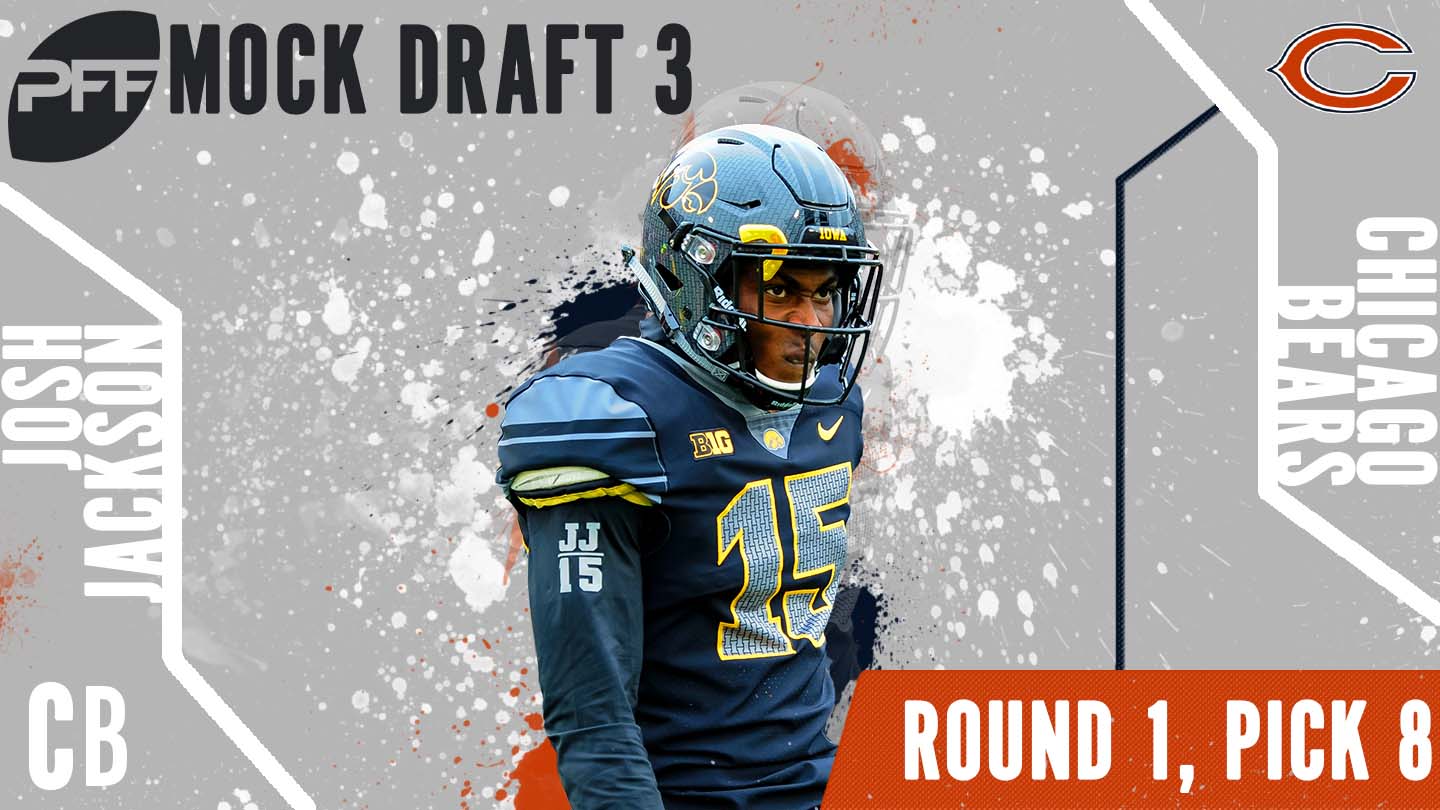 CB Josh Jackson, Iowa
The Bears have re-tooling to do at cornerback and Jackson is one of the best outside playmakers in the draft. He led the nation with 18 pass breakups and eight interceptions while allowing a passer rating of only 31.3 into his coverage, fifth-best among corners with at least 50 targets. Jackson has the size to play press coverage, but he's at his best in "off" coverage, making plays on the ball.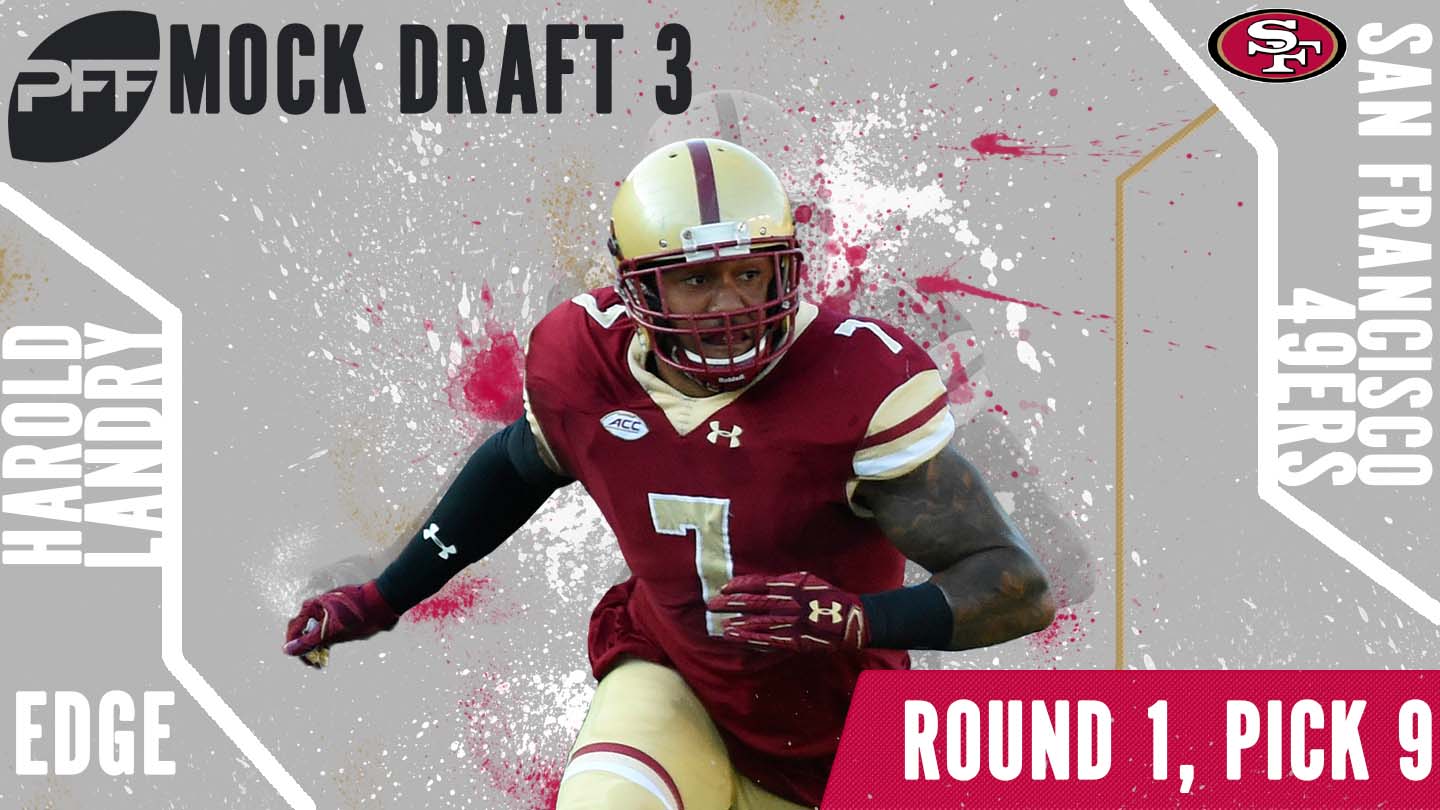 Edge Harold Landry, Boston College
Yes, the 49ers continue to draft defensive linemen in the first round, but Landry brings a body type and skill set not currently on the roster. He has the explosiveness to win on the edge and it showed up in 2016 when he finished with 18 sacks, seven hits and 44 hurries on only 322 rushes. He regressed slightly in 2017 while also battling injury, but at his best, he's the top pass-rusher in the class while adding solid play against the run, and the 49ers have a chance to add another valuable piece to their defensive front.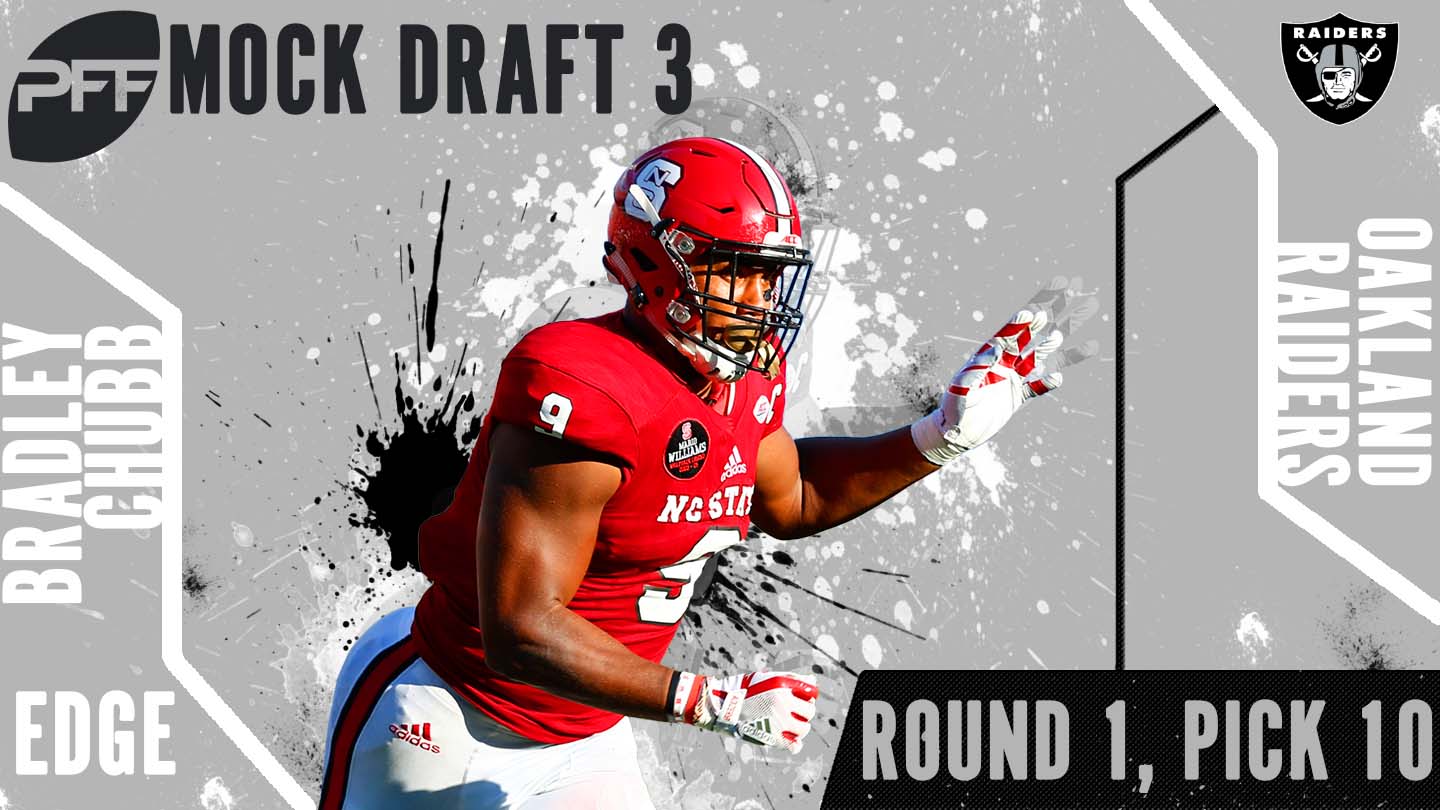 Edge Bradley Chubb, NC State
The Raiders are still looking for a viable threat opposite Khalil Mack and Chubb offers a three-down option on the edge. He's outstanding in the run game, where he rarely loses and finished second in the draft class with a run-stop percentage of 11.0. Chubb has continued to improve as a pass-rusher, where he has the burst to challenge tackles and pairs that with the power and hand usage to win off the edge.
 G Quenton Nelson, Notre Dame
A perfect fit given Miami's recent struggles at guard, Nelson is the best guard prospect to come out in some time. He can do it all in the run game, from creating massive holes at the point of attack to blocking on the move and his pass protection improved every year at Notre Dame. He allowed only five pressures last season.
 T Mike McGlinchey, Notre Dame
The other part of the dominant left side of Notre Dame's offensive line, McGlinchey is a powerful run-blocker who led the nation with a 95.0 grade in the run game last season. He's always graded well, though not exceptional, as a pass-blocker, and there were a few ugly plays on tape last season, though McGlinchey has all of the tools to be a solid left tackle at the next level.
CB Minkah Fitzpatrick, Alabama
With Kendall Fuller traded to the Chiefs, the Redskins have holes to shore up in the secondary. At worst, Fitzpatrick looks like a good slot corner or safety, though his size makes him an intriguing option as an outside cornerback despite playing only 13 snaps there last season. He has three strong years of grading under his belt on 2,281 career snaps.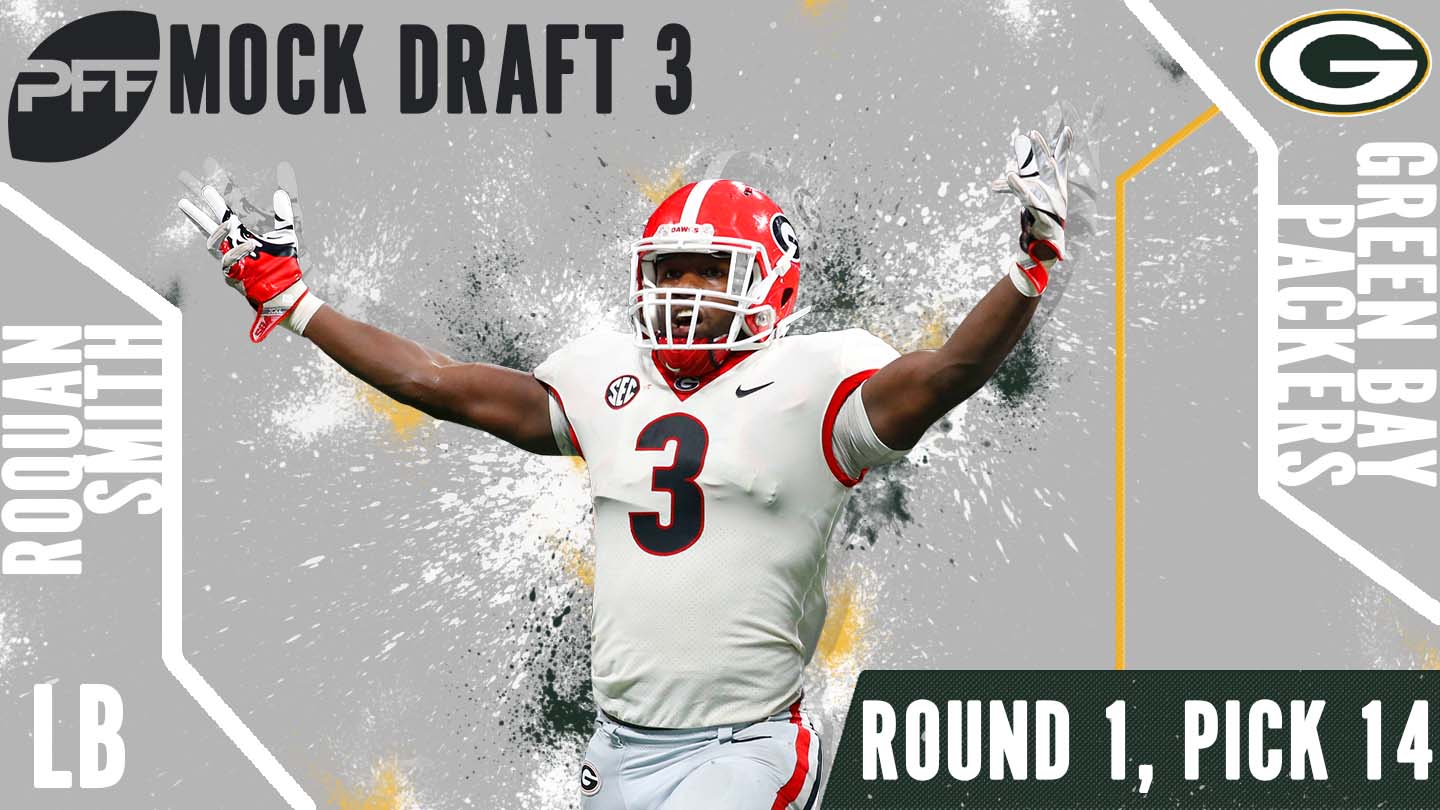 LB Roquan Smith, Georgia
Smith is exactly what the NFL is looking for at linebacker, as he flies to the ball in the run game, but more importantly, he has the range to excel in coverage. He drives on underneath routes and has the movement skills to hang with running backs in man coverage, all leading to an elite 90.8 overall grade last season. Smith adds a much-needed athletic piece to the middle of the Green Bay defense.
 CB Denzel Ward, Ohio State
The Cardinals are still in the market for a cornerback opposite Patrick Peterson and Ward has all of the tools to be a perfect complement. He has outstanding speed and quickness, a rare combination, allowing him to hang with the better route runners, including slot receivers. Ward has allowed a completion percentage of only 35 percent over the last two years while breaking up 19 passes.
 WR Michael Gallup, Colorado State
There's no clear-cut top wide receiver in the draft, though Gallup brings a strong all-around skill set after posting the nation's top grade last season at 92.0 overall. He's one of the better route runners in the class, has the body control to do damage down the field and he possesses the smooth-running ability gain yards after the catch. He forced 38 missed tackles on 179 catches over the last two years.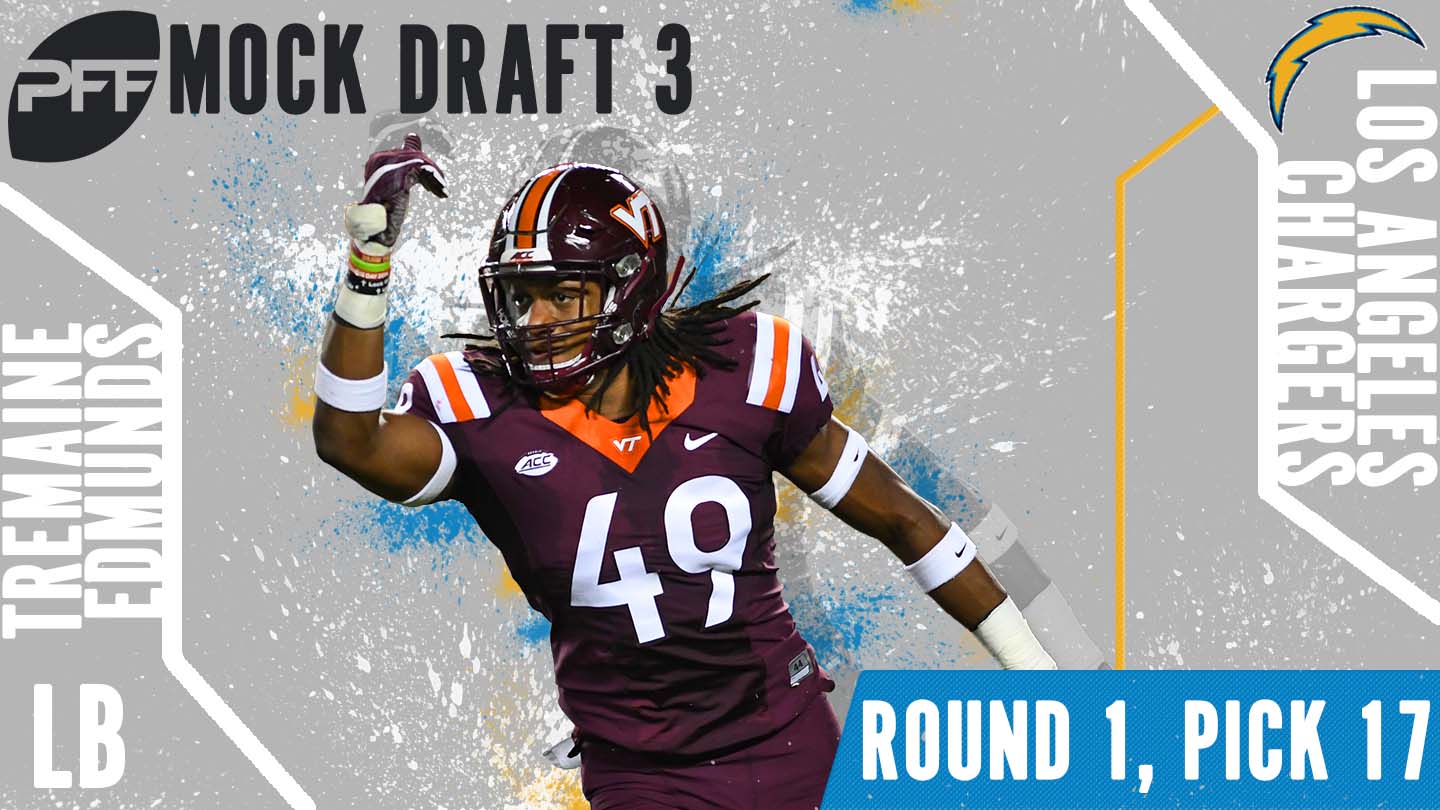 LB Tremaine Edmunds, Virginia Tech
One of the most unique body types in the draft, Edmunds is an oversized linebacker at 6-foot-5, 254 pounds, but he has traditional linebacker skills. He adds range to the middle of the Chargers defense that will only get better with an added playmaker at the linebacker level. Edmunds will be only 20 years old on opening day and he's just scratching the surface on his potential after posting an 87.2 overall grade last season.
 T Connor Williams, Texas
It was a disappointing 2017 season for Williams after he struggled early before battling injury, but he was among the best offensive tackles in the nation in 2015 and 2016. He allowed only four pressures in 2016 and his movement skills and power allow him to make any block in the run game. Many evaluators see a future at guard for Williams, but he deserves a shot to stick at tackle, a position where the Seahawks have plenty of room to improve.
 DI Vita Vea, Washington
At 340-plus pounds, Vea is more than just a run-plugger, though he can certainly wreck blocks in the run game. He has the power to push the pocket and his pass-rush productivity of 10.3 ranked eighth in the draft class last season. Vea finished fifth in run-stop percentage at 12.1 while grading at 91.6 against the run, showing that he can disrupt and finish plays. He adds a much-needed big body to the Dallas defensive line rotation.
 RB Rashaad Penny, San Diego State
The Lions have been looking for answers in the run game for years, and Penny may be just what they need. He has one of the best combinations of size, speed, and quickness in the draft class, all leading to the No. 2 elusive rating in the class (128.6) last season. He can be a factor in the pass game, a prerequisite for living up to first-round value, though he needs work in pass protection, where his 88.3 pass-blocking efficiency (73rd in the class) only tells a part of the story.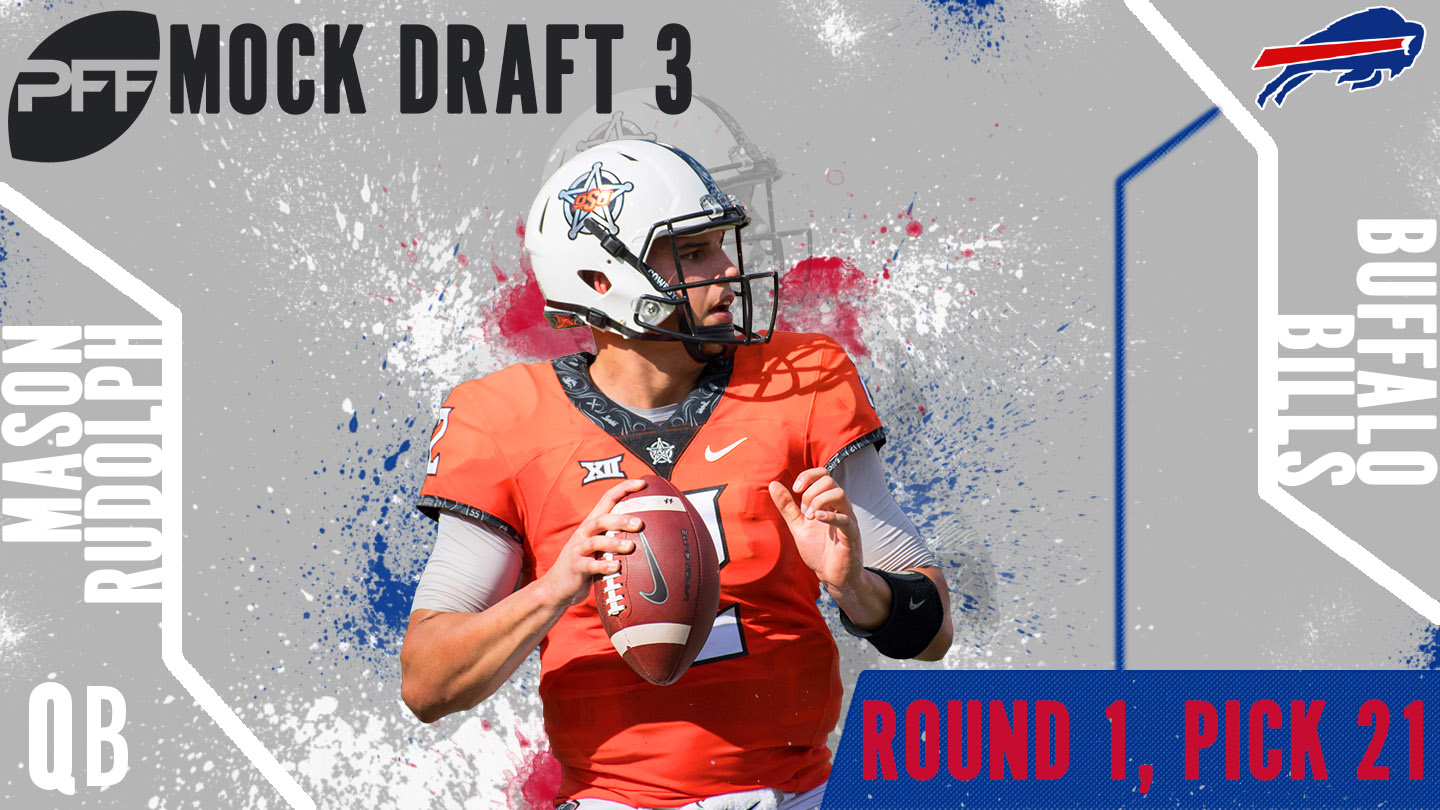 QB Mason Rudolph, Oklahoma State
Buffalo is searching for their quarterback of the future and with two first-round picks, they can afford to take a flier on Rudolph, who fluctuates between high-end and mid-round in his play. He can get the ball down the field, as he has been one of the most productive deep throwers in the nation the last three years. Rudolph still has room to improve his accuracy in the short game, but he has great feel for throwing outside the numbers on deep outs and comebacks.
22. Buffalo Bills – from Kansas City (10-6)
 TE Dallas Goedert, South Dakota State
The first weapon for Rudolph, Goedert can do it all at 6-foot-5, 255 pounds. His catch radius allows him to make spectacular grabs and he's an impressive athlete after the catch, as he averaged 8.2 YAC/reception last season. Goedert can win at every level while adding a lethal red-zone threat for Rudolph and the Bills' offense.
C Frank Ragnow, Arkansas
The top-graded center each of the last two years, Ragnow is one of the best run-blockers in the draft and he's only allowed 15 pressures in pass protection over the last two years. With starting center John Sullivan a pending free agent, Ragnow is a perfect fit to take over while also adding positional depth, as he can play either guard position as well. With the strength and technique to take on nose tackles and the quickness to climb to the second level in the run game, Ragnow brings versatility to any rushing attack.
 G Will Hernandez, UTEP
With guard Andrew Norwell a pending free agent, it's a perfect time for the Panthers to reload at guard and Hernandez is a great fit for their power-running scheme. He moves people at the point of attack and packs a punch as a puller, all leading to back-to-back elite overall grades in both 2016 (95.2) and 2017 (90.3). Hernandez has surrendered only four pressures over the last two years and he had an excellent week at the Senior Bowl.
 LB Leighton Vander Esch, Boise State
Vander Esch lived up to the NFL Combine hype, as he showed off the movement skills that made him a breakout player in 2017. He led the draft class with a run-stop percentage of 15.9 while showing the range in coverage to be a three-down asset at the next level. Vander Esch adds a much-needed athletic presence to the middle of the Tennessee defense.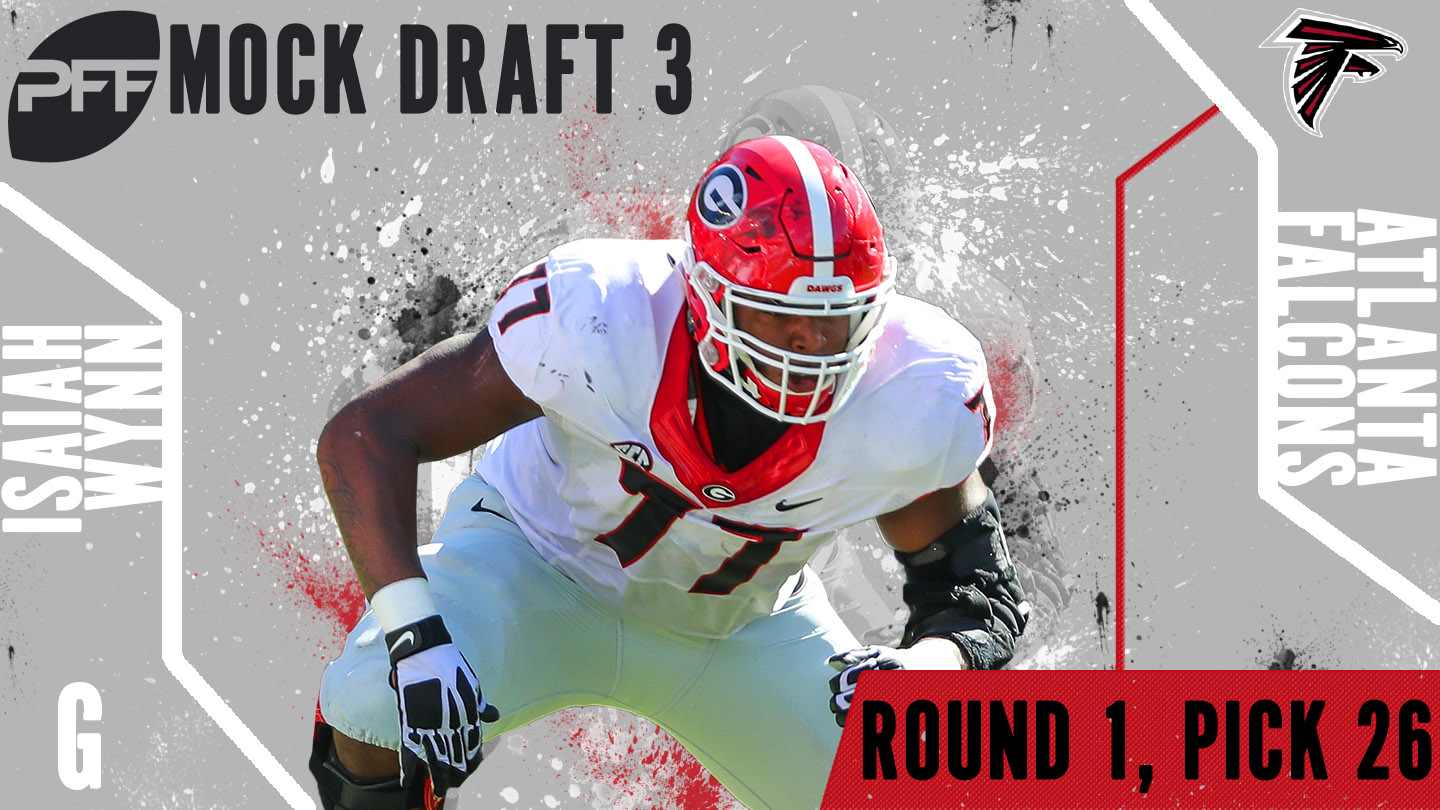 G Isaiah Wynn, Georgia
Need and value match up well here for the Falcons as they go into the offseason with a big hole at guard and Wynn is a perfect transition to convert from left tackle to guard at the next level. He ranked fifth among draft-class tackles with a pass-blocking efficiency of 98.7 and he plays with natural leverage in the run game that translated to an 88.6 grade last season.
 Edge Marcus Davenport, UTSA
While Davenport is getting hype in the top-15 range, he still needs work as a prospect and is likely a better fit later in the first round. The Saints swing for the fences as they look to add a viable pass-rush threat opposite Cameron Jordan. Davenport has great size and length, evidenced by him having the third-highest rate of bull-rush pressures in the draft class and the No. 4 pass-rush productivity (16.4).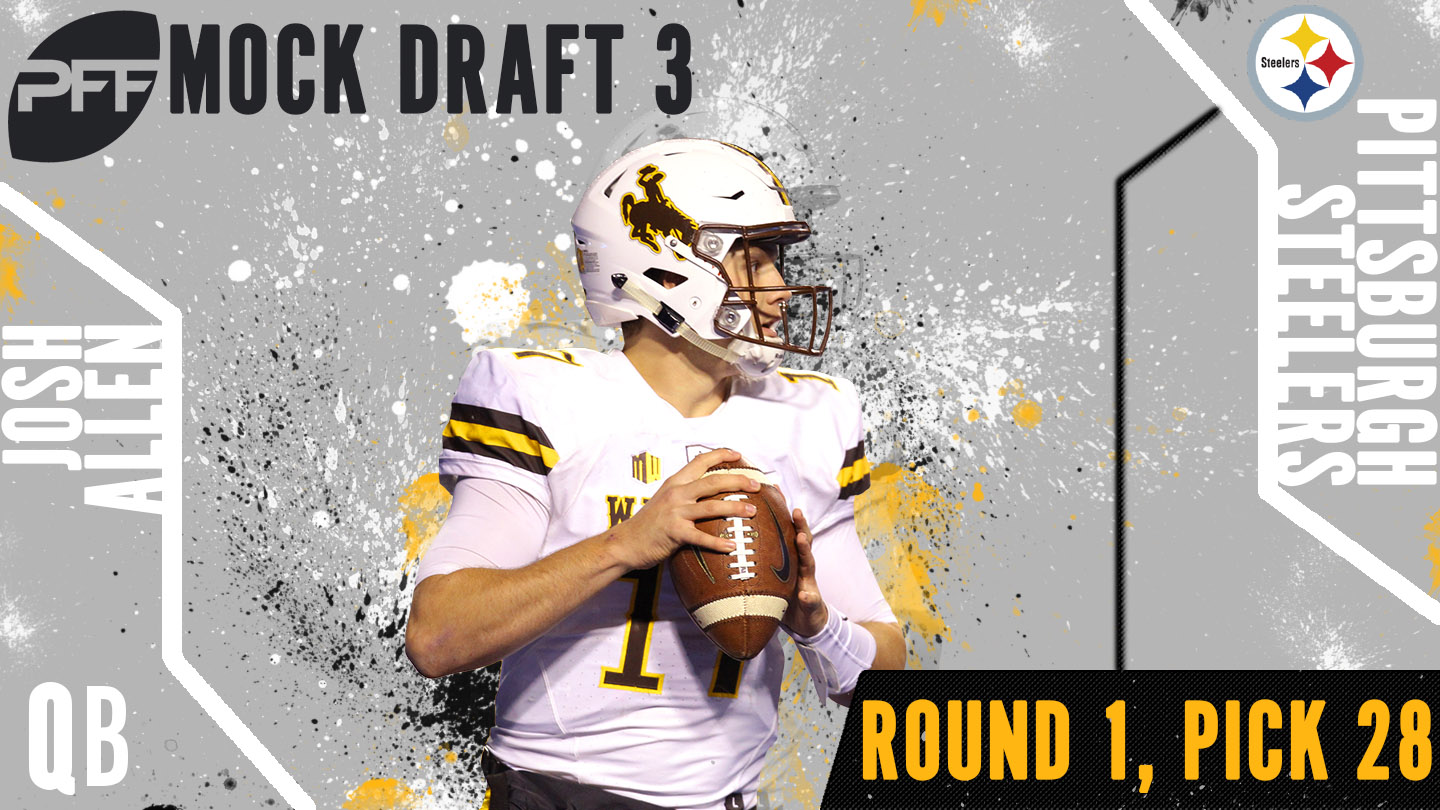 QB Josh Allen, Wyoming
Allen is still a project at this point in his development, but a worthwhile one for the Steelers as they maximize the tail end of Ben Roethlisberger's career. Allen has a cannon for an arm and great size and athleticism, though he must improve his accuracy and touch in the short game as well as his decision-making that had him ranked 28th in the draft class at avoiding turnover-worthy plays. Even with his accuracy issues, Allen has potential as a volatile, downfield thrower, and sitting on the bench for a year or two could be the key to unlocking his ceiling.
 WR Courtland Sutton, SMU
With Allen Robinson likely to hit free agency, Sutton is a good fit to step in as a big-bodied receiver capable of winning at all levels of the field. He's 6-foot-3, but looks extremely nimble on tape, and he forced 26 missed tackles on 143 catches the last two years, and that was backed up by a 6.57 3-cone drill at the NFL Combine. Sutton uses his big catch radius well down the field and in the red zone and he's a good fit for Blake Bortles.
 DI Taven Bryan, Florida
Bryan broke out with a monster 2017 season and followed it up with an excellent showing at the NFL Combine. He has improved every year at Florida and used his excellent get-off to rank 10th in the draft class with a pass-rush productivity of 9.7 last season while disrupting in the run game on his way to an 88.3 grade. He adds an interior disruptor to a strong Vikings defensive line that is ready for an injection of youth.
 CB Isaiah Oliver, Colorado
New England adds a press corner in Oliver who can step in on the outside opposite of Stephon Gilmore. He has good size and ball skills, as he broke up 23 passes on only 146 targets over the last three years. Oliver plays vertical routes well and he's allowed a completion percentage of only 45.5 percent on passes into his coverage.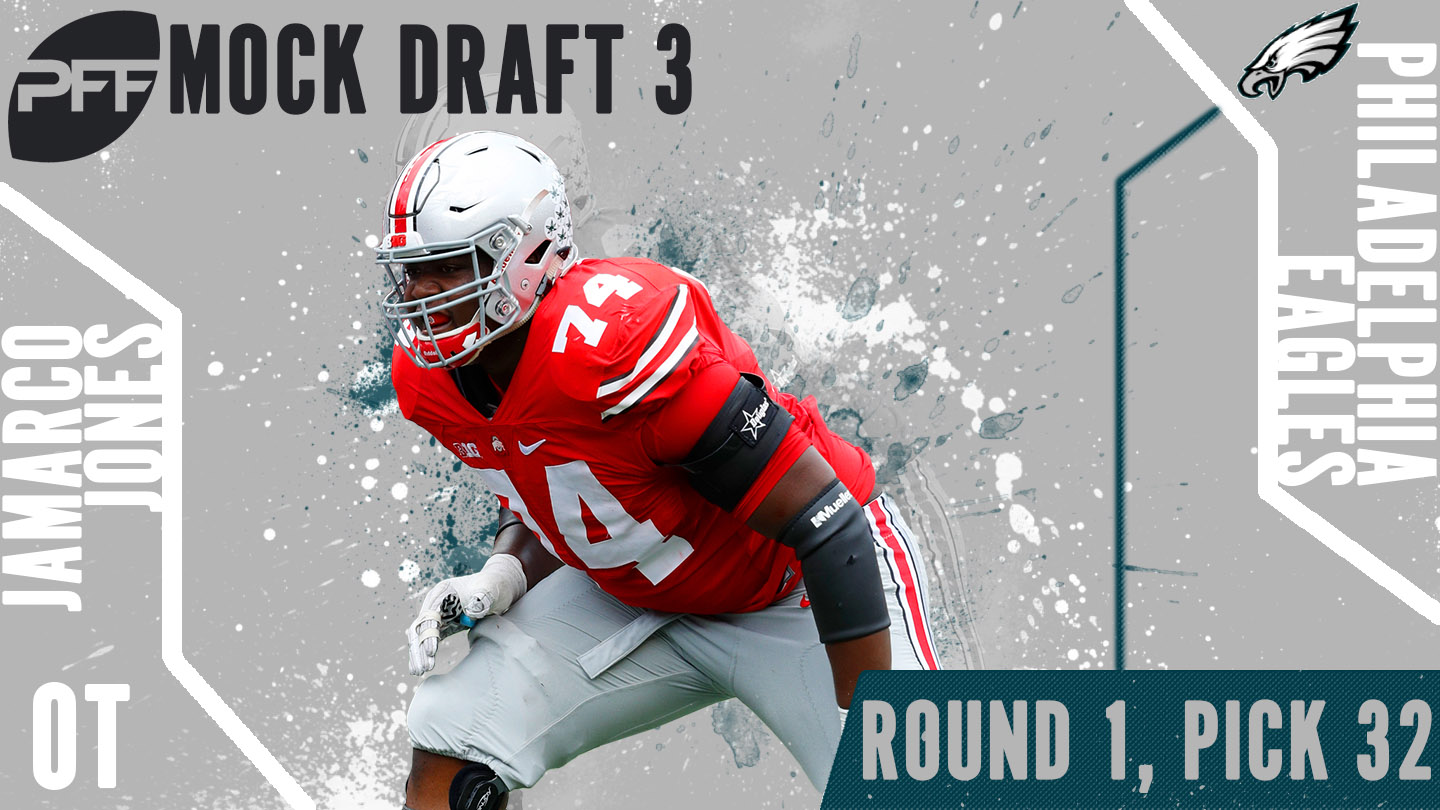 T Jamarco Jones, Ohio State
With left tackle Jason Peters nearing the end of his career, the Eagles add depth and a potential replacement in Jones. He improved every year at Ohio State, peaking with an 84.9 overall grade last year and a 98.0 pass-blocking efficiency that ranked 14th in the draft class. Jones still has work to do to clean up parts of his game, but that makes him a good fit in Philadelphia, where he has time to develop.
2018 NFL Draft
---
Position ranks: QB | RB | WR | TE | OT | OG/C | EDGE | DI | LB | CB | S