Last year, three quarterbacks heard their names called in the first round while the 2018 NFL Draft class contains as many as five or six signal-callers expected to go early in the draft. UCLA's Josh Rosen appeared destined to be the first overall pick almost as soon as he stepped on campus, and certainly after a true freshman debut that saw him carve up Virginia.
However, despite the size, arm, smarts and look, Rosen only rarely dominated at UCLA. He put together three strong years, grading at 84.9 as a freshman in 2015, before following up with an 84.5 grade in an injury-shortened 2016 season and capping off his career with an 86.3 grade last season. While the final numbers show a level of consistency to Rosen's game, when it comes to a game-by-game or throw-by-throw basis, he's actually closer to a high-volatile player in the mold of Eli Manning or Jameis Winston.
The Good
Let's start at the intermediate (10-19-yard) level, where Rosen posted the top grade in the draft class in 2017. It's an important place to have success, as most of the best NFL quarterbacks are excellent in this range, and Rosen has all of the tools to carry that forward to the next level. He can throw with anticipation over the middle of the field, zip to hit tight windows, touch to avoid linebackers and has a good feel for working the back-shoulder game on the outside.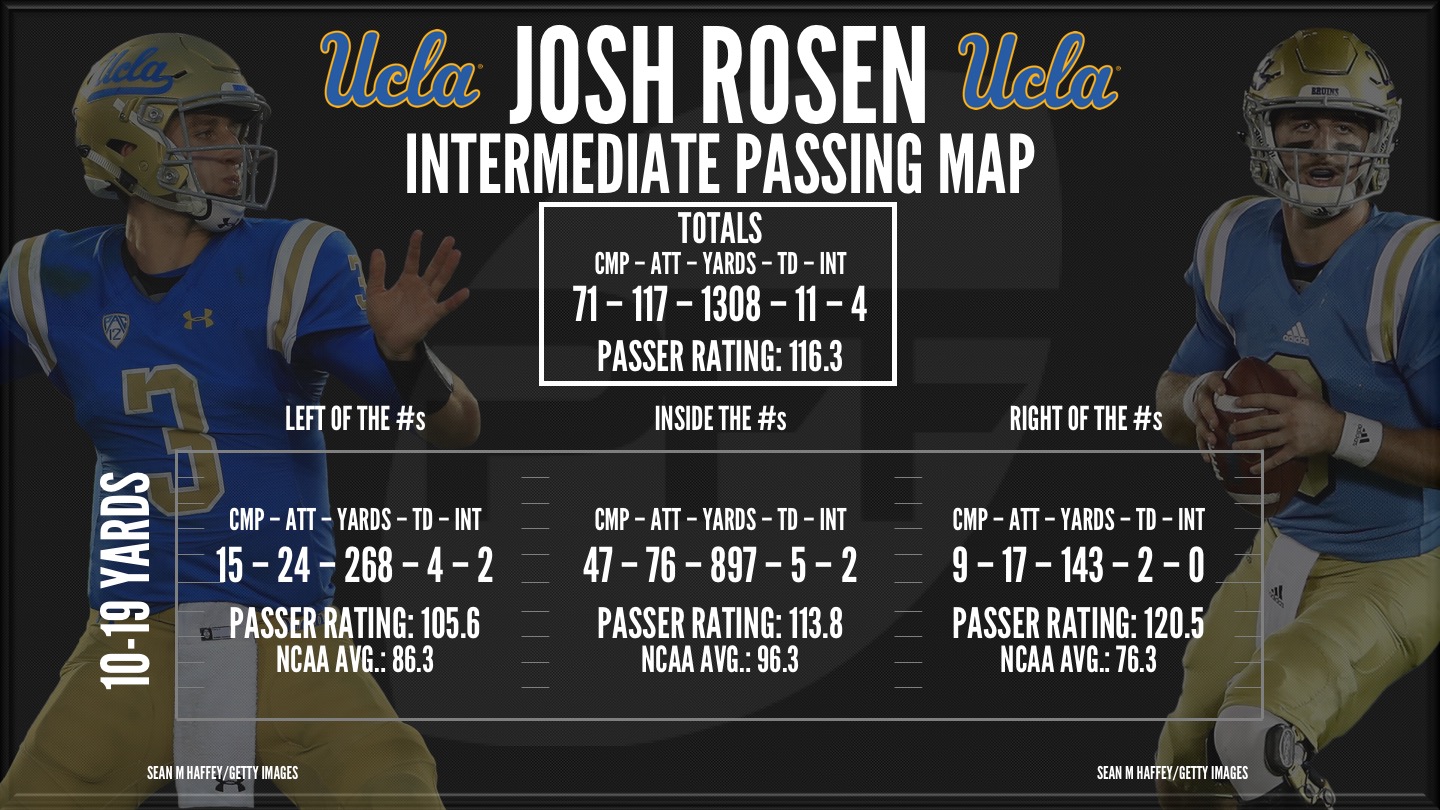 On intermediate throws last season, Rosen ranked fifth in the draft class in adjusted completion percentage at 70.1 and posted the second-highest percentage of big-time throws.
Watch as Rosen squeezes this pass into a tight window, putting it right on his receiver.
Writing up the good and the bad with UCLA QB Josh Rosen.

He's fearless in the middle of the field, for better or for worse.

Results in some great throws and a few head-scratchers.

This was excellent#PFFDraft pic.twitter.com/GpdbmURplZ

— Steve Palazzolo (@PFF_Steve) February 12, 2018
Another pass he dropped perfectly in place was an early one against Cal, just over the hands of the defenders.
Back to Rosen. He had the highest grade in the draft class when throwing to the intermediate (10-19-yard) level. pic.twitter.com/HJQUdLGHR1

— Steve Palazzolo (@PFF_Steve) February 14, 2018
In addition to his work at the intermediate level, Rosen has shown good feel for leading receivers down the field, particularly on deep post and crossing routes. He had multiple throws in 2017 in which he properly recognized the safety's help, or lack thereof, and put the ball in a perfect spot for only his receiver to catch it. Check out this throw against USC.
Rosen's deep passing numbers weren't great, but he did show a good feel for leading receivers on deep posts and crossing routes#PFFDraft pic.twitter.com/jdNVDOAJYl

— Steve Palazzolo (@PFF_Steve) February 14, 2018
While Rosen's overall numbers aren't great on deep passes, the resounding theme to his game is the top-end, NFL-caliber plays are present. He can create big-play opportunities all over the field, but in addition to improving overall consistency, there are still other issues to work out with his game.
[Editor's Note: The 2018 NFL Draft Guide is coming. For PFF Edge & Elite subscribers, a comprehensive guide featuring player profiles of signature stats, grades and exclusive PFF content will be released on February 26.]
The Bad
The same aggressiveness that leads to Rosen's big-time throws can also come back to bite, and Rosen has always ranked on the higher end in turnover-worthy throws. He ranked 24th in the draft class in 2017 at avoiding turnover-worthy plays, due to a combination of his middle-of-the-field aggressiveness, a disregard for linebackers and safeties, and a few issues with fumbles.
Rosen's aggressiveness makes him a highly-volatile thrower. He rarely sees a tight window he's not willing to hit and that leads to a combination of NFL-caliber throws, but also head-scratching decisions.
Those tight windows he is willing to hit will sometimes lead to ugly interception opportunities for the defense. His game against USC was one of the best we've seen in his three years, but it's throws like this that have kept Rosen from truly hitting his high ceiling.
And on the bad side, Rosen's aggressiveness works both ways.

Far too many poor decisions in his three years at UCLA#PFFDraft pic.twitter.com/o9cXGdsCHa

— Steve Palazzolo (@PFF_Steve) February 14, 2018
In addition to simply misreading linebackers and safeties, Rosen's playmaking mentality gets him into trouble on certain plays in which he needs to learn to just throw the ball away. Early in the season, UCLA was engaged in a shootout with Memphis and Rosen's game was a roller coaster of great throws and bone-headed decisions, including a pass he tried to throw back across the field late in the down for an easy interception.
Despite his solid three years at UCLA, Rosen's tape has far too many poor decisions, something he can ideally clean up at the next level.
Bottom Line
Understanding the good and bad that Rosen brings to the table is crucial to his evaluation. From his ability to make plays at the intermediate level to his feel for all necessary NFL throws, Rosen has the skills and aggressiveness to create downfield opportunities at the next level. However, the same aggressiveness that leads to the special plays also leads to far too many turnover-worthy plays. We've seen other quarterbacks have success with this style, and there's certainly an argument to be made that a quarterback capable of adding value, rather than just avoiding turnovers, is preferable.
It's important to understand that those strengths and weaknesses will work hand in hand, and the top end of Rosen's play will lead to special games, and perhaps even special seasons, much like Eli Manning has shown throughout his career.