NFL free agency has already been a wild ride, with an arms race taking place amongst the contenders in the league looking to cement their place at the top. Money has been thrown around on new acquisitions, and trades have been executed to snag yet more talented players, but not every team has been active with the checkbook.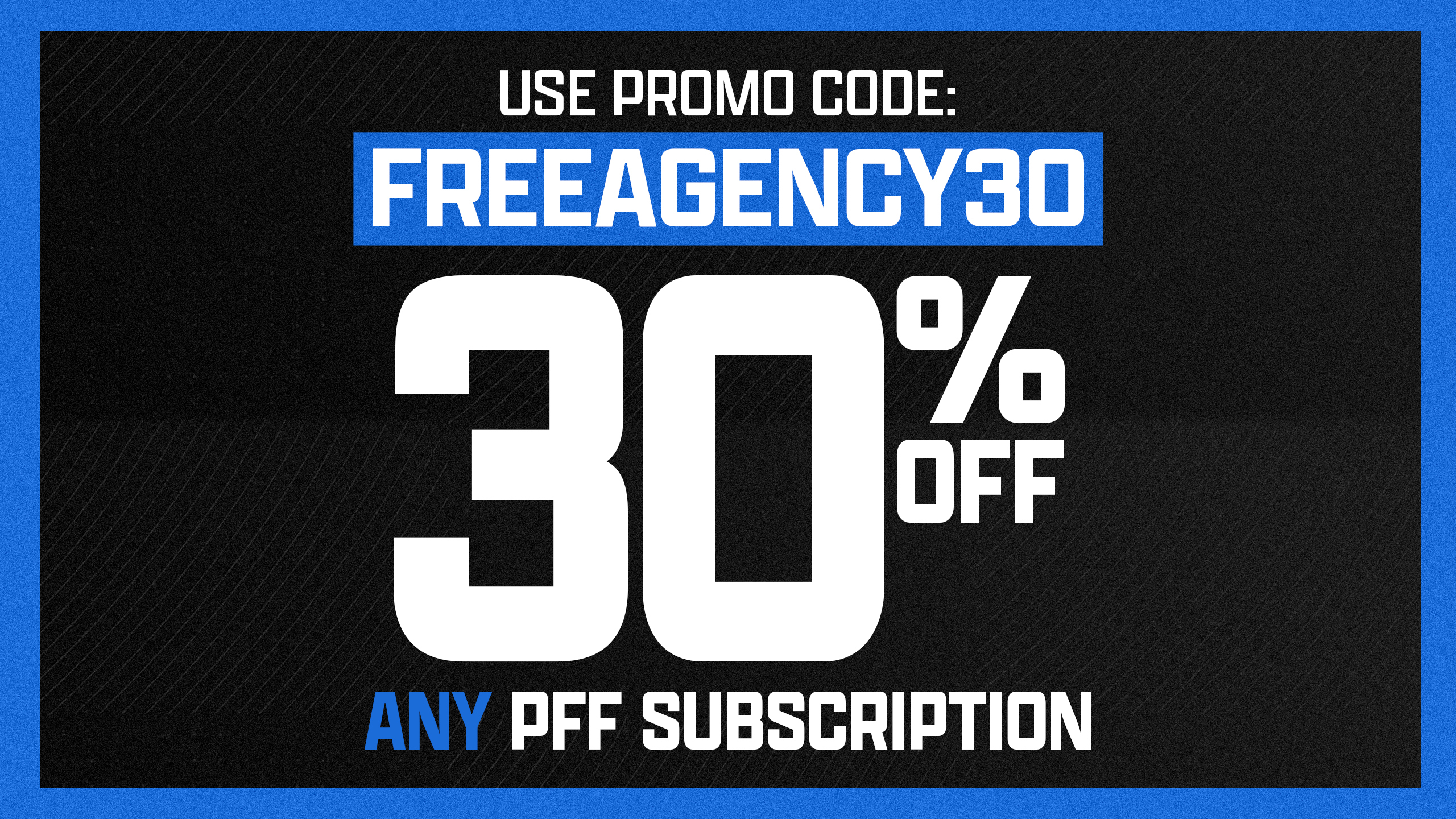 Click here for more PFF tools:
Draft Guide & Big Board | Mock Draft Simulator
Dynasty Rankings & Projections | Free Agent Rankings | 2022 QB Annual
Player Grades
---
With the 2022 NFL Draft approaching, plenty of teams have kept a check on free agent spending, either by necessity or through calculation. Now those teams need to fill needs in the draft, and here are some perfect fits to do just that.
Free Agency Spending Rank: 23rd
Need: Offensive line
Best Draft Fit: T Ikem Ekwonu, North Carolina State
There's a very real chance that Ekwonu isn't even on the board when the Giants are on the clock at No. 5 overall. However, if he is, he would go a long way toward helping them overhaul an offensive line that was a major weakness last season and hasn't been fully addressed in free agency.
It's anachronistic to think of NFL left tackles as fleet-footed pass blockers and right tackles as bruising maulers in the run game, but that's a hard mindset to shake. Andrew Thomas took huge steps forward in 2021 from his rookie year, and his eventual injury was a massive blow to the Giants' line. He allowed 18 pressures across 13 games after surrendering 57 the year before. His pass-blocking efficiency was also up almost four points.
Ikwonu's calling card is dominant run blocking. It's not that his pass protection is bad, but his run-game work is a teaching tape of destruction. Teaming him up with Thomas would give the Giants a serious pair of bookend tackles, with the majority of their work on the line done inside up to this point. Repairing that unit is a must, with the team still unsure where the ceiling of quarterback Daniel Jones lies. Jones boasted a top-five PFF grade through the first month of action 2021, but as the offensive line fell to ruin, so did his play.
Free Agency Spending Rank: 27th
Need: Wide receiver
Best Draft Fit: WR Chris Olave, Ohio State
The Saints were interested in trading for Deshaun Watson but ended up as one of a number of teams to miss out, turning their attention back to Jameis Winston as a consolation prize. They could certainly still draft a future starting quarterback in the first round, but if they don't, they need to rebuild a receiving corps that was a major problem last season without Michael Thomas. 
For his part, Thomas' long-term status is still up in the air, but regardless, this is a league where the more receiving weapons the better, so the Saints would be wise to attack that spot.
Chris Olave has some of the smoothest movement skills and route-running nuance of any receiver in this draft. He is fast, elusive and able to separate consistently with total command of the skills he possesses. Olave fits into any offense in the NFL and will be a productive player because of it. 
He was once seen as the best receiver in this draft class before his stock took a bit of a tumble, but that puts him within range of a team like New Orleans. For his entire college career, he gained a very impressive 2.8 yards per route run and dropped just nine of the 185 catchable balls thrown his way.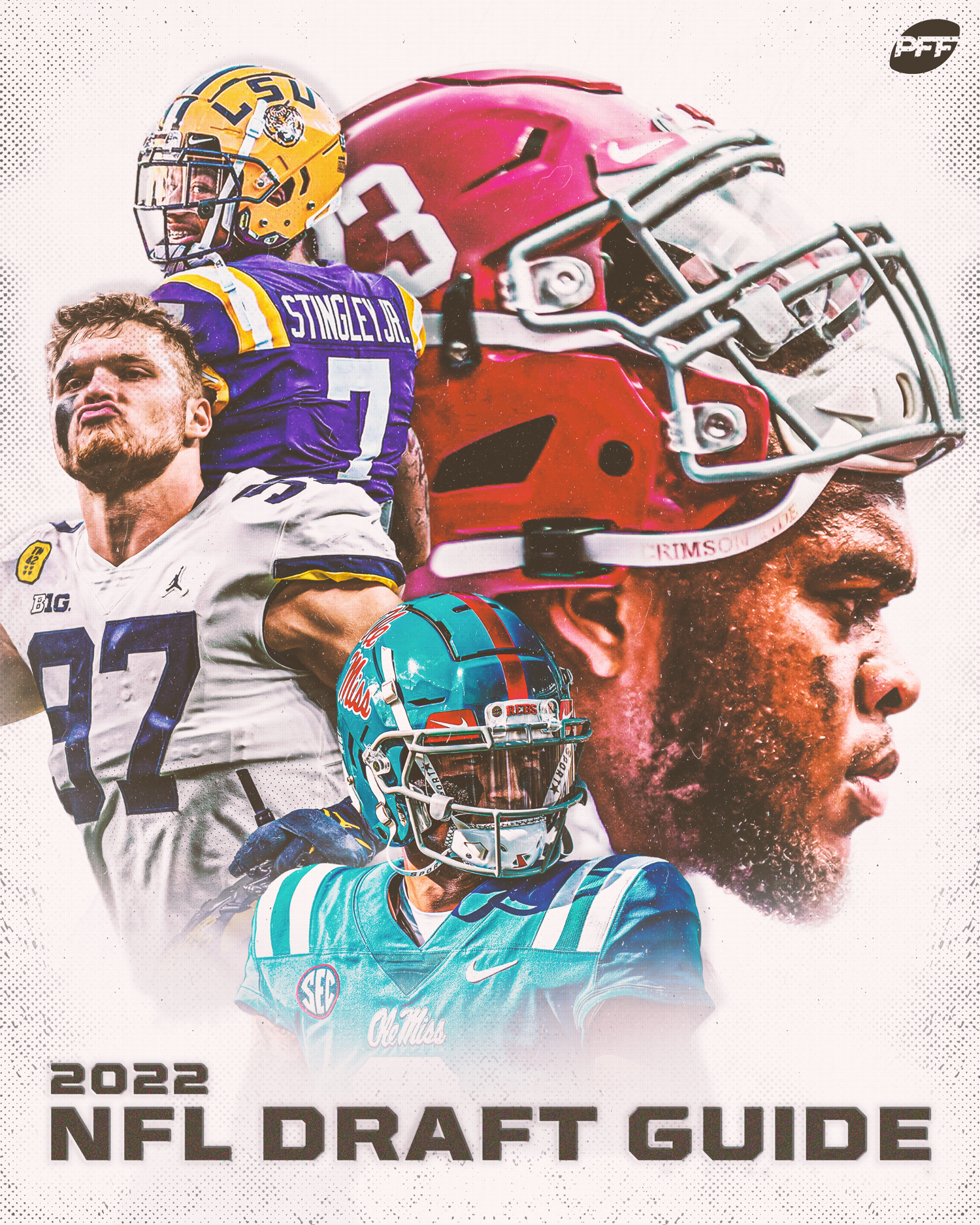 Free Agency Spending Rank: 26th
Need: Cornerback
Best Draft Fit: CB Andrew Booth Jr., Clemson
The Patriots are clearly undergoing something of a transition on defense, and one of the biggest consequences of that was letting cornerback J.C. Jackson walk in free agency not long after the team traded away Stephon Gilmore. Together, that duo was one of the best pairings at the position in the NFL, but the investment was getting too steep and the team moved away from its reliance on man-to-man coverage in the secondary. In a vacuum, reducing spending at cornerback makes some sense, but now the Patriots desperately need to upgrade at the position, regardless of the coverage schemes they plan on running.
The top cornerbacks in the draft will likely be long gone by the time the Patriots pick, but the second tier should still provide them some options. Andrew Booth Jr. is a versatile player who fits in any scheme — a trait still prized by head coach Bill Belichick. His tape is littered with plays that show he's extremely quick to come downhill and feature his physical impact against the quick passing game and screens.
Booth is still very young in terms of experience, having played fewer than 1,000 defensive snaps in his college career. However, that just means his trajectory will be more influenced by coaching than other players, and this coach is one of the greatest to ever do it. Booth was beaten in coverage a little more than you like to see, surrendering four touchdowns on 79 targets in his college career, but his physical tools and footwork are in a class of their own.
This pick is certainly a little riskier than others the Patriots might go with, but it also brings with it a disproportionate upside that is directly tied to how good Belichick and his coaching staff are. That's a bet the team should take every time.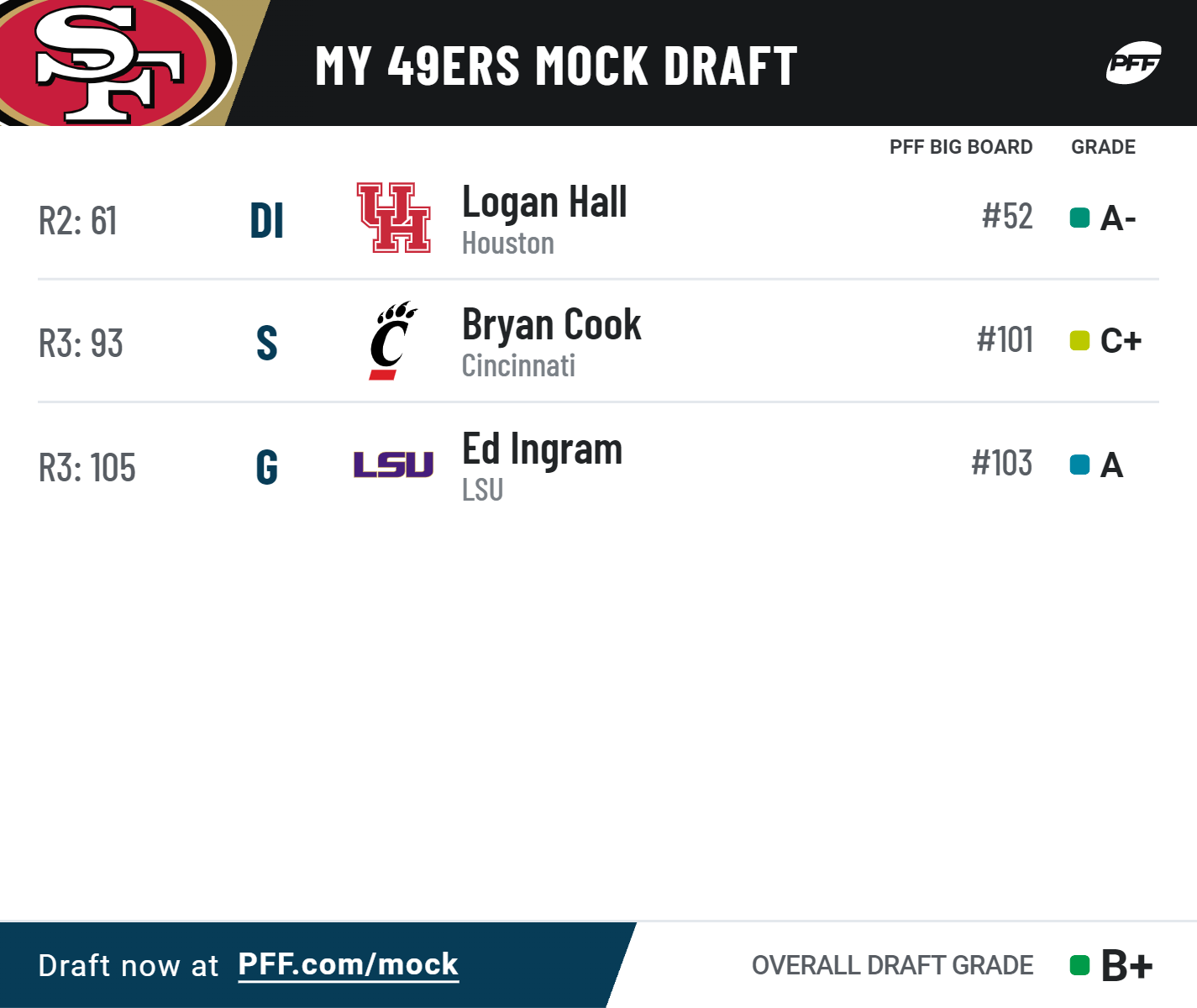 Free Agency Spending Rank: 31st
Need: Interior defensive line
Best Draft Fit: DI Logan Hall, Houston
San Francisco doesn't pick until No. 61 in the draft, near the bottom of the second round, so finding an impact player at any position is going to be more of a challenge. It doesn't help that it isn't the strongest draft class for impact interior defenders for the second straight season, but there may still be an option available in the right area for San Francisco: Houston's Logan Hall. 
Hall is an unusual prospect — an interior defender built like an edge rusher — but he made that work the past two seasons, even in the run game. He added some weight and showed up to the combine at 282 pounds and 6-foot-6, but the important thing is his tape, which has been very good over multiple years.
Hall notched 30 pressures and 27 defensive stops this past season, finding a way to be a constant problem in the backfield both against the run and pass.
The 49ers are still waiting for Javon Kinlaw to develop into the player his first-round pedigree would suggest he can be, and they have enough snaps available all over their defensive line that they could get creative with Hall's alignment. Any time you're trying to project a pick at the bottom of the second round, there's a chance they will be drafted already. However, if the 49ers could snag Hall at that spot, it would be a great piece of business.
---
Related content for you:
2022 NFL Free Agency LIVE Deal Grader: Grading and tracking every free agent signing
via PFF.com
---
Free Agency Spending Rank: 25th
Need: Cornerback
Best Draft Fit: CB Trent McDuffie, Washington
Minnesota's current depth chart at cornerback does not make for pretty reading. The only player who has shown anything in the way of consistent positive play is Cameron Dantzler, a former third-round pick who fell out of favor with the previous coaching staff on multiple occasions. The Vikings don't have the money left to attack that position in a major way in free agency, so they may have boxed themselves into needing to draft one early.
At Pick No. 12 overall, there's a chance Minnesota has a shot at the top two players at the position in Ahmad 'Sauce' Gardner from Cincinnati or Derrick Stingley Jr. out of LSU. If those players are both gone, Trent McDuffie may actually prove to be the perfect scheme fit.
McDuffie put up phenomenal tape in college, but he doesn't tick the measurables boxes that a lot of teams need to see at cornerback. He checked in at 5-foot-11, 193 pounds and with arms that are under 30 inches in length. Those features would often get a cornerback branded as a slot-only type for certain NFL teams, but new head coach Kevin O'Connell comes from a defense in Los Angeles that got high-end play out of smaller cornerbacks.
Darious Williams just signed a big-money contract in free agency off the back of his Rams production, and he is shorter and lighter than McDuffie, albeit with slightly longer arms.
Ultimately, if the Vikings trust the tape, they could grab a player who didn't give up a touchdown in his final two seasons and allowed a meager 52.1 NFL passer rating into his coverage over that time.