The best-kept secret in the 2022 NFL Draft class was hiding in plain sign in Ann Arbor, Michigan. 
Overshadowed during the college football season by potential No. 1 overall pick Aidan Hutchinson, fellow edge rusher David Ojabo joined his teammate on the draft radar after racking up 11 sacks and earning an 87.9 PFF pass-rush grade during a stellar junior season in 2021. After a great showing at the NFL Scouting Combine last week, there's no hiding his first round talents anymore.
Click here for more PFF tools:
Draft Guide & Big Board | Mock Draft Simulator
Dynasty Rankings & Projections | Free Agent Rankings | 2022 QB Annual
Player Grades
---
Ojabo lived in Nigeria until he was 7 years old before moving to Scotland with his family. His father, an engineer, and his mother, a lawyer, moved the family north to pursue a new job his father had landed. Ojabo says the weather took some getting used to, but he and the family adjusted just fine.

Ojabo's athletic interests growing up didn't even involve football. Basketball was his first love, but the athletic big man also played soccer, volleyball and rugby. 

"I followed [basketball] a lot," Ojabo said. "I really liked it at the time. I was a big LeBron fan."

Ojabo thought basketball would be his ticket to stardom. As he got older, he honed in on basketball with aspirations of making it to the NBA one day. By the time he was 14, he was 6-foot-4 and could dunk. He says he shot up to that height during a growth spurt one summer.
"I drank straight milk," Ojabo said. "I read somewhere that if you drink a lot of milk, it'll help your bones grow and I took that to the next level. Literally breakfast, lunch, dinner, midnight, just milk, and I grew like four or five inches that summer."
Ojabo was growing into the body of a high-level athlete, but he was also mentally mature. He had ambition and believed that if he really wanted to make it to the NBA, he would have to go beyond the courts in Scotland. So he asked his parents if he could move to America. 
"They were honestly like, 'What is this kid talking about?'" Ojabo said with a laugh. "I kept bugging them about it, but, also, I presented the idea and I kind of got my coach involved at the time. We started researching it. I just kept bugging them until I presented enough information. Me and my brother made a little highlight tape of me playing basketball and sent it out to some of the boarding schools. I presented enough effort for them to know I was serious and then they let me go."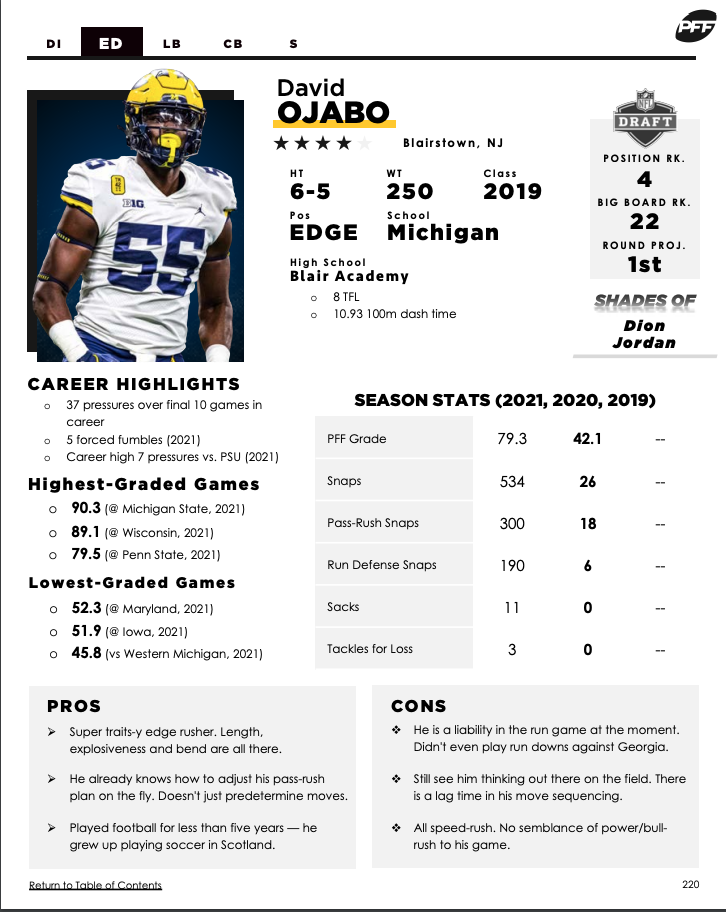 Ojabo moved to Blairstown, New Jersey at 17 years old to attend Blair Academy, a boarding school with a respected athletic program. It was there he met a young man who would influence his life moving forward: Odafe Oweh, a future first-round draft pick of the Baltimore Ravens. Ojabo watched his friend Oweh rack up scholarship offers playing football. Even though he still loved basketball, Ojabo decided he needed to make the most of being in America and play football, too. 
Subscribe to PFF Edge to continue reading
Already have a subscription? Sign In