It's officially that time of the year — mock draft time. Every draft class has its strengths and weaknesses and it appears as though this is the year to draft a variety of edge defenders, cornerbacks and tight ends. Unfortunately for QB-needy teams, there are a lot of question marks at the top, with few top-end talents emerging and those who were thought to be in the first-round mix simply haven't progressed as hoped. Still, there is always talent to be found in any draft class.
Reminder, my mock drafts are based on who I would select as each team — not a prediction of what will actually happen.
Here's our first in-season crack at a 2017 mock draft:
Cleveland Browns: Jonathan Allen, DI, Alabama
The Browns need help all over the roster and this could be a toss up between either Allen or Myles Garrett. Allen is the choice this time around as his destructive presence will pair with emerging DT Danny Shelton to build a strong defensive line for the Browns. Allen has been unblockable this season, leading all interior defensive linemen with a 93.7 pass rush grade while playing strong against the run in his first extended action on early downs. Allen can disrupt from multiple spots along the defensive front, giving Cleveland a 3-down foundational piece for the defense.
San Francisco 49ers: Myles Garrett, Edge, Texas A&M
Certainly worthy of the top overall pick in the draft, Garrett is a good fit for the 49ers where he immediately becomes their top edge rusher. Garrett's three-year production has been incredible since stepping onto campus as true freshman in 2014 and he's played through injury this year to post the fourth overall grade among edge defenders at 90.3. An explosive pass-rusher, the big question for Garrett has surrounded his work in the run game but he's answer the call this year with an 85.2 grade that ranks fourth in the nation. Garrett has all the tools and the on-field resume to be a star.
Chicago Bears: Deshaun Watson, QB, Clemson
There's no kind way to say it's been a disappointing season for Watson, who has taken a step back with regard to accuracy and decision-making. There are questions about how well he handles pressure and just how special his skillset may be, but it's a thin quarterback class at the top with no surefire options, and Watson has shown the touch, downfield accuracy and good decision-making to be successful. It's alarming that he's stagnated this season, but the Bears are ready to move on from Jay Cutler and taking the chance on developing Watson.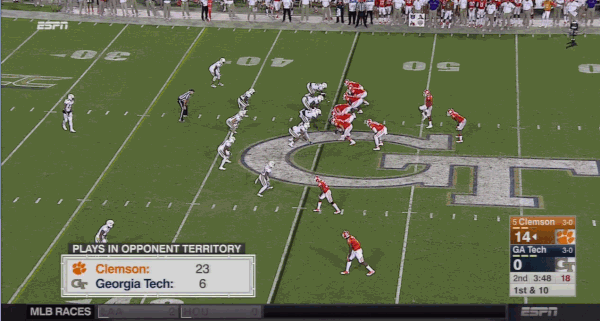 Jacksonville Jaguars: Derek Barnett, Edge, Tennessee
Always in lockstep with Garrett from a production standpoint, Barnett continues to improve his game and he's produced like a top-five pick in his three-year career at Tennessee. This season, he has the No. 1 pass rush grade among Power-5 edge defenders at 92.4 as he's adept at using his hands to shed blocks both as a rusher and in the run game. Jacksonville has invested heavily on the defensive side of the ball, but there's room for more talent and flexibility on the defensive line and Barnett could step in and become the top pass-rusher on the unit.
New York Jets: Cordrea Tankersley, CB, Clemson
A deep class of cornerbacks has a flavor for all styles and Tankersley fits the long, man coverage cornerback mold. At 6-foot-2, he can jam and run with receivers while showing the movement skills to stick with horizontal routes as well. This season, Tankersley has upped his game to rank No. 2 overall among cornerbacks at 89.5 and he'll fit the Jets well as they're in dire need of talent in the secondary.
Carolina Panthers: Carl Lawson, Edge, Auburn
After showing flashes throughout his career, Lawson has finally stayed healthy this season and he's made opposing quarterbacks pay. His 90.0 pass rush grade ranks right behind Barnett among Power-5 edge rushers while collecting nine sacks, 12 hits, and 31 hurries on his 295 rushes. Lawson has work to do to improve against the run, but he's flashed his potential there and Carolina can use an infusion of youth at defensive end with Lawson a good fit for their 4-3 scheme.
Cincinnati Bengals: Corey Davis, WR, Western Michigan
Losing WR Marvin Jones has hurt the pass game this season and Davis brings the draft's best route running to complement WR A.J. Green on the other side. Davis can get open at the short and intermediate level while sprinkling in the spectacular catch as well. He'll give QB Andy Dalton a reliable target who can get open quickly to take the burden off the suddenly poor offensive line.
San Diego Chargers: Malik McDowell, DI, Michigan State
In every single mock draft last year, DeForest Buckner went to San Diego as the long defensive end would have been a great fit for their 3-4 scheme. This year, it's McDowell's turn as he brings a similar frame to a San Diego defense that needs more talent in their front three. Last year's first-round pick Joey Bosa is off to a great start, and McDowell's burst off the line and length have allowed him to grade well as a pass-rusher (85.1) and in the run game (83.7).
Tennessee Titans (from Los Angeles Rams): Jalen Tabor, CB, Florida
With two first-round picks, the Titans have a chance for another franchise-altering draft and they start by looking to improve the secondary. Tabor breaks on the ball as well as any cornerback in the class and he'll take calculated risks in order to make big plays on the ball. His calculations are not always right, and he's been burned by a double move or two, but Tabor brings a ball-hawking ability in the mold of Denver Broncos' CB Aqib Talib.
Tampa Bay Buccaneers: Dalvin Cook, RB, Florida State
Could we see a Florida State reunion between Cook and QB Jameis Winston? Cook brings a big-play element to the Tampa Bay offense with his angle-changing speed as a runner that makes him the best big-play threat in college football. Last year, we saw Cook lead the nation with 1,066 yards on breakaway (15-plus yard) runs, while this season he's overcome subpar run blocking to lead the nation with 52 forced missed tackles while contributing more than ever in the passing game. He brings a much-needed versatile weapon to the Bucs' offense.
Indianapolis Colts: Tim Williams, Edge, Alabama
The annual call to improve the pass rush takes us to Williams who has been the nation's most efficient rusher over the last three years. He has 109 pressures on only 380 rushes since 2014, affecting the quarterback on 28.7 percent of dropbacks while the FBS average is only 10.0 percent. He has the burst and power to carry that to the next level, but there are questions about his every-down value as he's only been on the field for 127 runs during that time. It may not matter as unleashing him as a pass-rusher immediately upgrades the Colts defense that must add playmakers this offseason.
Green Bay Packers: Mike Williams, WR, Clemson
The Green Bay offense is simply not right, whether it's QB Aaron Rodgers not trusting his receivers or simply their inability to get open, but Williams will take a step toward solving those issues. He has the body control to make plays on the vertical route tree, making downfield catches and adjusting well to back-shoulder fades, a Rodgers staple. He also has the frame to get inside cornerbacks on slants, making him a good fit for the Packers offense that needs to diversify its playmaking options in the pass game.
Buffalo Bills: Leonard Fournette, RB, LSU
This may be the best fit in the first round as head coach Rex Ryan would like nothing more than to run the ball efficiently and Fournette brings a power and speed blend to be his workhorse. He led the nation with 85 forced missed tackles in 2015 before battling injury this season, and putting him in the backfield with RB LeSean McCoy and QB Tyrod Taylor brings dynamic potential to the Buffalo offense. There are still questions about how effective Fournette can be in the pass game and that drops him a little lower than the top-10 expectations everyone has set for him.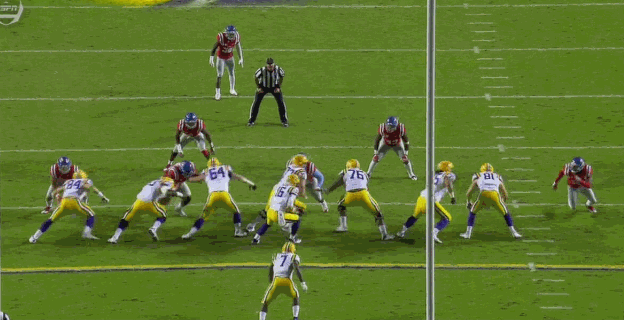 New Orleans Saints: Jourdan Lewis, CB, Michigan
The Saints are slowly adding talent back to their defense and Lewis brings a feisty man corner to pair with 2015 breakout star, Delvin Breaux. Lewis had the top coverage grade among returning cornerbacks this season and he's continued his strong play with only six receptions allowed on 25 targets while getting his hands on seven passes (five pass breakups, two interceptions). Lewis can struggle with bigger receivers, but that's not a deal-breaker in a league with plenty of sharp route-runners who need a cornerback with similar skills to slow them down. That's where Lewis brings plenty of value despite a 5-foot-10 frame that will knock him down certain draft boards.
Pittsburgh Steelers: Desmond King, CB, Iowa
No corner has matched King's three-year production as he's always ranked among the nation's top players. He excels in zone coverage and that's why his fit is perfect for a Steelers defense that will tap into his skillset. He can read route concepts and make plays on the ball as he has 23 pass breakups and 12 interceptions over the last three years. King is also a sure tackler, missing only eight on 187 tackles since 2014, and he adds another strong option on the back end for Pittsburgh.
Arizona Cardinals: Sidney Jones, CB, Washington
The Cardinals are still looking for a viable cornerback opposite Patrick Peterson and this is the draft to find one. Jones continues to improve and opposing Pac-12 coaches have noticed as he was only targeted eight times in his first seven games. When he has been targeted, he gets his hands on the ball as he has three interceptions and three pass breakups on only 33 attempts. Jones can step in opposite Peterson to shore up perhaps the biggest weakness on Arizona's defense.
Tennessee Titans: Jabrill Peppers, S/LB, Michigan
One of the most intriguing talents in the draft, Peppers may be called a linebacker or a safety, but he brings an athletic presence to the defense. He's strong in the run game, especially when allowed to chase and run, and he has the coverage ability to stick with tight ends. He fits well as strong safety in a single-high scheme where he can work downhill against the run and play close to the line of scrimmage but he could also fit as a nickel linebacker. Regardless, Peppers is one of the best movable chess pieces on the defensive side of the ball in the draft.
Baltimore Ravens: Charles Harris, Edge, Missouri
It's a good draft for Baltimore to replenish their pass rush and Harris is one of the best options available. He has strong hands and an effective spin move to keep blockers off balance. Even in a scheme that hasn't always played to his strengths, Harris has an 87.9 pass rush grade that ranks seventh among edge rushers after ranking ninth in the nation a year ago. Like some of the other top edge rushers, there is still some improving to be done against the run, but he's at least been competent in that department.
Miami Dolphins: Zach Cunningham, LB, Vanderbilt
An infusion of youth has been in the cards for Miami's linebacking corps for a while and Cunningham brings an aggressive run defender with the athleticism to cover in the middle of the field. He is second in the nation with 56 stops, as he is not shy at attacking and shedding blocks from opposing linemen. If there's a complaint, it's in his tackling where he's missed 27 over the last two years, but he still ranks among the nation's top linebackers and he has the skills to translate to the next level.
Detroit Lions: Reuben Foster, LB, Alabama
Our top-graded linebacker this season, Foster has been excellent in all phases. He can defeat blocks with his agility or with his power while bringing that same aggressiveness as a blitzer. In coverage, Foster has been strong since taking over as a starter last season and he's only missed six of his 69 tackles this season. Detroit's defense has been weak up the middle and Foster is a 3-down upgrade at linebacker.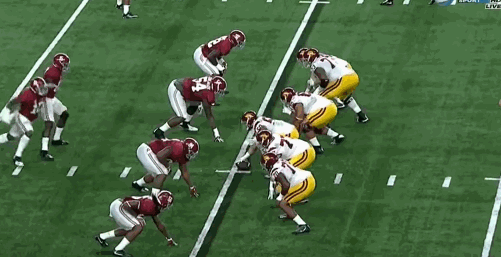 Cleveland Browns: Mason Rudolph, QB, Oklahoma State
Here's where the draft takes a turn. In a quarterback class that lacks inspiration, Rudolph continues to improve an already-impressive skillset. He has the nation's No. 2 passing grade at 88.6 and he throws the ball outside the numbers with better precision than any quarterback in the country. He deep outs and comebacks are often right on a receiver's hands, showing the type of accuracy needed for the next level. Rudolph handles pressure well and while he'll flutter his deep ball at times, he also flashes the downfield accuracy to create big plays in the passing game. Rudolph may just sneak up as a first-round candidate if he comes out this season.
Philadelphia Eagles: JuJu Smith-Schuster, WR, USC
There's little doubt that the Eagles need help at the receiver position and they'll tap back into the USC pipeline with Smith-Schuster. He has the speed to create after the catch or down the field and that big play ability will fit well with the big arm rookie QB Carson Wentz has shown this season. If there's a concern, Smith-Schuster will disappear at times and he can improve his work on contested catches, but he brings much-needed speed to the Eagles' offense.
Atlanta Falcons: Marlon Humphrey, CB, Alabama
While Atlanta may very well tap into the pass-rusher well, they add a long corner in Humphrey who has the skills to play either man or zone in Atlanta's scheme. He works downhill well and while can do a better job of finding the ball in the air, he's rarely out of phase when covering receivers. Humphrey can pair with Desmond Trufant while bringing some insurance for pending free agent CB Robert Alford.
Washington Redskins: Eddie Vanderdoes, DI, UCLA
Vanderdoes has bounced back from 2015's season-ending injury to grade well against the run at 84.2 while improving his work as a pass-rusher at 84.2. His quick hands allow him to shed blocks and disrupt, while he's stout enough to hold the point of attack. He can play up and down the line on a 3-4 front, making him a good fit for Washington which is lacking in youth and production up front.
Houston Texans: Jamal Adams, S, LSU
Since stepping in as a true freshman in 2014, Adams has been one of the most consistent safeties in the nation and he's upped his game even more this season. He's an excellent box safety, sticking his nose in there against the run while also showing the athleticism to line up in a variety roles on the defense. Adams currently owns the No. 2 overall grade among the nation's safeties at 89.1.
New York Giants: Mike McGlinchey, OT, Notre Dame
McGlinchey has transitioned smoothly from right tackle to the left side, once again grading among the best players in the country at 81.7 overall. A late bloomer at 6-foot-7, 310 pounds, he is a powerful run blocker and he continues to improve in pass protection. McGlinchey can play on either side of the offensive line and adding him to the mix can shore up one of New York's annual weaknesses.
Denver Broncos: Solomon Thomas, DI, Stanford
Denver's defense is still capable of playing elite football, but they've taken a step back against the run this season, in part due to the loss of DE Malik Jackson to free agency. Thomas is a perfect replacement, as his 88.7 grade against the run ranks fourth in the nation and he's improved greatly as a pass-rusher this season to grade at 82.6. Thomas can shed blocks and disrupt in all phases, and he projects as a defensive end in Denver's 3-4 scheme.
Seattle Seahawks: Ryan Ramczyk, OT, Wisconsin
How many offensive tackles will be mocked to the Seahawks this draft season? We'll get the ball rolling with Ramczyk who has been one of the most incredible stories of the year as he's gone from Division 3 player to potential top pick. The sample size is small, but he's acquitted himself nicely in the Big Ten with an 82.6 grade while showing the necessary skills to pass protect and the power and movement skills to run block at all levels.
Kansas City Chiefs: Dede Westbrook, WR, Oklahoma
Kansas City has built a championship-level defense but they're still looking for playmakers on the offensive side of the ball. Westbrook has broken out and dominated this season, showing the speed to get over the top of coverage and the route-running to separate underneath. Currently ranked No. 2 overall among wide receivers at 89.4, Westbrook adds a nice complement to the solid Jeremy Maclin on the other side.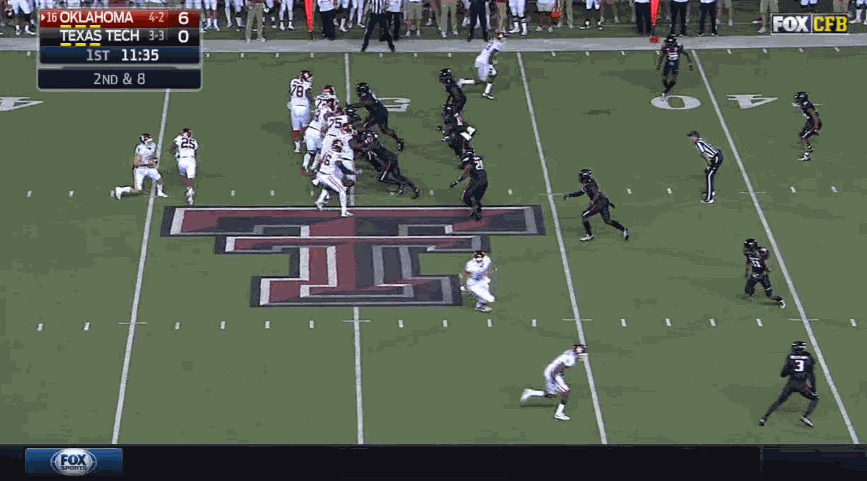 New England Patriots: Jordan Willis, Edge, Kansas State
Flying under the radar this season is just how good Willis has been over the last two years. He's currently grading at 91.2 overall, good for second among Power-5 edge defenders, while ranking fifth in the nation with an 89.2 pass rush grade. New England has some rebuilding to do along the defensive line and Willis is a good start with his three-down ability.
Oakland Raiders: Jarrad Davis, LB, Florida
The Raiders have added a number of good pieces to the defense in recent years and Davis adds a physical presence to inside linebacker. He packs a punch in the run game and as a blitzer where he always finds his way to the quarterback. Davis is also sound in coverage, especially when working downhill, and he's showed his toughness as he's played through injuries this season. He'll be a god fit for a developing defense.
Dallas Cowboys: Dawuane Smoot, Edge, Illinois
After a slow start, Smoot is headed for another dominant finish that mirrors last year's as he was one of the nation's best pass-rushers down the stretch. He's shown the ability to take over games throughout his career and he'll step right in as a pass-rush threat along a Cowboys defensive line that has not gotten after the quarterback at a high rate this season.