The 2023 NFL Draft is officially in the books. After a flurry of selections from Thursday to Saturday, 259 players were selected to join the NFL.
With that, we give you our full recap of the Jacksonville Jaguars draft, with analysis on every selection the team made during the weekend and an in-depth look at their top pick.
For more information on the players your favorite team drafted, it's not too late to get the 2023 NFL Draft Guide, which includes expanded scouting reports, draft grades, offseason reports, unique advanced data, PFF grades and much more.
More PFF draft content:
LIVE Draft Tracker | Mock Draft Simulator | 2023 NFL Draft Guide
Top 200 Big Board | PFF Mock Drafts | Measureables & Workout Data
NCAA Premium Stats | Draft Rankings By Position | Prospect Superlatives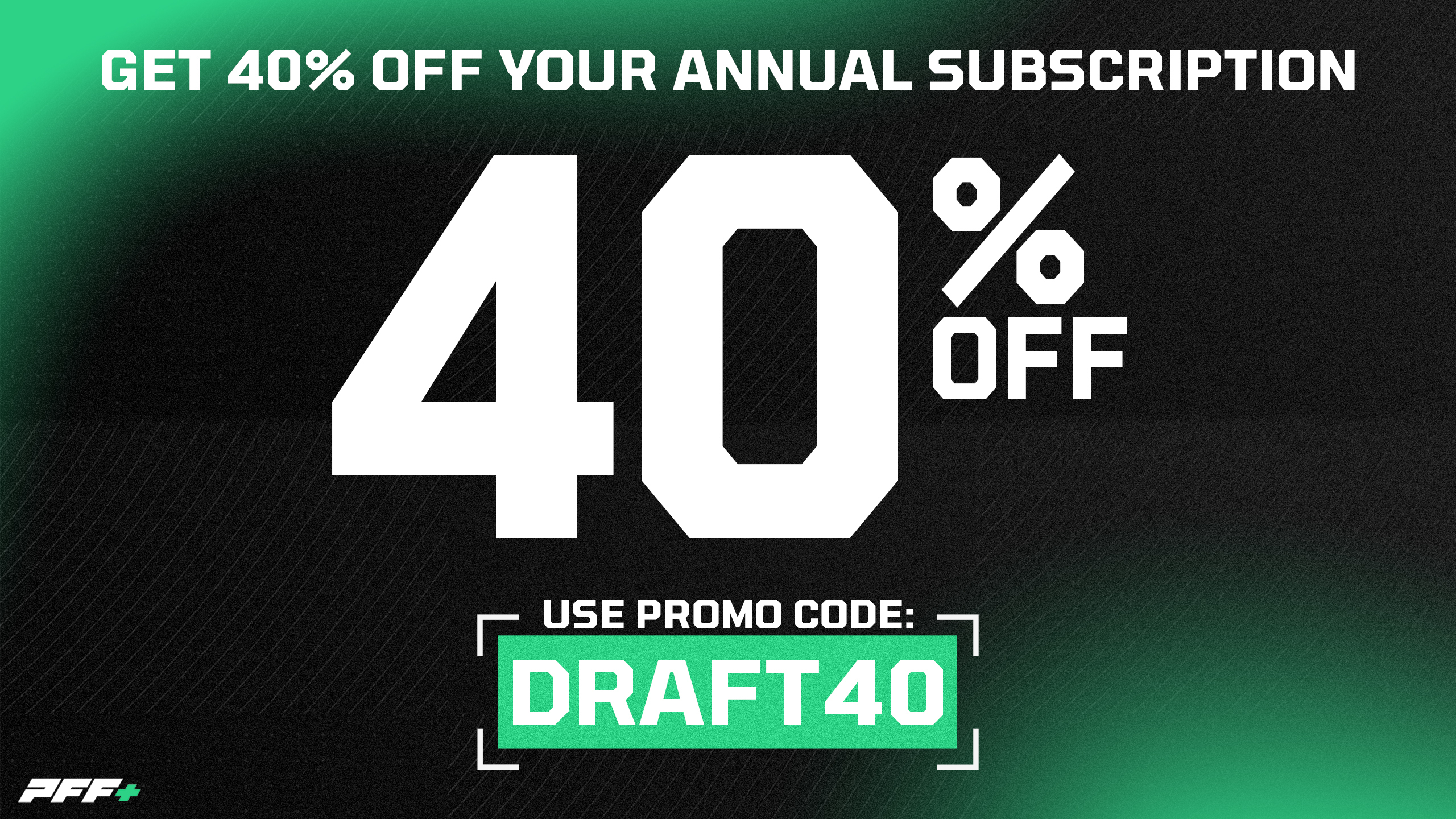 2023 NFL Draft Picks
R1 (27): T Anton Harrison, Oklahoma
R2 (61): TE Brenton Strange, Penn State
R3 (88): RB Tank Bigsby, Auburn
R4 (121): LB Ventrell Miller, Florida
R4 (130): EDGE Tyler Lacy, Oklahoma State
R5 (136): EDGE Yasir Abdullah, Louisville
R5 (160): S Antonio Johnson, Texas A&M
R6 (185): WR Parker Washington, Penn State
R6 (202): CB Christian Braswell, Rutgers
R6 (208): S Erick Hallett II, Pittsburgh
R7 (226): OT Cooper Hodges, Appalachian State
R7 (227): DI Raymond Vohasek, North Carolina
R7 (240): FB Derek Parish, Houston
Day 1: This makes a lot of sense given the reported suspension for Cam Robinson. The 24th ranked player on the PFF big board, the Jaguars get Harrison at about the right spot but pick up three additional picks by moving down. He allowed just nine total pressures from 447 pass-blocking snaps in 2022.
Day 2: This could very well be a long-term replacement for Evan Engram because Strange projects far better as a receiver than he does as a run blocker. He caught 62.5% of the contested targets he saw in 2022 and had a drop rate of just 3.0%. His 60.5 run-blocking grade confirms that you probably don't want him taking on defensive ends as an in-line blocker.
Jacksonville adds a complementary weapon to Travis Etienne by taking Auburn running back Tank Bigsby. The Jags employ inside-zone runs at a high rate, and Bigsby turned in the second-best rushing grade on such plays among Power Five running backs since 2020.
Day 3: Miller brings a hard-hitting presence to Jacksonville's run defense. The question is whether he will hold up in coverage. He should be able to contribute in the Jaguars' base defense and short-yardage packages in the early going.
At this point, Lacy is a better run defender than a pass-rusher and figures to be more of a special teams player than anything else early in his career. He has the size at 6-foot-4 and 279 pounds, but he produced a pass-rushing grade of just 68.6 in 2022, winning 11.9% of his pass-rushing attempts.
Jacksonville needed pass-rush depth after losing a handful of contributors up front in free agency. The Jaguars add the undersized Abdullah, who plays with his hair on fire, earning a 90.8 pass-rush grade with a 21.2% pass-rush win rate in 2022. He may be more of a tweener and could be molded as the late-round version of 2022 first-round pick Devin Lloyd, another athletic and versatile linebacker.
Johnson came into 2022 with first-round hype. While he took a step back this year, he still finished with an 81.6 overall grade. Johnson can be an absolute menace in the box and just needs some refinement in order to make plays on the ball. The Jaguars should be thrilled to pick up PFF's second-highest-rated safety in the fifth round.
Washington is a smooth mover and great hands catcher who knows how to find the soft spots in zones. Additionally, he has the ability to go up and win jump balls, as reflected in his 71.4% contested catch rate. Washington will also make defenders miss in the open field, forcing 15 missed tackles in 2022.
Hodges figures to kick inside at the NFL level and was a solid tester at the combine, earning a 78.4 pass-blocking grade and an 87.3 run-blocking grade in 2022.
Vohasek missed the second half of the 2022 season but had back-to-back pass-rush grades around 70.0 on the interior. He did not test particularly well, but that may have been tied to health.
​​Parish carried a 91.2 pass-rush grade with six sacks in less than four full games this year before tearing his biceps. His short-term development will depend on his recovery.
DRAFT GRADE: B

Prospect Spotlight: T Anton Harrison, Oklahoma
Harrison is a nimble 6-foot-5, 315-pound tackle who saw time on the left side for the Sooners ever since he was a true freshman. This past season, he allowed only nine pressures on 447 pass-blocking snaps.
Strengths, weaknesses and NFL role
Where he wins: Fluidity of movement
Harrison isn't the kind of explosive athlete who has any "wow" reps or should be expected to blow up the combine. No, his real impressive traits come from how easy he makes his job look.
What's his role? Swing tackle
Harrison is 100% a tackle. You're not moving his skill set inside. He could end up on either side of the line, depending on where he's needed.
What he can improve: Core strength
Harrison's ability to hold up to power rushes is borderline unplayable by NFL standards based on his 2022 tape. He'll be in a quarterback's lap every play. The good news is that we already saw a stark improvement from 2021 to 2022, and he's on the record saying he's working on it.
Free for 7-days. Subscribe to continue reading and unlock
All premium content with the best insights + analysis in the game
NFL Draft Guide, Big Board + Mock Draft Sim
Fantasy Draft Kit and Nathan Jahnke's award winning rankings
Bet smarter with PFF player mismatches and expert betting insights
NFL and CFB player grades and premium stats
Unlock all PFF data trusted by all 32 NFL teams
Already have a subscription? Log In