The Miami Dolphins, San Francisco 49ers and Philadelphia Eagles kicked off 2021 NFL Draft trade action before the calendar turned to April, but there are still a handful of potential moves that make sense in the first round of the 2021 NFL Draft later this month. After Miami agreed to trade down from No. 3 to No. 12 with San Francisco, the team jumped back up to No. 6, where Philadelphia was previously slated to pick. 
Both moves provide insight into the collective thinking of how the 2021 first-round is going to shake out, specifically at the top. The drama shouldn't end there, though, with Pro Day performances chock-full of 4.39-second 40-yard dashes shining a light on the true dynamic athletes in the class. 
The marketplace for picks is different each year in the draft, with varying costs attributed to moving up depending on whether there are highly sought-after quarterbacks and how many suitors exist. The 49ers traded up from No. 12 to No. 3, but we know that the Carolina Panthers at No. 8 and the Denver Broncos at No. 9, for example, have been interested in pretty much every veteran quarterback available this offseason. There are also teams such as the Patriots, Washington Football Team and Chicago Bears that could try to broad jump their way into the conversation.
2020 was a very quiet year for draft trades, with just 25 total pick-for-pick deals after at least 35 such trades in each year from 2017 to 2019. Of course, part of this was the lack of information, which is also an issue with no scouting combine in 2021, but teams have had far more time to adapt their processes and appear ready to maneuver to land some of the elite talent at the top of this class. We'll be using examples of past draft trades to serve as a guide for our valuations.
First up is another quarterback trade, making it five of the first seven draft picks on signal-callers.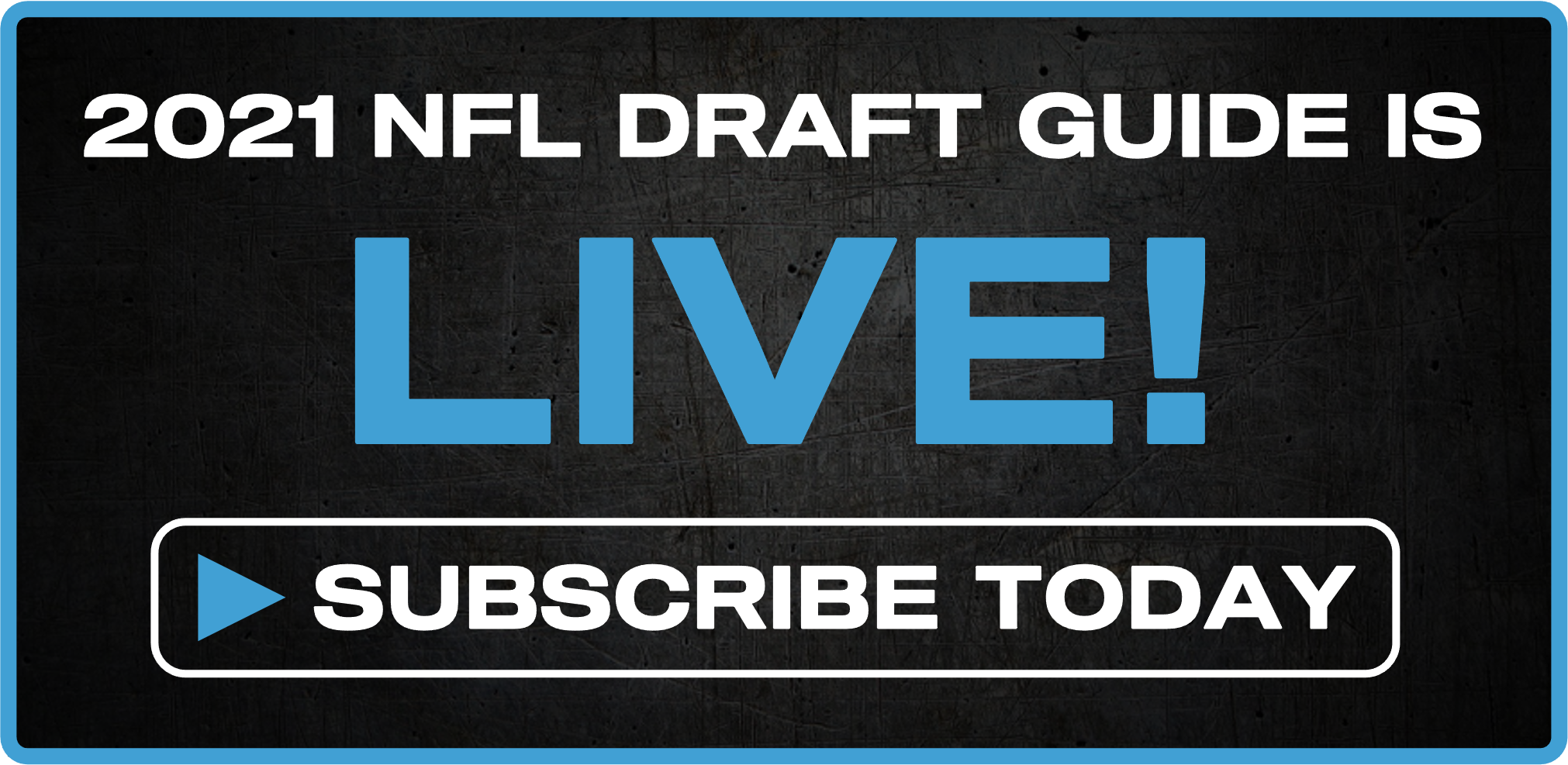 Full trade details: 
Of the big five quarterbacks in this year's draft, it remains unclear which will fall out of the top three or four picks. But if it proves to be Ohio State's Justin Fields or North Dakota State's Trey Lance, this trade still makes plenty of sense for New England.
The Patriots loaded up on offense in free agency, spending $171 million in total guarantees (one of just two teams above $100 million in total guarantees), with big paydays for tight ends Jonnu Smith and Hunter Henry, wide receiver Nelson Agholor and many others. They have a vastly improved group of receivers and what should be one of the best offensive lines in the NFL in 2021, but a 32-year-old Cam Newton is not their long-term answer at quarterback even though he should have a much more productive season than in 2020.
The Bill Belichick-Nick Saban connection has been discussed ad nauseam, with New England selecting an Alabama player in the first three rounds in three out of the past five years, but the team's mega spending spree makes more sense if it then looks to capitalize on a rookie-contract quarterback.
While the Patriots historically don't love trading up, they moved up four times in 2020, further signaling their recent aggressiveness to get back to the mountaintop. In Mac Jones, they land an efficient pocket passer who takes care of the football but isn't afraid to attack the deep and intermediate parts of the field. Jones ranked 15th in the country in percent of pressures he allowed to turn into sacks (12.3%; min. 150 dropbacks) and 17th in turnover-worthy play percentage (2.4% on 406 attempts).
Full trade details:
New Broncos general manager George Paton was the assistant general manager of the Vikings dating back to 2012, and here he takes a lesson from his old regime by executing a big-time trade-down. No one has traded down more since 2011 than Rick Spielman and the Minnesota Vikings, and frankly, it's not even close, with their 28 moves back in the draft being five clear of the next team (New England Patriots — 23).
During the 2020 NFL Draft, the Vikings traded down four more times, adding 2021 fourth and fifth-round picks. An aggressive trade before the 2020 season to land edge defender Yannick Ngakoue backfired, but they managed to recoup a third-rounder from Baltimore at the trade deadline. Nevertheless, even though this isn't exactly Minnesota's modus operandi, the team pounces on an elite tackle prospect in Northwestern's Rashawn Slater.
The Vikings parted ways with left tackle Riley Reiff after they were unable to come to terms on an extension — and following a forced salary cut in order to pay the aforementioned Ngakoue — so the Vikings are once again heading into the season with major question marks along the offensive line.
The team drafted Boise State tackle Ezra Cleveland in the second round in 2020 but played him at guard during the season. This pick enables them flexibility along the offensive line for 2021, as either Cleveland or Slater could play tackle or guard.
Slater's dominance in both the run game and pass game will certainly excite Minnesota. He was one of just five offensive linemen in 2019 with a grade of 87.0 or better in both facets. He allowed just five pressures on 355 pass-blocking snaps as a 20-year-old true junior, with only one hit on the quarterback and no sacks surrendered all season.
With the possibility that every team picking from No. 10 to No. 13 — the Cowboys, Giants, Eagles and Chargers — will at least have some interest in taking Slater, Minnesota makes a move with an old friend and lands an elite prospect to shore up a shaky offensive line.
Full trade details: 
The Jets' two starting edge rushers from 2020 signed contracts in free agency for two years, $6 million and two years, $5.5 million, respectively. The position was the opposite of a strength, and new head coach Robert Saleh comes from a San Francisco 49ers defense that was absolutely loaded across the defensive line. The catalyst that propelled the 49ers to the Super Bowl in 2019 was No. 2 overall pick edge defender Nick Bosa. 
Just one month before selecting Bosa, the 49ers traded a second-round pick to the Kansas City Chiefs for edge defender Dee Ford and made him one of the highest-paid edge rushers in the NFL, inking a five-year, $85 million contract. The Jets signed Carl Lawson to a three-year, $45 million deal in free agency to dramatically improve their edge rush unit, and now they get the top edge rusher in the 2021 draft class to pair with him. Paye is a physical specimen with freakish change-of-direction skills, as evidenced by his now-infamous three-cone video:
Kwity Paye's LEGENDARY three-cone drill pic.twitter.com/PwM260bcpt

— Austin Gayle (@PFF_AustinGayle) January 21, 2021
Paye had 22 pressures in 2020 on just 138 pass-rush snaps, and with some time for Saleh and company to hone his skills, he could be a disruptive force off the edge for years to come.
From the Cardinals' perspective, they move down just seven spots in the first round and also recoup the third-round pick they traded to Las Vegas for center Rodney Hudson — and it's the second pick in the entire third round, at that.
Full trade details: 
With Michigan edge Kwity Paye and Georgia edge Azeez Ojulari now off the board, Cleveland makes a move to land the last true blue-chip edge rusher in this class. Phillips is arguably the best edge-rushing prospect of 2021, and if he hadn't temporarily retired from football following a handful of concussions, odds are he'd be a no-brainer top-10 pick.
Jaelan Phillips was the No. 1 overall prospect and the No. 1 edge rusher prospect in the 2017 college recruiting class, slotting in ahead of Chase Young, who was the No. 2 edge rusher prospect the same year. Of course, high school recruiting rankings aren't everything, but it shows the type of athlete Phillips is on the football field. After a year off in 2019, he immediately returned to elite form, with his 86.6 grade ranking 14th in the country among all edge rushers with at least 100 snaps.
Phillips finished the season with an 87.6 pass-rush grade and an 83.0 run-defense grade, one of just eight edge rushers to top 80.0 in both marks. Cleveland star edge defender Myles Garrett was the No. 2 overall recruit in the 2014 high school class, trailing only Leonard Fournette. He provides the Browns with absolutely freaky athleticism and pedigree screaming off the edge.
The Colts typically love to trade down, but here they also recoup some of the value they lost in acquiring quarterback Carson Wentz from the Eagles. 
Full trade details: 
The No. 2 through No. 6 wide receivers on the Saints' roster (Tre'Quan Smith, Marquez Callaway, Deonte Harris, Juwan Johnson and Lil'Jordan Humphrey) have a combined 1,727 receiving yards in their collective careers. Michael Thomas racked up 1,725 receiving yards in 2019 alone.
New Orleans has a few other spots on its roster completely depleted of talent, namely cornerback and linebacker, but Jameis Winston and/or Taysom Hill undoubtedly need help in the receiving group. This is especially true if Hill himself can no longer run routes as much as he has in the past now that his health is of greater importance. In addition to losing free agent wide receiver Emmanuel Sanders to the Bills, New Orleans also lost tight end Jared Cook, making sophomore tight end Adam Trautman the top option going forward. 
Long story short, a premier pass catcher could go a long way in helping the new-look Saints offense. Luckily for New Orleans, there's a prospect right in their backyard at LSU who offers similar inside/outside versatility and a big catch radius, much like Thomas: Terrace Marshall Jr. 
Among all draft-eligible wide receivers, Marshall's 83.6 receiving grade in the red zone was the second-best mark in the country last year. Since 2019, he has a 90.1 receiving grade on targets 20-plus yards downfield, making 13 receptions for 477 yards and nine touchdowns. He can produce from any alignment and from any part of the field, and his 4.38-second 40-yard dash at his Pro Day at a height of 6-foot-2 1/2 doesn't hurt, either.
It's fair to wonder if the Saints want to continue to be aggressive, but why change now? New Orleans has traded up thirteen times since 2011 while trading down zero times. After earning third-round compensatory picks for quarterback Teddy Bridgewater and Falcons general manager Terry Fontenot, the Saints now have eight draft picks in 2021. They haven't made eight draft selections since 2015, prioritizing moving up and landing their desired prospect. 
---
Full Mock Draft After Trades
1. Jacksonville Jaguars: Clemson QB Trevor Lawrence
2. New York Jets: BYU QB Zach Wilson
3. San Francisco 49ers: NDSU QB Trey Lance
4. Atlanta Falcons: Ohio State QB Justin Fields
5. Cincinnati Bengals: Oregon T Penei Sewell 
6. Miami Dolphins: LSU WR Ja'Marr Chase 
7. New England Patriots (via DET): Alabama QB Mac Jones
8. Carolina Panthers: Florida TE Kyle Pitts
9. Minnesota Vikings (via DEN): Northwestern T Rashawn Slater
10. Dallas Cowboys: Alabama CB Patrick Surtain II
11. New York Giants: Alabama WR DeVonta Smith
12. Philadelphia Eagles: South Carolina CB Jaycee Horn
13. Los Angeles Chargers: Virginia Tech T Christian Darrisaw
14. Denver Broncos (via MIN): Penn State LB Micah Parsons
15. Detroit Lions (via NE): Alabama WR Jaylen Waddle
16. New York Jets (via ARI): Michigan EDGE Kwity Paye
17. Las Vegas Raiders: USC T/G Alijah Vera-Tucker
18. Miami Dolphins: Georgia EDGE Azeez Ojulari
19. Washington Football Team: Minnesota WR Rashod Bateman
20. Chicago Bears: Oklahoma State T Teven Jenkins
21. Cleveland Browns (via IND): Miami EDGE Jaelan Phillips
22. Tennessee Titans: Alabama DI Christian Barmore
23. Arizona Cardinals (via NYJ): Northwestern CB Greg Newsome
24. Pittsburgh Steelers: NDSU T Dillon Radunz
25. New Orleans Saints (via JAX): LSU WR Terrace Marshall Jr.
26. Indianapolis Colts (via CLE): Texas T Sam Cosmi
27. Baltimore Ravens: Ole Miss WR Elijah Moore
28. Jacksonville Jaguars (via NO): TCU S Trevon Moehrig
29. Green Bay Packers: Tulsa LB Zaven Collins
30. Buffalo Bills: Penn State EDGE Jayson Oweh
31. Kansas City Chiefs: Florida WR Kadarius Toney
32. Tampa Bay Buccaneers: Wake Forest EDGE Carlos Basham Jr.