There generally isn't as much activity in the NFL trade market as we see in other sports, but the 2021 offseason has not followed that convention thus far. The Matthew Stafford–Jared Goff swap is the type of blockbuster that normally happens once every few years, but several other quarterback moves appear to be in the works. 
A Carson Wentz trade is rumored to be close, Deshaun Watson has made no indication he will take another snap as a Houston Texan and Ravens tackle Orlando Brown Jr. has publicly requested a trade that Baltimore appears to be working to facilitate.
It appears that NFL teams are becoming more open to player movement. There's also an added wrinkle because of the expected drop in the 2021 salary cap; some teams need to shed salaries just to be cap compliant, while others have the cap space necessary to acquire and pay potentially available players. 
With a busy offseason ahead, here are 10 trades we'd like to see this offseason — trades that ideally benefit the player and the team they'll be departing, and make football and financial sense for both organizations involved.
QB Deshaun Watson → New York Jets for 2021 1st (#2), 2021 1st (#23), 2021 2nd (#34), 2022 1st (Jets)
Texans Cap Implications: $21.6 million dead money, loss of $5.66 million in cap space
Jets Cap Implications: Five-year, $146,540,000 ($29.3M APY), $82.54 million total guarantees
This mega-blockbuster deal with the potential to be the biggest trade in NFL history has lost some steam as the Texans remain adamant they will not be trading Watson. But at a certain point, they don't really have a choice. Houston let all trade value evaporate for Jadeveon Clowney back in 2019, and the franchise just cannot make the same mistake again. If there's one thing new general manager Nick Caserio hopefully learned under Bill Belichick, it's how to maximize value in trades.
Nevertheless, Caserio would be making the toughest first major decision ever for a general manager. His entire tenure would be judged by the fallout from moving a 25-year-old, top-five quarterback with five years remaining on his extension signed in 2020. Watson's 92.5 overall grade in 2020 made him PFF's third-highest graded quarterback, and this was in the worst situation in the NFL from an organizational standpoint (PFF's Seth Galina even argued recently that Watson was the best quarterback in the NFL in 2020). Watson finished fifth in the NFL with 42 big-time throws, and his 8.7 yards per attempt led the league.
The potential fear from Watson's perspective is that the Jets giving up this much draft capital could lead to New York being in the same position as Houston is currently, with not much talent to speak of outside of their new quarterback. However, even parting with this monster haul, the Jets would still have 2022 first- and second-round picks to work with.
Ultimately, Watson's no-trade clause provides him veto power over any potential move. If the Jets can manage to pull this off, no compensation package is too large.
Eagles Cap Implications: $33.8 million dead money, $852,928 million in cap savings
Colts Cap Implications: Four-year, $98,401,000 ($24.6M APY), $47.4 million total guarantees
Carson Wentz's 2020 campaign was nothing short of a disaster, but there are certainly other issues to point to if one wanted to argue that his circumstances created a snowball effect. Left tackle Andre Dillard, a 2019 first-round pick, and right guard Brandon Brooks, the highest-paid guard in the NFL, were lost for the year before Week 1. Right tackle Lane Johnson — the NFL's highest-paid right tackle — missed nine games over the course of the season.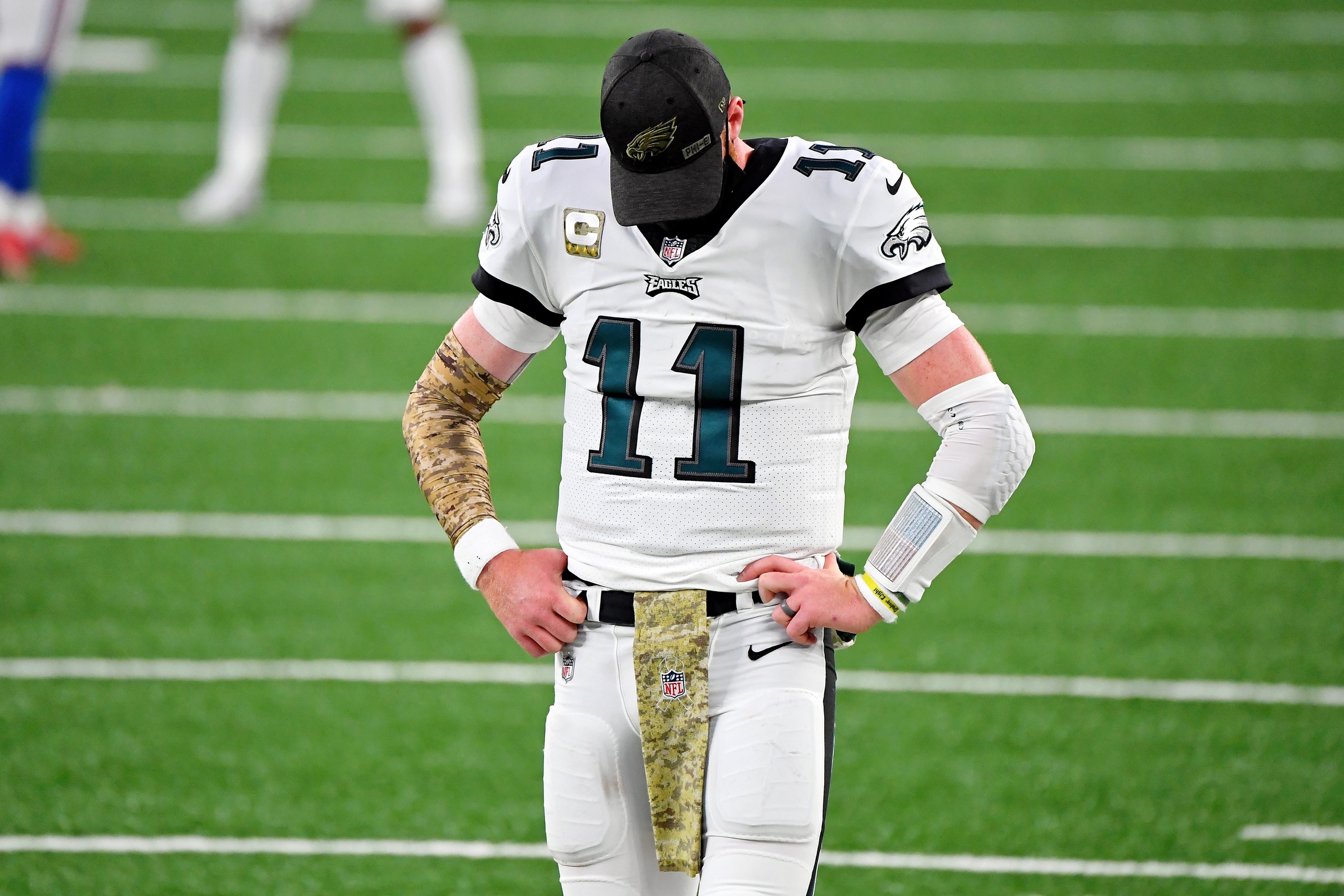 As for receiving weapons, Alshon Jeffery didn't touch the field until Week 10, DeSean Jackson appeared in five total games, and Jalen Reagor and Zach Ertz missed five contests each. With all that said, elite franchise quarterbacks are supposed to be able to rise above and will their teams to victory, at least occasionally. 
Wentz undoubtedly exacerbated the Eagles' problems on offense in his own right. He was routinely late on throws and often made the wrong reads, leading the NFL with 17 interceptions in only 12 starts. His 46.9% accurate throw rate ranked 43rd out of 44 qualifying quarterbacks. Even with the decimated offensive line, he continued his trend of holding onto the ball too long, finishing seventh in the NFL with a 2.91-second average time to throw (min. 200 attempts). He often tried to create something out of nothing, which led to a league-leading 54 sacks taken.
Taking all of that into account, Wentz has obviously proven to be a tricky sell for Eagles general manager Howie Roseman. Seeking the Matthew Stafford haul in return, many believe he's using the wrong quarterback in that trade as a reference point. At this stage, Roseman might need to take the best offer on the table and start fresh with Jalen Hurts or a draft pick, even though it will undoubtedly be tough to sell so low. 
Colts head coach Frank Reich was the offensive coordinator in Philadelphia when Wentz had his best season, and he is beloved by his players by all accounts. More importantly to Wentz, perhaps, is the fact that 2020 fourth-rounder Jacob Eason is the only other quarterback under contract in Indianapolis, and he poses little threat to Wentz's job. A clean slate for Wentz could clear his mind and have him back to playing closer to his full potential. 
Jets Cap Implications: $5.02 million in dead money, $4.775 million in cap savings
Washington Cap Implications: One-year, $4,774,685, fully guaranteed
The Washington Football Team made a push to acquire Matthew Stafford before he was moved to the Los Angeles Rams, and they have reportedly called around on pretty much every veteran quarterback who may be available this offseason. It's not hard to see why, as the NFC East is by far the NFL's weakest division, and Washington was able to win it last year with replacement-level play at the sport's most important position. 
To put it bluntly, Washington would be wasting the 2021 season if it doesn't upgrade at quarterback in some capacity. Alex Smith — the very deserving 2020 Comeback Player of the Year — provided a remarkable story this season, but at 37 years old playing through one of the worst injuries in NFL history, he cannot be the team's planned starter in 2021. 
Darnold's struggles in New York are well-documented, but he's younger than 2020 first overall pick Joe Burrow and had probably the worst coaching situation possible to bring him along with the Jets. Ron Rivera can hope to hit the reset button on Darnold's career and get the ghosts out of his line of sight. Washington has a solid offensive line, and while the team certainly needs more weapons, wideout Terry McLaurin would immediately become the best target Darnold has ever had in the NFL. 
Raiders Cap Implications: $0 in dead money, $11.35 million in cap savings
Patriots Cap Implications: One-year, $11,350,000, $0 in total guarantees
Tom Brady's parting gift to the New England Patriots was awarding them with a third-round compensatory pick, which they can turn around and use to acquire Marcus Mariota from the Las Vegas Raiders. We're using the 2018 Teddy Bridgewater trade here as our guide: the New Orleans Saints sent a third-round pick for Bridgewater plus a sixth-round pick from the New York Jets.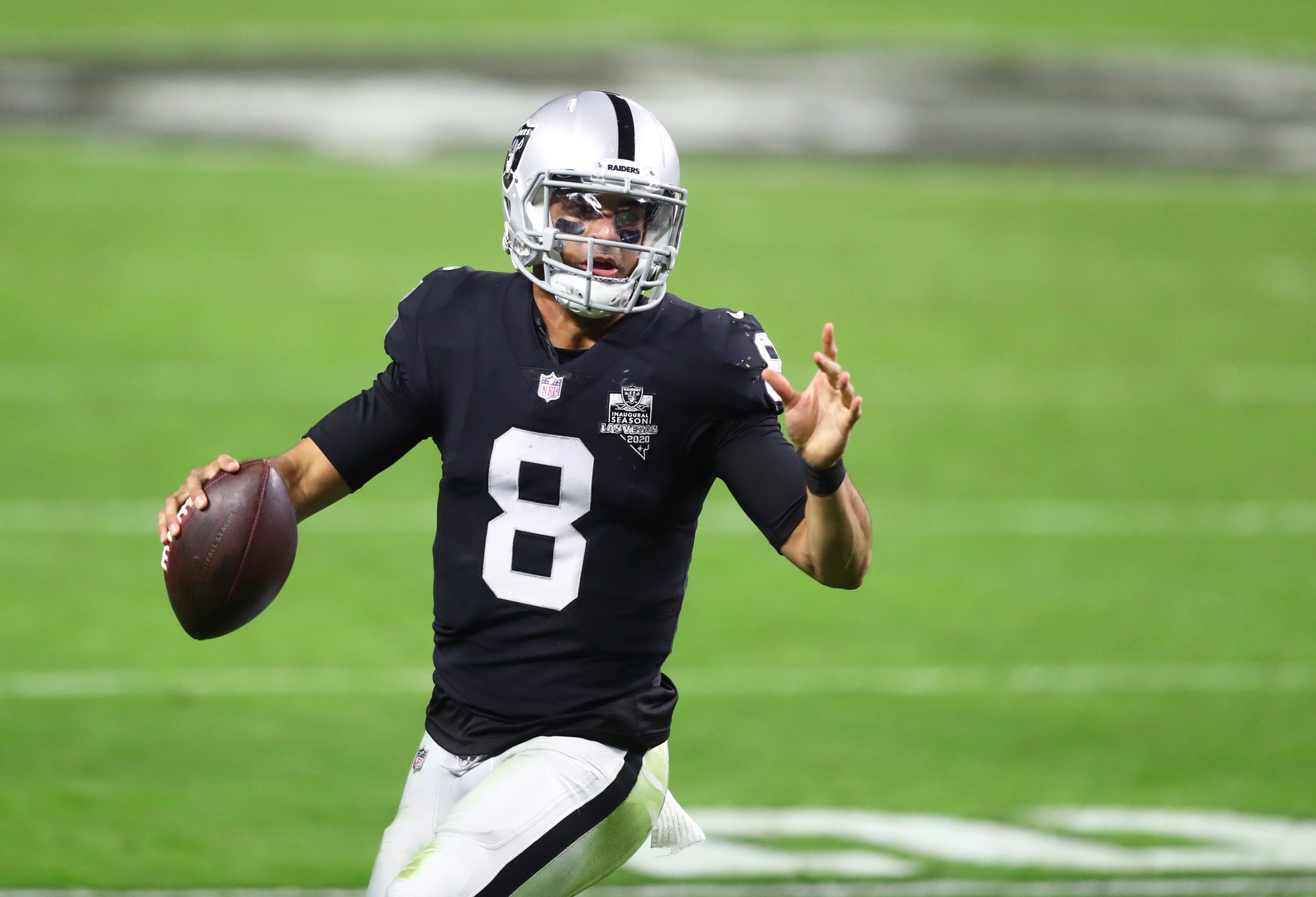 Mariota has battled various injuries throughout his career, though none as tragic as Bridgewater's knee injury that almost ended his football career. In 2020, a pectoral injury landed Mariota on injured reserve, and he appeared in only one game over the course of the season. He filled in for an injured Derek Carr in Week 15 and played just under three full quarters, putting up a solid stat line and flashing some of the skills that made him the No. 2 overall pick in 2015:
Passing: 17-for-28, 226 yards, one touchdown and one interception

Rushing: Nine attempts, 88 yards and one touchdown
The Patriots appear interested in following the recent trend across the NFL of having a dynamic athlete at the quarterback position, and Mariota is an upgrade over Cam Newton at this point. This isn't the type of move Bill Belichick is known to make, with a third-round pick in addition to assuming a pretty expensive one-year flier for Mariota being nothing to scoff at.
Regardless, the Patriots are probably picking too low in the 2021 NFL Draft at No. 15 to land one of the top four quarterback prospects, and the number of veteran options is growing slimmer by the minute.
Cowboys Cap Implications: $222,495 in dead money, $2.383 million in cap savings
Dolphins Cap Implications: One-year, $2.383 million, $0 in total guarantees
Gallup saw his role in the Dallas offense diminish with the emergence of 2020 first-round pick CeeDee Lamb, even ignoring the obvious quarterback troubles in Dallas last season. Gallup was highly productive while operating as the No. 2 target opposite Amari Cooper in 2018-19, but he became more of a deep threat option with less volume as Lamb's role continued to grow each week. 
Gallup saw 105 targets in 2020 out of the Cowboys' 662 total pass attempts — good for a 15.8% target share — after garnering 116 targets on 633 total pass attempts in 2019 for an 18.3% target share. Lamb out-targeted Gallup in his rookie season — one in which the Cowboys had a brand new coaching staff and a truncated offseason — and that trend should only continue going forward. 
The Cowboys can get good value for Gallup before the conclusion of his rookie contract, and he can be a strong No. 2 or borderline No. 1 option in Miami in his contract year (depending on how the Dolphins further address the position this offseason). It's a potential win-win for both parties, especially with tight end Blake Jarwin set to return for Dallas, presumably leading to more two wide-receiver sets.
Eagles Cap Implications: $7.77 million in dead money, $4.702 million in cap savings
Bills Cap Implications: One-year, $8.25 million, $0 in total guarantees
The trade compensation here is more about keeping Ertz off another team than it is a representation of his current market value, as the Eagles may have no choice but to cut him without a trade. While Ertz was once a target machine in Philadelphia, he's now on the wrong side of 30 at tight end and missed a large portion of the 2020 season due to injury. Even when healthy, he didn't look like the dynamic receiving tight end of past years, though the bumps and bruises certainly may have played a role. 
We saw with tight end Rob Gronkowski that when the ability to separate in the receiving game starts to fade, strong blocking can make up for it. But Ertz as your prototypical "U" or "move" tight end offers very little in that respect. All of that said, there is no reason to believe he can't have a few more productive seasons, especially when he's not operating as the No. 1 target like he was in Philadelphia.
With Stefon Diggs, John Brown and Gabriel Davis potentially working ahead of Ertz in terms of target share, he could provide a perfect safety blanket for Josh Allen while serving as a good mentor to 2019 third-round pick Dawson Knox.
Ravens Cap Implications: $216,340 in dead money, $3.384 million in cap savings
Jaguars Cap Implications: One-year, $3.384 million, $0 in total guarantees
We discussed this hypothetical trade at length recently, and it appears to be somewhat inevitable. The Ravens don't necessarily have to make the move, but they seem motivated to do so in order to help Brown realize his lifelong dream of playing left tackle in the NFL. There are several tackle-needy teams that also have the resources to bring Brown aboard — including the Los Angeles Chargers and Washington Football Team — but Jacksonville has the most ammo to make this move happen.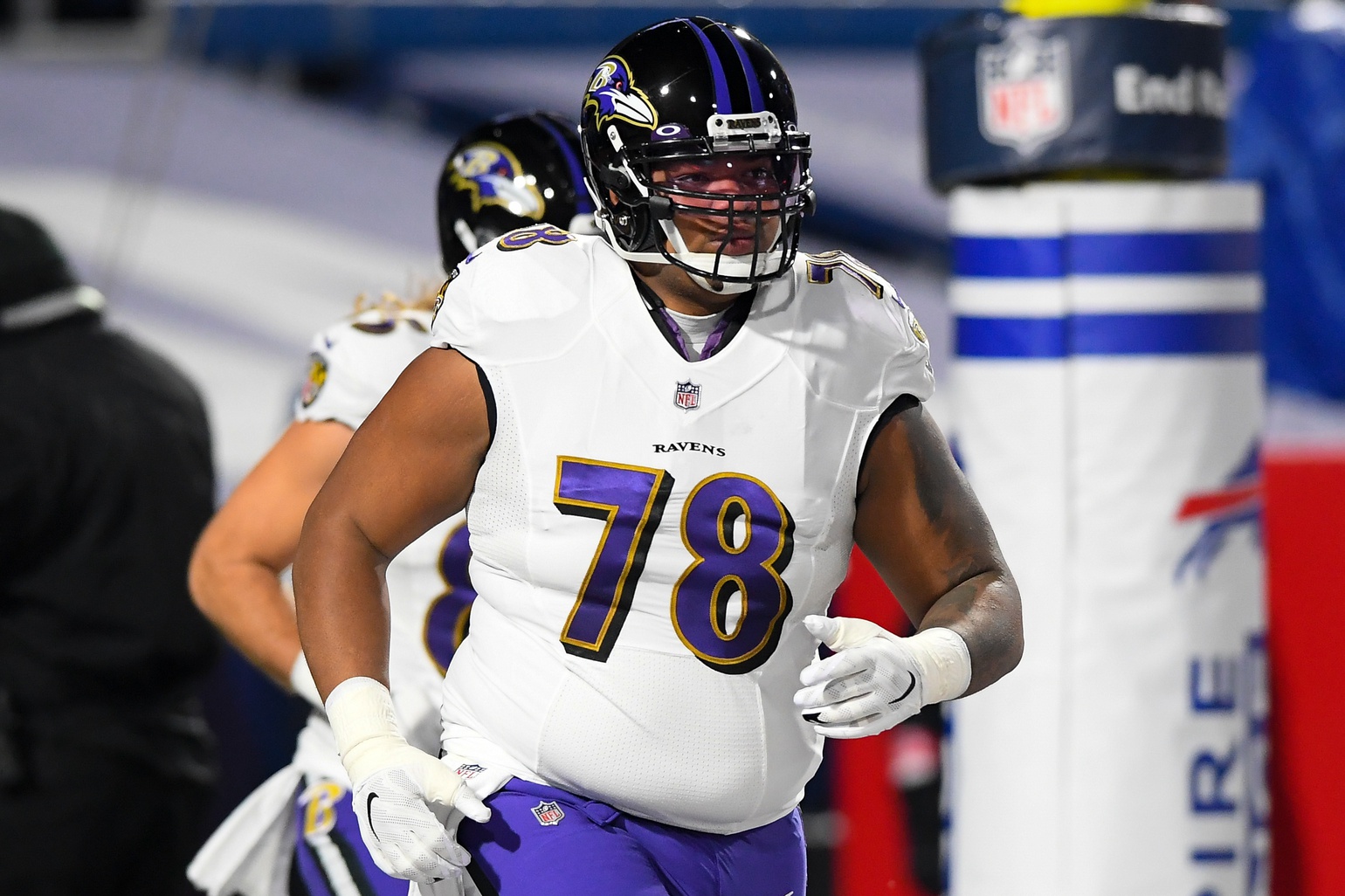 The Chargers' first-round pick is too high, and the Washington Football Team still need to address the quarterback position. What better way to use the additional first-round pick Jacksonville acquired from the Los Angeles Rams in the Jalen Ramsey trade than to land future Jaguars quarterback Trevor Lawrence a stud left tackle for years to come. This is a perfect fit, and Baltimore can perhaps draft their right tackle replacement immediately in April. 
Washington Cap Implications: $2.142 million in dead money, $2.446 million in cap savings
Raiders Cap Implications: One-year, $2,446,140, fully guaranteed
Having a ton of impact players in the trenches is never a bad thing, but at a certain point, the Washington Football Team has to start making decisions along this loaded defensive line because the simple truth is they can't — or shouldn't — pay everybody.
2017 first-round pick Jonathan Allen is set to play on the fifth-year option in 2021, and he is surely looking for a big-time extension this offseason coming off a career year with an 83.5 pass-rushing grade and 47 pressures (both personal bests). 2018 first-round pick Daron Payne clogging up the middle at nose tackle certainly freed Allen up as a 3- and 5-technique, but Payne offers little by way of generating pressure on the quarterback, making him more of a luxury. 
The new collective bargaining agreement made it so that all fifth-year options this upcoming offseason (for 2018 first-round picks, like Payne) are fully guaranteed when exercised, so a decision on Payne this offseason just further locks in more cap commitments with big extensions looming for edge defenders Montez Sweat and Chase Young. Washington has fellow 2018 draft pick Tim Settle as a solid, developing player at nose tackle, and the position is just cheaper and easier to address in general. 
The Las Vegas Raiders are desperate for help along the interior in the run game with interior defender Johnathan Hankins hitting free agency, and Payne provides a perfect replacement and upgrade. Pairing him with Maurice Hurst, who can get after the passer but struggles in the run game, would be a match made in heaven. Lastly, former Washington head coach Jay Gruden oversaw the drafting of Payne and much of his development, so he can tell brother Jon Gruden all about him.
Patriots Cap Implications: $8.921 million in dead money, $7.344 million in cap savings
Browns Cap Implications: One-year, $7,343,750, $0 in total guarantees
Before the 2020 season, the Patriots gave Gilmore a $5 million raise, potentially signaling that he is not pleased with his current contract and would like an extension before playing out the final season of his five-year deal signed in 2017. Gilmore is 31 years old at a position known for sharp declines in play, so the Patriots still may not be interested in doling out a new deal, even though they're flush with cap space.
New England's defense fell off a cliff in 2020 — in part because Gilmore missed five contests — but the team needs to address the quarterback position and has one of the worst receiving groups in the NFL. Ultimately, a trade may be the best route for both parties, as Gilmore can look to sign a short-term extension and make a Super Bowl run before he calls it a career.
Cleveland used the No. 4 overall pick in 2018 on outside cornerback Denzel Ward and followed that up by using a second-round pick on outside cornerback Greedy Williams in 2019, but as Browns general manager Andrew Berry said himself in his end-of-season press conference, "You can never have too many good corners.'' Both guys have consistently missed time in their NFL careers, and Williams dealt with nerve damage in his shoulder throughout 2020, so perhaps there's a need to address wide corner further. 
Working against this move is the fact that all three players are very much outside cornerbacks. Gilmore probably has little interest in moving to the slot full-time, but he's been downright dominant on the inside. Among all cornerbacks with at least 200 snaps in the slot since 2018, Gilmore's 82.5 coverage grade ranks sixth. His 54.5% completion percentage allowed ranks third, and his 12.7% forced incompletion rate ranks tied for fourth.
Perhaps Cleveland can convince Gilmore to play outside in base personnel and move inside when in nickel, still paying him what he wants and potentially avoiding a Darrelle Revis situation, where the wheels just absolutely fell off in his final seasons.
Texans Cap Implications: $2 million in dead money, $8,253,676 in cap savings
Bengals Cap Implications: Two-year, $19,753,676 ($9.87M APY), $0 total guarantees
Roby was the only cornerback in Houston who could cover anybody all season long, which could potentially work against this trade happening, but the relationship between the Texans and Roby got off to quite the tumultuous start in 2020.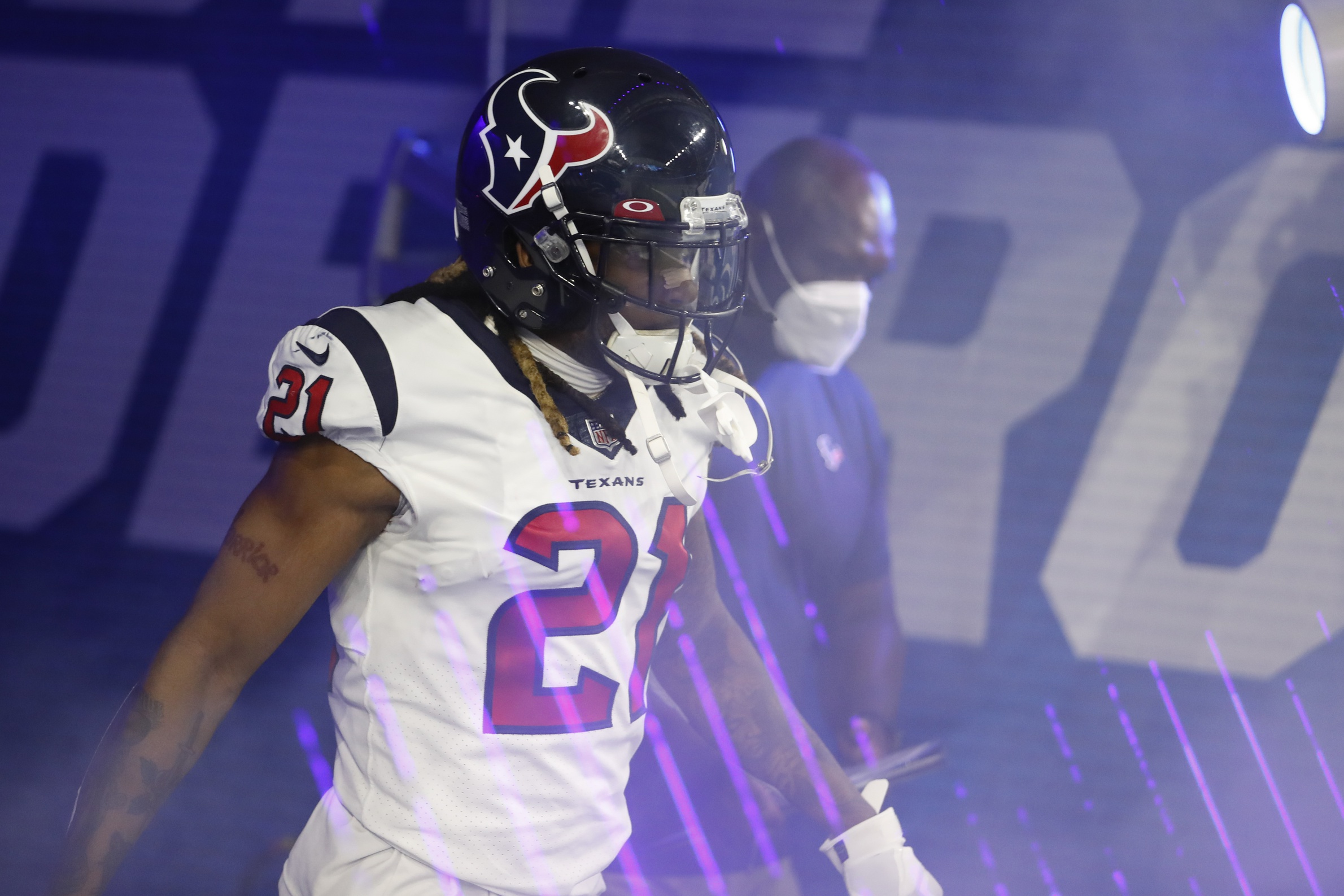 Roby did not travel with the team to Jacksonville in Week 9, with the Texans citing "disciplinary reasons" following a reported disagreement between Roby and the coaching staff. His season then came to a halt with a six-game suspension for PEDs, which extends to Week 1 of 2021. Houston may be undergoing a wide-scale rebuild of epic proportions if it does end up moving Deshaun Watson, so at that point, there's little reason to keep Roby. 
Cincinnati could be in dire need of cornerback help if William Jackson III leaves in free agency, so Roby could fill in opposite Trae Waynes, who missed the 2020 season to injury but should be back in 2021. The Bengals have the resources to pull this off, but they aren't generally one of the more aggressive teams with trades or free agency.
However, this could be a great opportunity for a discounted trade given Roby's situation in Houston, and perhaps a fifth-round pick wouldn't be necessary to get this deal done, with Houston taking a sixth-rounder just to get anything back.