I'll say this off the top: If your team drafted a running back in the first three rounds, the chances are it's our least-favorite pick. To avoid sounding like a broken record, I won't be including many of them among the least-favorite picks (only if there's no other pick we didn't like). If you're reading this here at PFF, you likely already know our thoughts on running back value (they're not that valuable).
[Editor's Note: PFF's instant analysis on EVERY pick of the 2020 NFL Draft can be found here. You can also find all of our pre-draft and up-to-the-minute analysis categorized and readily available here. Get your copy of the PFF 2020 NFL Draft Guide today by clicking here.]
AFC East
Favorite: Edge A.J. Epenesa, Iowa (54)
Athletic testing be damned, Epenesa produced every single year at Iowa on the football field. He brings an interior rushing threat in obvious passing situations they desperately need as well.
Least Favorite: K Tyler Bass, Georgia Southern (188)
Drafting kickers is a crapshoot. In fact, there's no evidence to suggest drafted ones are better than UDFAs.
Favorite: QB Tua Tagovailoa, Alabama (5)
Miami played it perfectly, and #TankForTua lives on. They didn't have to give up any draft capital to get the second-ranked player on our draft board.
Least Favorite: OT Austin Jackson, USC (18)
He's an athletic project at a position where athleticism isn't terribly predictive of future success. Taking him a full-round before a similarly tooled athletic project like Boise State's Ezra Cleveland is too rich for us.
Favorite: S Ashtyn Davis, Cal (68)
Even with two quality safeties on the roster, Joe Douglas still brought in Davis — and I love it. Adams is versatile enough to make it work, and Davis brings a speed element they don't have on the back end.
Least Favorite: Edge Jabari Zuniga, Florida (79)
Zuniga has the athletic tools for the edge, but rarely produced against any reasonable competition at the college level.
Favorite: Edge Josh Uche, Michigan (60)
Uche is a Pats edge guy through and through. His ability to rush the passer from anywhere as well as drop into coverage fits perfectly.
Least Favorite: LB Anfernee Jennings, Alabama (87)
He's likely to transition to an off-ball role and there's considerable projection there seeing as how he played off the edge at Alabama. I wouldn't bet against the Patriots with their track record there though.
AFC North
Favorite: QB Joe Burrow, LSU (1)
Slam dunk. Credit to the Bengals, they didn't screw it up.
Least Favorite: LB Logan Wilson, Wyoming (65)
We would have loved to see them address their offensive line at this point (Josh Jones was still on the board), but Wilson is still an upgrade so a small gripe.
Favorite: DT Jordan Elliott, Missouri (87)
Elliott was a top-25 player on the PFF draft board and the highest-graded defensive tackle in the country last season. Necessary depth along the defensive line.
Least Favorite: LB Jacob Phillips, LSU (97)
Phillips is still young (turned 21 this April) but is a bit stiffer in coverage than we'd like and graded out as such the past two seasons.
Favorite: S Geno Stone, Iowa (219)
Stone goes to an ideal scheme where he can roam as a playmaker in Baltimore. He was the highest-graded safety in coverage over the past two seasons.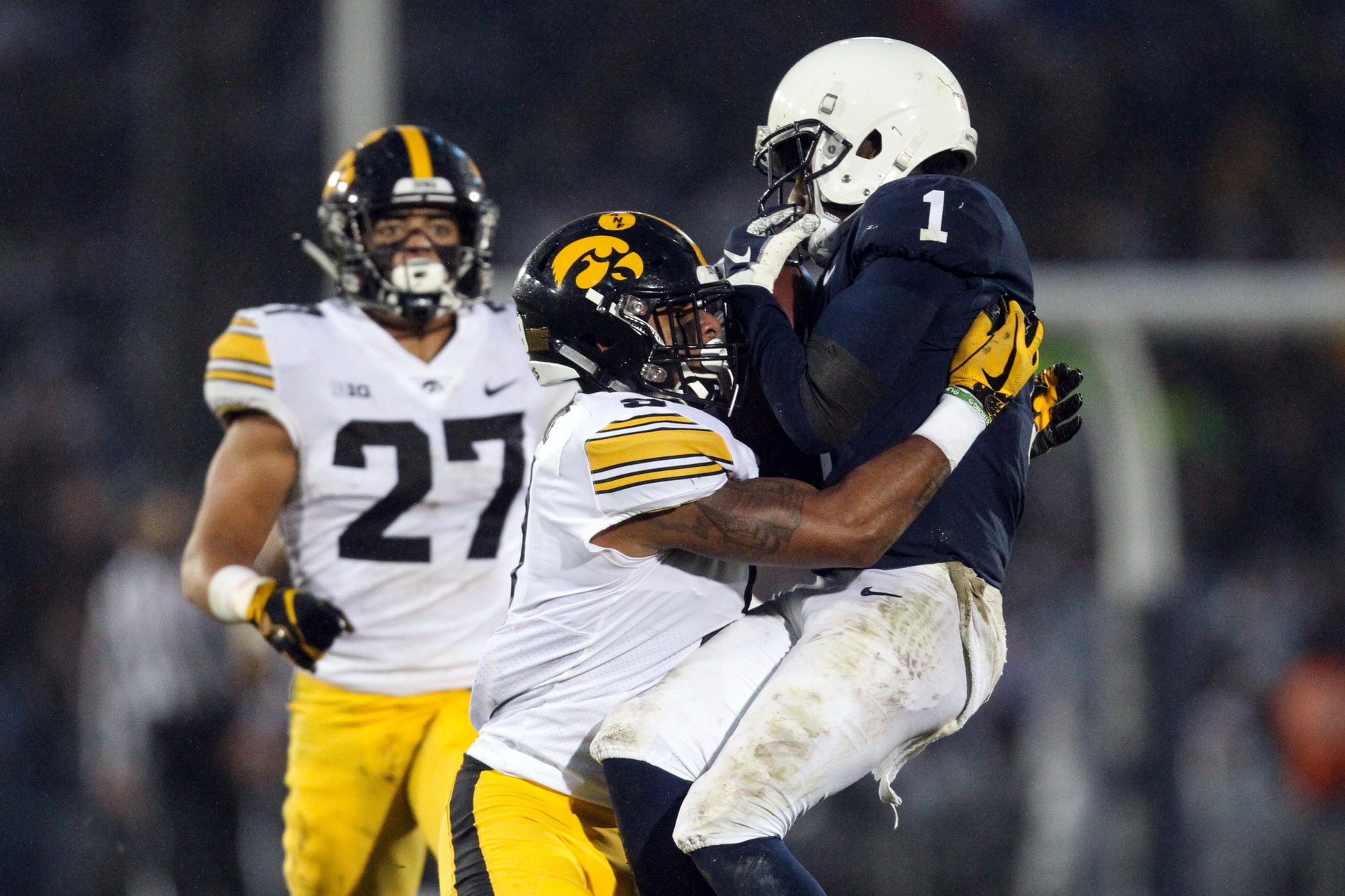 Least Favorite: G Tyre Phillips, Mississippi State (106)
They wanted a people-mover, obviously, and Phillips is that. The value in the third is just a bit rich for us.
Favorite: Edge Alex Highsmith, Charlotte (102)
Highsmith has gone from a walk-on at Charlotte to one of the highest-graded edge rushers in the country last season. That's the type of transformation you bet on.
Least Favorite: WR/TE Chase Claypool, Notre Dame (49)
Truthfully, I'm not even that down on this pick. Claypool has already shown he's a freakish specimen, and if he continues to grow he could be an elite pass-catching tight end. Just don't expect a true outside receiver.
AFC West
Favorite: WR Jerry Jeudy, Alabama (15)
The Broncos bided their time and still struck gold. Jeudy was PFF's No. 1 receiver and the fifth overall prospect in the class.
Least Favorite: CB Michael Ojemudia, Iowa (77)
Compared to other Iowa defensive backs in recent years, Ojemudia didn't have near the grading profile or ball production. He's an easy translation to Vic Fangio's scheme, though, with Iowa's zone heavy defense.
Favorite: WR K.J. Hill, Ohio State (220)
Hill has route-running chops reminiscent of Keenan Allen coming out. He doesn't have near the size, but that still plays in the slot.
Least Favorite: LB Kenneth Murray, Oklahoma (23)
It's not only the Murray pick — we had him ranked in the 60s on our draft board — but also what they gave up for him. Our trade value simulator had the Chargers deal as the most lopsided in the draft — in favor of the Patriots.
Favorite: LB Willie Gay Jr., Mississippi State (63)
Gay brings an athletic element that has been missing from the Chiefs linebacker corps. It's also already translated in coverage, where he's earned elite grades every season.
Least Favorite: RB, Clyde Edwards-Helaire, LSU (32)
I know I said I wasn't going to include running backs, but here we are. Edwards-Helaire can be a perfect scheme fit and still not provide near the value others could have at pick 32.
Favorite: WR Henry Ruggs, Alabama (12)
Ruggs' speed is a weapon even when he's not being targeted. He may not be a true No. 1 receiver, but he'll make life easier for the guys around him.
Least Favorite: CB Damon Arnette, Ohio State (19)
Arnette never graded out better than slightly above average at Ohio State and doesn't fit the physical profile of a first-round corner. I don't see why they had to stick at 19 if they wanted him so badly.
Favorite: WR Michael Pittman Jr., USC (34)
Philip Rivers loves him some big-bodied wideouts, and he's been throwing to them for the majority of his Chargers career. Pittman brings that to a Colts team that was in need.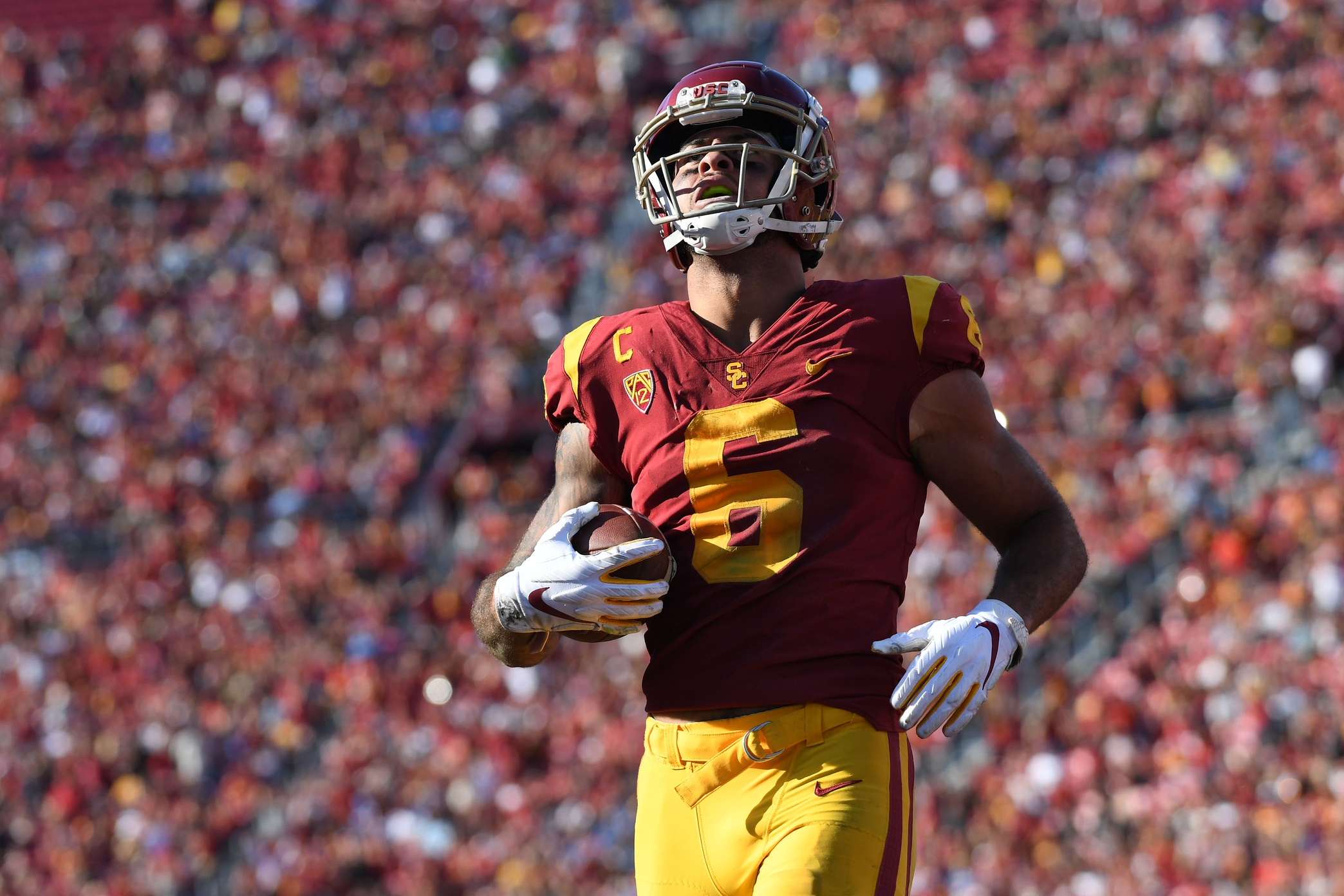 Least Favorite: S Julian Blackmon, Utah (85)
Even without the ACL injury, the corner-turned-safety last season looked like a corner playing safety. Add in the injury and it's tough to see why they pounced so early.
Favorite: OT Ben Bartch, St. John's (116)
Bartch looked like he belonged and then some at the Senior Bowl. Dominating the way he did the first time seeing real competition is special.
Least Favorite: Edge K'Lavon Chaisson, LSU (20)
Another team whose least favorite isn't even that big of a gripe. Chaisson has the athletic tools, just not the production at this point.
Favorite: CB John Reid, Penn State (141)
Reid has exceptional instincts for the position and can be thrown in the slot from day one.
Least Favorite: Edge Jonathan Greenard, Florida (90)
Greenard is a well below-average athlete at a position where athleticism matters a good deal. He struggled mightily against better tackles in the SEC last year.
Favorite: CB Kristian Fulton, LSU (61)
Fulton might not have the length, but he hast the production. Two years of elite-level grading in the SEC is worth more than the 61st pick.
Least Favorite: OT Isaiah Wilson, Georgia (29th)
Wilson's change-of-direction ability leaves a lot to be desired and was exposed a good deal in college. I don't know if that's going to look great against the Von Millers of the world int he NFL.
NFC East
Favorite: WR CeeDee Lamb, Oklahoma (17)
Lamb was the sixth-overall player on PFF's draft board and has the nuances of the receiving position down pat. Don't be surprised if he even unseats Michael Gallup for playing time.
Least Favorite: CB Reggie Robinson, Tulsa (123)
Robinson is more tools that on-field play at this point. I can't get too upset about taking that on Day 3, though.
Favorite: S K'Von Wallace, Clemson (127)
Wallace has the ability to take over Malcolm Jenkins' role in the defense from day one. He's also been an extremely sure tackler over his career.
Least Favorite: WR Quez Watkins, Southern Mississippi (200)
That's how much we liked the Eagles draft. And this isn't necessarily an indictment of Watkins, but with two better speed receivers drafted before him and the trade for Marquise Goodwin, I don't know how Watkins makes the roster.
Favorite: S Xavier McKinney, Alabama (36)
McKinney is pro-ready and instinctive. There were guys with more athleticism on the board at the time, but they weren't as good of football players now as McKinney.
Least Favorite: G Shane Lemieux, Oregon (150)
If your least-favorite pick is a squabble about which guard you should have taken in the fifth round, you had a pretty good draft.
Favorite: Edge Chase Young, Ohio State (2)
It was a no-brainer, but still a massive win for the Redskins to have a talent like Young available.
Least Favorite: RB Antonio Gibson, Memphis (66)
This is a roster littered with holes — especially along the offensive line — and they still go running back? That's going to be a tough one to explain to Dwayne Haskins.
NFC North
Favorite: CB Jaylon Johnson, Utah (50)
Johnson is one of the feistiest cornerbacks in the draft class and an exceptional fit for a zone-heavy team like the Bears.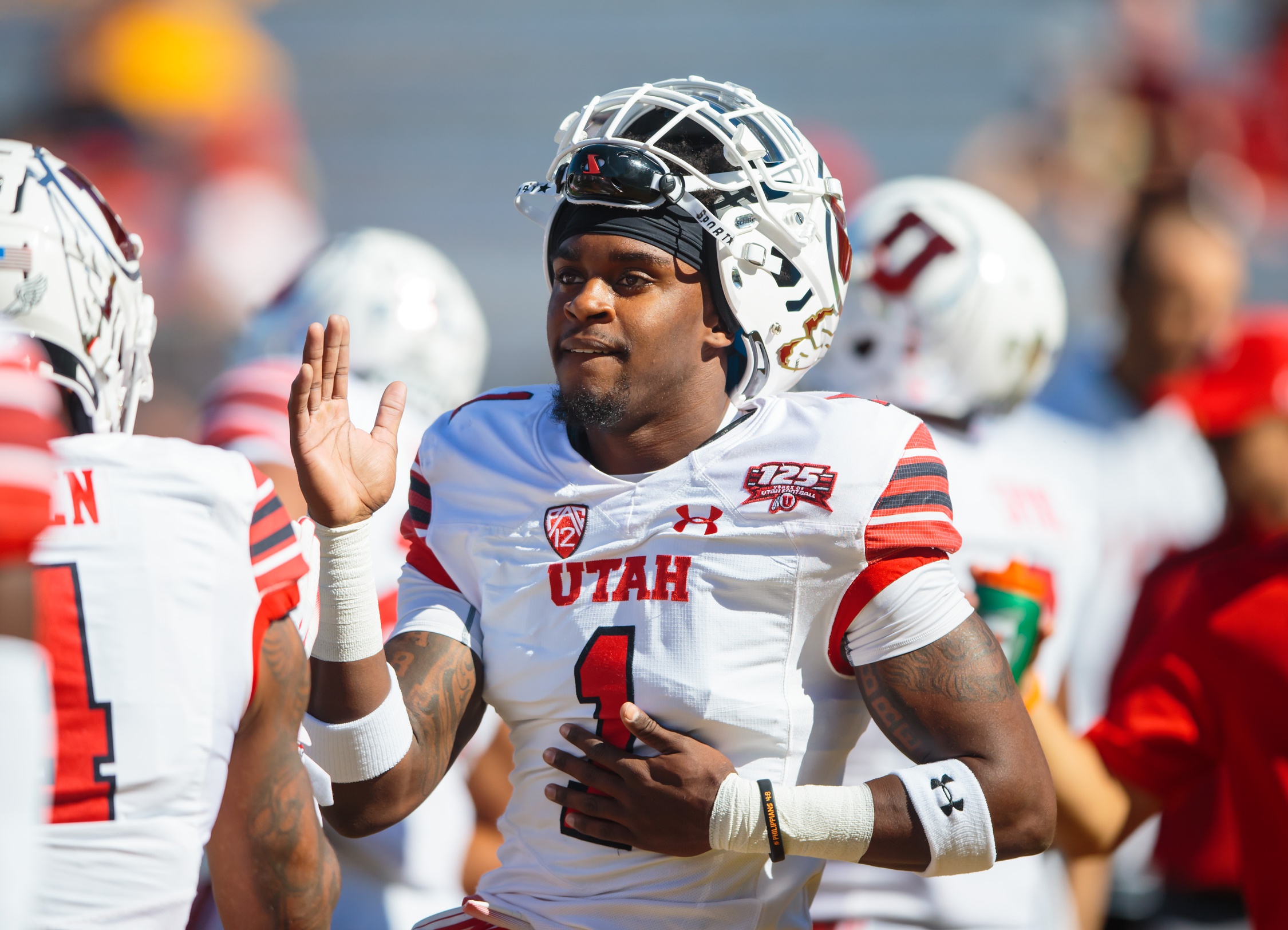 Least Favorite: TE Cole Kmet, Notre Dame (43)
Kmet has very few reps on his tape that show him getting open one-on-one rather than a result of being schemed space. That's concerning for a top-50 pick.
Favorite: Edge Julian Okwara, Notre Dame (67)
One of my favorite picks in the draft regardless of position. Okwara has the explosiveness and length that can win consistently off the edge.
Least Favorite: RB D'Andre Swift, Georgia (35)
I said I wouldn't include running backs, but that's how much we loved the Lions' other picks. This isn't even an indictment of Swift, who was the top running back on PFF's board. Lights out draft for Detroit.
Favorite: QB Jordan Love, Utah State (26)
It's not even a pick we particularly liked, but compared to the rest it was still easily the best. The silver lining is that Love can amplify his trade value if he looks good at all in the coming preseasons.
Least Favorite: RB AJ Dillon, Boston College (62)
Dillon has 21 catches his entire college career and struggles mightily to stop/start. He's a backup running back that only fills a role that is becoming increasingly less valuable.
Favorite: CB Cameron Dantzler, Mississippi State (89)
Dantzler is on the skinny side for the position, but it never mattered against SEC competition. If he can put on any muscle at all, he'll be worth more than the 89th pick.
Least Favorite: Edge D.J. Wonnum, South Carolina (117)
Wonnum has the athleticism but none of the production. The fourth round is fine for guys like that, so no big issues with the Vikings' great draft.
NFC West
Favorite: WR Jauan Jennings, Tennessee (217)
Jennings' YAC-ability is tailor-made for the 49ers offense. His physicality after the catch make him a nice slot option.
Least Favorite: TE Charlie Woerner, Georgia (190)
No issues with the 49ers early picks, so Woerner gets the nod. Not a particularly dynamic athlete, Woerner is likely a blocking-only tight end.
Favorite: OT Josh Jones, Houston (72)
Jones was one of the steals of the draft. He demolished AAC competition last year and only allowed two pressures all season.
Least Favorite: DI Rashard Lawrence, LSU (131)
Lawrence never took the next step after a breakout sophomore season in 2017. He's depth at best for the Cardinals.
Favorite: S Terrell Burgess, Utah (104)
Burgess has slot/deep versatility. With Nickell Robey-Coleman gone, Burgess can step into full-time slot right away.
Least Favorite: WR Van Jefferson, Florida (57)
The run on receivers had pretty much finished at this point and the Rams opted for a safe pick in Jefferson. With almost no production to speak of in college and little physicality to his game, Jefferson just seems limited in the NFL.
Favorite: G Damien Lewis, LSU (69)
With D.J. Fluker gone, Lewis slots in immediately at right guard for the Seahawks and looks like an upgrade.
Least Favorite: Edge Darrell Taylor, Tennessee (48)
Taylor was a guy we thought we liked more than most, but we still had him much lower on our board. He's solid, if unspectacular.
NFC South
Favorite: WR Tyler Johnson, Minnesota (161)
Johnson has slot route-running chops combined with physical play-style at the catch point. He'll be Tom Brady's best friend.
Least Favorite: RB Ke'Shawn Vaughn, Vanderbilt (76)
I said I wouldn't do running backs, but I liked all their other picks. Vaughn is a complete back and his one-cut running style should translate well.
Favorite: DI Marlon Davidson, Auburn (47)
Davidson can add to their run defense on the outside on early downs then kick inside as a pass-rusher in passing situations. We love that he already got the job done consistently from outside at Auburn.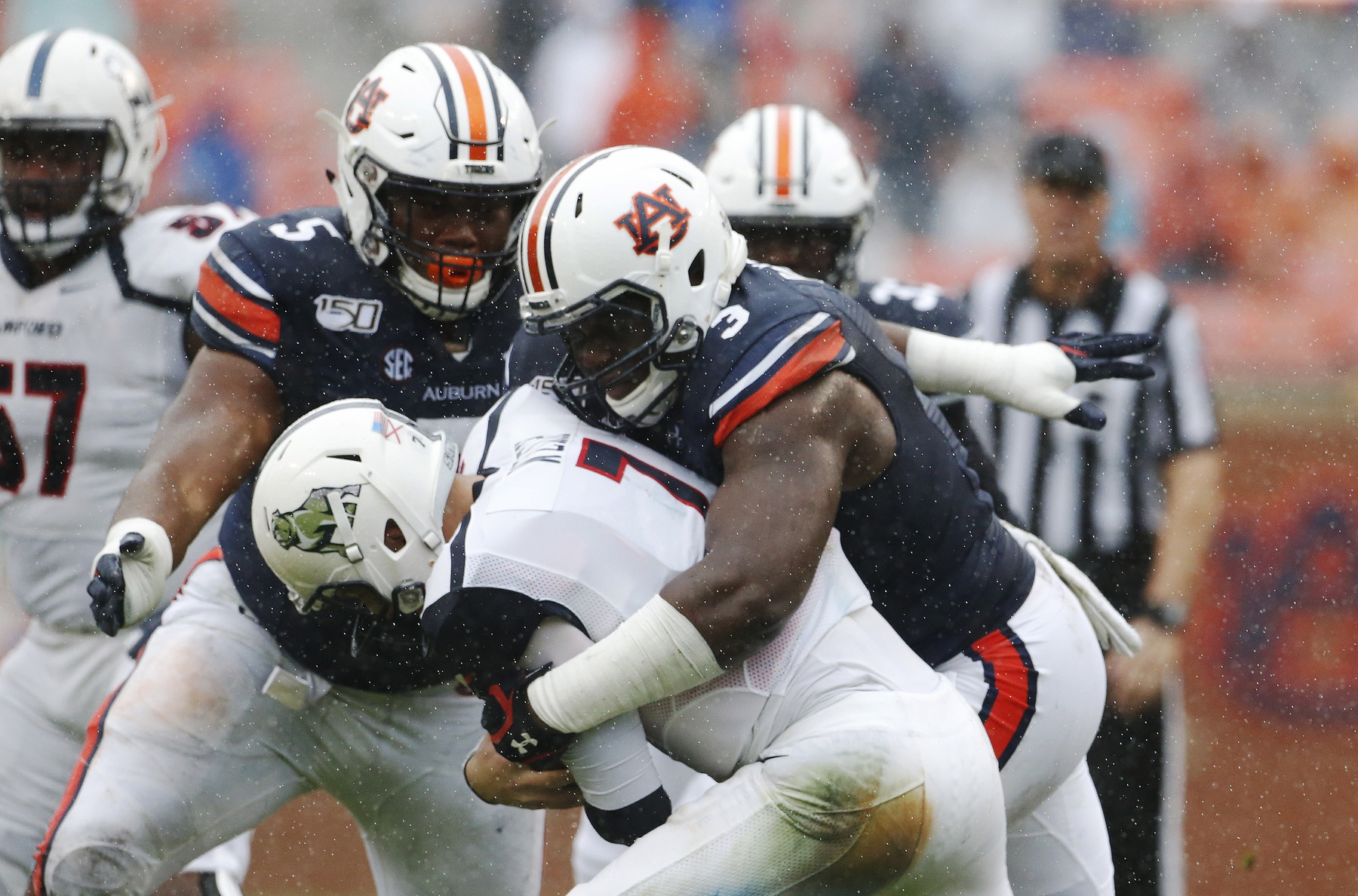 Least Favorite: LB Mykal Walker, Fresno State (119)
Walker is purely traits at this point, as he didn't grade out particularly well at either edge or off-ball where he split time.
Favorite: S Kenny Robinson, XFL (152)
If Robinson returned to West Virginia last fall, he goes far higher than 152nd. He picked off passes and made plays on the football at every stop of his career.
Least Favorite: Edge Yetur Gross-Matos, Penn State (38)
Gross-Matos projects well against the run, but we haven't seen much from him in the way of rushing the passer over the course of his career.
Favorite: LB Zack Baun, Wisconsin (74)
Baun can make an impact as a blitzer off-ball immediately, even if his transition otherwise could be bumpy. He has far better physical tools than your average third-rounder.
Least Favorite: C Cesar Ruiz, Michigan (24)
Truthfully, I still like this pick. This is when you address the offensive line — the year before you need it. It's just that the Saints only drafted four guys.