The PFF Draft Daily will hit on a number of NFL Draft-related topics including recent news, scouting reports, PFF draft takes and much more on a daily basis.
---
For today's Draft Daily, I'm going to focus on the 2017 edge class. Earlier this week, I ranked the top edge defender prospects heading into April. Here, however, we're going to take a look at the non-Power-5 prospects worthy of consideration come draft time.
Non-Power-5 edge class
I can't think of a better non-Power-5 edge class in recent memory. It may not have a Khalil Mack, but there are more than a handful of prospects that will be off the board before Day 2 of the draft comes to a close. We didn't include non-FBS guys in our first rankings because of a lack of data, but here are some of my notes so far on non-Power-5 guys who could go early:
Haason Reddick, Temple
Swiss Army knife. Can line up anywhere in the box.
Could thrive in an off-ball role where he'd be a terrifying blitz threat.
Ridiculous closing ability in space.
Deadly counter inside. Has the explosiveness to force oversets from tackles.
Very slippery. Does a great job of making himself skinny and ducking through O-linemen's arms.
Very undersized for full-time edge.
Derek Rivers, Youngstown State
Ideal build and frame.
Elite explosion off line of scrimmage. Can go speed-to-power all day if he wants.
Extremely raw. So many pass rushes with no plan of attack.
Inconsistent reaction to the snap. Freezes a lot reading run/pass.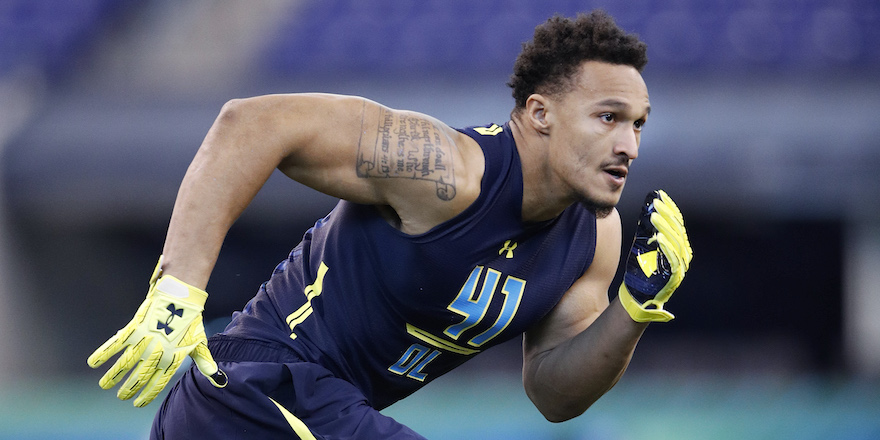 Trey Hendrickson, Florida Atlantic
Feasted on some awful tackles. Highest pass-rushing productivity in the country.
Great burst off line of scrimmage. Consistent get-off at snap.
Inconsistent with his hands. Has some beautiful reps, then won't even use them.
Kicked inside at times and showed the ability to beat guards as pass-rusher.
High swipe is go-to move.
Plays high far too often.
Tyus Bowser, Houston
Freak athleticism that shows up in space.
May be best in an off-ball role.
Barely rushed the passer at Houston. Played true 3-4 OLB role.
Doesn't relish contact, plays around blocks instead of through.
Slow to react run/pass.
Fantastic flashes of agility on inside moves.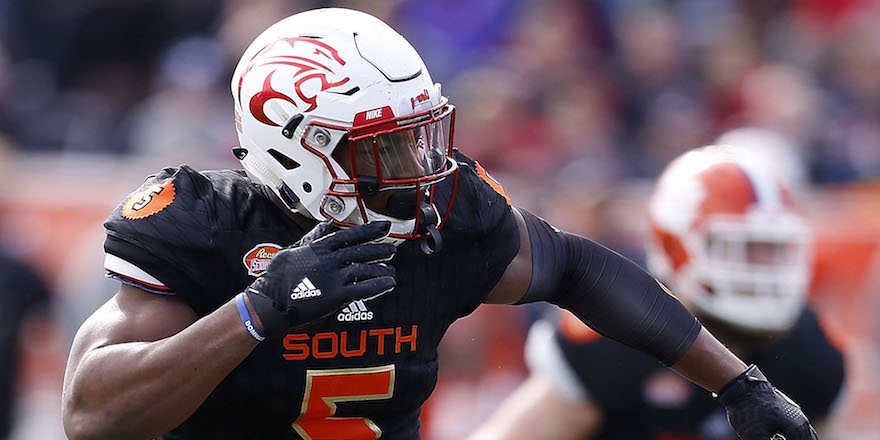 Tanoh Kpassagnon, Villanova
Put up some unbelievable testing numbers at the NFL Combine.
Physically looks like he's built in a lab.
Enough juice to get to the corner on tackles and rip through.
Has some interesting bend for a big man.
Agility is non-existent. Struggles mightily to cross an offensive lineman's face.
Complete lack of pass-rushing moves.
---
From the PFF 'My Guys' list
I truthfully haven't heard so much as a whisper about former Arkansas edge defender Deatrich Wise Jr. in the national media this draft season. He was a Shrine Game invitee who finished with 5.5 tackles for a loss and 3.5 sacks a season ago. Those numbers don't do him justice, though. One of the biggest oddities with Wise, and likely the reason he's received little to no draft hype, is the fact that he played only 488 snaps as a senior and 375 snaps as a junior.
My favorite EDGE prospects that won't go Round 1:

Deatrich Wise Jr., Arkansas
Trey Hendrickson, FAU
Joe Mathis, Washington

— Mike Renner (@PFF_Mike) March 21, 2017
I truthfully couldn't care less about his limited playing time, though. Wise has the tools to be a starting 3-4 defensive end with legitimate pass-rushing ability. His first punch is arguably the best in this class, and with 35 5/8-inch arms, he gets the first strike routinely. He's nothing special athletically, with only a 4.92-second 40-yard dash at the combine, but that's not where Wise is going to win. He has uncommon bend for a player at 6-foot-5, 274 pounds, as illustrated by his 7.07 3-cone. It's rare that Wise isn't in control of the interaction.
This isn't to say that Wise is without flaws. He didn't see the field more at Arkansas because he struggled mightily anchoring versus double-teams. That might force him to play outside the tackles in the NFL, where his pass-rushing isn't quite as effective. Still, I'm not sure there are many better pure interior pass-rushers in this class, and that role has a ton of value in today's NFL.
---
PFF Draft Pass
PFF Draft Pass has officially launched, and can be accessed by clicking here. Users can now view PFF signature stat breakdowns by position and access expanded scouting profiles with grades and signature stats for each top prospect. In addition, PFF Draft Pass users can access the PDF version of the PFF Draft Pass today.
Sign up for PFF Draft Pass for exclusive stats and analysis of the top 250 NFL Draft prospects.