It's that time of the week again. The film has been sufficiently ground, and we're ready to breakdown the biggest takeaways from Week 8 of the 2019 college football season.
[Editor's Note: All EDGE and ELITE subscribers have access to PFF's Preseason 2020 NFL Draft Guide. Subscribe today to download your copy!]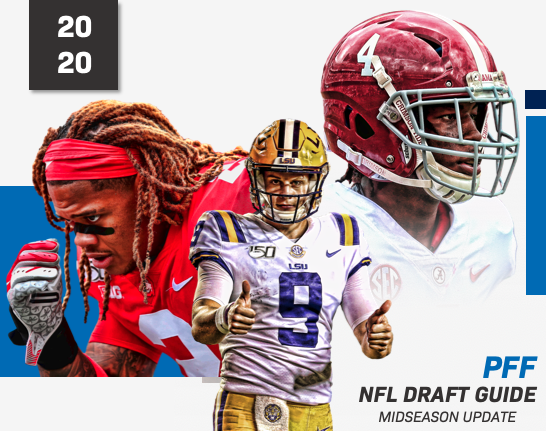 Jordan Love playing his way into 2021?
We can give Love a pass for his poor outing a couple of weeks ago against LSU's secondary. No quarterback in the country is going to light them up this year. This past weekend against Nevada, though, he has no such excuse. His final stat line read 13-of-31 for 169 yards, one touchdown and one interception. Love was staring down routes all game and completely missed defenders zoning off into throwing lanes on a number of occasions. He finished with four turnover-worthy plays on the day to bring him to 17 total on the season – fourth-most in the FBS. With more interceptions than touchdowns on the season, Love's draft stock has stalled big time.    
Jake Fromm threw for just 35 yards!
I had to recheck at the end of the game that my eyes didn't deceive me. Georgia quarterback Jake Fromm really only threw for 35 yards in a full college football game this past weekend. And the Bulldogs still won! This comes a week after he was asked to drop back to pass over 60 times in Georgia's loss to South Carolina. One of our biggest issues for Fromm heading into this season was just that he was protected so much in Georgia's scheme that we didn't know how he'd fare when asked to put it all on his right arm. After back-to-back weeks of struggling mightily to push the ball down the field, the question still lingers. 
The Other Ohio State D-Linemen
I've written before about how I believe Ohio State has the nation's two best defenders in defensive end Chase Young and cornerback Jeffrey Okudah. Their dominance, though, has overshadowed a number of talented players on this OSU defense. Specifically, their defensive tackles. Junior Haskell Garrett (82.5), senior Davon Hamilton (82.7), senior Robert Landers and redshirt senior Jashon Cornell (90.9) all have earned grades over 80.0 this season. That sort of depth and production is unparalleled in the country. They may not be top prospects, but Cornell especially has been playing himself into the Day 2 conversation as of late. He's racked up nine pressures over the past two weeks against Northwestern and Michigan State.
Small School Watch
WR Antonio Gandy-Golden, Liberty
Liberty isn't exactly playing the most imposing schedule in the country as the country's newest FBS program still plays a lot of FCS schools. Gandy-Golden has been dominating for multiple years now for the Flames. He's averaging over 20.0 yards per catch and has 10 broken tackles on 43 catches. At 6-foot-4, 220 pounds, Gandy-Golden physically manhandles smaller corners. What I like is the ability to get off press coverage that he's shown so far. Against Syracuse early in the season, Gandy-Golden had three big plays that all came facing press. He's a very likely Senior Bowl candidate and that week of practices will be huge for his evaluation.
Stock Report – Up
DI Justin Madubuike, Texas A&M
We had high hopes for the redshirt junior defensive tackle heading into 2019 and while he racked up multiple pressures in each of Texas A&M's first six games, we never quite saw dominance. That is until he went up against Ole Miss this past weekend. Madubuike registered three hits and four more hurries on 36 pass-rushes for a 93.0 pass-rushing grade. The speed with which he consistently got home derailed the Ole Miss offense, and his forced fumble turned touchdown was a turning point in the game. Madubuike was already a top-five defensive tackle on our board and may very well push his way towards the Round 1 conversation by the end of the year.
RB Travis Etienne, Clemson
With other backs around the country putting up gaudy volume stats, Etienne had to remind the people that he's still the most explosive back in the country. Against Louisville, he had only 14 carries but turned them into 192 yards and a touchdown. A whopping 22 of his 97 carries this season have gone for 10-plus yards, and he's broken 18 tackles on 30 carries over the past two weeks. 
CB Kristian Fulton, LSU
Fulton got to play press coverage nearly all game long (16 of 23 coverage snaps) against a weak Mississippi State receiving corps and showed once again why he's one of the best corners in the country. He was targeted five times on the day, allowing one catch for 15 yards, picking off a pass and breaking up two others. His interception also showed off his zone instincts as he came off the flat in Cover-2 after bumping the outside receiver to make a pick on the slot.
Stock Report – Down
G Logan Stenberg, Kentucky
After hand-waving Stenberg's penalty problem away for a good portion of the season, it's officially time for me to say that it looks like a serious problem for him. After a false start and a holding call this past week against Georgia, Stenberg has now been flagged 10 times on the season – third most of any offensive lineman in the country. This comes after being flagged 10 times a season ago. It's just something you'll have to live with the way Stenberg plays the game at this point.
RB Jonathan Taylor, Wisconsin
The drop issues that we saw from Taylor early on in his career reared their ugly head once again in a horrific loss to Illinois. He only was technically charged with one drop on two targets, but he had another drop on a play that was nullified by an offensive holding penalty. While obvious he's made his receiving ability a priority this season, Taylor is still a ways off from being a consistent threat in that regard.
DT Levi Onwuzurike, Washington
While Madubuike was one of our breakout candidates that's been a hit in 2019, Onwuzurike has been far less exciting. Against a talented Oregon offensive line this past weekend, he was close to shut out with two hurries on 28 pass-rushes. His 62.5 game grade was his lowest of the season. The impact plays we saw on a limited basis in 2018 haven't been there in a larger role for Onwuzurike this season as he has only three combined sacks and hits this year.
2021 Watch List
RB Pooka Williams Jr., Kansas
Scat backs are all the rage in the NFL nowadays with receiving ability and space play at an all-time high. The 5-foot-10, 170-pound Williams is that to a 'T'. As a true freshman last season, Williams broke 48 tackles on 161 attempts for a 90.1 overall grade. This year he's only slightly behind that figure at 85.3 overall, but he is still breaking tackles at an incredibly high rate. He's forced 41 missed tackles on 115 attempts already in 2019, including 11 on 25 carries against Texas this weekend. He's also got some of the surest hands in the country with only one drop on 51 catchable passes in his career. He's no bell-cow, but he'll surely be a PFF favorite come 2021.