PFF has made its midseason update to the 2020 NFL Draft Guide, which is currently available to all EDGE and ELITE subscribers. We have updated profiles for 200 players and a new top-75 big board entering Week 8 of the 2019 college football season. Check it out here if you're already a subscriber, or subscribe for as low as $9.99 today to download your copy.
Now, let's dive into PFF's college football Week 7 edition of 2020 NFL Draft scouting notes.
Burrow Jumps Herbert
And truthfully he's close to jumping Tua at this point. Burrow treated the Florida secondary – with multiple legit NFL prospects – pretty much the exact same way he treated Northwestern State. He sliced and diced his way down the football field with gorgeous timing throws and few scramble drill dimes mixed in. When all was said and done, Burrow had three big-time throws, zero turnover-worthy plays and a 90.0-plus passing grade. It was the performance we've been waiting to see from Justin Herbert all year long, and Burrow's had four similar ones already this season. Sample size be damned, Burrow is on a collision course with the top spot on our draft board.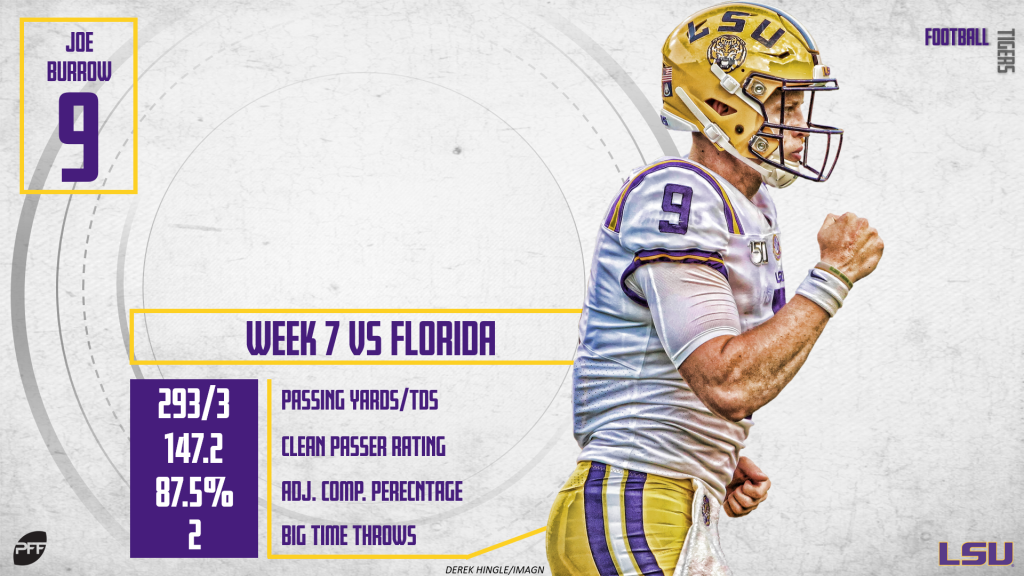 Evaluating Bryce Hall's Draft Stock
After 20 combined interceptions and pass-breakups a season ago, Hall shocked the world and decided to return to Virginia. In the six games before Hall injured his ankle this past weekend, he managed only one pass breakup and no interceptions. 2019 did not goes as planned for the senior corner, but now that it's over, where does that leave his draft stock? On the PFF board, it really hasn't moved much at all with him checking in at 18th in this week's draft board. We were high on him going into the season, and we've still seen he's capable of elite ball production. The fact of the matter is this season he was barely challenged. Hall was on pace to be targeted 25 fewer times than he was in 2018 and allow 180 fewer yards. It's a tad concerning that he was already flagged more times this season (3) than he was all last year (2), but that's not even bordering on a penalty problem. The only thing we're worried about now is him proving he's completely healthy prior to the draft.
Small School Watch
 DL Dom Peterson, Nevada
I have a new favorite player in all of college football. Peterson is a 6-foot, 300-pound defensive end for Nevada's defense. Peterson was an absolute unit against the run as a redshirt freshman last year but is now getting after the opposing quarterbacks. This past week, he racked up nine pressures against San Jose State. On one rep he spun inside the tackle, was picked up by the guard and then bull-rushed him back in the quarterback's lap. Look at how well this man corners at 300 pounds!
Dom Peterson (@IamDomPeterson) working slap/rip during a hoop drill.

via @NevadaSportsNet #NevadaGrit #DLDrills #PassRush pic.twitter.com/p7XX9CUAfR

— DLineVids (@dlinevids1) April 20, 2019
He has 17 pressures in six games but is often the contain rusher for Nevada's three-man lines. His 90.1 pass-rushing grade is far more indicative of how disruptive he's been on the season. Only a redshirt sophomore, he'll be one to follow in the coming years.
Stock Report – Up
G Trey Smith, Tennessee
After getting thrust into the starting lineup for Tennessee right after he was medically cleared to play earlier this year, Smith took some lumps out the gate. Against Mississippi State this past week, though, he earned the highest overall grade of his career. In the past three games against Mississippi State, Georgia, and Florida, Smith has earned an 81.9 overall grade. That makes him the second-highest graded guard in football over that span. He looks like the player we'd always hoped he would develop into and his draft stock is dramatically on the rise.
Edge Chris Rumph II, Duke
Rumph may not be one to watch for the 2020 draft as he's still very undersized to play edge in the NFL, but his blend of length, explosiveness and bend makes him intriguing in the coming years. Duke lets him roam along the line of scrimmage in obvious passing situations and attack. It led to eight pressures against Georgia Tech's offensive line and a 36.4% win rate on the day. He's now got a 91.3 pass-rushing grade on the season. He housed Middle Tennessee State earlier in the year, as well. Only listed at 225 pounds, he needs to add a good deal of weight in the coming years.
RB Zack Moss, Utah
After an injury forced him to return this season and another one has kept him out since the USC game, it's nice to see Moss not lose any of his juice. He only took five carries, but gained 121 yards on them and scored twice. His 91-yarder was a microcosm of who he is as a prospect. He spun off an unblocked defender in the hole at the line of scrimmage then turned on the jets to outrun the safety. 
ZACK MOSS 91 YARDS TO THE HOUSE!!!!!!!!!! #UTAH pic.twitter.com/hPUBNJlR4C

— #BusinessIsSuspended (@FTBeard11) October 13, 2019
Stock Report – Down
CB C.J. Henderson, Florida
Joe Burrow didn't shy away from Florida's top cornerback, and Henderson paid the price. He had one nice pass breakup in the end zone early, but it was all downhill from there. He gave up a slant touchdown, missed a couple of tackles in coverage and then got lost on a wheel route for a big score. When all was said and done, Henderson allowed 6-of-9 targets for 106 yards and two scores.
WR Kalija Lipscomb, Vanderbilt
Lipscomb was targeted three times against UNLV and failed to haul in any of them, adding two drops for good measure. Both were unfettered passes – one a screen, the other an over route – that hit him right in the chest. We already had questions about his ability to separate with 10 of his 29 catches coming on screens.
DI Jay Tufele, USC
After an encouraging redshirt freshman season, Tufele has been a non-factor more often than not so far for the Trojans this season. This past weekend against Notre Dame was rock bottom, though, as he didn't collect a single pressure on 28 pass-rushing snaps. In one of his best opportunities to prove himself this season against a well-coached offensive line, Tufele put out a dud.
2021 Watch List
WR Ja'Marr Chase, LSU
Chase set the tone for LSU the very first play of the game when he took a simple out route and shredded two tackles afterwards. He also gave C.J. Henderson a touchdown on a slant and wheel route. Chase now has 578 yards on 30 catches and nine broken tackles in only five games for the Tigers this season. His 3.83 yards per route ranks fifth nationally and second among underclassmen. This is coming almost exclusively as an outside receiver, as well, where he has been separating at an elite level. It's time to put Chase in the WR1 conversation for 2021.