The 2020 NFL Draft is finally here. After much speculation about who goes at what spot over the past year, we will finally have all of our questions answered. And like in every draft, we will see some shocking moves that come out of nowhere — such as the Raiders taking Clelin Ferrell fourth overall in 2019, the first overall pick being completely up in the air until the day of the 2018 NFL Draft, and the Bears trading up to the second overall pick to take Mitchell Trubisky in 2017.
So, what better way to cap off all of our draft analysis than to predict the shocking/most notable moves of the 2020 NFL Draft? Without further ado, here are some bold predictions for Round 1 on Thursday:
[Editor's note: Check out PFF's 2020 Mock Draft Hub, NFL Draft Big Board and NFL Mock Draft Simulator. PFF Elite subscribers can also download the 1,250-page 2020 NFL Draft Guide.]
There isn't a more talked about prospect in this draft class than Alabama quarterback Tua Tagovailoa. As we all know, it's smokescreen season, and the latest rumors have Tagovailoa falling to as far as outside the top 10 due to his injury history. Is it possible that this rumor started in South Beach to prevent the Chargers trading up over the Dolphins to snag their guy? Considering the complete prospect Tagovailoa is outside of his injury and the numerous concerns with Justin Herbert's overall game, this is a very real possibility.
Tagovailoa's surgeon has gone as far as to say the former Alabama signal-caller isn't susceptible to future injury because of his hip. If that's the case, Tagovailoa is by far the better prospect over Herbert. He has produced elite PFF overall grades in each of the past two seasons at Alabama and has elite level accuracy, decision-making and pocket presence — all of which Herbert doesn't come close to. Tagovailoa's rate of accurate passes thrown beyond the line of scrimmage is nine percentage points higher than Herbert and ranks in the top five in the FBS. Herbert may have the cannon arm, but that's the cherry on top of a quarterback prospect. Don't be surprised to see this all be a smokescreen as the Chargers get their guy by leap-frogging the Dolphins.
The fact that Dave Gettleman has never traded down in his time as a general manager makes the bold prediction of trading back from the fourth overall pick spicy in itself. Throw in the fact he takes an interior defensive lineman after trading back, and you get a double-whammy bold prediction.
The Giants are loaded on the interior defensive line with Leonard Williams, Dalvin Tomlinson and Dexter Lawrence, and tackle is a clear need for them, but based on Gettleman's responses in a recent interview, Brown could be the pick over a tackle. According to Pat Leonard of the New York Daily News, Gettleman said "you can never have too many great players at one position" and "there are tackles throughout this draft … it's a thick group."
While we at PFF would praise the move to trade back in the draft, we wouldn't necessarily like it for an interior defensive lineman. Especially if it's at the sixth overall pick. Brown was great at Auburn the past couple of seasons, but he wasn't at an Aaron Donald-level of dominance. He produced elite grades in each of the past two years at 90.6 and 90.8, which again is great, but that is nothing compared to Quinnen Williams' 96.0 grade in 2018. We have Javon Kinlaw at No. 16 on our Draft Board, just above Brown. Not to mention, the positional value of interior defensive linemen not named Aaron Donald isn't worth spending this early of a pick on.
Rumors are heating up that the Cleveland Browns are interested in pursuing tackle Trent Williams via trade from the Washington Redskins. If that were to happen, then there goes the likelihood the Browns take Andrew Thomas at pick No. 10. If that trade doesn't end up happening, though, the Browns could very well still use their pick on a position other than left tackle and hope to pick up Houston's Josh Jones or Boise State's Ezra Cleveland in the second round.
It's widely known that the Browns value analytics more than others with Paul DePodesta and Andrew Berry spearheading the front office, and it shouldn't be a surprise to see them take a wide receiver, one of the most valuable positions on the field, with the 10th pick. They may have Odell Beckham Jr. and Jarvis Landy, but it would be hard to pass up on Jerry Jeudy if he's available since he's right behind Amari Cooper for the best prospect in recent memory at the position. Jeudy was comped to Beckham by Mike Renner in the PFF Draft Guide. He's an absolute separation-getter with his refined route-running and can take it to the endzone on any given play when he gets a step on his defender — he's that deadly in the open field. Over the past two seasons, Jeudy picked up 53 explosive plays of 15-plus yards when he had at least a step of separation, eight more than any other FBS receiver in that span.
Considering the type of offense Kevin Stefanski runs (i.e., minimal usage of three-plus wide receiver sets), this isn't a likely scenario. But if any team would be willing to adapt for a once-in-a-blue-moon type of prospect in Jeudy, it'd be the Browns.
The rumor of Henderson going in the top 10 has picked up steam in recent days. The Jaguars own the ninth and 20th overall picks in the first round and almost certainly have to use one on a cornerback after trading away Jalen Ramsey and A.J. Bouye. NBC's Peter King has even said he has heard the Jaguars are interested in trading up for one of the top two cornerbacks in the draft. As a result, Henderson could very well stay in Florida and be a top-10 pick in this draft.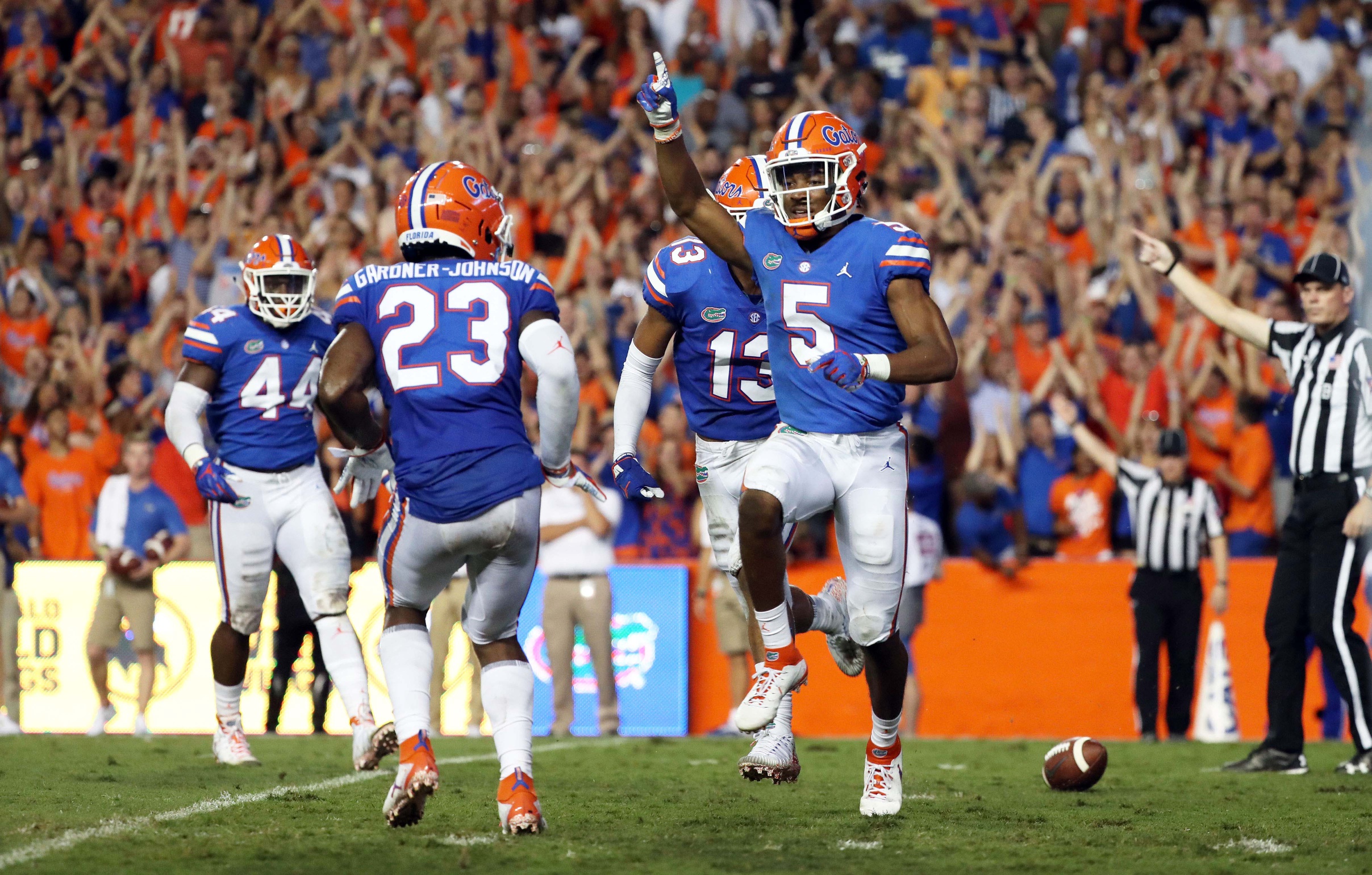 He isn't our CB2 (LSU's Kristian Fulton is) like the NFL consensus, but he is still a top-20 prospect in our eyes and has elite man coverage skills and great athleticism. In single coverage on the outside over the past two years, Henderson allowed only 20 catches on 44 targets with as many plays made on the ball as first downs allowed. With his speed, wideouts weren't going to burn him for an open deep reception. On those single coverage reps, Henderson allowed only four of 15 deep targets to be caught, and none of those targets were considered to be open separation for the receiver.
There is zero chance Henderson escapes the Falcons at pick No. 16, so there's a real chance the Jaguars roll with him at the ninth pick to ensure they get their guy.
We have Justin Jefferson as only the 32nd-ranked prospect in this draft class, but NFL teams have him far higher up their boards. The primary reason why we have differing views on Jefferson is that he never proved he could beat press or win on the outside on a consistent basis. In 2018, Jefferson spent most of his time as an outside receiver — as opposed to the slot, which is where he lined up for 98.6% of his snaps in 2019 — and he was pretty poor against single coverage; he recorded a PFF grade that didn't crack the top 100. Not to mention, a lot of his production was a result of him finding holes in zone coverage. That being said, his great ball skills and body control still make him worth a first-round pick in our eyes. It wouldn't be a surprise to see Jefferson get selected over Henry Ruggs III to be the third receiver off the board, but we wouldn't put him that high.
It'll be interesting to see how teams handle the quarterbacks in this draft considering the offseason scheduling impact of COVID-19. But for guys such as Jordan Love and Jalen Hurts who likely won't be viewed as day one starters, this may not be such a huge issue.
Love is a huge wildcard in this draft, viewed by some as a clear-cut first-round pick and others nothing more than a third-rounder. And to us at PFF, we have to agree with the latter. Love has a cannon of an arm and good pocket presence, but the inconsistencies and accuracy issues are too much to invest in early on. He squeezed out just a 75.3 PFF grade in 2019 for Utah State and played incredibly poorly against Power-5 competition (54.8 grade at Wake Forest in Week 1 and 46.5 grade at LSU in Week 6). Among 106 qualifying quarterbacks in 2019, Love ranked 91st in percentage of pass attempts resulting in a QB-fault incompletion. There are teams interested in Love's potential, though, and if Miami were to pass on a quarterback at pick No. 5, they could grab Love with either their 18th or 26th overall pick. And if a team like the Saints or Packers are serious about getting a developmental guy behind their aging starters, Love could be their guy, too.
While Love didn't have huge success in college, Jalen Hurts did. He posted an elite 91.6 overall grade in 2019 and was the fifth-most valuable player in the entire country. The big concern with projecting him as an NFL quarterback is his incredibly high time-to-throw average and subpar anticipation. That being said, his rushing ability is running back-esque — as said in the PFF Draft Guide — and he has the accuracy (ranked fifth in accurate pass rate in 2019) to succeed at the next level. I wouldn't rule out a team trading into the late first round to grab Hurts, especially if we see Love go in the top 25.
After the Buccaneers traded for Rob Gronkowski, Tom Brady has all the receivers he needs to succeed. Right tackle is a huge need for the Buccaneers — they signed Joe Haeg, who could start there in 2020, but that's a risky move to make considering he surrendered 13 sacks and a 9.1% pressure rate in his 788 career snaps at right tackle
The Buccaneers are in clear Super Bowl mode, and they might just trade up to patch the last massive hole in their roster. There is a real chance four offensive tackles go in the top 10, so they may have to give the Cardinals a call at No. 8 or the Jaguars at No. 9 to secure one. Nonetheless, they'd clearly be set at right tackle heading into the year if they traded up and secured Tristan Wirfs or Jedrick Wills Jr.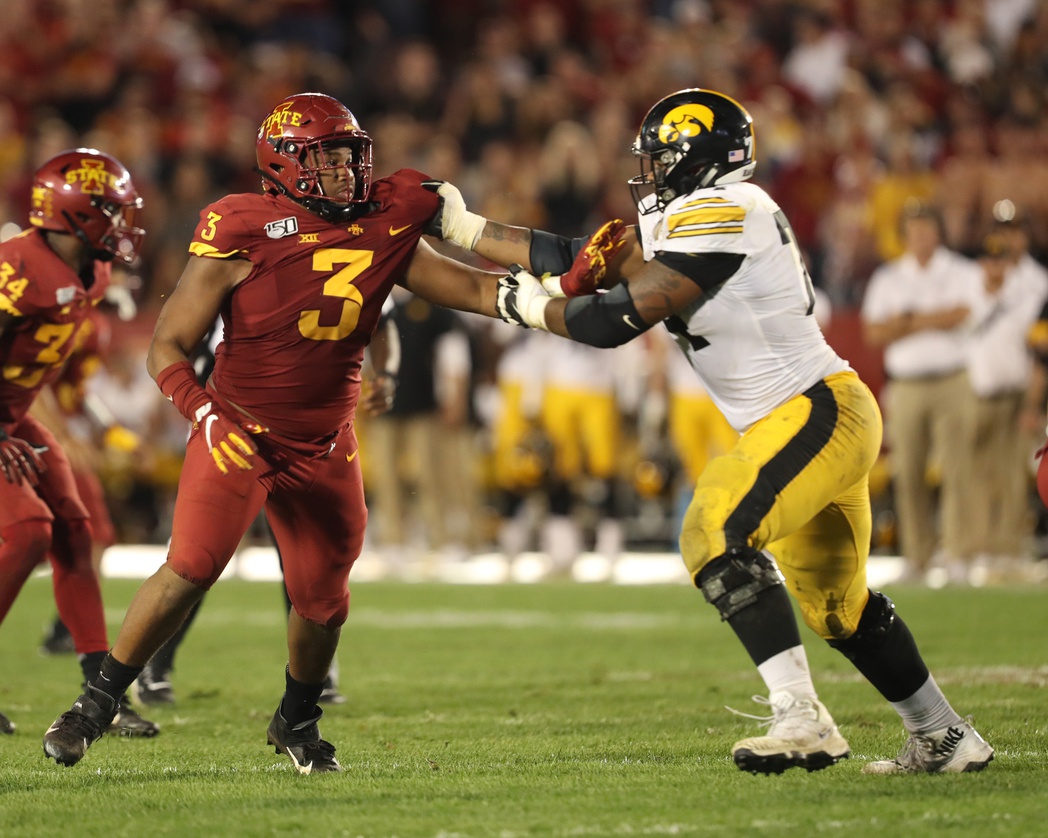 Wirfs, who is eighth on the PFF Draft Board, is an athletic freak who developed into one of the best tackles in the country this past fall. He posted an elite 91.8 overall grade that ranked fourth in the FBS and ended his year playing at a near-perfect level. Over his last seven games, in particular, Wirfs played unbelievably well — he allowed only one pressure and was the only Power-5 tackle to have elite grades in both pass protection and run-blocking.
Wills isn't nearly as polished Wirfs in pass protection, but he takes the cake as a run-blocker. Wills had a 90.5 run-blocking grade this past year that ranked sixth in the FBS. He also had more big-time blocks (PFF's highest-graded blocks) than anyone in the class. His pass protection was still solid, as he had an 82.5 pass-block grade, but again, Wirfs would be the prize if the Buccaneers trade up.
We see multiple current players traded
There is a plethora of current players on the trade block, and we could see a handful of them dealt as a part of trade-up deals in the 2020 NFL Draft. It wouldn't be a huge surprise if we see one of these moves occur for a premier wide receiver in this class — either Jerry Jeudy, CeeDee Lamb or Henry Ruggs III. One interesting scenario that Peter King floated was the Chiefs trading up to secure Ruggs. The Alabama wide receiver was an explosive play machine this past year — he generated a gain of 15-plus yards on over 38% of his targets, which led the FBS. Overall in 2019, Ruggs averaged 10.5 yards after the catch per reception. Pairing Ruggs' 4.27 40-yard speed with Patrick Mahomes, Tyreek Hill and Andy Reid would result in an even-more electric Kansas City offense. Is this likely? Probably not. But it's still something to keep an eye on. Regardless, it would be a surprise if we didn't see a couple of premier players, such as Trent Williams or Yannick Ngakoue, moved at some point in this draft.