Day 2 of the 2023 NFL Draft is in the books, and some teams are putting together some outstanding hauls.
Here are the biggest winners and losers from Day 2.
More PFF draft content:
LIVE Draft Tracker | Mock Draft Simulator | 2023 NFL Draft Guide
Top 200 Big Board  | PFF Mock Drafts | Measureables & Workout Data
NCAA Premium Stats | Draft Rankings By Position | Prospect Superlatives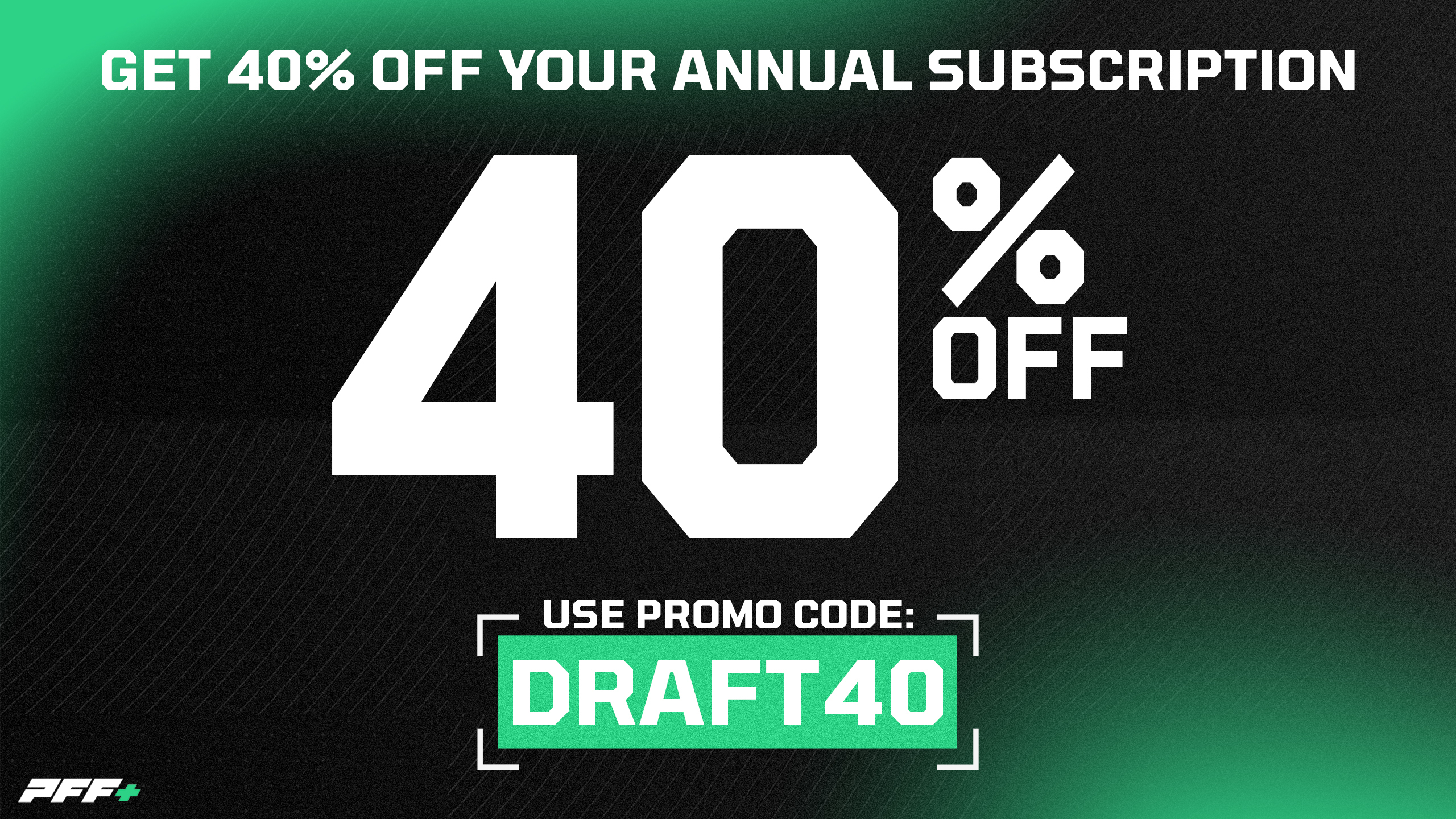 ---
Winners
Joey Porter Jr. was frequently linked to the Steelers in the first round, but they were able to use the first selection of the second round — the pick they received for trading away Chase Claypool — to grab him. Porter is arguably the best press-man corner in this draft, and as the son of a former Steelers legend, the pick made too much sense not to happen.
Keeanu Benton gives them a legitimate interior presence along the defensive line in a draft that wasn't long on talent at that spot. Benton is able to line up in multiple roles along that defensive line and give the Steelers a real injection of talent in an area that has been struggling lately.
Lastly, Darnell Washington's slide was finally halted by the Steelers at pick No. 93. The mammoth tight end from Georgia is an elite blocker on screens and against defensive backs in space, with the power to do a job in-line against defensive linemen. Though he saw just 70 targets in his college career, he has the talent to be a much bigger factor at the next level, even if there is a lot of projection involved.
Though he was one of the losers of Day 1, Will Levis was a winner on Day 2. Not only did he come off the board just one pick after the start of the round, but he went to a perfect team for him to have the best possible chance of success.
With all of the quarterback-needy teams passing on Levis in the first round, the reality is that the league sees him as more of a backup or a developmental prospect, but the Titans are reaching the end of the Ryan Tannehill era, so there is a very clear pathway for Levis to earn the starting job before long. Levis earned a 90.6 overall PFF grade in 2021, running NFL concepts at Kentucky that he will be replicating with the Titans.
The Lions reached a couple of times in Round 1 for players at low-value positions, and though they kept targeting those lower-value spots on Day 2, they added some exceptional players.
Brian Branch is an elite safety talent who can cover the slot at a very high level. Only a 4.58-second 40-yard dash time prevents him from being able to play every spot in the secondary. He was a common top pick in the first round in mock drafts, but the Lions got him at Pick 45.
Tight end Sam LaPorta is elite with the ball in his hands, breaking 20 tackles last season and giving the Lions an after-the-catch weapon that doesn't exist outside of him.
The team also added some serious bulk along the defensive line in Brodric Martin, but the crowning pick was Hendon Hooker in the third round. The Tennessee quarterback had seen an incredible hype machine go to work on him before the draft with regular talk of the first round, but in truth, he was always more like a mid-round prospect. As a developmental player, though, he has true starting potential down the line, something that can't be said for most other quarterbacks in this draft. Hooker made just five turnover-worthy plays all last season but ran an offense that forced him to work to the other side of the field just 15 times during his entire Tennessee career.
Keion White is an unpolished ball of destruction right now, but he was drafted by the Patriots and gets to be molded by one of the finest defensive coaches the game has ever seen in Bill Belichick. White has impressive physical traits but is a long way from being able to harness all of that power and wild play to become a truly destructive player. He has a very high ceiling and couldn't have landed in a better spot to help him tap into that potential.
---
Losers
Dawand Jones was a potential first-round pick, but he remains on the board after Day 2. Reports were that his pro day put off personnel people in a big way. He didn't step on the scales, looked significantly heavier than he had been at the scouting combine and seems to have teams concerned about his work ethic and weight management. Jones may have taken himself from being a potential first-round starter into a Day 3 roll of the dice.
Chicago made three picks on Day 2, and two of them were significant reaches relative to the consensus board for interior defensive linemen without a track record of consistent impact play. Gervon Dexter Sr. from Florida and Zacch Pickens from South Carolina each have impressive measurables, but neither player had a dominant college season.
Cornerback Tyrique Stevenson actually ranked highly on the consensus board and PFF's big board, but I have major concerns about his play in any kind of zone coverage. He has some impressive athletic traits but allowed five touchdowns across his last 89 targets and surrendered more than 20 yards per reception last season.
Kelee Ringo was seen as a fringe first-round talent based on the consensus draft board but remains available after three rounds. Ringo has some concerns on his tape when it comes to change of direction, which showed up in a pedestrian three-cone time that put him in the 19th percentile. For him to still be available at this stage of the draft despite his size and speed speaks very poorly of how the league sees the rest of his skill set.
The three picks the 49ers made on Day 2 of the draft represented reaches relative to the player's ranking on the PFF big board, averaging 135 spots in difference. They took a kicker in the third round — a massive investment in a notoriously difficult spot to correctly identify with draft picks — and selected two other players at low-value positions, safety and tight end, who were ranked far lower than other available players at the same position.
This is one of the most curious groups of selections in the entire draft.