Round 1 of the 2022 NFL Draft featured a handful of steals to AFC contenders, and that didn't stop on Day 2.
Like every year, there were draft steals sprinkled throughout the second and third rounds of the draft. Let's dive into the Day 2 picks that qualified as such.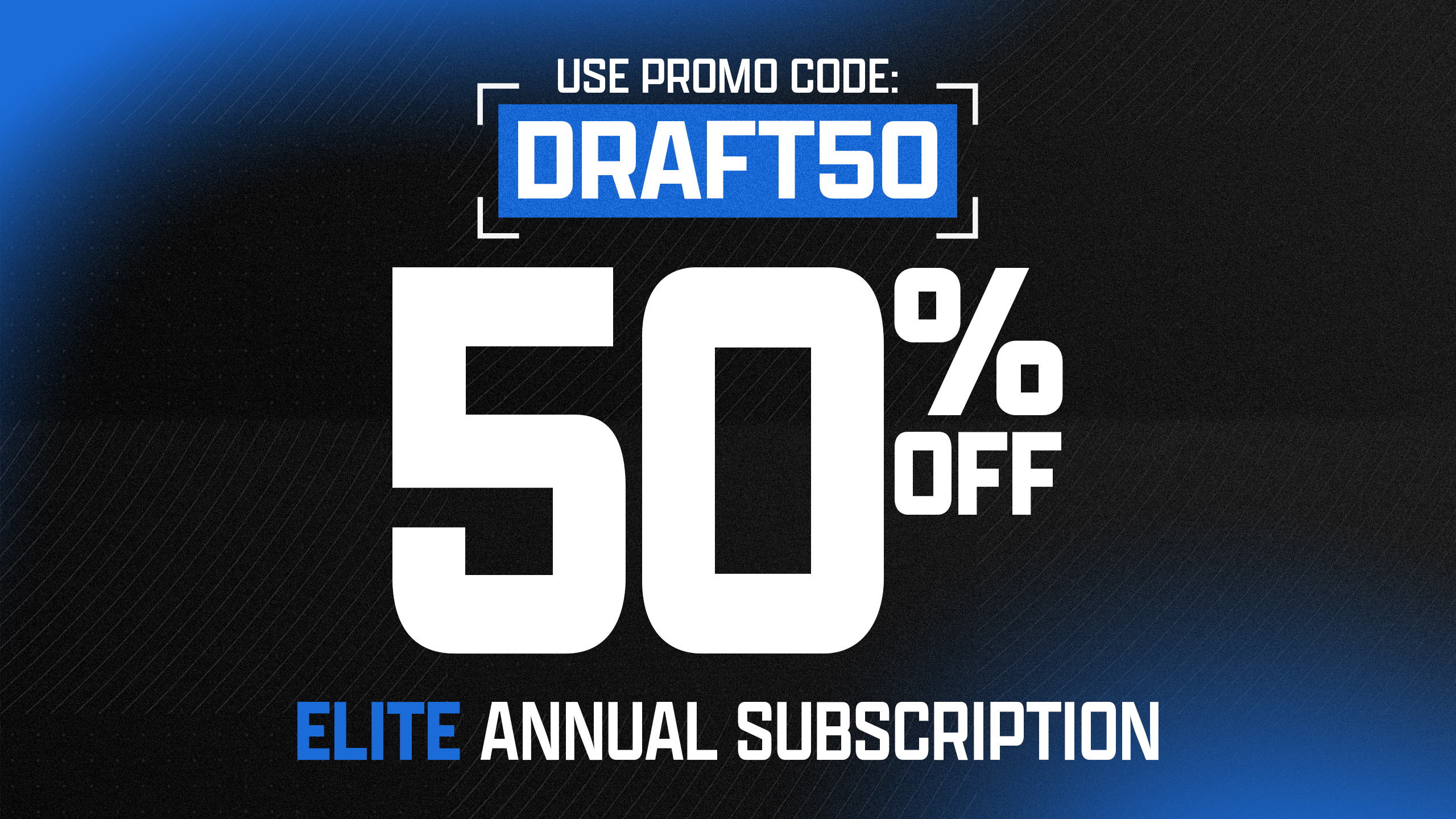 Booth was widely thought of as a first-round prospect but fell to Round 2 because of medical concerns. While there's an argument that this should negate this being a steal, this is still very good value for Minnesota — especially considering that Booth was the seventh corner off the board.
The Clemson product has a scheme-versatile skill set that the Vikings desperately needed in their corner room. While the 21-year-old doesn't quite have the lockdown numbers as some of the other top corner prospects in this class — he allowed 329 yards across 288 coverage snaps in 2021 — he made up for it down the stretch last season by combining for five interceptions and pass breakups in his final three starts.
He has exceptional feet and receiver-esque ball skills, and he delivered some of the best highlight-reel plays on the ball throughout his time at Clemson.
---
PFF had Moore as a first-round prospect, yet he landed in the hands of Patrick Mahomes and the Chiefs at 54th overall. The Western Michigan product was the highest-graded wide receiver of the 2021 college football season and will bring an NFL-ready skill set to Kansas City.
The 5-foot-10, 195-pound receiver is on the smaller end, but he possesses sure-fire hands, strong route-running ability and an advanced release package. Moore is also tough as nails over the middle of the field and after the catch, as his FBS-leading 26 broken tackles can attest.
Despite his smaller stature, Moore had no issue handling press coverage on the outside, ranking top-five in yards per route run on those reps last season at 3.58.
The cherry on top is his strong hands: The Western Michigan pass-catcher checked in with the largest hands of anyone at the combine (10.25 inches) and dropped just three of his 125 targets in 2021 while catching eight of his 13 contested opportunities.
---
San Francisco got a promising developmental pass-rusher with Drake Jackson much later than any team should have.
Jackson may lack a power element and still is raw as a pass-rusher, but there's no denying the USC edge defender's ceiling. He has the explosiveness, agility and flexibility that coaches dream of having on the edge. And the fact that he showed some growth in 2021 should be encouraging.
Jackson went from a 66.6 pass-rush grade in 2020 to 88.3 in 2021.
Really like USC's Drake Jackson as a Day 2 developmental edge

long, explosive with great bend & ankle flexion. can get so damn low and reduce his hitting surface. showed some growth in 2021, but still a raw toolsy player missing that power element pic.twitter.com/f8JdlUBSEC

— Anthony Treash (@PFF_Anthony) April 6, 2022
Denver beefed up its pass-rush in free agency with Randy Gregory, and the unit got another jolt in Round 2 of the draft with Oklahoma edge defender Nik Bonitto.
The 6-foot-3, 248-pound edge defender was one of the nation's most productive pass-rushers over the last couple of years, and he is a high-level athlete. Since 2020, Bonitto ranks first among all FBS edge defenders in pass-rush grade (94.6), pass-rush win rate (27.8%) and pressure rate (22.2%). He may serve as a designated pass-rusher to start, but he can provide value in that role.
---
Ridder stopped the quarterback slide not too long into Round 3. While he isn't an elite prospect, the former Bearcat is a promising prospect widely thought of as a potential first-round pick. Yet, the Falcons landed him 74th overall after obtaining wide receiver Drake London, edge defender Arnold Ebiketie and off-ball linebacker Troy Andersen.
Ridder is the most pro-ready quarterback in this draft. Many will argue he has no singular trait to hang his hat on, but there's an argument that his processing ability qualifies, as he's a natural at reading defenses and making the correct decision.
Ridder earned a 90.7 PFF grade last season while leading the Bearcats to the College Football Playoff. He has straight-line speed to add value in the designed run game, as well.
The Cincinnati product's accuracy isn't elite, but it's also nowhere near as bad as many make it out to be. Per PFF's ball-location data, Ridder improved his accurate-pass rate by six percentage points from 2020 to 2021. His "perfectly placed" pass rate also jumped from 8.5% to 23.3%. On 10-plus-yard throws, Ridder ranked ninth in the country in accurate-pass rate and fourth in perfectly placed pass rate.
---
After grabbing safety Kyle Hamilton and center Tyler Linderbuam in Round 1, Baltimore came away with another steal by selecting interior defensive lineman Travis Jones.
The UConn product has brute strength that helped him become an unblockable force in all three of his seasons at UConn and the Senior Bowl. Jones is coming off a top-five overall grade among interior defensive linemen (87.6). During Senior Bowl practice, the 6-foot-4, 326-pound interior defender earned a 92.2 pass-rush grade while leading the position in pass-rush win rate (42.5%).
---
Despite his standing as a first-round prospect on PFF's big board, Raimann was always expected to be a Day 2 pick. And the Colts managed to get him even later than many thought.
While it may take some time for him to adjust to the NFL, Raimann is an incredibly promising prospect. He grew up in Austria, came to the USA as a foreign exchange student, and secured a scholarship at Central Michigan after one year of high school football. He started his career at tight end for two seasons before switching to tackle the past two seasons and notably earned PFF MAC Offensive Player of the Year honors for his performance in 2021.
Measuring in at 6-foot-7 and 305 pounds, Raimann earned a 94.3 PFF grade last season, putting up a 93.3 run-block grade and an 88.7 pass-block grade to boot. He was virtually flawless in pass protection over his last six games, too, with zero pressures allowed in that span.
---
Dean's draft stock has been in a tailspin since Thursday night, and it has nothing to do with his exceptional tape at Georgia. A source told PFF's Austin Gayle that the off-ball linebacker reportedly put off shoulder surgery this past year, causing significant damage. On top of that, Dean has a pec and knee issue that raised red flags to NFL teams.
Assuming he's able to regain full health — whether it be with or without a redshirt year — this could end up being the biggest steal of the entire draft.
Dean is one of the most instinctive players to come out of college in recent memory. And, in my opinion, he was the most important player in Georgia's historically good defense this past year. Even head coach Kirby Smart called him the "Commander-in-Chief" of that group.
another layer to this play is that you can see Dean command the front to stem (i.e. change the front)

UGA did this often, which added to Dean's job, but he carried out his role perfectly. An example of why Kirby called Dean "Commander-in-Chief." He was the MVP of that defense https://t.co/BQ4zIV2JDM

— Anthony Treash (@PFF_Anthony) March 29, 2022
Last season, Dean product became the only off-ball linebacker in the PFF College era to earn a 90.0-plus single-season PFF grade in coverage and as a pass-rusher. The 5-foot-11, 229-pound off-ball linebacker racked up 31 pressures and 15 passing stops in 2021, top-10 marks among Power Five linebackers. He also ranked sixth in the Power Five in pass-rush win rate (22.3%), allowed a first down at the lowest rate among linebackers (13.5%) and didn't surrender a single touchdown.
---
Considering his potential, there's no reason for Willis to have gone in Round 3. Quarterback is the most valuable position in the game, and a prospect with the arm talent and dynamic rushing ability Willis has should have gone much earlier than 86th overall.
First things first, don't expect Willis to come in and pry the starting job away from Ryan Tannehill. With the Liberty quarterback's issues — most notably his decision-making, mechanics and pocket presence — he's likely to be a multi-year project. All that said, Willis does have a high upside if he can improve on his flaws because of his elite physical tools — tools that helped Willis to the highest big-time throw rate and rushing grade in the FBS last season.
---
I've listed 16 total steals from the first three rounds of the 2022 NFL Draft, and the Chiefs own a quarter of them.
Chenal entered draft day as one of the more underrated prospects, but almost sliding out of Day 2 was a shock the Chiefs took advantage of.
Chenal is an explosive athlete who attacks downhill with a vengeance. A season ago, the former Wisconsin Badger actually ranked second among the nation's linebackers in pass-rush grade and first at the position in run-defense grade. His play in coverage is still a work in progress, but defensive coordinator Steve Spagnuolo will have no issue taking advantage of his blitzing prowess.