• Bethune-Cookman tight end Kemari Averett comes in as the top HBCU draft prospect after earning an 89.4 overall grade last season.
• Two South Carolina State players land in the top 10 — WR Shaquan Davis and EDGE Jeblonski Green.
• Safety Irshaad Davis, the younger brother of Buccaneers cornerback Carlton Davis, is looking to create his own legacy as an intriguing 2023 NFL Draft prospect.
---
The HBCU football landscape took a progressive stride forward this calendar year with the selection of four prospects in the 2022 NFL Draft. Three of them made their selecting team's initial 53-man roster, while undrafted rookie Deshaan Dixon cracked the Jaguars' squad as a Norfolk State edge defender. 
Now we turn to the 2023 NFL Draft, and there's a strong chance multiple HBCU prospects will be selected once again. Below are the top 10 draft prospects from historically black colleges and institutions that present high-level NFL draft upside ahead of this upcoming college football season.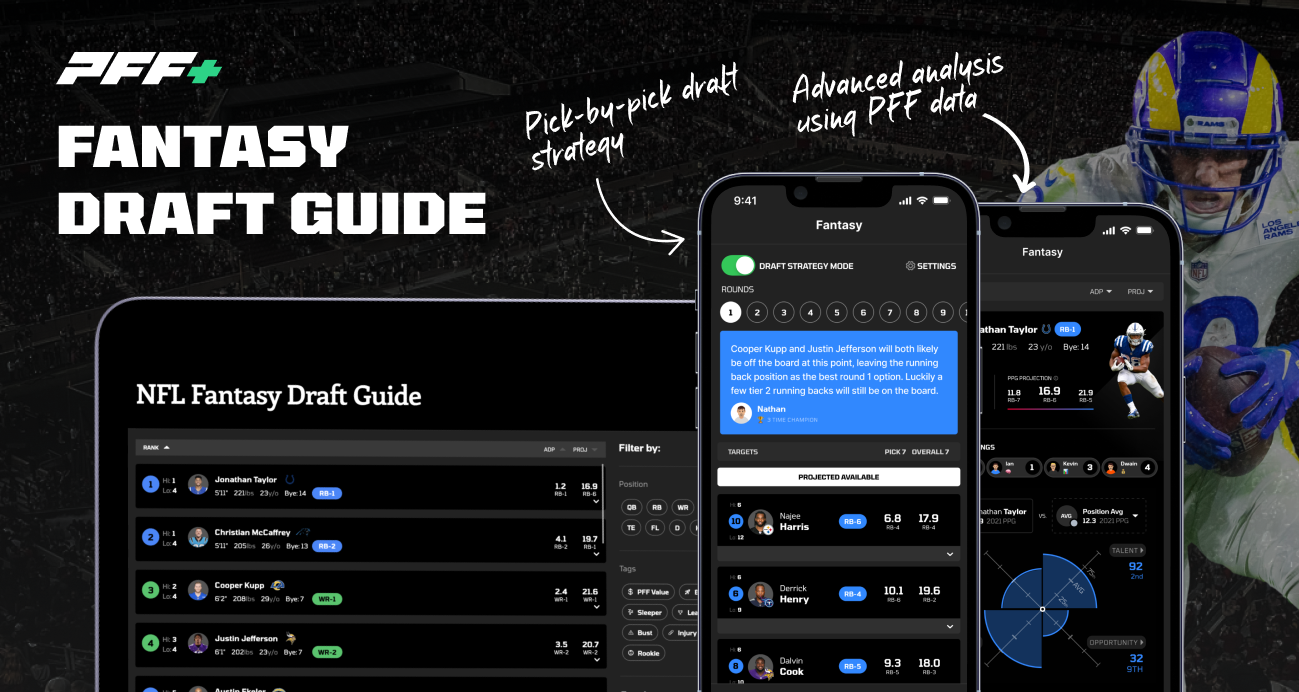 ---
Averett's 2021 campaign put his NFL stock back on the map following a brief departure from the game. The first-team All-SWAC honoree and first-team FCS All-American dominated opposing secondaries on a weekly basis last year. Team-high marks in overall grade (89.4) and receiving grade (91.7) magnified the senior's talent despite him catching passes from a lackluster quarterback room.
Averett enters the 2022 season with slightly better quarterback play and a golden opportunity to register the first 1,000-yard receiving campaign of his collegiate career. If the latter is achieved, he'll be the premier small-school darling during the pre-draft process. 
Evans has racked up preseason accolades that many draft prospects would dream of. He cracked the East-West Shrine Bowl 1,000 list and has been labeled the premier offensive line prospect in the HBCU ranks. Evans has allowed just two sacks and three hurries across 732 career pass-blocking snaps and has the makings of a high-upside NFL tackle. 2022 is all about cementing his pro future with a dominant senior season.
Fatai-Ibrahim is viewed by many as the SWAC's top wide receiver, and his stellar 2021 campaign helped validate that decree. Career-highs in overall grade (86.2) and receiving grade (85.9) earned the Bulldogs' standout first-team all-conference honors and his second 1,000-yard receiving season in three years. Fatai-Ibrahim's 2022 season is currently on hold due to a leg injury, but his skill set out wide is expected to wreak havoc throughout the FCS once he returns. If the elite talent can replicate his career success with new quarterback play this fall, his draft stock will continue to trend upward.
The 5-foot-10 Dumas uses his elite quickness and brute strength at 280 pounds to disrupt opposing backfields and terrorize quarterback pockets. He completed his final season with the Prairie View A&M Panthers as the team's highest-graded defensive player (91.7) and highest-graded pass-rusher (92.0). His play even translated as the competition scaled up, with Dumas registering seven total pressures and an 81.3 pass-rushing grade against Texas A&M last November. The only collegiate task left for Dumas is to duplicate his dominance as a new member of Southern University's dynamic frontline.
Davis has been a source of steadiness and reliability for an SCSU offense that tends to lean on the run to open up the pass. In the Bulldogs' 2022 season opener versus Central Florida, the first-team All-MEAC selection caught only two of his six targets but did make a stellar contested grab over two defenders for the Bulldogs' lone touchdown of the afternoon. If Davis is able to show continued receiving progress, he could become a late-day draft gem.
Green registered a career-high defensive grade in 2021 (87.2), driven by his top-notch run defense (90.4) and solid pass-rushing prowess (75.4). While he didn't register a single hurry in the team's 2022 season opener, he did recover a fumble and accumulated four defensive stops,which helped him finish with a 79.9 tackling grade. Green's senior season is about building upon his first-team All-MEAC campaign a season ago in hopes of hearing his name called in May.
In 2021, Bohler was one of the team's best coverage players within a secondary that consisted of now-Dallas Cowboys rookie Markquese Bell. He registered an 82.3 coverage grade across 362 snaps, highlighted by 10 pass breakups, four interceptions and a 44% catch rate allowed on 56 targets. The All-SWAC cornerback has a chance to continue his meteoric draft rise in 2022 with another standout year.
Land totaled 55 pressures, 19 sacks and 30 hurries to complete an 89.0 pass-rushing grade in 2021, helping him earn FCS Defensive Player of The Year honors. The edge rusher's biggest concerns are his size at 225 pounds and his lack of pass-rushing moves. If FAMU's most impactful defender can follow up a historic 2021 season and quiet the doubters, his pro projection as an edge rushing tweener will be very appealing to NFL teams.
Throughout his Hornets career, Davis has been arguably the SWAC's most underrated defensive player. His 5-foot-8, 180-pound frame may stop NFL teams from taking a draft flier on his talents, but the All-SWAC defensive back is one of the most complete safeties in the FCS. During Week 0 against Howard this season, Davis recorded four tackles, three stops and allowed just one catch on three targets to finish with a solid 75.2 defensive grade. Davis could be joining his older brother Carlton Davis in the NFL very soon if his stellar play continues. 
The Missouri transfer starred along the Jackson State front seven this past season to the tune of an 81.8 defensive grade. Miller's play style is based upon his sideline-to-sideline aggression with the ability to pack a powerful downfield punch as a thumper. While he isn't the greatest in coverage (58.9 grade on 19 targets), he presents a Devin White-esque impact as a run defender (82.7) and a pass-rusher (84.1). 2022 is about Miller showcasing a level of completeness as an every-down backer to justify his insane physical and athletic measurables for pro scouts.