If you know whence you came, there are absolutely no limitations to where you can go — James Baldwin
That's an entirely overly dramatic way of introducing PFF's All-Time prospect team. We started grading college football players for the first time in 2014 and have seen countless All-Pros enter the league in that span. These are the players that at the time we thought would be All-Pros based on their college performance. These are the best prospects we've graded at each position over the past six years.
Quarterback
Joe Burrow, LSU
Honorable mention: Baker Mayfield, Oklahoma
Burrow's high-end is truly unmatched in our six years of grading. Mayfield did it for more seasons, Kyler Murray did more as a runner, but Burrow flat-out buried elite defenses in a way we've never seen done before. He faced four of PFF's top-10 highest graded defenses in the country in Alabama, Georgia, Clemson, and Auburn. In those games he completed 72.6% of his passes, averaged 9.1 yards per attempt, 381.5 yards per game, and threw 13 TDs compared to one INT. Those are video game numbers against defenses that simply didn't get passed on otherwise this season.
Running back
Honorable mention: Saquon Barkley, Penn State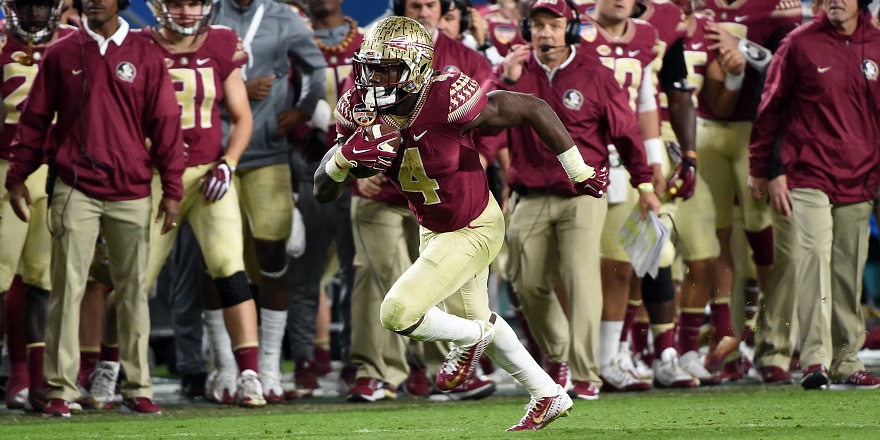 Barkley had absurd physical tools, but Cook had unparalleled on-field performance. In his final season at FSU, he led the country with 91 broken tackles and had 4.2 of his 6.1 yards per attempt come after contact. The year before that in 2015, Cook had 34 runs gain 15-plus yards accounting for 1,066 of his 1,696 yards that season.
Wide receiver
Ceedee Lamb, Oklahoma; Amari Cooper, Alabama
Honorable mention: Corey Davis, Western Michigan; DeVante Parker, Louisville
The depth here is very much indicative of how difficult this position has been to scout over the past six years. Easily the most productive receiver drafted the past six year — Ohio State/New Orleans Saint Michael Thomas — only checked in at 24th on our draft board back in 2016. We've talked about Lamb ad nauseum this draft season, but Cooper was from our very first draft class when we barely even covered the event. His final season of college he earned an absurd 93.3 receiving grade with 26 broken tackles on 124 catches for 1,727 yards and 16 scores.
Slot receiver
Jerry Jeudy, Alabama
Honorable mention: Sterling Shepard, Oklahoma
With over 2,400 yards and 24 touchdowns over the past two years, Jeudy ticks the production box with flying colors. Watch him outrun Ole Miss safety Zedrick Woods — who ran the fastest 40 at the 2019 combine — and you'll agree he ticks the speed box. Watch him sauce defensive backs on a weekly basis with his routes and it's obvious he ticks the…you know what this is going to take too long. Jeudy ticks every box you could want. Dude is special.
Tight end
Honorable mention: T.J. Hockenson, Iowa
Yet another position that we here at PFF aren't the only ones who have struggled to scout. Howard and Hockenson have flashed at times, but have been nothing close to 2017 Iowa prospect George Kittle in the pros. We saw Howard as a very complete tight end prospect coming out after hauling in 45 passes for 595 yards and earning an 82.9 run-blocking grade his final year at Alabama.
Offensive tackle
Honorable mention: Andrew Thomas, Georgia; La'El Collins, LSU
Tunsil had all the size, length, and athleticism you could want at the position coming out of Ole Miss and had just earned a 91.1 overall grade in an injury-shortened junior season to boot. He wasn't perfect, but looked like a safe bet to get it sooner rather than later in the pros. Williams looked the part' ar less than Tunsili with sub 33-inch arms and middling athleticism, but he was a technician in his three years as a starter for Alabama. Williams earned a 78.9 pass-blocking grade as a true freshman and finished with an 89.2 overall grade as a junior.
Offensive guard
Honorable mention: Cody Whitehair, Kansas State; Brandon Scherff, Iowa
Both top players are from the 2018 draft and both had crazy grading profiles. Nelson's 2017 is still unlike any other season we've graded with a 90.9 pass-blocking grade and 92.0 run-blocking grade. Wynn was a guard his first three seasons at Georgia before moving to left tackle as a senior where he earned a 91.3 overall grade.
Center
Honorable mention: Elgton Jenkins, Mississippi State
We've seen our grades along the line of scrimmage translate as well as any position and that's a big reason why we banged the table for Ragnow in 2018. He earned overall grades over 90.0 in both his junior and senior seasons at Arkansas. Ragnow's cross training at guard throughout his career was just icing on the cake.
Nose tackle
Honorable mention: Vita Vea, Washington
It was only one season, but Williams made it count. His 96.0 overall grade in 2018 was the highest we've ever given to an interior defender. With a freaky first step at only 20 years old coming out, Williams looked like a sure thing coming out. It didn't happen as a rookie, but we'd bet good money that changes in Year 2.
3-Tech
Honorable mention: Jonathan Allen, Alabama
Hurst had flat-out the most disruptive college career of any college defensive tackle we've ever graded. He finished his career with a 95.0 run-defense grade and 91.0 pass-rush grade in 2017, but had been nearly unblockable for years before that. Hurst earned overall grades of 88.6 and 90.2 as a sophomore and junior for the Wolverines. His size and a heart condition dropped him to the fifth round, but he's been excellent in his two seasons for the Raiders.
Edge
Chase Young, OSU; Myles Garrett, Texas A&M
Honorable mention: Nick Bosa, OSU; Joey Bosa, OSU
The Bosa brothers were both elite, elite prospects, but they didn't have the physical tools that our first-team prospects possessed. Garrett you could see was a different breed from his freshman year when he earned a 92.1 pass-rushing grade. He'd go over 90 in every single year of his college career. Young didn't hit the field quite as ready, but he developed into the most dominant edge prospect we've ever seen with a 96.5 pass-rushing grade this past season.
Linebacker
Honorable mention: Myles Jack, UCLA; Isaiah Simmons, Clemson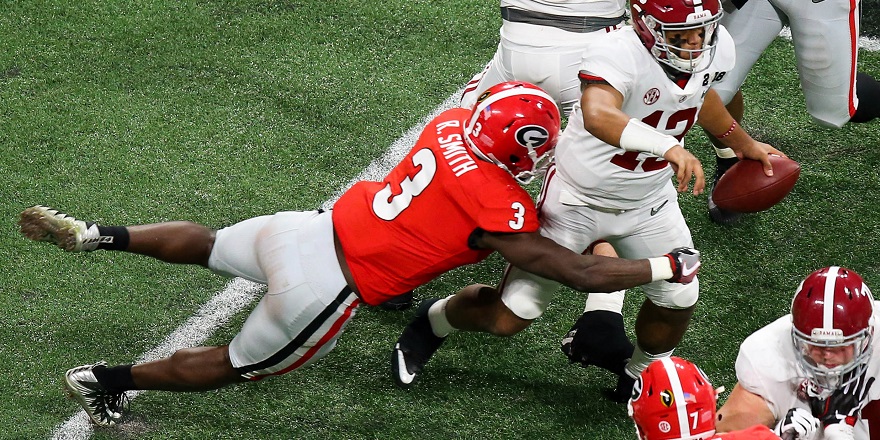 Ahh, what could have been with Foster? His tape from 2016 was in another stratosphere from other college linebackers, as he earned a 94.9 run-defense grade and 89.7 coverage grade. Talent has most certainly not been his downfall in the league. Smith similarly stuffed the stasheets the next season with grades of 90-plus in run defense, tackling, and coverage. He had a ridiculous 131 tackles that season with only six misses.
Cornerback
Honorable mention: Jeffrey Okudah, OSU; Tre'Davious White, LSU
I still don't think we've seen another season quite as statistically dominant from a Power-5 corner as Lattimore's 2016. That season he allowed only 18 catches on 40 targets with four picks and 12 forced incompletions for a passer rating of 31.9. It was really the only exposure we got to Lattimore and we were convinced. Ramsey on the other hand had multiple seasons of dominance at both safety and corner. Watching him press college wide receivers was a thing of beauty.
Slot
Honorable mention: Byron Murphy, Washington
Fitzpatrick was lights out in the slot ever since his true freshman season at Alabama. That year he allowed only 36-62 receiving for 310 yards with two picks and seven pass breakups. He'd finish his career with a passer rating against of 66.5 and career coverage grade of 92.8.
Free safety
Honorable mention: Grant Delpit, LSU
Hooker's highlight reel from back in 2016 was a sight to behold. While it may well have overhyped him in our eyes as he still had a small sample size with only one years as a starter, Hooker consistently displayed freaky range. He picked off seven passes that season and earned a 91.5 coverage grade. He's been solid as a pro, but hasn't quite been the playmaker he was in college.
Strong safety
Honorable mention: Jamal Adams, LSU
James was the highest-graded safety in the country as a true freshman back in 2016. We've never seen anything quite like that before or since. Even in his much-criticized junior season before declaring, James was once again the highest-graded safety in the country. Add in the fact that he tested off the charts at the combine and he owns the title of the most head-scratching draft fall (17th overall in 2018) we've ever seen.