• Panthers make Florida's Anthony Richardson the top pick: The quarterback debate over C.J. Stroud, Bryce Young and Richardson rages on. In this mock, Carolina settles on the athletic Florida signal-caller.
• Ohio State's C.J. Stroud slides out of the top five: An early run on quarterbacks peters out before the Titans trade up to draft Stroud at No. 6.
• Pittsburgh's Calijah Kancey lands in the top 10: Kancey's pre-draft rise continues, and he joins the Bears in this mock at No. 9.
Estimated Reading Time: 12 mins
---
Everybody loves a mock draft — or at least critiquing them — but to correctly evaluate them, it's important to understand what kind of mock this is. This is what would happen if I were selecting players as the general manager for each team.
That gets a little complicated when I'm trying to execute trades, as I have to be OK with both sides of the deal and can't just exploit a player slipping on the board who I know other teams like more.
There's also a degree to which team fit matters, and as much as in abstract terms I like some players drafted here less than others who were still on the board after the first round, as general manager of a specific team, I liked the fit better than the guy I left on the board.
As discussed on the PFF NFL Podcast, this is my 2023 NFL mock draft.

I think Bryce Young is the best quarterback prospect in this draft, but if I'm Carolina, I've already traded up from No. 9 overall to make this move. I need a huge payoff. I am confident that Young will be a solid NFL quarterback, but will his limitations prevent him from becoming a great one? I don't know.
Richardson's elite athleticism and rushing threat give him a very high floor and enough breathing room to improve as a passer — specifically to fix his accuracy. He actually works through progressions and reads defenses well; he just can't reliably connect with his target. If my coaching staff thinks that's fixable, Richardson is the biggest potential home run.
---
This is a jackpot scenario for Houston, with the best prospect in the draft slipping to the pick they wouldn't have owned if they had lost a meaningless late-season game to maintain control of the No. 1 overall selection. Young's size is scary, but he plays with the best anticipation of any quarterback in this draft and targets the middle of the field more often than much taller players, such as C.J. Stroud.
---
What happens from this spot onward depends entirely on how you evaluate the remaining top two quarterbacks. I buy into what Will Levis showed in 2021 in an NFL offense with better support around him, and if I'm the Colts, I can't risk losing him to a team willing to trade to No. 3 and jump me. They flip Arizona another pick to jump one spot and snag their guy, then pray Levis jumps back up in play with a better environment around him.
---
The Cardinals would love to trade further back, but this was the only deal on the table in my scenario. Picking up Anderson — the player they'd select if they were stuck at No. 3 — and adding an extra valuable selection along the way is still good business. Anderson recorded more than 200 pressures in three seasons as a starter.
---
The questions to answer on Jalen Carter are ones NFL teams have better access to address than we do from the outside. Seattle is a good place for players with potential maturity concerns, and Carter may be the most talented player at any position in the draft. 
---
I don't love C.J. Stroud as much as others, but he flashed more than enough potential against Georgia (92.2 PFF game grade) for an NFL team to buy in if he starts to slip in the draft. Tennessee jumps up from No. 11 to get its quarterback of the future and finally begin the rebuild.
---
Devon Witherspoon is the clear No. 1 cornerback in this draft class. Last season, he allowed just a 25.3 passer rating into his coverage, and a low-4.4-second 40-yard dash time at his pro day answered any lingering concerns about speed. He is also a rare tone-setting cornerback who can help enact big changes in the Raiders' defense.
---
I didn't love this spot for Atlanta. I would have happily taken any trade on the table, but no offers materialized. I am simply lower on the players who others would see as great values here, so I took the best player on my board and will play him at guard to start. Skoronski allowed just five pressures all last season at tackle, but he may project inside at the next level anyway due to his 32.25-inch arms.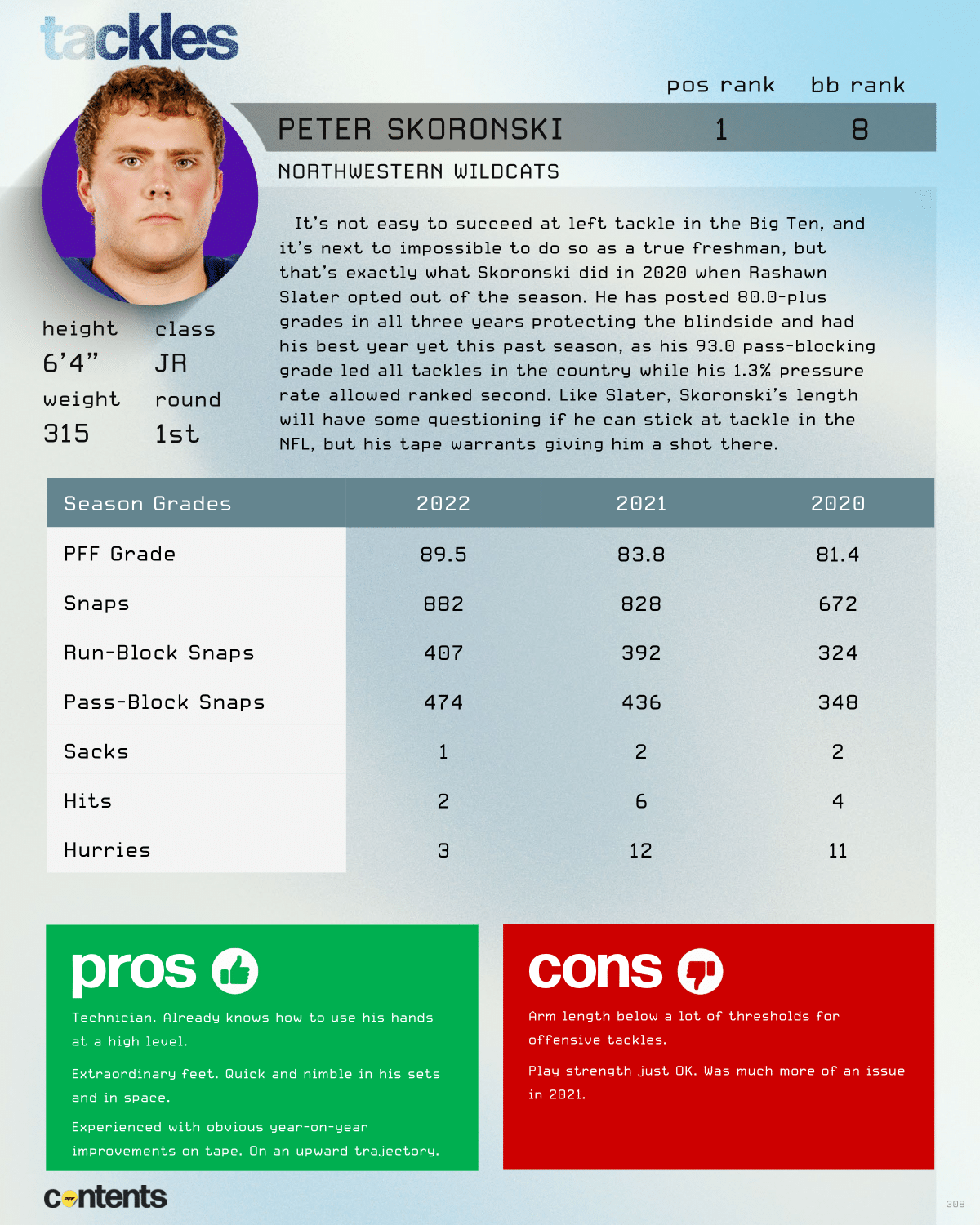 ---
The Bears still need impact players along the defensive line, and this is the range where Calijah Kancey starts to become intriguing. A player who will get likened to Aaron Donald perhaps compares more accurately to Buffalo's Ed Oliver, though. Kancey has elite get-off and athleticism, and he recorded a top-tier 22.7% pass-rush win rate last season.
---
Brian Branch is one of this draft class' best players at any position. Ostensibly a safety, he can play any spot in the secondary and was elite covering the slot at Alabama despite matchups against some top receivers. He allowed a 69.3 passer rating last season and would bring valuable versatility to an Eagles defense expecting to be playing football in February again.
---
The Lions trading back from No. 6 makes me feel a lot better about grabbing a cornerback at this spot. Most people would have Oregon's Christian Gonzalez here, but I worry about a lot of his game. Joey Porter Jr. is the best press-man cornerback in the draft, but he has plenty of zone ability, as well. Over the past two seasons, he earned an 80.0-plus PFF coverage grade in zone coverage.
---
After snagging a quarterback with their first selection, the Texans need to improve their receiving corps, and they should value certainty at this spot. Maybe other receivers have more upside than Jaxon Smith-Njigba, but his floor is incredibly high. He will be productive, and the Texans need help right now. He gained an absurd 4.01 yards per route run during his sophomore season before injury kept him off the field for most of last year.
---
Assuming the Jets do eventually get a trade done for Aaron Rodgers, this is a very good roster, but they could use help along the offensive line. After Skoronski, the next group is very closely matched. Paris Johnson Jr. graded well every year in college and allowed just 14 total pressures last season. He will start at one tackle spot, and New York can figure out in training camp which one that is.
---
If Joey Porter Jr. is the best man coverage cornerback in the draft, Deonte Banks is the next player I would take for that scheme. The Patriots at heart still want the flexibility to run man coverage on the back end but just haven't had the horses to do it recently. Banks changes that. He allowed just four touchdowns in his last three years at Maryland.
---
Dalton Kincaid has game-changing receiving skills at tight end. Green Bay has a receiver room of young wideouts, but Kincaid could add a huge weapon at a spot that still allows Christian Watson and Romeo Doubs to develop on the field. Kincaid dropped just two of his 93 targets last season.
---
Washington would be tempted by a cornerback at this spot, but I felt tackle represented better value. Anton Harrison allowed just nine pressures in 2022 at Oklahoma. The Commanders could start him at right tackle right now with a plan for him to potentially succeed Charles Leno Jr. on the left side after a year or two.
---
The weakest link on Pittsburgh's line is at tackle; the only question is which side. They'll be linked to cornerbacks more often than not here, but I think tackle is the more acute need. Broderick Jones will be the No. 1 tackle on some boards, and while I don't quite have it that way, the gap between him and my top tackle isn't a big one. This is excellent value at a position of need.
---
I am far lower on Christian Gonzalez than most — a player with sick movement skills and elite athleticism but who never allowed a passer rating lower than 74.7 in his college career. There's significant risk attached to his projection, and I feel a lot better about that gamble if I'm playing with house money the way Detroit would be here having already drafted Porter. This is the type of double-dip that could pay off down the line for a team looking to have long-term, sustained success.
---
Tampa Bay could go in a few different directions here, but the best value pick felt like Lukas Van Ness, a 6-foot-5, 270-plus-pound defensive lineman with incredible power and flexibility to rush the passer. He racked up 46 pressures on 271 pass-rushing snaps last season and should add a degree of solidity to the Buccaneers' defensive line.
---
Despite his best efforts to undermine this view with his measurables and pre-draft testing, Jordan Addison is still my No. 1 wide receiver. He is undersized and didn't set blazing times in the 40, but he's an elite route runner who knows how to win at all levels and from all alignments. He's a perfect receiver for the Seahawks.
---
I'm scared by some of the deficiencies in Quentin Johnston's game, but those would matter a lot less in the Chargers' offense given what they already have in the building. Johnston's speed would be a huge addition to this offense, and he averaged almost 9.0 yards after the catch last season.
---
Baltimore loves adding edge rushers of all shapes and sizes to its defense, and Nolan Smith would be just the latest example. An elite athlete, Smith is also an exceptional run defender despite weighing 238 pounds. He posted a 25.5% pass-rush win rate last season and an elite 14.9% run-stop rate.
---
With the top tackles flying off the board, the Chiefs decide to make a move for the player they're most comfortable starting at right tackle on Day 1: Tennessee's Darnell Wright. He allowed just eight pressures all last season despite facing players like Alabama's Will Anderson Jr.
---
I'm not sure in an ideal world whether I would want to spend a first-round draft pick on Tyree Wilson, given his draft profile, but at this point in the first round, I think I'd roll the dice that I'm wrong and everybody else is right. Wilson tallied 50 pressures last season on 257 pass-rushing snaps.
---
John Michael Schmitz should be a first-round player on everybody's draft board. Given how low he is on the consensus board, I would be tempted to play the value game and try and select him later, but in the end I played it safe and grabbed an elite player at a position of need. He allowed two sacks and just 19 pressures over three years.
---
Bijan Robinson is one of the most talented players in the draft, and at some point, the value becomes too good to turn down. Dallas doesn't have a list of glaring needs, so I'm taking a player who can dominate within an offense already in excellent shape. Robinson gained more than 1,000 yards after contact and broke 104 tackles last season.
---
Cam Smith has first-round talent at cornerback and trails only his teammate Darius Rush in forced incompletion rate over the past two seasons in this draft class (26.5%). He allowed just a 55.4 passer rating into his coverage over that span, a fraction above Devon Witherspoon (55.1).
---
Michael Mayer is the best all-around tight end in this class. He's a natural fit within the Bengals' offense, even if free agent acquisition Irv Smith Jr. stays healthy for the first time in his career. Mayer should be a plus blocker right away and can win consistently in an offense already bristling with passing weaponry.
---
The Saints look to replace Marcus Davenport with another talented, athletic and physically imposing edge defender in Clemson's Myles Murphy. A player who didn't necessarily peak in college, Murphy was consistently good without reaching great. He finished 2022 with only a 14.3% pass-rush win rate, but the Saints would value his athletic traits.
---
This is not a good linebacker draft, but Iowa's Jack Campbell brings old-school prototypical size to the draft. Campbell is 6-foot-5 and 249 pounds and earned an elite 91.9 PFF grade last season. He will be a tackling machine within the Eagles' defense, giving them more flexibility with Nakobe Dean after losing multiple starters from last year's unit.
---
The Vikings would be tempted by a receiver at this spot, and were I higher on Zay Flowers I might have made that move. They still badly need some interior impact on the defensive line, and the potential in Bryan Bresee is too much to overlook here. Last season, Bresee put up 24 pressures on 203 pass-rushing snaps, but his best football could easily be ahead of him, given the way his college career played out.