• Texans opt for Will Anderson Jr. at No. 2: The Texans may opt for a non-quarterback with the second overall pick, and if that's the case, Anderson is the top prospect.
• Anthony Richardson joins the Colts: Uncertainty continues to shroud the 2023 quarterback class. Here, Indianapolis makes Richardson QB2.
• Stroud plummets to No. 18: The Detroit Lions snag the falling Ohio State signal-caller in this mock draft, giving them a future franchise quarterback.
Estimated Reading Time: 14 mins
---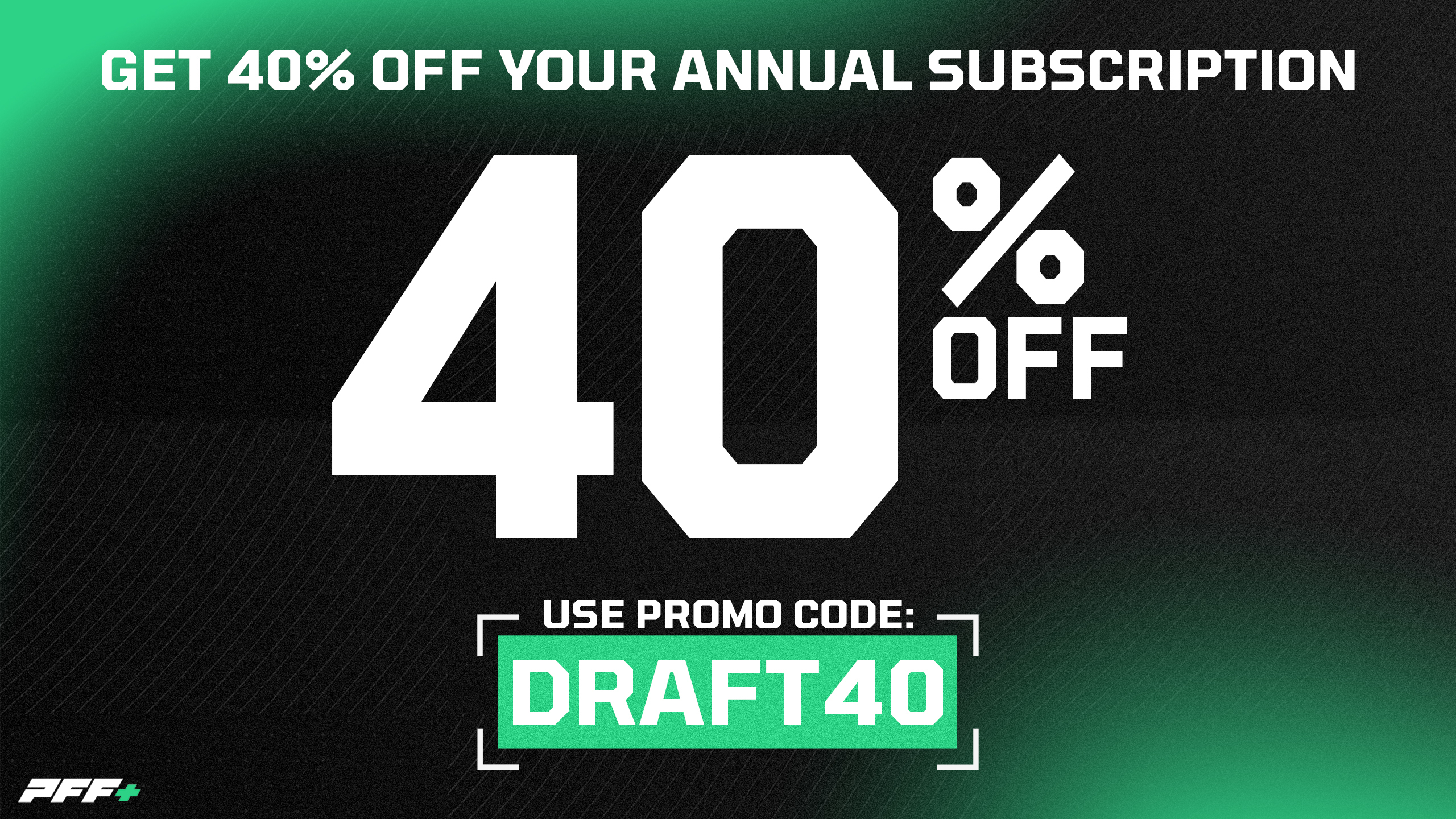 ---
Carolina traded up to No. 1 overall with the Chicago Bears to once and for all land its next franchise quarterback a dozen years after taking Cam Newton with the top pick in 2011. Bryce Young can hopefully lead them to a Super Bowl like Newton did back in 2015. 
---
With rampant speculation in the weeks leading up to the draft about a quarterback or Texas Tech's Tyree Wilson at No. 2, we go with the safe choice here in college football's top edge rusher of the past several years.
---
Cardinals quarterback Kyler Murray is reportedly a fan of the Ohio State tackle, and Arizona uses its first pick to ensure he's protected upon returning from his torn ACL. Head coach Jonathan Gannon can use later picks to build up a defense in need of major reinforcements and in the meantime perhaps scheme around the lack of talent.
Johnson's 85.5 run-blocking grade on outside zone runs in 2022 ranked sixth among FBS tackles, and that was at a new position on the other side of the offensive line. If he can get more consistent and continue to develop in both facets, he's the exact type of tackle Chicago's new brass covets.
---
Richardson is not a total project like he's often made out to be, with his 9.2% pressure-to-sack rate in 2022 the 11th-lowest mark in the country. He can certainly stand to improve his accuracy and occasional poor decision-making, but the sky's the limit, and these are the lottery ticket draft picks the NFL has begun to gravitate toward at the quarterback position. 

---
It's still impossible to know how far Carter may fall as a result of legal issues, but he's got a strong case as the most gifted player in this class. Carter's 89.1 pass-rush grade in 2022 ranked seventh among FBS interior defenders and his 91.2 run-defense grade ranked fifth. He's as good a prospect on the field as we've seen since PFF started grading college football in 2014.
---
Witherspoon is as physical a cornerback as you'll see in today's game, with the ability to jam receivers at the line in press and drop the hammer as an open-field tackler. You better keep your head on a swivel whenever he's on the field, with his experience in college enabling him to diagnose plays before the ball is even snapped, often blowing up screen passes in the backfield after covering a lot of ground to get to the ball carrier. 
Witherspoon's 92.5 coverage grade led the FBS in 2022, and he also led the FBS with 18 forced incompletions on the year. The only thing that may keep him out of the top 10 is weighing in at 181 pounds, but that doesn't matter if he plays like he's the biggest guy on the field. 
---
Skoronski's 93.0 pass-blocking grade in 2022 led the FBS, and his 1.3% pressure rate allowed was the third lowest among tackles. He was also one of just eight tackles in the FBS to grade above 80.0 both as a pass protector and a run blocker. 
---
Gonzalez was built in a lab to be an NFL cornerback, with a sturdy 6-foot-1, 197-pound frame, 32-inch arms and freakish athleticism. His 4.38-second 40-yard dash is in the 89th percentile among cornerbacks in PFF's database, his 41.5-inch vertical is in the 97th percentile and his 11-foot-1 broad jump is in the 96th percentile. 
With explosive, straight-line speed athletes, the issue can sometimes be agility and fluidity, but if you looked up "oily hips" in the football cliché dictionary, you'd see a picture of Gonzalez.
---
Wright started 2020 at right tackle, moved to left tackle for 2021 and then shifted back over to right tackle in 2022, but he's an above-average pass protector on either side with the ability to bulldoze defenders in the run game, which perhaps is more valuable on the right side. Wright allowed just six quarterback hurries and zero sacks in 2022. 
---
Prior to suffering a torn pectoral muscle, Smith was routinely mocked in the top half of the first round. After an absurd NFL combine performance, we'll vault him back into the top 10 of the draft. Smith would be the fourth Georgia defensive player selected by the Packers over the past three first rounds.
Before his injury, Smith's 22.6% pass rush win rate ranked 19th among FBS edge defenders. Despite his 238-pound frame, Smith is also a tenacious run defender, with his 82.4 grade in 2022 ranking 16th in the FBS. 
---
Tennessee begins overhauling its roster with a prospect with insane traits and tools who could develop into a special player under the tutelage of Mike Vrabel. Everyone was connecting Wilson with the Texans because of new head coach Demeco Ryans, who came from San Francisco. Well, so did new Titans general manager Ran Carthon. Wilson's 35.63-inch arm length is in the 98th percentile, and his 7-foot-2 wingspan is one inch shorter than Giannis Antetokoumpo's. At 271 pounds, Wilson can generate a lot of power and drive back opposing tackles and guards, allowing him to line up all over.
Wilson isn't just a tantalizing prospect because of his measurables, with his 34.6% pass-rush win rate on true pass sets ranking seventh among edge defenders in the FBS and his 28.4% pressure percentage tied for fifth. 
---
Smith-Njigba fits perfectly in the slot alongside a blend of different wide receiver skill sets on the outside. After trading Brandin Cooks to the Dallas Cowboys, Houston needs a new top option, and Smith-Njigba is just that. 
Smith-Njigba's lateral agility and clean footwork in and out of breaks will enable him to continue creating separation with ease, and his ceiling is a player who could haul in more than 100 receptions in a season. As a true sophomore in 2021, Smith-Njigba's 90.2 receiving grade ranked fifth among FBS wide receivers. 
People often point to the presence of 2022 first-round wide receivers Garrett Wilson and Chris Olave opening things up for Smith-Njigba in 2021 at Ohio State, but he seemed quite alright without them in the Rose Bowl when he put up an FBS bowl game record 347 receiving yards on 15 receptions, with three touchdowns to boot. In the process, he set Ohio State records for receptions in a season (95) and receiving yards (1,606). There's a reason Wilson and Olave sing his praises every chance they get. 
---
It will be interesting to see if Van Ness is deployed more as an edge or an interior pass rusher at the next level depending on his landing spot, getting roughly equal splits inside and outside the tackles at Iowa. 
His strong agility testing numbers and comparatively poor strength and explosiveness numbers may suggest he's best suited over or outside the tackle, and that's what we expect from Green Bay, much like Rashan Gary coming out of Michigan.
---
The beauty with Murphy is that while he builds his arsenal as a pass rusher, with some technical refinement necessary to add to his nasty bull rush and long-arm moves, he can be a positive against the run early in his NFL career. Murphy's 80.2 run-defense grade over the past two seasons ranks in the top 30 among FBS edge defenders, and his 21.2% positively graded play rate against the run places him 20th. 
He has a rare combination of high-end strength to set the edge and disrupt plays at the point of attack, as well as the speed to pursue ball carriers, which would work well in a rotation with designated pass rusher Josh Uche.
---
The Jets have invested major resources into their offensive line every year under general manager Joe Douglas, but there's no reason to stop now. With 2020 first-round pick Mekhi Becton struggling to stay on the field, 2021 first-round pick Alijah Vera-Tucker looking great but tearing his ACL this past season and veteran Duane Brown turning 38 years old before Week 1, Broderick Jones makes a lot of sense here. 
Jones' 85.4 pass-blocking grade in 2022 ranked ninth among FBS tackles, with his 1.4% pressure rate allowed tied for fifth. The redshirt sophomore still has room to grow, but he's already a high-level pass protector on the outside.
---
Robinson is the best running back prospect since Saquon Barkley in 2018, and while the current view of the position league-wide may not see him go second overall, his lasting this long may not be realistic. Robinson led the nation in forced missed tackles in 2022 with 104 — a record since PFF began recording the stat for college football — and placed fifth in yards after contact with 1,071. Importantly in today's game, he's also a very capable receiver. 
It's understandable to wonder why this is the pick with Brian Robinson and Antonio Gibson on the roster already, but Gibson is entering a contract year and Commanders top personnel executives Martin Mayhew and Marty Hurney have never been afraid to use premium draft capital at running back in their various stops across the NFL.
---
Banks tested off the charts, with a 4.35-second 40-yard dash highlighting his recovery speed and a 42-inch vertical demonstrating his ability to go up and contest targets. He allowed just a 43.3% completion rate in 2022, 22nd in the FBS, and stands to get even better with more coaching of his elite athletic tools.
---
Stroud was charted as accurate on 68.2% of passes in 2022, the second-best rate in the country, and he led the nation with 28.2% of passes deemed "accurate-plus," which factors in leading a receiver away from coverage, among other things. The one main knock he had throughout the year was a lack of creativity off-script, and then he had the performance of a lifetime in that regard against Georgia in the College Football Playoff.
---
The Buccaneers released tackle Donovan Smith one year into a two-year extension and need a replacement opposite one of the game's top young talents in Tristan Wirfs. The expectation in Tampa is that Wirfs may slide over to left tackle, but the good news is Harrison spent some time on the right side this past season and could likely fill either spot. 
Harrison allowed a pressure on just 2.1% of pass-blocking reps in 2022, tied for the 15th-lowest rate in the FBS. Perhaps best of all, he's just 21 years old with a lot of room to grow.
---
Levis played through multiple injuries in 2022, but in 2021 he earned a 90.6 overall grade that ranked 10th among Power Five quarterbacks. He has the occasional errant throw that leaves you scratching your head, but he's come a long way since serving as a dual-threat, short-yardage quarterback at Penn State, flashing a quick release that packs a lot of zip. He also needs to dramatically improve on navigating pressure, but it didn't help that his offensive line was very porous this past season.
---
Mayer was second to Dalton Kincaid in receiving grade, yards per route run and explosive receptions in 2022 among FBS tight ends, but where he separates himself is with his ability as a blocker. Mayer's 82.1 run-blocking grade ranked sixth among FBS tight ends, whereas Kincaid's 62.2 mark ranked 80th. Oh, and Mayer is almost two years younger. 
---
New Orleans trades up here, as they're known to do, for a pass-rushing interior defender who has fallen after missing time with an injury. Bresee was a projected top-10 to 15 pick before the injury, and the Saints use their first-rounder acquired by trading head coach Sean Payton to the Denver Broncos to move up and nab a potential steal.
---
Porter's 34-inch arms enable him to bother wide receivers at the line without overshooting, illustrated by his 81.6 grade in press coverage that ranked 18th among cornerbacks in the FBS.
---
Jacksonville needs a slot defender and an all-around savvy, rangy defensive back to deploy across the secondary. That's what Brian Branch brings to the table. 
Branch's 19 defensive stops in coverage in 2022 were tied for the most in the country, his 24 run stops were tied for 10th and his nine forced incompletions were tied for eighth. While he's something of a tweener position-wise, he's a perfect fit for the modern game. Jacksonville couldn't do anything against Kansas City Chiefs tight end Travis Kelce in their playoff defeat, surrendering 14 receptions and two touchdowns. Branch, in theory, is an answer to the league's growing list of quality receiving tight ends. 
Branch could develop into a neutralizer who can excel in man coverage against the top receiving weapons in the slot while also showing tremendous football IQ and the ability to make plays on the back end with his instinctual approach to the game. 
---
The Giants have a stout defensive interior, with 2022 first-round pick Kayvon Thibodeaux coming on strong at the end of his rookie campaign, but here they add even more juice off the edge with 2021 second-round pick Azeez Ojulari struggling to stay healthy.
---
Kancey's 92.4 pass-rush grade and 18.1% pressure rate led all FBS interior defenders in 2022, with his 22.7% pass-rush win rate placing him second. He was as productive an interior pass rusher as you can find, and even if he has a bit of a specialized role early in his career, it's a very valuable specialty.
---
After addressing the defensive side of the ball throughout free agency and earlier in the first round, Seattle kicks off a run on receiving weapons here. Tyler Lockett is entering his age-31 season and played through injuries for much of 2022, but this isn't about replacing him just yet; it's about adding a complementary wide receiver for quarterback Geno Smith and the heir apparent.
Addison is a good, not great athlete, but his precision route running is what enables him to consistently create separation. His 2.91 yards per route run over the past two seasons ranks 24th among FBS wide receivers, and his 56 explosive receptions are tied for first.
---
Cincinnati could go many different directions here, but after losing Hayden Hurst to free agency and not adding beyond Irv Smith Jr., they draft the top pass-catching tight end in the class. Kincaid's 24 receptions of 15-plus yards in 2022 were the most among tight ends in the FBS, and his 16 missed tackles forced were the second most.
---
The Ravens let Marcus Peters walk in free agency and have yet to address the position otherwise, so here they land another ballhawk with college interception prowess who can hopefully replicate that at the next level like Peters did for years.
---
With opposing defenses focusing their attention on A.J. Brown and DeVonta Smith, Flowers will get open at will and could help Jalen Hurts run the ball even less now that he's the highest-paid player in NFL history. If he gets lost at the line, he'll be walking in for six on a bomb from Hurts. Or if he has enough room in space, he can zoom past defenders in the open field.
---
The Kansas City, Missouri, native did not test at the NFL combine but displayed great bend throughout the 2022 season and could be the quick-twitched pass rusher the Chiefs need opposite 2022 first-round pick George Karlaftis. 
The true junior is just 21 years old, and while there isn't the largest sample of plays here, his 34.0% pass-rush win rate on true pass sets in 2022 ranked eighth among FBS edge defenders, with his 28.0% pressure percentage placing him seventh. 
Clemson interior defender Bryan Bresee could also make a lot of sense here, and if a tackle prospect the Chiefs are high on falls to No. 31, they could look to help fill the void left by Orlando Brown Jr. and Andrew Wylie signing elsewhere in free agency.