With the NFL Draft being as unpredictable as it is, things could work out perfectly for the Indianapolis Colts when it all kicks off on Thursday night. But there is also a chance things go against them early.
At No. 4 overall, the Colts find themselves in a very precarious position if they want to find their quarterback of the future. So, unless they love all four top quarterback prospects in this class, they should be looking to trade up to No. 3 overall to secure the services of the signal-caller they want to build around.
The board is already somewhat stacked against Indianapolis. Bryce Young, PFF's top prospect and the highest-graded passer in the class over the past two seasons, is heavily expected to come off the board with the first overall pick. And things get interesting at No. 2, where Will Levis, C.J. Stroud, Will Anderson Jr. and Tyree Wilson are closely ranked by betting markets, though Levis is the favorite right now.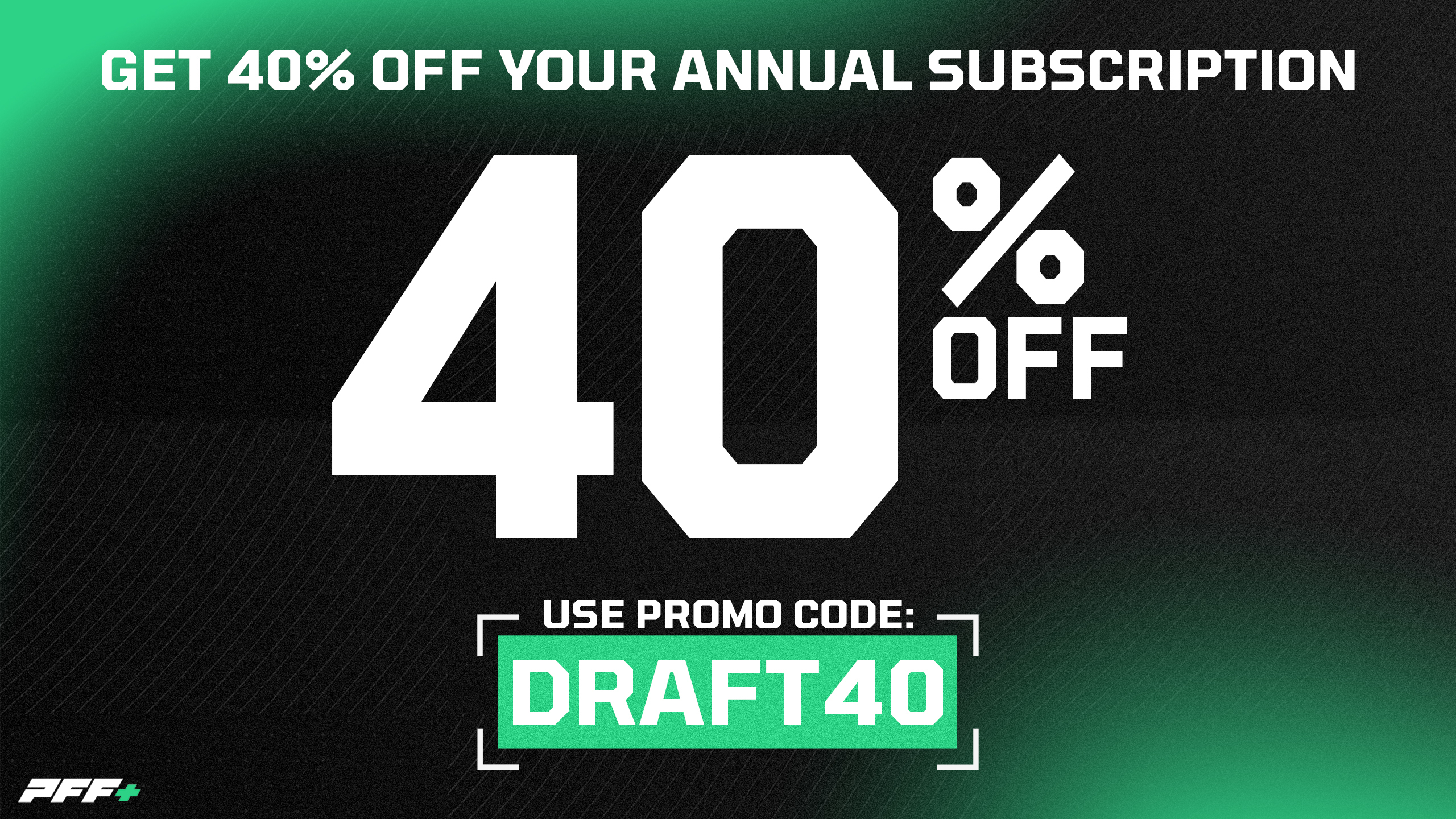 The Cardinals will enter the draft with the third overall pick. However, they are heavily rumored to be a key trade-down candidate, given that they are in an ideal spot for quarterback-needy teams. That's why Stroud and Florida's Anthony Richardson are among the favorites to be drafted third overall despite the Cardinals being unlikely to pick a quarterback.
If quarterbacks do go within the first three selections, the Colts would be left with whoever was left out of the top four — nothing more than a consolation prize if that player isn't high on their board — which could present a potential nightmare scenario for the Colts in the AFC South.
Best-Case Scenario: The Houston Texans pass on a quarterback, and a team doesn't move up to No. 3
You won't see this in a ton of mock drafts, but it is a very real scenario. In this case, the Colts would likely have their pick of Levis, Stroud or Richardson.
The choice here would be fascinating, as they would likely be choosing between Levis' arm and Richardson's ceiling. Levis earned a 90.6 PFF grade in 2021 and boasts the best arm in this class. On the other hand, Richardson forced 39 missed tackles as a runner in 2022 and put up all-time numbers at the scouting combine.
The Colts would also get their guy here without having to give up any extra draft capital, but they would be leaving a lot to chance.
Related: The case for drafting QB Anthony Richardson No. 1 overall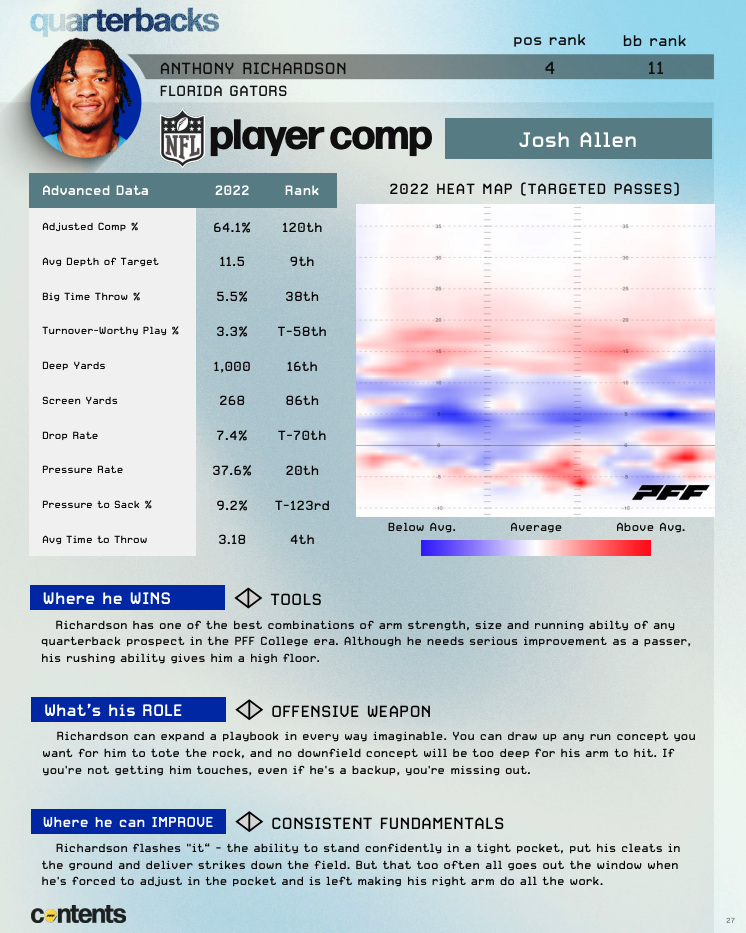 Worst-Case Scenario: The Houston Texans take a quarterback, and the Tennessee Titans move up to third to draft a quarterback
Not only would the Colts have to watch the Texans select the quarterback they potentially want, but they'd also watch an AFC South foe jump ahead of them in Round 1.
And if they didn't love all four quarterbacks at the top of this class, they would be faced with the prospect of settling at No. 4 and having to play the quarterbacks they preferred twice a year for the next five years.
Maybe they don't think Richardson will develop enough as a passer, given that he posted just a 70.1 passing grade last year. Maybe they don't see the consistency they believe they need to see to spend a top pick on a quarterback in Levis, who has just one single-season passing grade above 70.0.
Either way, it's a precarious position if they don't love all four guys.
What would it cost?
If we were to emulate the trade between the Chicago Bears and San Francisco 49ers back in 2017 — when the Bears selected Mitch Trubisky — the Colts could give up Picks 79 and 106 this year, along with a third-round draft pick in 2024. Given the jump is only one pick, that might seem like a lot, but if the Colts can land a franchise quarterback, it will all be worth it.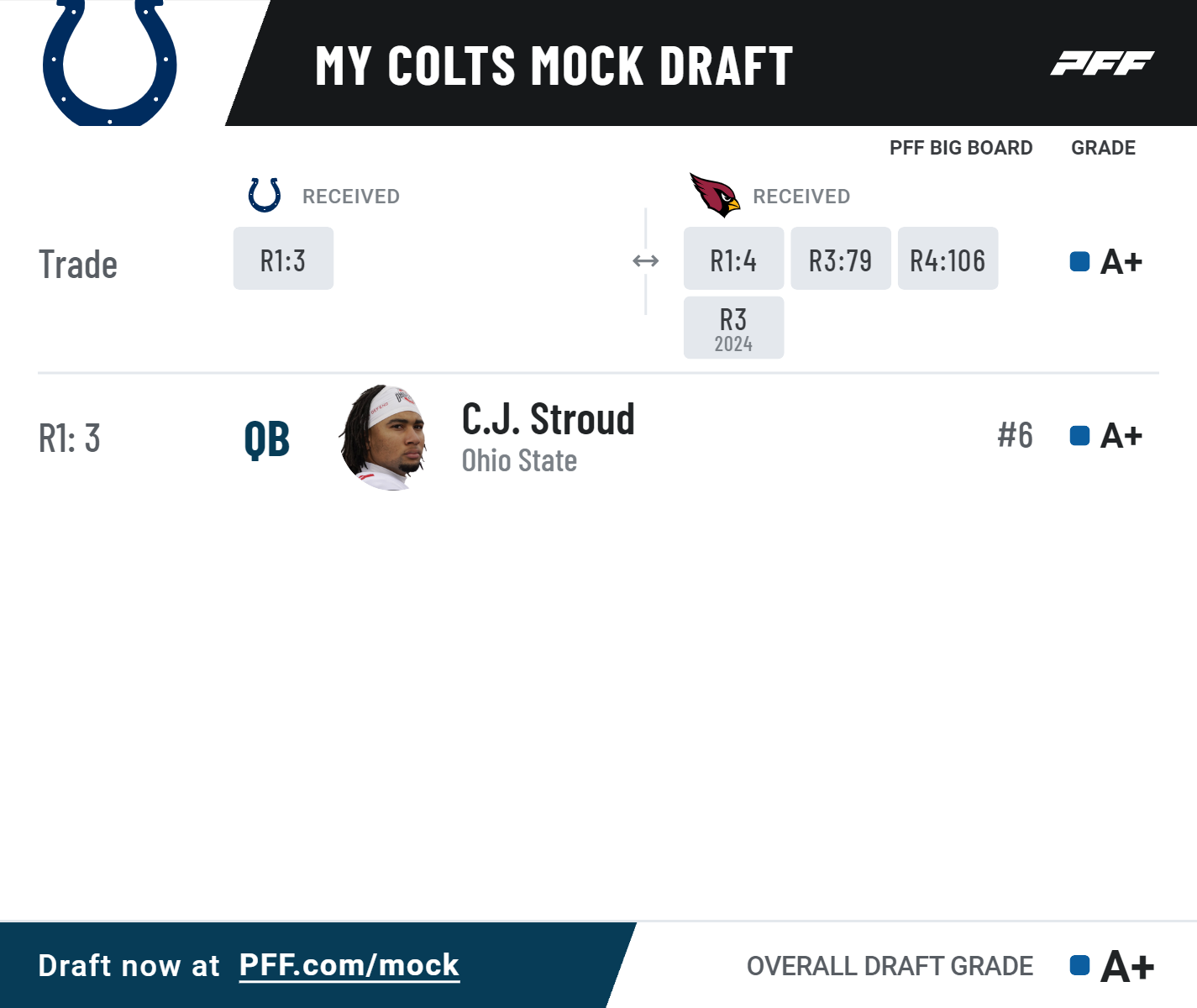 In this draft in PFF's mock draft simulator, the Texans opted for Richardson, with Young going off the board to Carolina with the first selection. In this scenario, I would opt for Stroud.
His high-end play, which he showcased during the 2021 season and against the vaunted Georgia defense in the College Football Playoff semi-final this season, shows a player who could become a top-10 quarterback in the NFL in the right environment.