Will Anderson Jr.: The Alabama edge defender is

the cleanest prospect in this position group as well as the best, with three seasons of consistently excellent play in Tuscaloosa. 

Nolan Smith: The Georgia product ranks No. 3 due to being

the total package as a player, including excellent run defense.

Tyree Wilson: The Texas Tech product falls to fifth on this ranking due to sub-par production outside of his breakout 2022 season.
Estimated reading time: 6 minutes
---
Over on the PFF NFL Podcast, we have been running through our 2023 NFL Draft rankings at various positions. They are also in article form, starting with wide receivers, quarterbacks and cornerbacks but now we turn our attention toward the edge defenders.
This is an interesting edge rusher group that is headlined by flawed prospects that have something worth betting on but are also missing a critical piece of the puzzle that keeps them from being true blue-chip prospects — either they have the size and athleticism without the elite college production or the reverse.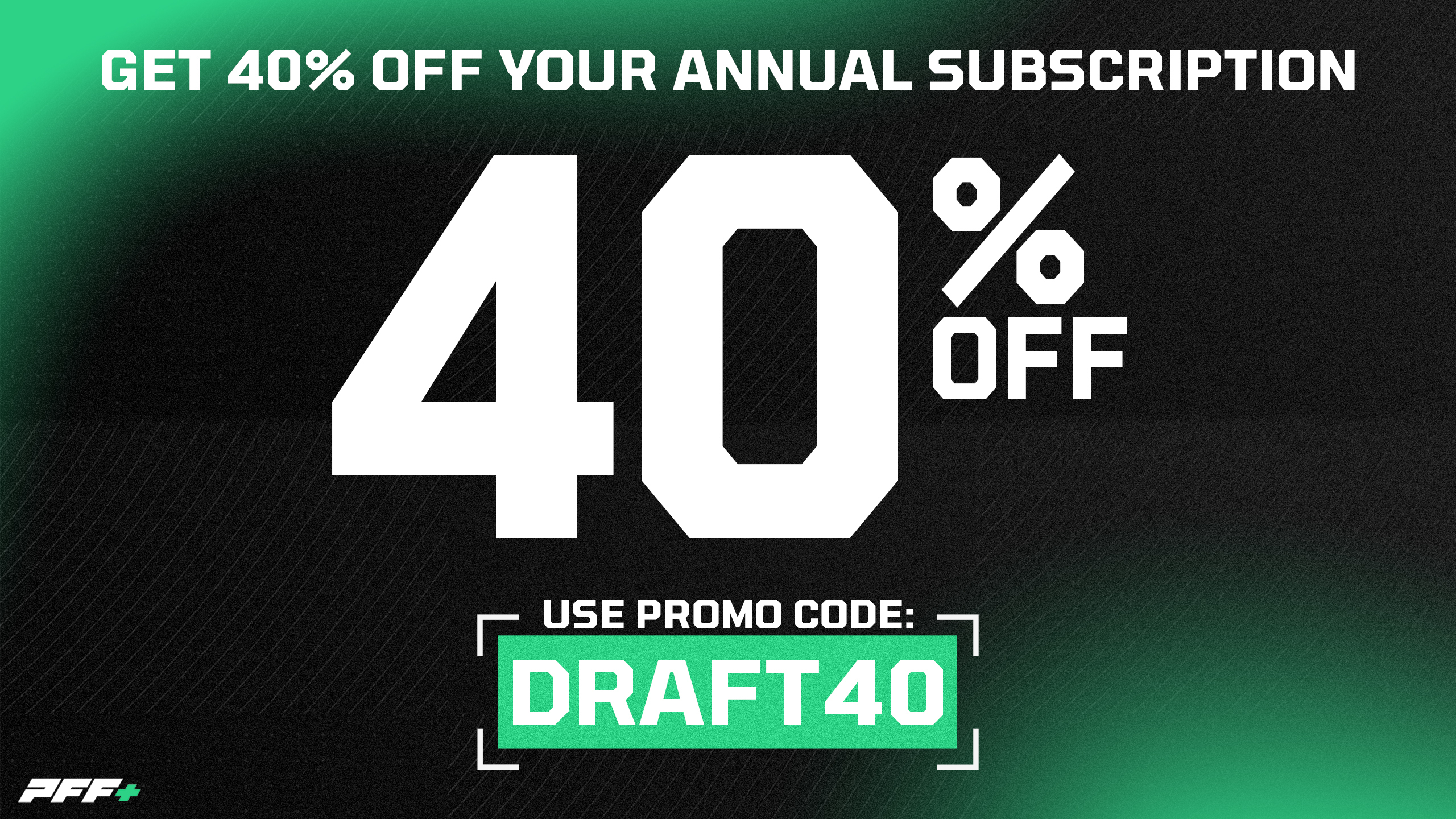 Editor's note: Northwestern's Adetomiwa Adebawore projects as an interior defensive lineman in my opinion and is therefore not in the EDGE rankings.
The Elite
1. Will Anderson Jr., Alabama
Anderson is the cleanest prospect in this position group as well as the best. He has three seasons of consistently excellent play at Alabama, racking up 207 total pressures and 109 defensive stops over that time. He might be a small step below truly elite prospects like the Bosa brothers and Myles Garrett, but he's the next best thing and has a profile that projects extremely strongly to success at the next level. I can understand putting Anderson second on any given edge rankings, but any lower than that is a contrarian head space I simply can't put myself into.
---
Tier 2
2. Will McDonald IV, Iowa St.
3. Nolan Smith, Georgia
4. Myles Murphy, Clemson
5. Tyree Wilson, Texas Tech
6. Felix Anudike-Uzomah, Kansas St.
We're already into the group that has something missing.
McDonald may be the draft's best natural pass-rusher, but he weighs just 239 pounds. Even that extra mass puts him in the 23rd percentile for edge rushers. He had a 92.0 PFF pass-rushing grade against true pass sets and has an array of moves to get home.
Smith is the total package as a player, including excellent run defense, but in addition to being extremely small (6-foot-3 and 240 pounds), he also has a very small sample size of playing time. Smith never played more than 500 snaps in a season and has played just 1,154 snaps over his entire college career in Georgia's heavy rotation.
Murphy has the complete package from a measurables standpoint but never hit the highs he should have from a production standpoint. He totaled just 96 pressures from over 900 pass-rushing snaps in collage and never achieved the pass-rush win rate he should have with those tools.
Wilson is another prospect with a giant stature and presumed elite physical traits, though the lack of exact workout numbers due to injury hasn't helped that case, but Wilson's production has also been sub-par outside of this past year. The highest PFF pass-rushing grade he has achieved over a season was 79.9 in 2022, and that's over 10 grading points lower than the true elite seasons.
Lastly from this group, Anudike-Uzomah has the clearest pass-rush gameplan of any of these prospects. He works through blockers systematically over a game and has more ways to win than almost any other prospect. He also tested better than I expected from his tape and could potentially be a better NFL player because of it.
---
Freaky But Raw
7. Lukas Van Ness, Iowa
8. Keion White, Georgia Tech
I am lower on Van Ness han the consensus. He has elite power but doesn't have as many ways to win as other players in these rankings. He is still low on starting experience, so he can certainly improve, but I question if he will win in multiple areas at the next level and whether he is best suited to a throwback 3-4 defensive end spot that has become a rare alignment and role in today's NFL.
White has some of the most entertaining tape in the class. He is a manic, out-of-control, full-throttle rampaging threat along the defensive line every snap, but he not as refined as the other rushers. White's rare size and determination will captivate some teams, but he needs a lot of polish to get his play under control and maximize his own impact. White registered 88 pressures in just over 600 pass-rushing snaps after starting his college career as a tight end. He is the classic example of a player low on experience at the position but not young at 24 years old.
---
The Beige Tier
9. Tuli Tuipulotu, USC
10. B.J. Ojulari, LSU
At this point in the rankings, I question whether the prospects have the necessary juice to become impact players at the next level. Both Tuipulotu and Ojulari were excellent college defensive linemen, but I'm not sure either has  the tools necessary to bring that into the NFL. Ojulari's best pass-rush win rate was 18.6% this past season, almost five percentage points lower than players like Nolan Smith.
Tuipulotu's 19.1% pass-rush rin rate was in the same kind of range fand though he has a little more position flexibility, his best PFF pass-rushing grade was 81.0.
---
Sleepers
Hampton has an elite pass-rushing skill set but weighs just 239 pounds without the obvious frame to carry a lot more weight. He had three-straight seasons with a PFF pass-rushing grade above 80.0, pushing that as high as 86.5, but will be battling against size capping his ability at the next level.
Brooks is a 300-pound edge rusher who will immediately be moved inside at the next level. Abysmal workout numbers won't help any case to keep him on the outside, but he is a dramatically better player on the edge than he is on the interior. He accumulated 105 pressures in his last 642 pass-rushing snaps and a 92.0 PFF pass-rushing grade in 2022.
Lastly, Diaby is the classic case study of betting on athletic testing at the NFL level. Diaby never had a PFF pass-rushing grade above 73.3 in his college career, but a string of elite testing numbers that rank in the 90th percentile or better. Edge rusher is a position where athleticism matters maybe more than any other, and if a player is going to overcome subpar college production, it will be with elite athletic traits. Diaby has that.