How many players have this combination of measurables? How rare or impressive is this number over the last 10 years? Does this tend to translate from college to the NFL?
One of the biggest benefits of working at PFF this time of year is the ability to find answers to most of these questions, which often pop up when studying draft prospects.
Most of the threshold cutoffs used in this piece are arbitrary, but this is less an exercise in making definitive conclusions and more about showing the company these prospects are keeping and a way to put their production and measurables in context. And that starts with the position everyone wants to talk about — quarterback. 
More PFF draft content:
LIVE Draft Tracker | Mock Draft Simulator | 2023 NFL Draft Guide
Top 200 Big Board  | PFF Mock Drafts | Measureables & Workout Data
NCAA Premium Stats | Draft Rankings By Position | Prospect Superlatives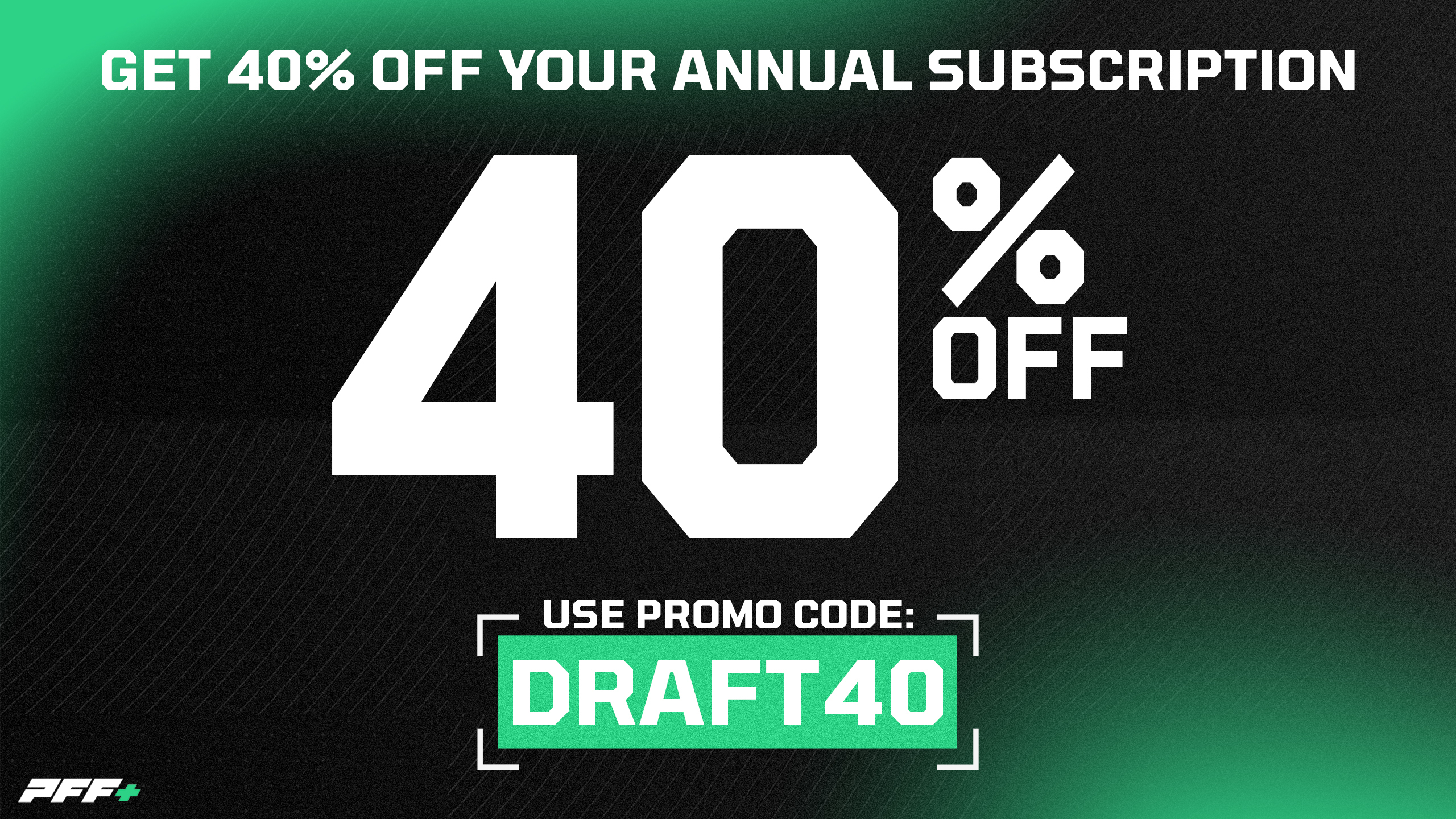 How much of an outlier is Bryce Young's projected playing weight?
Young's size has been discussed ad nauseam through the pre-draft process, so I'll keep this brief. He weighed in at 204 pounds at the scouting combine, but his playing weight is expected to be closer to 190. 
An anonymous AFC front office executive told The Athletic's Dan Pompei that Young's "weight was manufactured for the Combine, then his agents didn't allow him to get weighed at his pro day. He's a 185-to-190-pound guy frame-wise."
Even using 200 pounds as the threshold — assuming Young can add some real weight in the NFL — the list of quarterbacks to see significant playing time is thin. The only two quarterbacks with more than 1,000 snaps played since 2006 while listed at 200 pounds or less are Jeff Garcia and Seneca Wallace. No quarterback has logged a snap over that same time frame at 195 pounds or less. 
Young's track record of success at Alabama and natural ability to play the position is going to have a team betting on an outlier in the modern NFL at the top of the first round.
---
In a stacked Ohio State offense, how much can C.J. Stroud's success be attributed to himself versus his surrounding talent?
The goal of metrics such as PFF Wins Above Replacement (at the NFL level) and PFF Wins Above Average (at the college level) is to approximate value added by individual players. 
Comparing a quarterback's WAA to the WAA for his supporting cast on offense (running backs, wide receivers, tight ends and offensive line) is one way to examine how much credit should go to the quarterback versus the rest of the offense as a whole.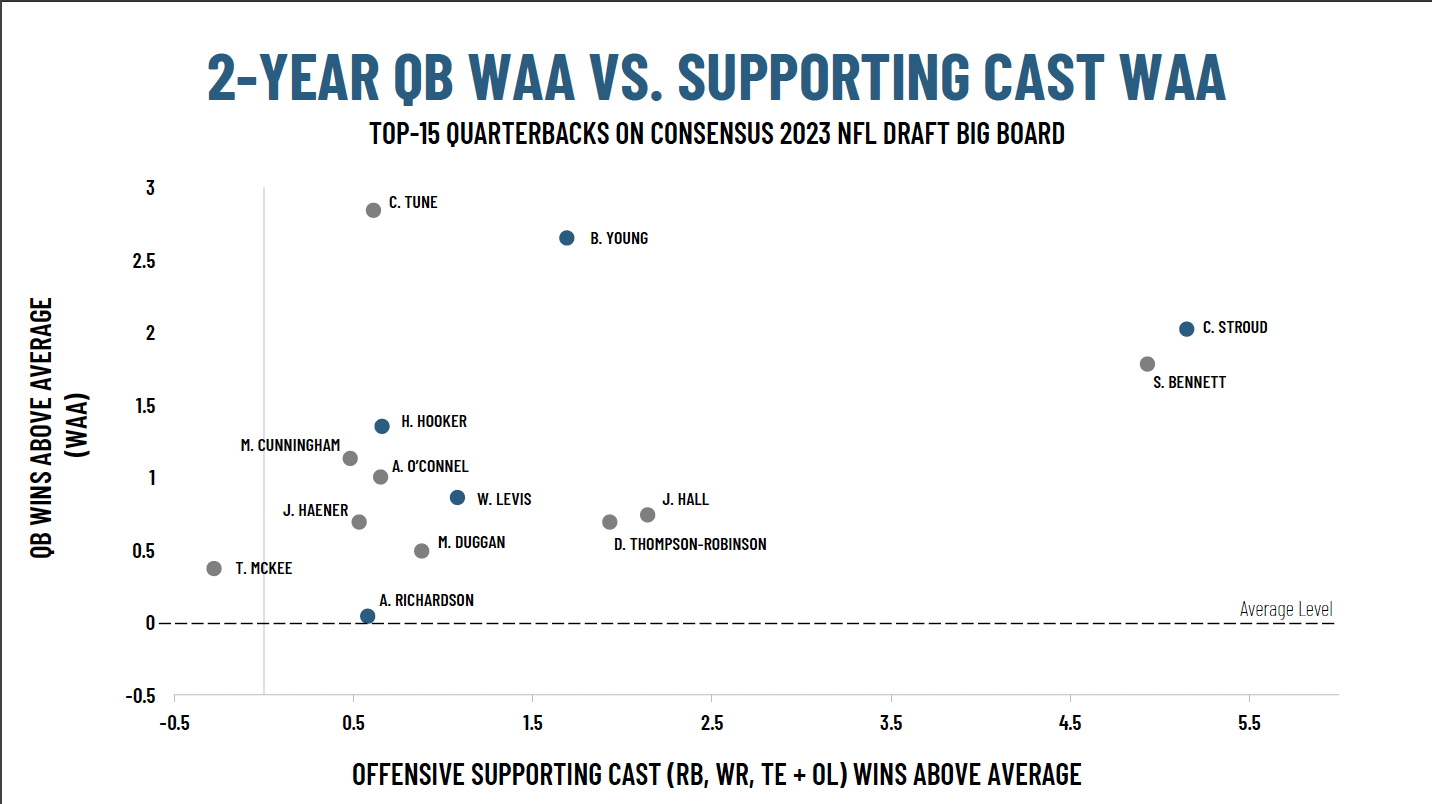 Stroud is one of the more impressive prospects from an individual contribution standpoint, ranking third in WAA among the top 15 consensus quarterbacks — behind just Bryce Young and Clayton Tune. But it's also clear that the only quarterback who had close to a similar supporting cast over the past two seasons was back-to-back national champion Stetson Bennett at Georgia. 
Depending on where Stroud lands, there's a very real chance that he plays with a worse receiving corps than what he had at Ohio State with Garrett Wilson, Chris Olave, Jaxon Smith-Njigba and Marvin Harrison Jr., among others. 
Free for 7-days. Subscribe to continue reading and unlock
All premium content with the best insights + analysis in the game
NFL Draft Guide, Big Board + Mock Draft Sim
Fantasy Draft Kit and Nathan Jahnke's award winning rankings
Bet smarter with PFF player mismatches and expert betting insights
NFL and CFB player grades and premium stats
Unlock all PFF data trusted by all 32 NFL teams
Already have a subscription? Log In