• Bryce Young: PFF's No. 1 QB in the 2023 NFL Draft's closest comparisons include Trevor Lawrence and Eli Manning.
• Will Levis: The Kentucky product's NFL projection is heavily dependent on his landing spot, as he just doesn't perform as well in PFF's stable metrics as the other top QBs.
• C.J. Stroud: The Ohio State QB was the heavy favorite to be the first selection as recently as two weeks ago but now seems at risk of falling outside the first five picks if the Houston Texans don't make him their selection at No. 2 overall. 
Estimated reading time: 6 minutes
---
Over the last few years, PFF has invested a lot of research into projecting how college players will fare at the NFL level — a crucial part of the puzzle when it comes to evaluating draft prospects.
Today, we're going to look at how PFF's top-ranked quarterbacks fared using PFF IQ, a system that is available to NFL teams.
We'll go over their projections to provide context, along with giving some volume-based stats — such as yards per attempt, completion percentage and passing grade per snap numbers— for the 2023 season to show where those numbers would rank last year among the quarterback position group.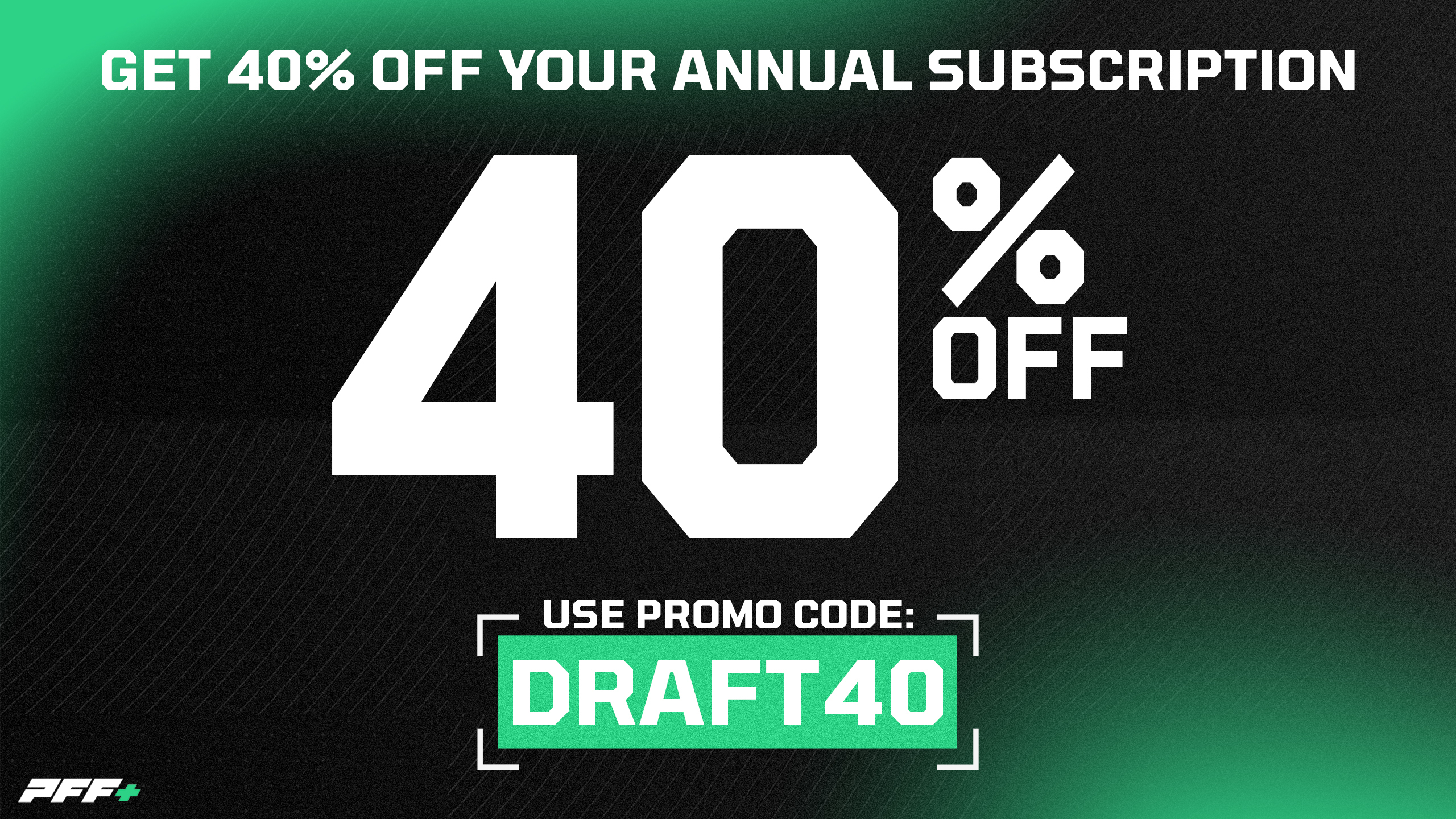 ---
PFF QB Rank: 1
PFF Big Board Rank: 1
An overreaction to the Carolina Panthers trading up for the No. 1 pick is the only reason Young hasn't run the table as the expected No. 1 overall draft pick in this 2023 class. 
After finishing with the second-best WAA (wins above average) in college football in 2021, Young took a small step back due to injury but still finished as a top-10 quarterback in WAA production last season. 

Young's concerns aren't related to on-field production, as they have everything to do with his second-percentile height and 12th-percentile weight.

Although concerning, those really are the only areas where someone can ding Young from the data that PFF finds valuable in projecting NFL success. In PFF's most stable quarterback metrics,Young finished in the 90th percentile. 

It's hard to knock him for any performance in unstable metrics as well, as his play-action grade is the only spot where he seemed to fall short among his peers. His ability to handle throws outside the pocket and perform above expectation under pressure should offset some concerns about his measurables. 

Assuming league-average pressure rate, play action rate, quick throw rate and short throw rate, we get the following projections for Young's first season performance in the NFL.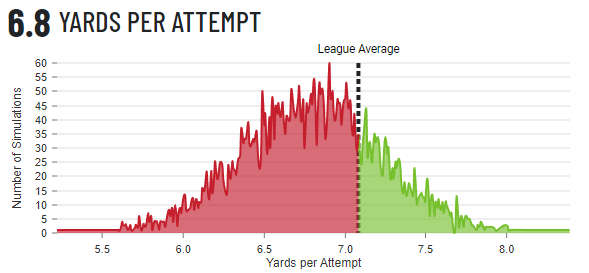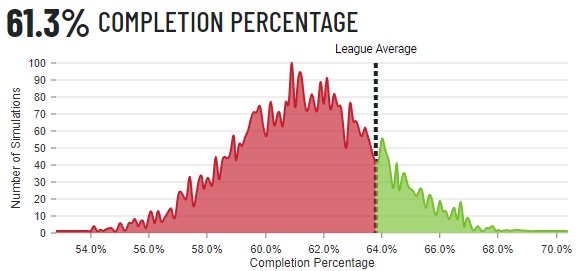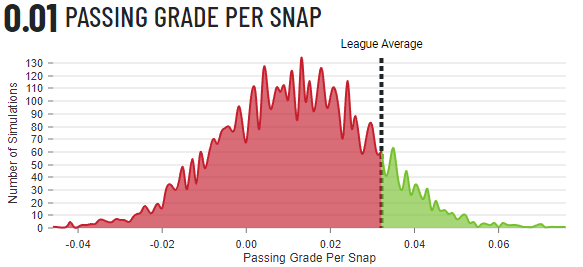 Median projection: 6.8 yards per attempt, 61.3% completion percentage and 0.01 passing grade per snap. 
Given this expectation, these are the closest quarterback seasons to this expectation for Young: 

---
PFF QB Rank: 2
PFF Big Board Rank: 4
Levis' college career was all over the place from a WAA perspective. The truthers point toward the lack of talent around Levis resulting in some poor performances against the best competition in college football. Still, we are looking at a prospect who had one above-average season from a WAA perspective, with a decent sample size to judge off.

The concerning part for Levis is his struggles in almost all of PFF's stable metrics, as he finished above the 50th percentile in only one area. 

The unstable metrics are a bit better for Levis, as the hope has to be that a better-supporting cast will allow him to flourish in more stable areas. His ability to handle situations outside the pocket and under pressure could bump up if he faces these situations less than he did at Kentucky. 

Like Anthony Richardson, Levis needs to land in the right situation. If we project just league-average rates in key areas, he simply doesn't project to be a quarterback capable of elevating his team in most scenarios.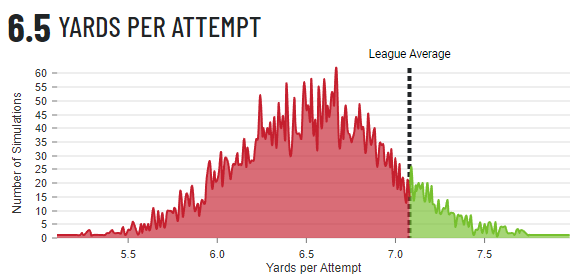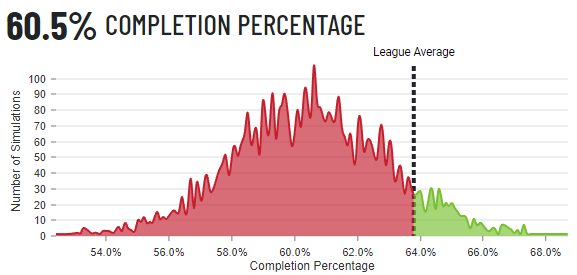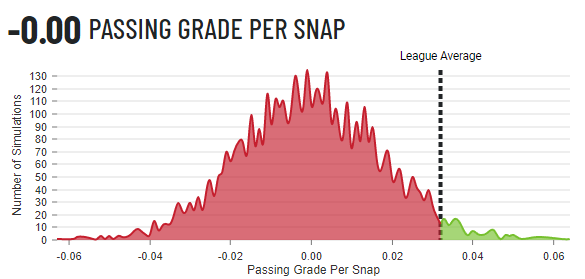 Free for 7-days. Subscribe to continue reading and unlock
All premium content with the best insights + analysis in the game
NFL Draft Guide, Big Board + Mock Draft Sim
Fantasy Draft Kit and Nathan Jahnke's award winning rankings
Bet smarter with PFF player mismatches and expert betting insights
NFL and CFB player grades and premium stats
Unlock all PFF data trusted by all 32 NFL teams
Already have a subscription? Log In