Christian Gonzalez represents a new talent for Bill Belichick to leverage on defense.
Why wasn't Gonzalez picked higher in the 2023 NFL Draft?: While he possesses elite movement skills, Gonzalez hasn't yet matched those athletic traits with on-field performance, causing him to fall to the New England Patriots in the mid-first round.
Gonzalez should fit well in New England:

After being lower on Gonzalez as a prospect than most draft analysts, but Sam loves his landing spot to the Patriots, as he now has the best opportunity to make the most of his athletic traits and become the player he has the potential to be.
Estimated reading time: 5 minutes
---
Cornerback Christian Gonzalez, who was selected by the New England Patriots in the first round of this year's NFL draft, represents an incredibly exciting project for Bill Belichick.
A player that was seen by many as the top cornerback in the draft ended up being picked No. 17 overall — third among corners. He was the sixth cornerback in my draft rankings, but there were evaluators that I respect a lot that ranked him as the best available.
The difference between the two largely comes down to how you value on-field production versus athletic traits.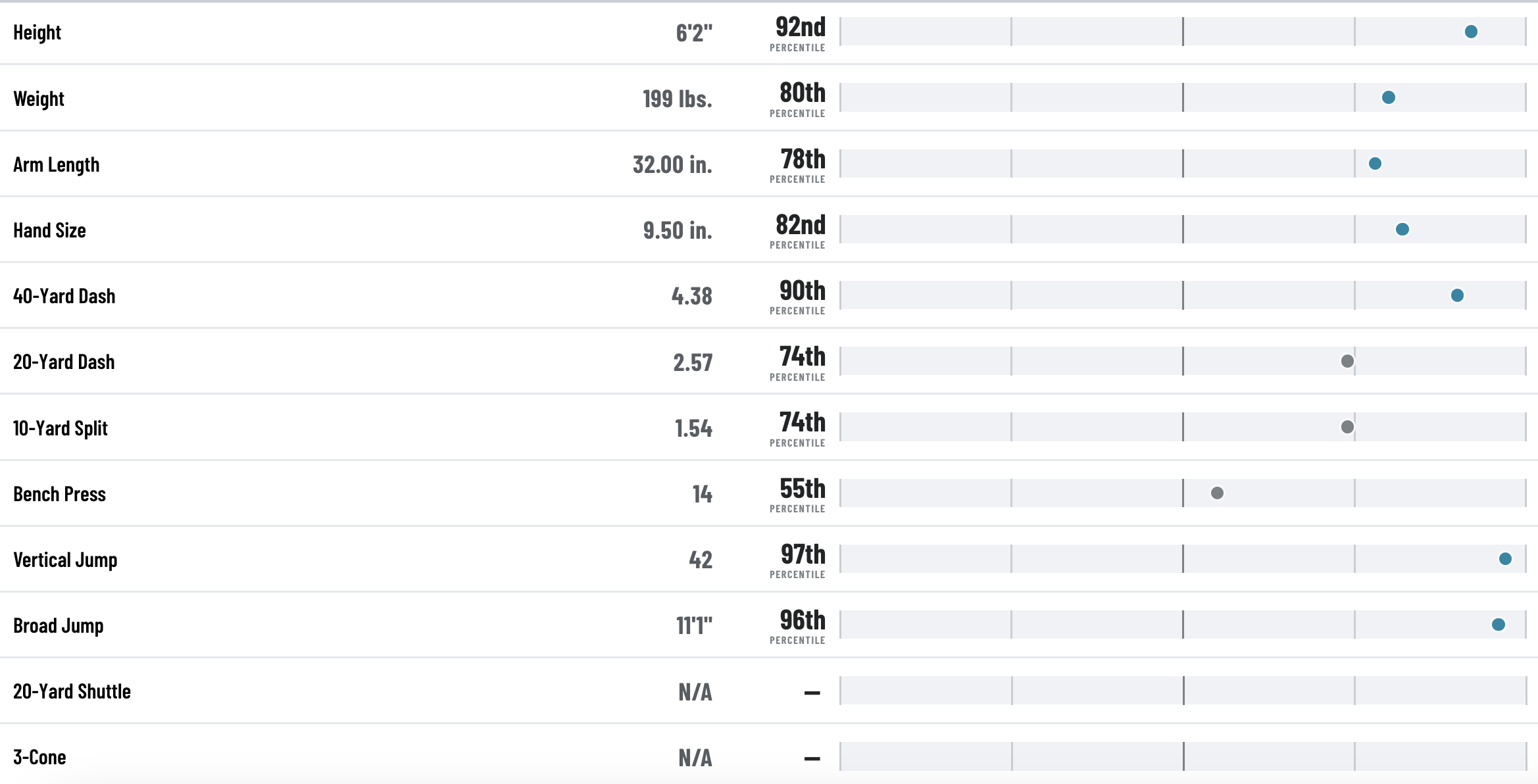 There's no arguing with Gonzalez's athletic profile. He has prototypical size, length and testing numbers, and the first thing you notice when you turn on his tape or even just watch him run his 40-yard dash is how smooth he moves.  He is able to effortlessly glide around and can change directions or adjust on the fly absent the frantic loss of control of lesser athletes.
Almost everybody's draft notes on Gonzalez begin with some reference to his movement skills. One of my first notes was "Disgustingly smooth mover. Mirrors and glides with receivers effortlessly."
Mike Renner focused on the same area for his biggest strength in the PFF draft guide:

The Athletic's Dane Brugler had this line in his analysis: "calm and fluid in his turns, with the footwork and thin ankles to spring in any direction."
This is who he is, and it's a universally accepted strength of his skill set and tape. It's also exactly what the NFL is looking for. So why wasn't he the first corner off the board, a top-10 pick, or seen in the same class as somebody like Sauce Gardner from last season?
Athleticism provides the foundation for elite play, but it isn't elite play in and of itself. Plenty of elite athletes have been terrible football players at all positions in the NFL. It may be a more important baseline at certain positions than others, but it can't negate all other requirements on its own.
Gonzalez hasn't yet matched those athletic traits with on-field performance. Across nearly 2,000 snaps in college, he allowed 57.4% of passes thrown into his coverage to be caught for a 82.6 passer rating. Even if we just take his best season, this most recent year at Oregon, the passer rating only goes down to 74.7, and he required an outlier season in terms of interceptions (the only four of his career) to get it that low.  He actually allowed a greater percentage of passes thrown his way to be caught (60.0%) for the highest yards per reception (12.7) of his career.
That 74.7 passer rating is almost 50 points higher than the rating Devon Witherspoon allowed this past year (25.3), and 30 points higher than the best season of Emmanuel Forbes, the other corner that was drafted above Gonzalez.
As yet, Gonzalez hasn't been a dominant cornerback even at the college level, and the difficulty is about to jump at the NFL level. Former PFF intern and now an intern with the Detroit Lions, Haley English, posted a study showing that cornerbacks drafted in the first two rounds since 2019 have very rarely improved their PFF coverage grade from college to the NFL — just two had. One of the two to actually achieve that was Sauce Gardner, whose starting point was an already elite PFF college grade. The best PFF grade Gonzalez posted in college was an 83.3 mark from last season, the 14th-best in the nation.
There is reasonable concern that, at the moment, he is a better athlete than football player, but Gonzalez was drafted by the Patriots, giving him access to arguably the best defensive mind the game has ever seen in Bill Belichick as his first professional coach.
If there's one landing spot that has the best chance to marry the athlete with the football player, it's New England.
As much as there are flaws with his college tape, it's not like he is a bad player, either. He is typically in close coverage most of the time and shows good technique when it comes to footwork and mirroring receivers. He understands zone coverage in terms of where the threats are coming from and the spacing that needs to take place for him to best squeeze multiple routes at a time. He is generally technically sound but doesn't maximize his impact to anything like the same degree as Witherspoon.
While Witherspoon reads the game better than any other corner in this class and is consistently ahead of the play, Gonzalez tends to be a beat late. While Gonzalez had 10 combined interceptions and pass breakups, Witherspoon had 18, the second-most in the draft class.
The bottom line is that Gonzalez isn't yet the player that many viewed him as when watching his tape. He's one of the most physically gifted corners to enter the draft in years, and he has solid college tape, but solid in the Pac-12 won't cut it at the NFL level without a significant improvement. The Patriots have the kind of coaching that can produce that improvement from him. 
I was lower on Gonzalez the prospect than most draft analysts, but I love his landing spot to the Patriots, and he now has the best opportunity to make the most of his athletic traits and become the player he has the potential to be.