• Will Levis finds a home: The Kentucky QB played through turf toe for much of the 2022 season but earned a 90.6 overall grade when healthy under former Rams offensive coordinator Liam Coen in 2021. The Lions have had a wild draft already, so this fits.
• A familiar name lands in Pittsburgh: Joey Porter Jr. is the press cornerback you want in the class. At 6-foot-2 and 198 pounds, he attacks receivers at the line of scrimmage the same way his father attacked offensive tackles.
• Rams get defensive reinforcements: The Rams address their need at cornerback by selecting Cam Smith, an instinctive and versatile player who has a knack for breaking up passes.
Estimated reading time: 9 minutes
---
The first round of the 2023 NFL Draft is in the books, so now we're here to take a swing at a Round 2 and Round 3 mock draft.
With many top prospects still on the board, the second day of the draft is expected to be just as exciting as the first, as teams look to find hidden gems and potential game-changers who could make an immediate impact on their roster.
There are sure to be plenty of trades that will likely churn up the top of the order, but here is a look at how Rounds 2 and 3 could look. 
More PFF draft content:
LIVE Draft Tracker | Mock Draft Simulator | 2023 NFL Draft Guide
Top 200 Big Board  | PFF Mock Drafts | Measureables & Workout Data
NCAA Premium Stats | Draft Rankings By Position | Prospect Superlatives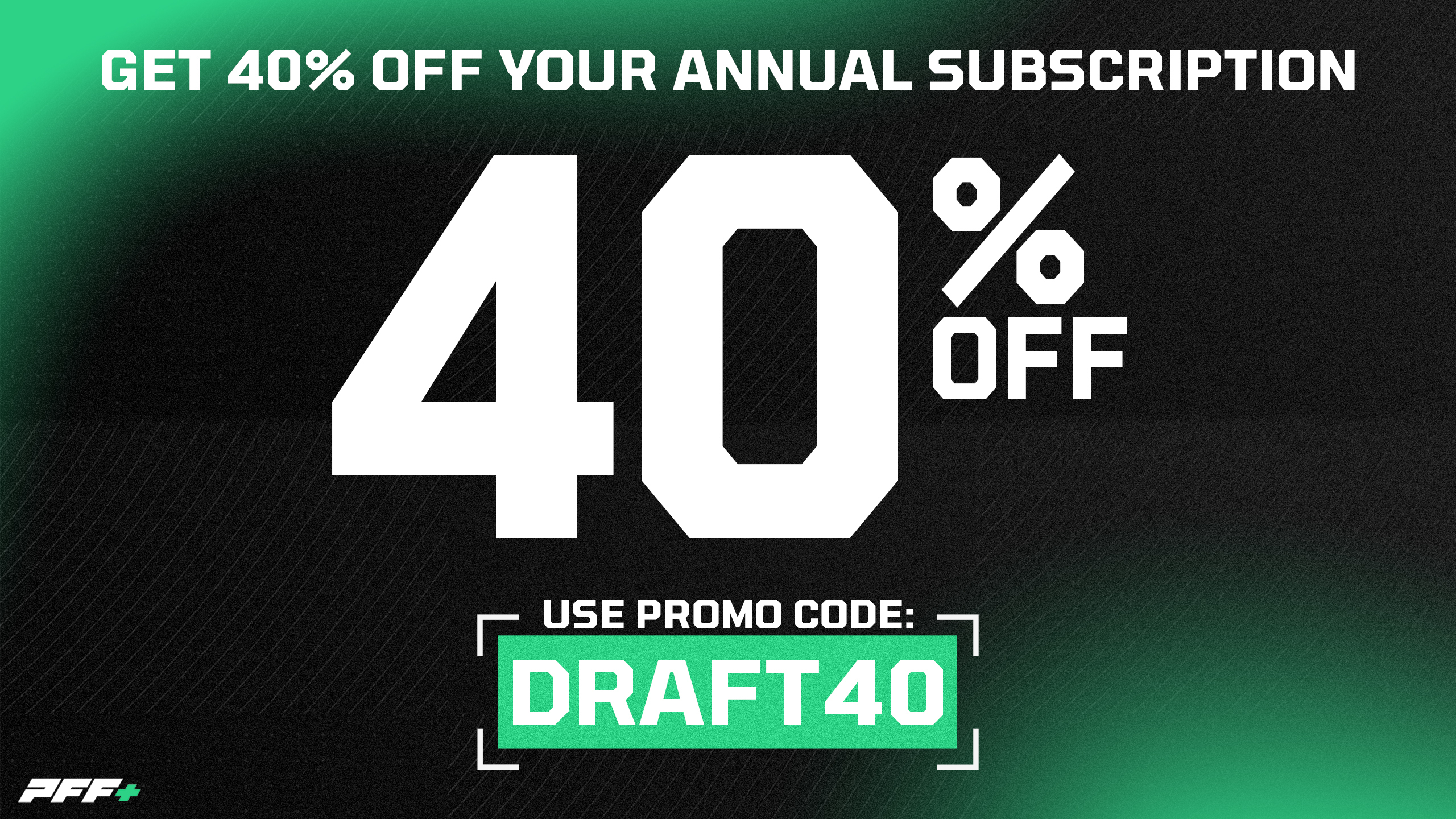 ROUND 2
Porter is the press cornerback you want in the class. At 6-foot-2 and 198 pounds, he attacks receivers at the line of scrimmage the same way his father attacked offensive tackles. He had a career year this past fall, allowing only 143 receiving yards across 10 games.
---
Schmitz was the highest-graded center in the FBS last season and will be a great fit for the Cardinals' scheme.
---
Levis fought to keep his head above water week in and week out against SEC competition. He'll be battle-tested for the NFL.
He played through turf toe for much of the 2022 season but earned a 90.6 overall grade when healthy under former Rams offensive coordinator Liam Coen in 2021. The Lions have had a wild draft already, so this fits.
---
Jones is a massive tackle with great pass-protection skills, having allowed only five pressures on 419 pass-blocking snaps last season. The Colts give their newly-drafted franchise QB protection.
---
The Rams address their need at cornerback by selecting Smith, an instinctive and versatile player who has a knack for breaking up passes.
---
White is an imposing defensive end with incredible size and physical abilities. He is extremely raw, but the volume of problems he can cause an offense makes him worth taking here.
---
Raiders replace Darren Waller with one of the most productive tight ends in the class. Mayer is as polished a tight end as you'll see in the draft — and he's only a true junior. He racked up 2,099 yards and 18 scores in his Notre Dame career.
---
Branch is the definition of a football player. He plays the game you wish every defensive back would. He's also the best tackling defensive back PFF has graded, as he missed only four tackles on 174 career attempts.
---
Torrence is the top true guard prospect in the class. At 6-foot-5 and 347 pounds, he's a big boy to try and overpower. He started for three seasons at Louisiana before transferring to Florida, where he earned an 88.0 overall grade last fall.
---
Hyatt possesses elite juice to stretch the field, and that helped him house 15 scores this past season. It was a massive breakout year, as he finished with 67 catches for 1,267 yards. Hyatt's ability to stretch the field should open up the offense for 2022 first-round pick Treylon Burks.

Washington is a unique 6-foot-7, 270-pound tight end. His height and weight don't do justice to just how massive he is. He is a perfect fit for the Packers offense as an inline blocker who can also run routes and make guys miss after the catch.
---
Sanders provides off-ball LB skills with excellent pass-rushing skills. He flourished in that role at Arkansas after transferring from Alabama, as his range and ability to take on blocks shined. He collected 11 sacks and 39 total pressures as a blitzer alone in 2022.
An absolute freak athlete, Adebawore fits the edge-rush profile the Falcons draft, and they need help getting after the passer. He needs development but if he can unlock that physical ability, Adebawore will be a handful at the next level.
---
Johnson is part of the new age of slot cornerbacks in the NFL. At 6-foot-3, he can shut down windows underneath and then easily close to ball carriers in the run game with a wide tackle radius. He earned overall grades of 81.6 and 87.4 in his two seasons as a starter.
---
Mauch is one of the most athletic tackles in the class. He flies across the field in the run game, where he earned a 90.1 grade this past fall. His pass protection technique is still a work in progress, and he might be better on the interior, but his ability as a run-blocker will fit well with New England's multiple run schemes.
---
Avila has started at both center and guard over his career, and he provides a physical presence regardless of where he lines up. He allowed only 11 pressures on 540 pass-blocking snaps in 2022 for an 83.6 pass-blocking grade. Washington has had serious questions at the guard spot, and Avila should compete for a starting spot out of the gate.
---
Musgrave has the goods. He just doesn't have the refinement. The good thing is he can still contribute while developing into a more complete pass-catcher as Detroit replaces former first-rounder T.J. Hockenson.
---
Pittsburgh has been searching for a LB for years and takes another stab at one in Simpson. Simpson is the kind of rangy, fluid athlete everyone is looking for at linebacker. He even played the slot role in Clemson's defense back in 2021.
---
Charbonnet is a well-built, elusive back with bell-cow potential. He earned top-three rushing grades in the FBS in each of the past two seasons. He'll provide a good rotational piece with Rachaad White and has the potential to take over the role.
---
The Dolphins need an insurance plan, given Tua Tagovailoa's injury history. He has all the tools to become a successful NFL QB, and he'll be in a perfect offense to develop those needed traits.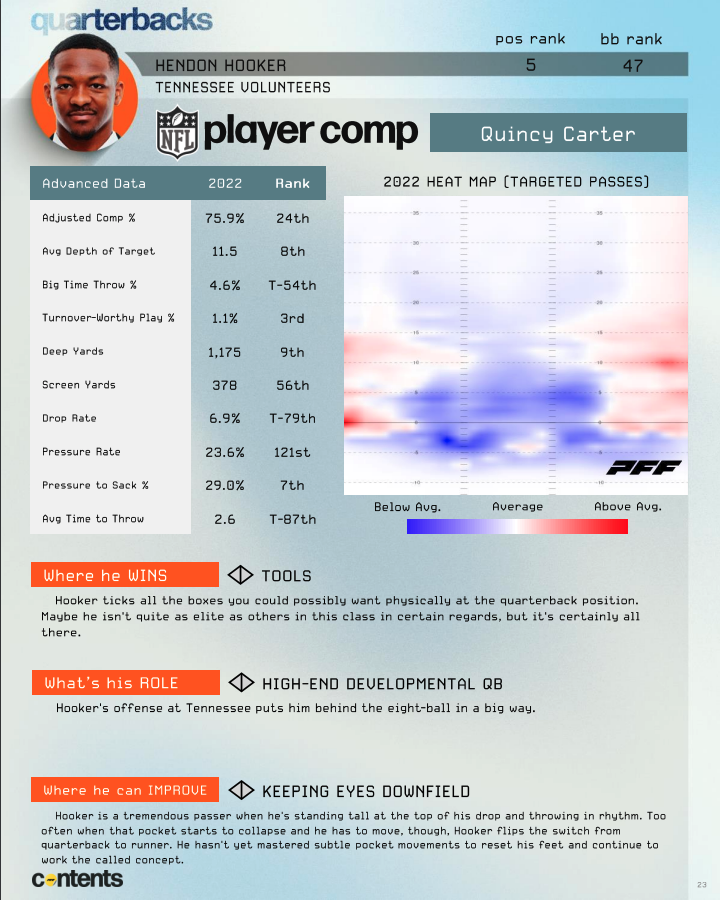 Henley is a converted receiver who now covers them with ease. He also tracks receivers down in space, as he missed only five tackles on 97 attempts last season.
---
Benton possesses a nice blend of quicks, power, length and strength that allows him to fill any role along the defensive interior. He earned an 83.5 pass-rushing grade last season. Chicago has a few solid pieces on the defensive line, but they need young depth that can compete for a starting job.
The Chargers have a lot of question marks in their secondary, and Ringo has the skills and size to fill the needs. He'd instantly become one of the biggest CBs in the NFL — he's built to play as a press man corner but also has the range to switch to safety if needed.
Mingo's 6-foot-1, 220-pound frame is almost running back-like. That's unique in this class. He showed serious improvement as a route runner this past fall with a career-high 51 catches for 861 yards. His skill set would round out Detroit's receiving corps alongside Amon-Ra St. Brown's versatility and Jameson Williams' speed.
---
Tippman's blend of size and athleticism can be a weapon. He earned overall grades of 78.7 and 85.1 in the past two seasons. Tippmann should be able to start right away for the Jaguars, as Luke Fortner was one of the NFL's lowest-graded centers in the NFL in 2022.
---
Ojulari is the younger brother of Giants edge rusher and former second-rounder Azeez. He's a similarly undersized player with an array of pass-rushing moves at his disposal. He saw playing time ever since his freshman year and racked up 127 pressures in three seasons.
---
Dell's size won't be for everyone, but he's an easy separator with another gear to stride away from defenders. He had a monster 2022 campaign for Houston with 108 catches, 1,399 yards and 17 scores. Dallas needs a weapon to pair with CeeDee Lamb and Brandin Cooks to give Dak Prescott more open looks.
---
Turner is a unique athlete who has all the traits you could want, boasting excellent movement skills and speed. He's raw and needs a fire lit under him to become a difference-maker in the NFL, but Buffalo would be a perfect fit for that.
---
LaPorta is outstanding with the ball in his hands. He can not only run away from defenders (4.59-second 40-yard dash), but he can also make them miss (20 broken tackles on 58 catches in 2022). He would get several open looks in an already elite offense helmed by Joe Burrow.
---
The Bears are severely lacking playmakers on the edge, and Brown has the physical traits to become a difference-maker. He was as consistent as they come from a grading perspective over the past three seasons (81.9, 82.1 and 82.6).
---
Tuipulotu is an ascending, versatile defensive lineman. He barely came off the field for the Trojans this past fall (733 snaps) as he racked up 56 pressures. The Eagles could use a fourth edge to rely on, and Tuipulotu can become that for them.
---
Downs is a slot weapon who can be fed schemed-up targets and go to work. He racked up 195 catches for 2,364 yards and 19 scores across the past two years. While he's not a downfield burner, he has the route-running chops and quicks to win underneath for the Chiefs.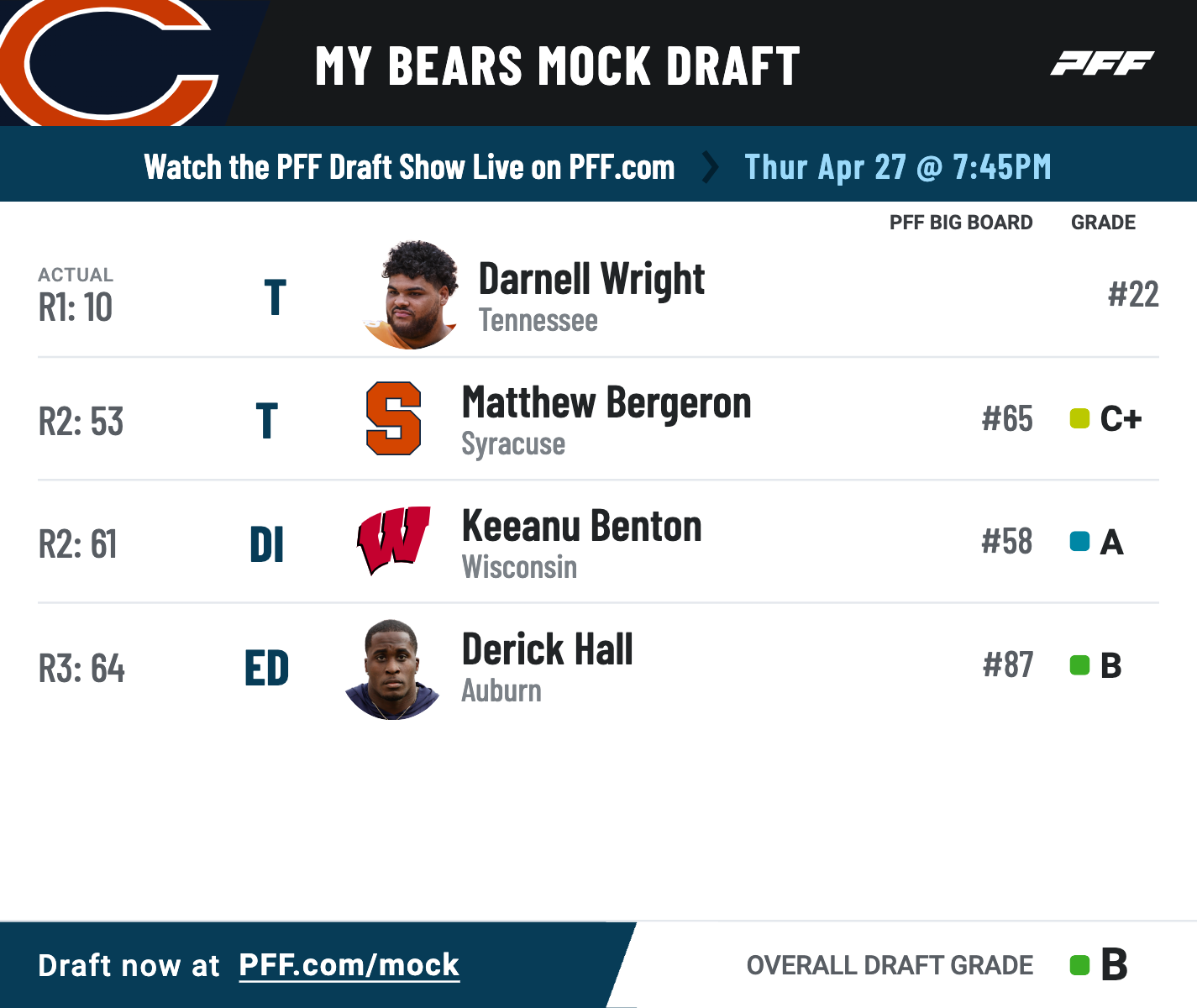 ROUND 3
Bergeron has deadening hands in pass protection that should translate to the next level. He earned pass-blocking grades of 80.8 and 85.4 in the past two seasons. The Bears are in dire need of talent at offensive tackle, with just Braxton Jones having played meaningful NFL reps among those on the roster.
---
Foskey is one of the better pocket collapsers in the draft class. He used his 34-inch arms to corral the quarterback 23 times over the past two seasons. He gives Houston needed talent on the edge.
---
Stevenson is a high-floor cornerback whose man coverage traits should translate sooner rather than later. The Cardinals' highest-graded returning corner in 2023 earned just a 68.5 overall mark last season.
Brents has a massive wingspan that engulfs receivers at the line of scrimmage. He also brings some legit burst for a taller cornerback, which he turned into four picks and three pass breakups in 2022. He should compete for a starting job opposite Patrick Surtain II.
---
Wypler may be on the small side, but he's as advanced a redshirt sophomore offensive lineman as you'll see. He's likely a center only, filling a big need for Denver. And he's a darn good one, earning overall grades of 82.4 and 79.6 in his two seasons as a college starter.
---
Spears is a space player with big-time home-run potential. He's a headache for linebackers in the open field. This past fall, he went for 1,587 yards on 231 carries with 19 scores and 1,052 yards after contact.
---
Ika is your 330-plus-pounder who can still, somehow, make centers and guards miss one on one. He tallied a career-high 33 pressures in 2021 and should be a Day 1 starter at nose tackle for the Raiders.
---
Pickens is far more talented than his 67.3 overall grade in 2022 suggests. He's just inconsistent at the moment. The high-end flashes are exceptional, and he tested out as one of the best athletes at the position.
---
Phillips may not tick the size and speed boxes some want to see, but he ticks the tape box. He earned an 86.3 coverage grade this past fall with six picks and four pass breakups.

The Texans had issues on defense last year, and they fill a need with Johnson. Aggressive in stopping the run, Johnson also has the coverage skills and instincts after switching from cornerback and provides Houston with a versatile playmaker on the back end.
---
Mims fits the profile of what the Browns look for in the middle of the third round, a young playmaker with excellent athleticism. He suffered from poor quarterback play in 2022 but graded well and knows how to get open against zone with the ability to run after the catch. The Browns need to get more explosive at wide receiver, and Mims provides that.
---
Brown started for the Illini ever since his freshman year in 2018, with 3,168 career snaps to his name. It wasn't until this past fall, though, that we saw his prodigious physical gifts turn into elite production on the football field. He picked off six passes and broke up six more in primarily a box role in 2022.
---
Brown has some of the best ball production in the class, securing 10 picks over the past two seasons. The Patriots get a ballhawk but also a risk-taker on the back end.
---
Steen has four years of starting experience but figures to be a guard convert at the next level. He's one of the more powerful linemen in this class and has the traits to be a plus pass-protecting guard.
---
Herbig was an edge rusher at Wisconsin but may be more of a hybrid NFL player at 240 pounds. Either way, he knows how to rush the passer after earning 91.1 and 91.4 such grades the past two seasons. He also looks very smooth when dropping into coverage.
---
Martin manned the slot with authority in 2022. He's one of the class' best safeties filling around the line of scrimmage against the run, as he earned a 91.0 run-defense grade last season.
---
Rice has some of the best body control in the draft class, which shows at the catch point (16 contested catches last fall) and after the catch (19 broken tackles).
---
Dexter has a unique physical skill set with uncanny explosiveness for a 310-pounder (1.70-second 10-yard split). He's wholly unrefined, though, and earned only a 65.7 overall grade in 2022.
---
McKee is already well-equipped to operate an NFL offense given what he was asked to do at Stanford. While McKee may not always pick the best matchup, he's going to put the ball where it needs to be when it needs to be there.
---
Schoonmaker is an NFL-ready inline tight end with a gear that makes him capable of running away from linebackers. He caught 35 balls for 418 yards and three scores in 2022.
---
Duncan has some of the best balance in the draft class with easy mirroring ability on the edge. He just needs his hands to do more work for him, as he allowed 28 pressures this past fall.
---
Overshown finally grew into the all-around linebacker Texas fans were hoping for when he first entered the starting lineup in 2020. He finished with 46 stops in 2022 after having only 32 in 2021.
---
Harrison is a long, explosive defensive end who is still trying to figure out how to tap into his immense physical gifts. While he earned an 85.2 pass-rushing grade this past season, it's worrisome that his grades have plateaued since his 2020 season.
---
Rush has the combination of length and speed that everyone is looking for at the cornerback position. He also has the ball production — 18 combined interceptions and pass breakups on 72 career targets.
---
Battle may not be a special athlete, but he plays such a steady brand of football that it rarely gets exposed. He earned 80.0-plus coverage grades while playing more than 800 snaps in each of the past three seasons.
Tillman is the most physical receiver in the draft class. He's a safe bet as a possession receiver, as he dropped only five of his 104 career catchable targets. His large catch radius is perfect for Daniel Jones.
---
Young is a wound-up dude off the edge. He's just figuring out how to rush the passer but has the traits to develop with the 4.40-second 40-yard dash he ran at the NFL combine.
---
Give Josh Allen another weapon. Anyone not named Stefon Diggs isn't consistent enough at this point and Perry's vertical tree is deadly.
---
Zavala isn't a perfect prospect, but he's a huge human with a strong anchor and an ability to punish linebackers trying to shoot interior gaps on blitzes. He's shown a strong understanding of different protections and has a chance to start in Week 1 and grow into an above-average interior lineman.
---
Achane has burners, quickness and contact balance — a rare combination. He broke 53 tackles on 196 attempts for an 89.8 rushing grade last fall.
---
Robinson is arguably the most complete safety in the draft class. He's a solid all-around athlete who's also a tremendous tackler. He's an easy projection to the NFL with how many hats he's worn in his career. Across four seasons as a starter, Robinson played 633 snaps in the box, 759 deep and 1,348 from the slot.
---
Williams has some of the best feet of any cornerback in the draft class and earned above-average coverage grades in all three of his seasons as a starter. Unfortunately, his 2022 campaign was cut short after he tore his ACL against Notre Dame.
---
Arizona double dips at CB. Hodges-Tomlinson is tiny, but you wouldn't know it by the way he plays football. He broke up 28 passes the past three seasons and picked off five more.
---
Jones went unchallenged for almost his entire Texas A&M career. He was targeted only 19 times this past fall, allowing 10 catches for 94 yards on 278 coverage snaps.
---
Ojomo took his game to another level as a redshirt senior in 2022. After earning a 74.9 overall grade in 2021, he improved it to 90.6 this past fall. He's a long interior rusher who is a force against the run. Interestingly enough, despite being a redshirt senior, Ojomo is still only 21 years old.
---
Trice is built like a linebacker who got kicked out to cornerback. He beats up opposing receivers in press coverage, allowing only one catch on 88 press snaps this past season.
---
100. Las Vegas Raiders (via KC through NYG; special compensatory pick): WR Michael Wilson, Stanford
Wilson played just 14 games over the previous three seasons. He still averaged 2.3 yards per route when on the field this past fall and really impressed at the Senior Bowl.
---
Turner dominated on the interior for Wake Forest last season. In his first year with the team after transferring from Richmond, Turner earned a 93.1 run-defense grade and an 88.8 pass-rushing grade. He's just a tad thin-framed for a defensive tackle, measuring in at 288 pounds with only 32-inch arms.
---
Freeland is a high-end athlete at the position who has a unique skill set to develop. That showed in the run game, where he earned an 87.9 grade in 2022.