At this time last year, Trevor Lawrence had already been anointed the No. 1 overall pick and Justin Fields was a first-round lock. The 2021 quarterback class was an outlier.
The pickings are admittedly slimmer this season. Ask five different evaluators who QB1 is and you're likely to get five different answers. We here at PFF put quarterbacks at the top of our draft board if we feel strongly about their potential to lead a franchise. But, as it stands now, no quarterback is listed until No. 8 overall.
With that in mind, let's sift through the weeds to find out who the potential QB1s are and what exactly they bring to the table.
QB1 Front-Runners
What to like: Tools
Howitzer arm strength and running back-esque rushing ability is not a combination you see every day. Trey Lance and Michael Vick are the only two at the position in recent memory who can match Willis' absurd physical profile. 
Liberty QB Malik Willis (6005, 215, rSR) is a stoutly built QB prospect whose throws have plenty of velocity behind them. Right now, he's a fastball-only pitcher with lots of arm arrogance. Also a dynamic and competitive runner, he has loads of potential. https://t.co/EImGGQcrfp pic.twitter.com/BsKe72ALCI

— Jordan Reid (@Jordan_Reid) May 23, 2021
And in 2021, he's finally showing polish as a passer. Noted for his happy feet and inconsistent base on his throws in his first year as a starter in 2020, those issues have been absent from his 2021 tape. As such, his adjusted completion percentage has jumped from 73.6 last year to 80.2 through five games. 
He's also the most dynamic rushing threat at the position in the country. His 35 broken tackles this season are 12 more than any other quarterback in the country. At 6-foot-1, 215 pounds, he's the perfect size to continue doing that at the next level.
MALIK WILLIS MY LORD ????????????pic.twitter.com/gLiFNj0i4S

— Boom or Bust: The Draft Show (@BoomOrBustDraft) October 2, 2021
Why we're worried: Competition Level
With every stat quoted above, one can easily say, "but it's at Liberty." Obviously, they're not wrong. Liberty's November 6th matchup against Ole Miss will 100% be circled on every QB-needy team's calendar. That being said, the competition level is no guarantee of success. Carson Wentz, Lance, Jordan Love and Josh Allen have all been first-round selections over the past six years from Group of Five or FCS programs.
Verdict: The Favorite
The night and day improvement from 2020 to 2021 shows Willis' dedication to his craft. He's the most physically gifted of the bunch and will be the highest-graded as well if his 94.2 overall grade holds over the second half of the year.
I think I know what my twitter handle will be changed to next season… #JB4H pic.twitter.com/dndSGQLAln

— Malik Willis for Heisman (@Liberty_Flames_) October 3, 2021
What to like: Arm Talent
Howell has an absolute cannon of an arm. He has the type of arm where once he gets around midfield, all the way through the back of the end zone is fair game.
So Sam Howell might have a strong arm ???? pic.twitter.com/doUd7r0dwE

— Mike Renner (@PFF_Mike) September 12, 2021
The ball comes out of his hand like it has a jet pack on even when he's on the move. Add to that the fact that he's had a 75.0 adjusted completion percentage for his career despite a deep 11.4-yard average depth of target, and you can see why he's a top prospect.
Why we're worried: Simplistic Offense
Since the start of 2020, no quarterback in college football has had more RPO completions (108; next closest is 90) or RPO yards (1,338; next closest is 1,118). In addition, no quarterback has more go-ball completions (20) or yards (798). Those aren't inherently bad things. They are, however, more of an indication of arm talent than one's ability to operate an offense. Those are one-read plays, and Howell does them more often than anyone in the country. That's not necessarily developing NFL-transferable skills.
Verdict: Possible to Return
The unfortunate thing for Howell is that it's difficult to see things improving too much this season. He does not have the talent at receiver that can win consistently in an offense that demands it. Already with only a 75.3 passing grade after 91.5 last year, Howell may decide to return to North Carolina to ball out in his senior season.
NFL throw from Sam Howell pic.twitter.com/cMtWlu45it

— Cam Mellor (@CamMellor) October 2, 2021
What's to like: Natural Athleticism
When watching Corral play the quarterback position, one can't help but think he would have been a standout no matter what sport he chose. Corral creates incredible torque during his throwing motion, which enables him to send lasers to every level of the football field.
Finalizing Elijah Moore's evaluation. Quick Hello to Matt Corral. Pocket management and a 3rd and 19 laser beam pic.twitter.com/22NLDhdIBK

— Brad Kelly (@BradKelly17) February 10, 2021
While many of the top quarterback prospects have stagnated this season, Corral has taken a significant step in his development. He's completely eliminated bad decisions from his game — at least for now. He doesn't have a single turnover-worthy play on the season.
Why we're worried: Size
While size obviously isn't his only concern, at his listed 6-2, 205 pounds, Corral would be the lightest quarterback drafted in the first round since 1992. Only Kyler Murray and Johnny Manziel have been first-round selections in recent memory while weighing under 210. There's simply not a strong track record for passers Corral's size.
Verdict: Will Have Every Opportunity to Claim QB1
Corral will play against more top defenses than any other quarterback prospect in the class. While the Alabama tape wasn't anything special, it hardly qualified as worrisome, either. He simply had little chance to succeed with the kind of separation and pass protection he was working with. With Arkansas, LSU, Auburn, and Texas A&M's defenses still on the schedule, Corral can send his draft stock soaring with a strong finish. 
Gotta love a Matt Corral rush TD ????pic.twitter.com/iCAl3f2cxV

— PFF College (@PFF_College) September 7, 2021
What's to like: Playmaking
Since the start of the 2020 season, no quarterback in college football has a higher passing grade outside the pocket than Rattler's 93.1.
???????????? cookin' ????@SpencerRattler | ???? FOXpic.twitter.com/XGkDTeQ9AY

— Oklahoma Football (@OU_Football) October 2, 2021
His accuracy on the move is a sight to behold. He's completed a ridiculous 72.9% of his passes outside the pocket over that span while accumulating the most attempts of any quarterback in the country (118). That sort of creativity and playmaking ability is what everyone in the NFL is looking for nowadays, and Rattler has it in droves. 
Why we're worried: Play Style
Of course, that playmaking ability comes at an expense. Rattler has grown to almost solely rely on it. Once PFF's QB1 in the preseason, Rattler has had a bit of a fall from grace. He's been playing the quarterback position in a way that won't translate well to the NFL. The Oklahoma quarterback is too confident in his ability to make any play at any given moment, which has led to some awful decisions this season.
SPENCER RATTLER THROWS A PICK pic.twitter.com/clWQwtFa8T

— Bet The Pigskin (@betthepigskin) September 4, 2021
He's already recorded seven turnover-worthy plays in only five games compared to only two big-time throws. That's nowhere near the ratio you want to see from a first-rounder, let alone the No. 1 overall pick. 
Verdict: Needs to Show Signs of Growth
Rattler's bad habits as a redshirt freshman were easy to excuse away as inexperience. However, they've seemingly become ingrained because he gets away with it so much. That has to change because he won't have nearly as cushy of a situation in the NFL as he does Oklahoma.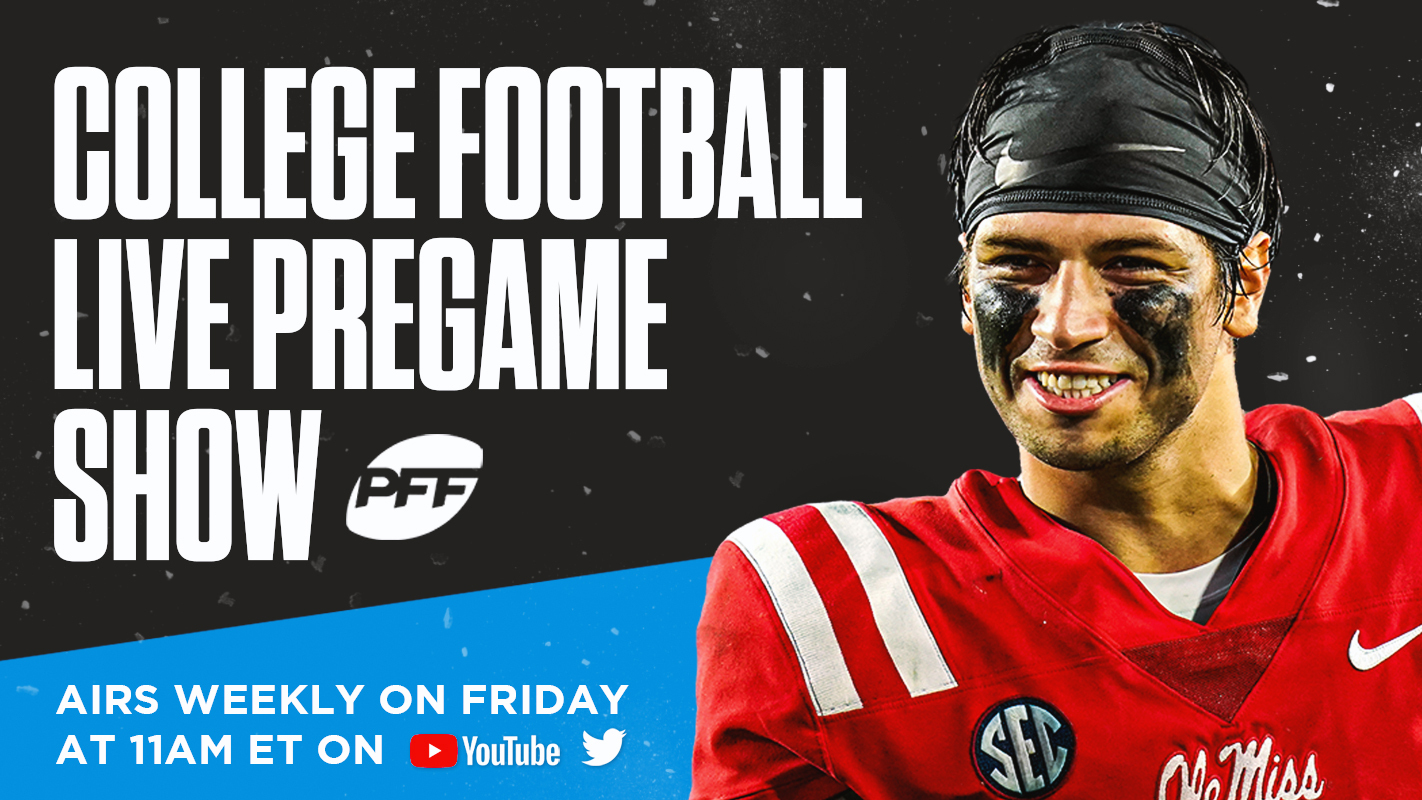 The "Maybe" Tier
What's to like: Smooth Operator
McKee is about as calm and collected as you'll see from a first-year starter. After some Week 1 jitters against Kansas State, McKee has played some impressive football. He displayed that calmness on his perfectly placed game-tying fade at the buzzer to beat Oregon.
McKee Magic ✨

Tanner McKee led @StanfordFball to a come-from-behind upset over then-No. 3 Oregon. McKee connecting with Elijah Higgins in the end zone as time expired to tie things up at the end of regulation is the #TUMSWorthy Moment of the Week.#GoStanford | @TUMSOfficial pic.twitter.com/oDTYFYG3b8

— Pac-12 Network (@Pac12Network) October 4, 2021
That throw also highlighted another one of his biggest strengths: his throw-shaping ability. He's already comfortable throwing a number of different speeds and arm angles. The one that will get NFL evaluators going, though, is the fastball.
Tanner McKee oppo-hash! pic.twitter.com/braJOzxJJM

— Cory (@realcorykinnan) October 4, 2021
McKee has a live arm and combines it with far more out-of-structure ability than previous Stanford quarterback Davis Mills.
Why we're worried: Experience
A former top-50 recruit, McKee spent two years on an LDS mission in Brazil. He returned in 2020 and grabbed hold of the starting job this season. That means he's four years removed from high school but has just 162 times pass attempts in his college career. That's simply not enough to gauge his ability and develop him for the NFL.
Verdict: Could be QB1 in 2023
McKee's nearly effortless operation of the Stanford offense is very impressive considering his background. That being said, how much can he realistically boost his stock in one season with a weak supporting cast? McKee seems very likely to return to Stanford in 2022, where he has to be considered a frontrunner for QB1 in 2023.
Still early, but the "breakout" QB prospect of 2021 looks like Stanford's Tanner McKee pic.twitter.com/W8Nkr656U0

— Mike Renner (@PFF_Mike) September 22, 2021
What's to like: Deep Passing
When I say deep passing, I mean DEEP passing. Since the start of 2020, Strong has five completions targeted 50+ yards past the line of scrimmage. That's not only three more than any other college quarterback over that span, it's more than any NFL quarterback has had over the past two years as well. While that's obviously not comparable, it just goes to show how different it is to see someone attack that area of the field that much. 
Carson Strong tosses a BOMB and Nevada (-17.5) takes a 20-13 lead #BarstoolSportsbook
pic.twitter.com/nJikWeazSH

— Bet The Pigskin (@betthepigskin) November 15, 2020
Why we're worried: Pocket Presence
Strong often gets caught locked in on receivers, which causes him to miss opportunities to subtly slide away from pressure in the pocket. It's not only led to a high 23.8% pressure-to-sack conversion rate this year but also consistently poor performances under pressure. He's earned an unsightly 35.6 passing grade under pressure for his career (For comparison, Trevor Lawrence graded at 63.7 under pressure for his career). 
Verdict: A Worthwhile Project
Strong's downfield accuracy is very real. There's no screaming "competition level" with the ball placement on some of the windows he's hitting. 
Carson Strong showing off the howitzer here with a shot in between defenders deep. Ball fires out of his hand with such natural explosive velocity. pic.twitter.com/vxs1hpkLik

— Ben Glassmire (@BenGlassmireNFL) October 7, 2021
His good, not great, performance against the lower-level competition is still meaningful, though. He may not be a slam-dunk first-rounder, but his tools are easily worth a look on Day 2.
#Nevada QB Carson Strong with a beautiful back shoulder pass to TE Cole Turner. Strong was very efficient on that first drive, 6/8 62 yards and a touchdown. pic.twitter.com/GTBpYbQEgW

— Devin Jackson (@RealD_Jackson) October 2, 2021
What's to like: Experience
As it stands right now, Pickett has 1,600 career dropbacks — the second most of any quarterback currently in college football. After never recording more than 13 touchdown passes in his three previous seasons as a starter, Pickett already has 19 this year. He's seen the largest year-over-year grade increase of any quarterback in the country, going from 69.8 last year to 92.6 now.
Kenny Pickett is the best QB in the ACC this season pic.twitter.com/BXdYG5aJ5n

— Cam Mellor (@CamMellor) October 2, 2021
Pickett being on the NFL radar is nothing new, as the man has been flashing a live NFL-caliber arm ever since he took over as the starter in 2018.
This was earlier in the game, but Kenny Pickett has an arm. pic.twitter.com/CGVWqmyXgC

— Nicholas Martin (@themicknartin) October 27, 2018
His red hot start to 2021 could very well be due to his experience creating an abundance of confidence. 
Why we're worried: Late Bloomer
Pickett has lit college football on fire over the first five weeks this season. He's also faced UMass, Tennessee, Western Michigan, New Hampshire and Georgia Tech. It would be a surprise if he wasn't lighting college football on fire with that schedule. He had three seasons prior to this that showed a much more inconsistent passer. It's difficult to believe this hot start will continue throughout the season, especially considering he still has a habit of holding onto the ball too long. His 3.25-second average time to throw this season is the longest of any quarterback in the country.
Verdict: Wait and See
He came back for a fifth year because he was a fringe draftable prospect on tape in 2020. I'll need to see him face a few real defenses before I'm willing to move him up too much higher than that.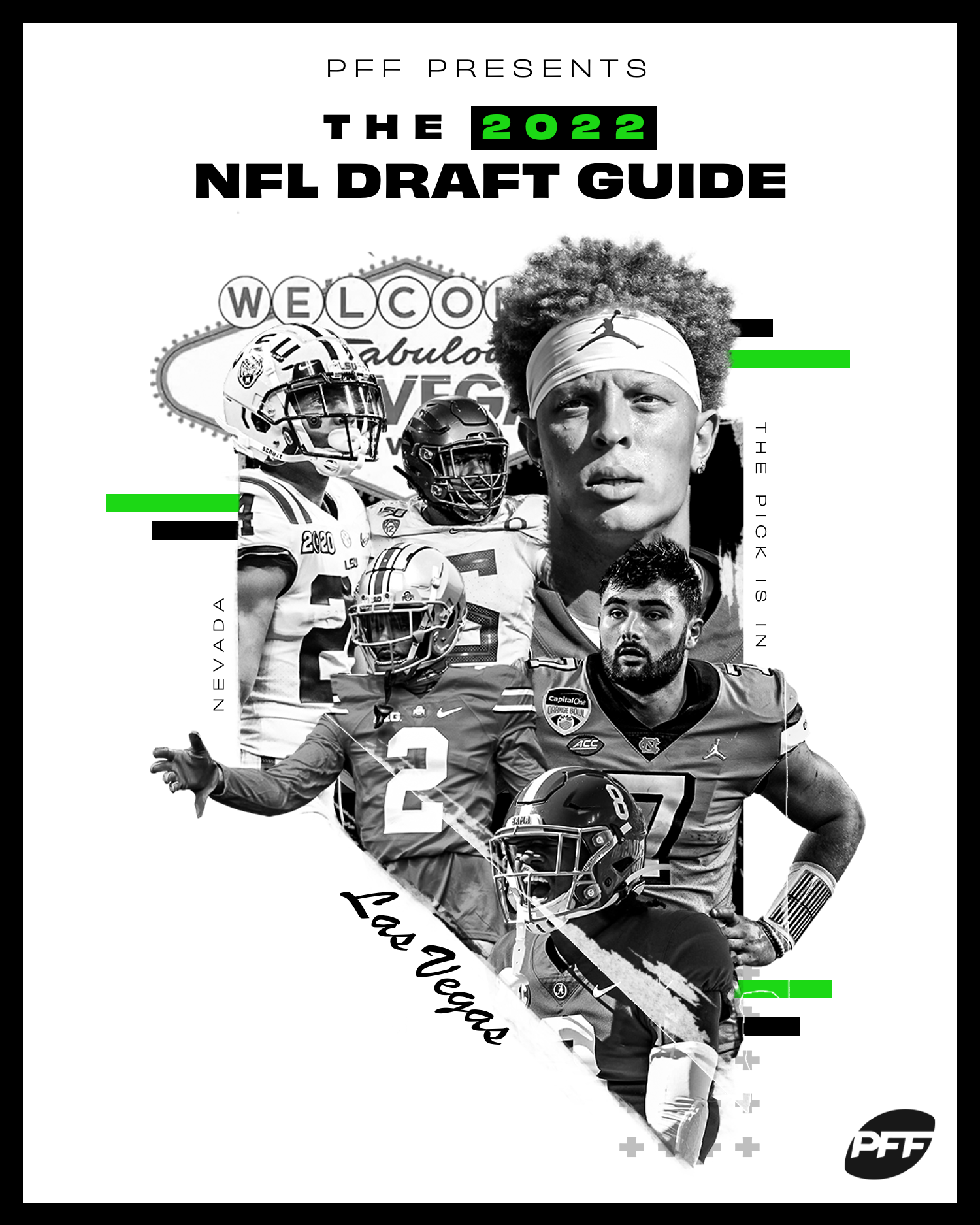 What's to like: Opens up Entire Playbook
Ridder is a long, loose athlete whose right arm looks like a slingshot when he fires it downfield. Combine that with his speed, and Ridder can beat you in a number of different ways.
If Malik Willis is being discussed at one of the top QB prospects in 2022, Desmond Ridder absolutely should be in the conversation.

Konami code, size, arm strength, and he's going to put up monster numbers.

I've come around! This throw is CRAZY! pic.twitter.com/2O0Cyr43Ew

— Ray G ???? (@RayGQue) July 2, 2021
He would be a value-add in the run game for any NFL offense and has had over 700 yards rushing in all three full seasons as Cincinnati's starter. Ridder is a long strider who looks fully capable of running away from NFL linebackers. With those tools, no play in the playbook is off-limits.  
Why we're worried: Accuracy
Ridder has a 25.0% uncatchable pass rate on the season and a 24.4% rate for his career. For comparison, Trey Lance's accuracy was quite easily his biggest negative last season, and he was only at 22.8% uncatchable in his lone season as the starter. That's too many easy whiffs to really lay a strong QB1 claim.
Verdict: Easy to Like
There truly is a lot to like in Ridder's game. All it takes is one team to fall in love with Ridder's tools and four-year starting experience. He's already passed his biggest test so far in Notre Dame, but he needs to avoid any duds from here on out.
Desmond Ridder – one of the quarterback prospects subjected to a fair amount of questions related to next level success – is making some big throws late.

— Pro Football Network (@PFN365) October 2, 2021