With the opt-outs, season cancellations, petitions to play and general uncertainty about what college football is going to look like this year, it's time to look forward to something we've already seen be impervious to COVID-19: the NFL Draft.
The upcoming draft cycle will be the single most fascinating draft cycle in NFL history because while we have more data than ever about what goes on during college games, we will also have far less recent tape go off when it comes to evaluating the class' top prospects.
The following draft order is based on the current Super Bowl odds:
Lawrence has been "the guy" ever since he was in high school. He was "the guy" once again when he broke the PFF true freshman QB grading record with a 90.6 passing grade, and then after some early-season hiccups that saw him pressing a bit, Lawrence regained his elite status down the stretch of 2019 with a 90.8 passing grade from Week 4 on. However, he'll have to really do it this year now that his top two targets from last season — Tee Higgins and Justyn Ross — are gone.
What sets him apart from the rest is his prodigious arm strength combined with a quick release. He's taken fewer sacks in his college career (32) than Justin Fields has (36) despite dropping back 393 more times and dealing with a far worse offensive line from a grading perspective.
They were No. 1 and No. 2 as recruits. Now, they're No. 1 and No. 2 in the 2020 NFL Draft. Fields doesn't even need a 2020 season to solidify his spot here — that's how good he was in his lone year as a starter. His 92.4 passing grade trailed only Joe Burrow nationally last season. In the same offense with the likes of Parris Campbell and Terry Mclaurin the year prior, Dwayne Haskins only put up an 84.9 passing grade in 2018. And that doesn't even take into account the fact that Fields will likely run in the 4.5s and went for 688 yards on the ground with 20 broken tackles on 72 carries last season.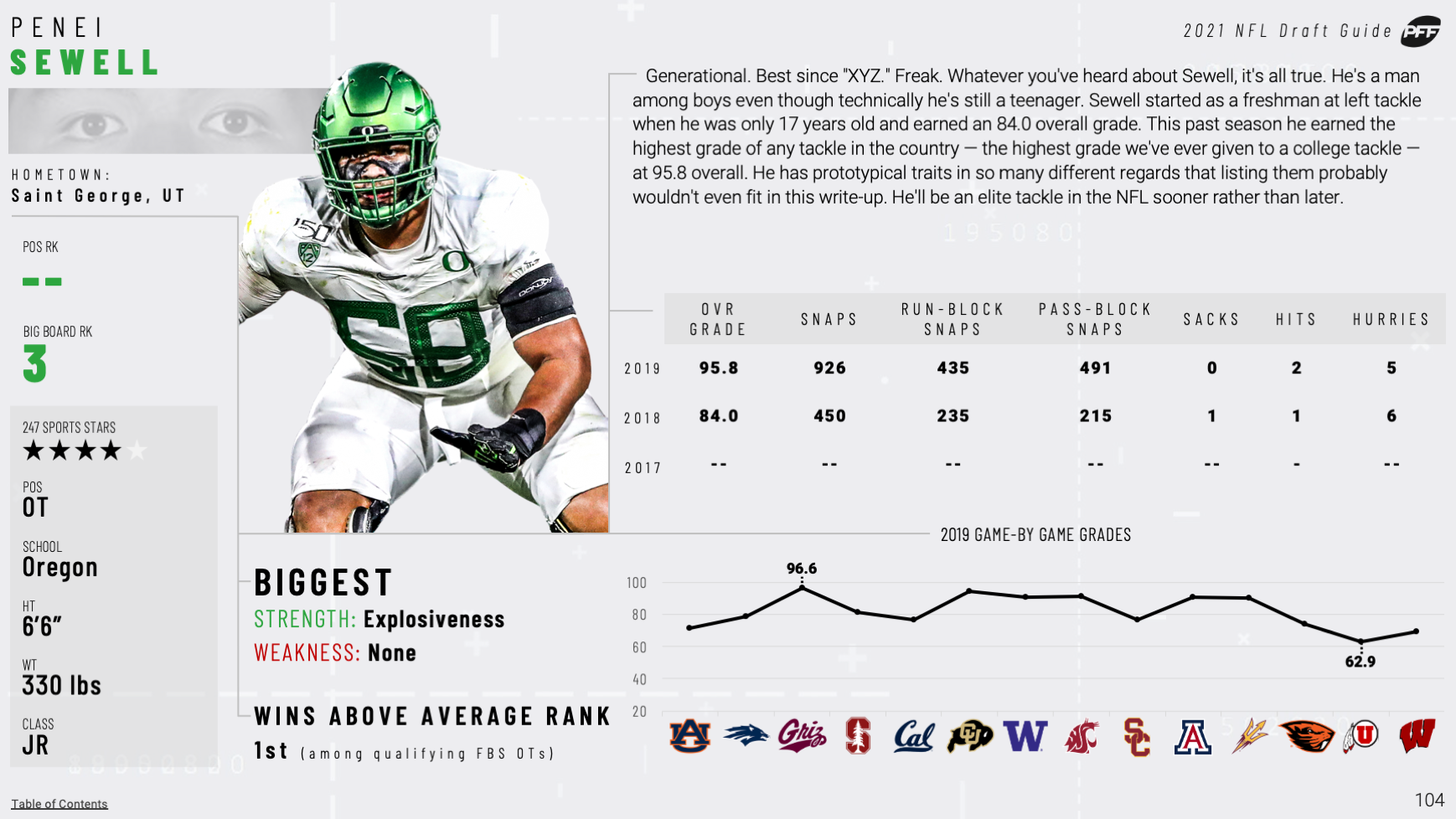 He doesn't have to play another down of college football to be the first non-quarterback taken in the 2021 NFL Draft. Last season, Sewell earned the highest grade we've ever given to a tackle, at 95.8 overall. And when the 2019 season started, he was only 18 years old — that's how special he is as a prospect.
Parsons' "eliteness" rivals that of Sewell. He's a two-time member of Bruce Feldman's Freaks List and runs in the 4.4s at nearly 250 pounds. In our six years of grading college football, Parsons' 94.8 run-defense grade is second to only Reuben Foster's ridiculous 2016 season. The Bengals have thrown a lot at the linebacker position recently, but Parsons is too talented to pass up here.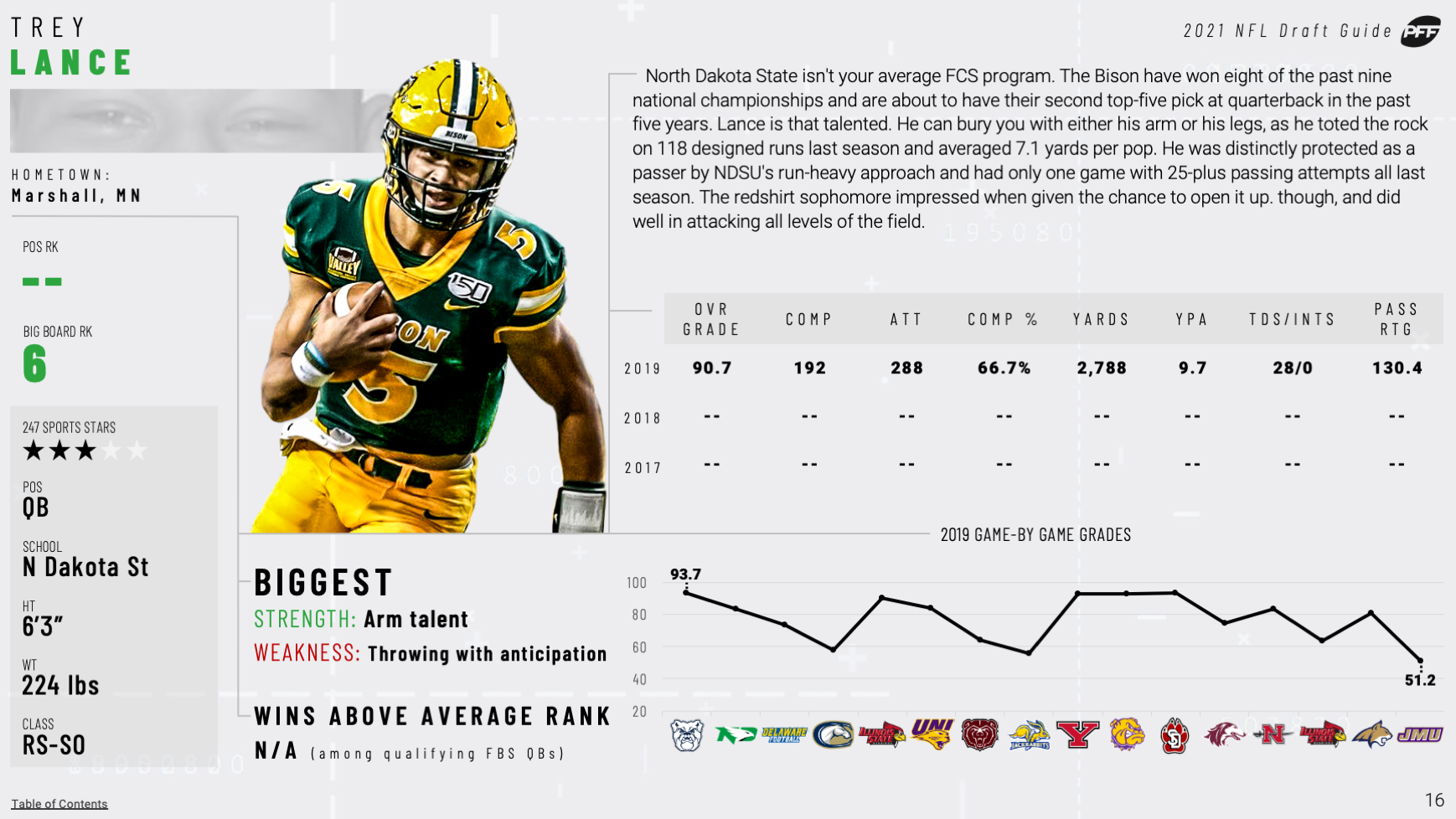 The lack of a fall season is going to hurt Lance in his quest to unseat Lawrence and Fields as a top-two pick, but it still ain't dropping him out of the top five — that's how freaky his tools are. His blend of arm strength, accuracy and mobility is better than even Carson Wentz's was back in 2016. Oh, and he just turned 21, whereas Wentz was already 23 when he was drafted.
The No. 1 receiver that Sam Darnold so desperately needs has arrived. While last year's top options in CeeDee Lamb and Jerry Jeudy won with their craftiness as route-runners, Chase can shake you and straight bully you, as well. He's a 6-foot, 208-pound slab of granite who can do it all. He ranked top-15 nationally in contested catches (16, 12th), broken tackles (22, 7th), touchdowns (20, 1st), deep catches (24, 1st) and yards (1,780, 1st).
Rousseau is still more projection than performance after earning an 80.7 pass-rushing grade last season, but boy is his high-end special. At 6-foot-6, 265 pounds, Rousseau has the frame and athleticism to play any position from standup outside linebacker to 3-technique. Actually, his best reps came on the interior, where he earned an 88.3 pass-rushing grade on 79 such snaps.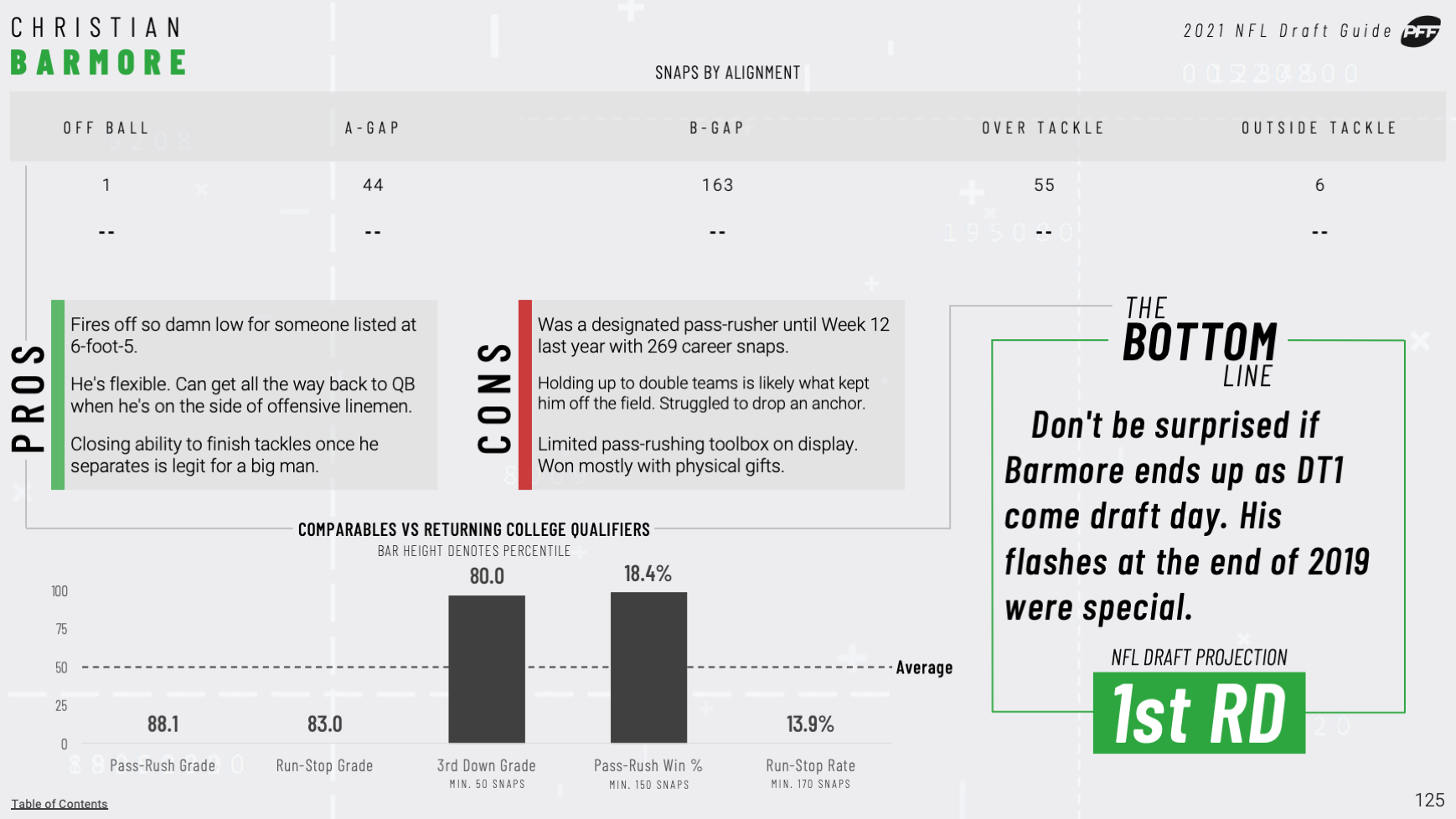 Barmore comfortably possesses the best physical tools of any defensive tackle in the draft class, and all he really needs is some seasoning at this point. He earned an 83.0 run-defense grade and an 88.1 pass-rushing grade across his 269 snaps as a redshirt freshman last season. Expect a monster year from Barmore in 2020.
Moses has the overall freaky athletic profile to excel in Brian Flores' man-heavy scheme. Whether it's as a blitzer or in man coverage, Moses has the type of explosiveness you want for the position. We just need to see him back healthy in 2020 after tearing his ACL before the 2019 season.
Speed doesn't last long at the receiver position, and Waddle has as much of it as any receiver in the draft. With Marvin Jones Jr.'s contract expiring, Detroit could choose to swap in the Bama wideout and add a different element to the offense. Last season, Waddle led the nation by averaging 12.2 yards after the catch per reception.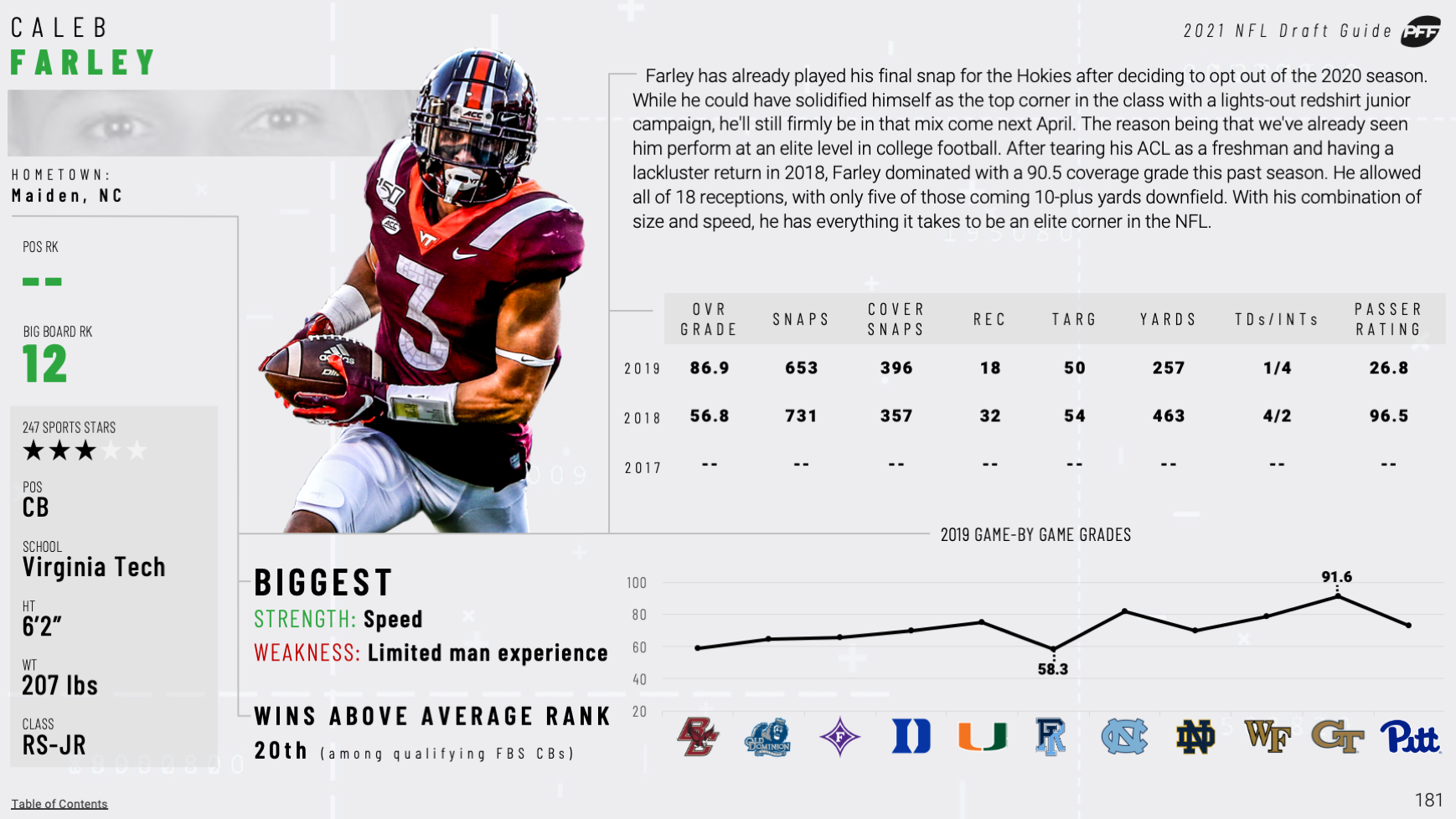 The Jaguars' cornerback room went from being the best in the NFL to a question mark overnight. Pairing Farley up with 2020 top-10 pick C.J. Henderson could bring them back to the former within the next few years. Farley earned a 90.5 coverage grade in 2019 with a ridiculously low 26.8 passer rating allowed. He's got the size and top-end speed to put a lock on his half of the field.
While the Chargers just locked up Joey Bosa long-term, they have Melvin Ingram III's expiring contract to now worry about, as he's already been holding out of Chargers camp. Basham has racked up pressures at Wake Forest, with 112 over the past two seasons. He's a twitched-up 275 pounds and could continue the Chargers' recent dominance on the edge.
With Garett Bolles' fifth-year option declined and Ja'Wuan James set to play just 63 snaps in two seasons with the team after getting hurt last year and opting out of the 2020 season, the future of the tackle position in Denver is up in the air. Cosmi can fix that with his proven track record at both tackle positions in a high-volume passing offense. He allowed 25 pressures as a redshirt freshman at right tackle in 2018 before switching to the left side and allowing only 14.
Paye was as hurt as any edge defender in the 2021 class by not being able to prove himself more this fall. Still, if he runs anywhere close to his reported 6.37-second three-cone at 272 pounds, someone is going to take a chance on him early. However, he still needs to add a good deal to his pass-rushing toolbox — he generated 37 pressures on 316 pass-rushing snaps for a middling 77.8 pass-rushing grade throughout his lone year as a starter in 2019.
Not even 20 years old yet, Pitts' 649 receiving yards led a Florida team that had three wide receivers drafted a season ago. While Kliff Kingsbury's offense routinely eschews the tight end position entirely, Pitts bridges the gap between tight end and receiver. If you evaluated him solely as the latter, he'd be close to a first-round talent in his own right.
The Bears still haven't properly addressed Kyle Long's departure on the interior of the offensive line. While this may seem high for a guard, Davis was that good for the Buckeyes last season — he didn't allow a single sack or hit all year.
[Editors Note: PFF's customizable NFL Mock Draft Simulator gives you the opportunity to be the GM of any team and is now updated with a select group of 2021 prospects]
Corey Davis looks like he has one foot out of the door now that he's had his fifth-year option declined, and his replacement ain't on the roster right now. Smith has some of the best ball skills in all of college football, with only three drops on 112 catchable balls over the past two seasons. On a roster loaded with NFL receiver talent, it was Smith who led the team with 1,259 yards.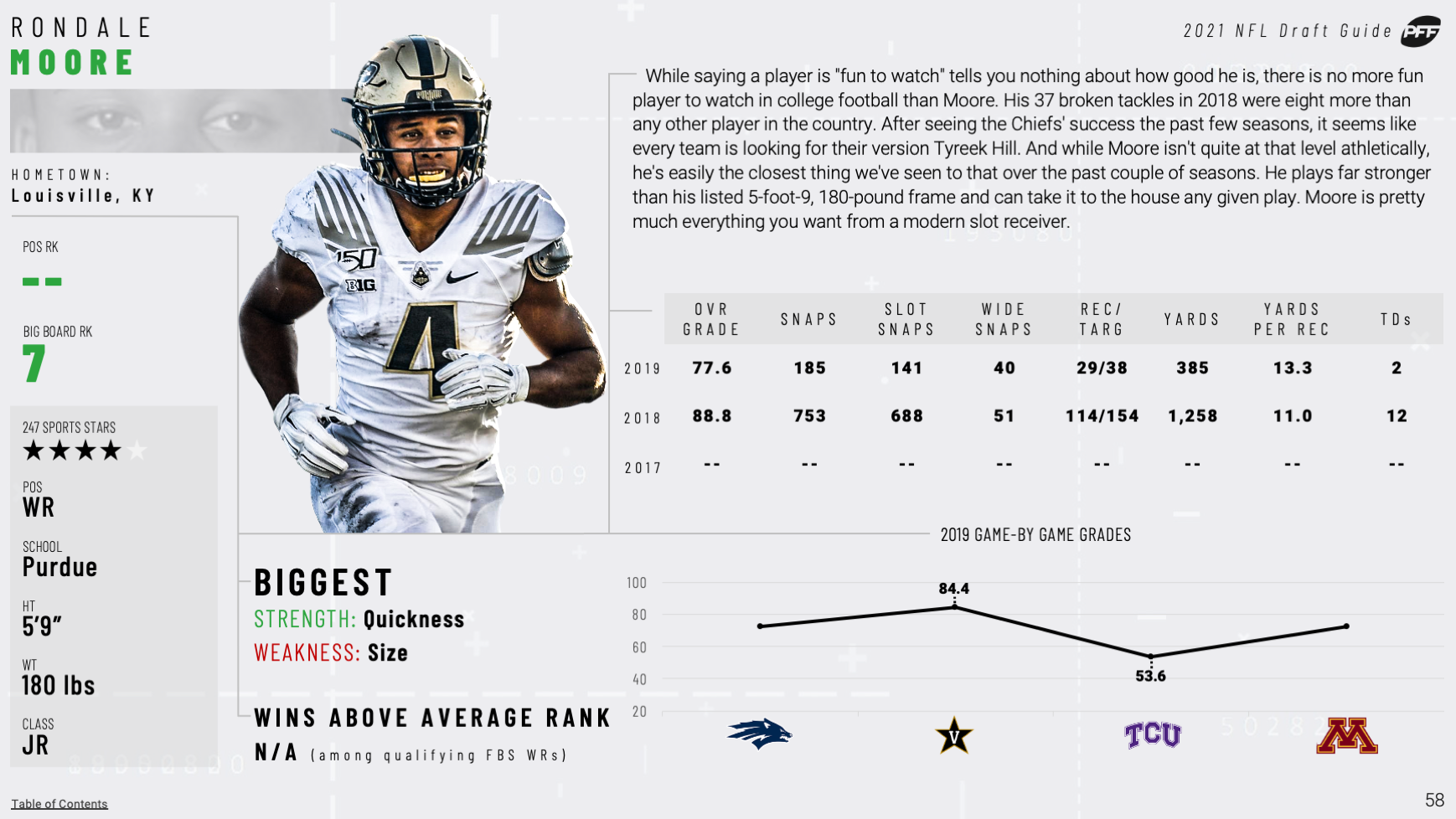 Moore will have only played 185 snaps in his two years before being drafted, but he still won't fall too far. He put up one of the most incredible freshman receiving seasons in college football history, with 114 catches for 1,258 yards, 12 scores and 37 broken tackles after the catch. There's no reason to think that the 5-foot-9 receiver will simply be pigeonholed into the slot in the NFL, too, as he racked up 263 yards on 57 routes as a split-out wide receiver.
Smith has the type of road-grader mentality that has made the Steelers line one of the NFL's best over the past half-decade. He played four different positions along the line in an encouraging true freshman season before blood clots in his lungs robbed him of crucial developmental time. Smith was back and better than ever last year, though, and he didn't allow a sack all season.
It had to be done. Even though the Pats drafted two tight ends in the third-round this past season, neither can hold a candle to Freiermuth. The massive 6-foot-5, 260-pound Freiermuth has defenders bounce off him routinely. He broke nine tackles on 43 catches last season.
Long, athletic projects on the edge have been the Vikings' M.O. From a pure tools perspective, Kaindoh compares very similarly to Gregory Rousseau. Listed at 6-foot-7, 265 pounds, Kaindoh has rare flexibility for a man that size and can forklift opposing offensive tackles. He's simply yet to have the production close to Rousseau's, with his career-high 69.5 pass-rushing grade coming in an injury-shortened 2019 season.
While Wade's proficiency as a press-man corner on the outside remains to be seen, the skills he's shown in the slot should translate nicely to a zone-heavy defense like Buffalo's. He's a physical corner who has been a terrific tackler in his career, with only six misses on 70 career attempts.
I don't anticipate a safety with 4.3 speed and 12 picks by the end of his true sophomore year lasting too long in the draft. While his tape is incredibly up and down at this point, you can't teach the sort of playmaking ability he possesses.
It's getting to the point where if the Packers don't take a receiver in the first round next spring, Aaron Rodgers may just up and demand a trade. Bateman has an incredibly polished game for a man who was only a true sophomore last season, and he can get off press at the line of scrimmage at an NFL level already. He led all receivers in college football by averaging 3.6 yards per route from a split-wide alignment.
The Colts used last year's first-rounder to acquire DeForest Buckner, but that won't fix their defensive interior completely overnight. Wilson can be a pocket-pusher from the nose tackle position and has earned an overall grade of 90.0 or higher in each of the past two seasons.
Even with the complete overhaul of the Jets offensive line in the offseason, it still looks like a weakness heading into 2020. Free-agent signing George Fant is unlikely to be the answer, and they didn't give him much guaranteed money for that very reason. Leatherwood is a smooth pass-protector who actually allowed fewer pressures last season (9) than 2020 top-10 pick Jedrick Wills Jr. (13).
The Cowboys are entering 2020 with a hope and a prayer at the cornerback position after losing Byron Jones in free agency. Surtain could change that. He was starting as a true freshman for the Tide back in 2018 and earned a 78.7 coverage grade that season. At 6-foot-2, 202 pounds, Surtain has an ideal size-and-length combination, but his lack of elite speed could drop him a bit.
Someone had to take a running back! Etienne may not be your prototypical between-the-tackles back, but he is precisely what you want in space. He broke the single-season record for broken tackles per attempt last year, with 91 broken tackles on 207 attempts.
If he doesn't get to play any more football, we'll have seen all of 72 snaps from Little since 2018. He's a big, mobile left tackle, though, and that would fit perfectly into Kyle Shanahan's scheme if they can't re-sign Trent Williams. If he could have stayed healthy all of 2019, there's a chance he would have been in the conversation for the first tackle off the board last year.
This one is still a massive projection as Surratt was a bit of a rollercoaster in his first season at linebacker after switching from quarterback. He's an incredibly smooth athlete and has the willingness to stick his nose in it that you either have or you don't at linebacker. At the same time, he was a horrendous tackler, with 27 misses on 130 attempts, and he had a ton of misreads on tape. I can forgive those in Year 1, but if they're still an issue on his tape in 2020, he won't sneak his way into the first round.
He's never been a starter and has played only 397 snaps in his career, so few players will be hurt more by the season cancellation than Oweh. He reportedly runs in the 4.3s at 257 pounds, but we simply haven't seen enough of him on a football field to know how that will look in the NFL.
No defense loves extra coverage players more than the Ravens. No defense loves versatile coverage players more than the Ravens. Moehrig is a horse of a safety at 6-foot-2, 208 pounds — he hits like a brick and had two forced fumbles last year purely from the force he put on ball carriers. He finished with a position-leading 16 combined picks and pass breakups last season for the Horned Frogs.