After we saw four linebackers go in the first round of the 2020 NFL Draft, there's a good chance that the 2021 class could match those numbers next spring.
The crown jewel of the class, Penn State's Micah Parsons, has already opted out of the 2020 college football season and will be preparing for the draft. While he won't be unseated at the top of our rankings, there are a few others who could push their way into the LB2 slot with the help of a big 2020 season.
If you haven't already done so, go and read why I believe Parsons is the best linebacker prospect in nearly a decade. At 6-foot-3, 245 pounds with 4.4 speed, Parsons is physically capable of anything you could ask him to do at the position. If you wanted him to be an edge rusher full-time, he'd be a first-round pick at that position, as well. That's the type of multi-faceted talent we're talking about.
The difference between Parsons' run-defense grade in 2019 (94.8) and the next best linebacker in the country (Logan Wilson, 91.6) was the same as the difference between second and ninth. In his entire Penn State career, Parsons missed only 11 tackles on 188 attempts. He's special.
2020 Outlook
Parsons never needed a junior season to be drafted highly. If he had been able to declare after his sophomore season, there's little doubt Parsons would have gone ahead of Isaiah Simmons. We're just sad we won't get to see what level he could have taken his game to this fall.
"Instinct" is a difficult concept to put words to or describe; it can often simply be the comfort level within a certain scheme or role. Define it however you want, Bolton has it. He consistently makes up steps with how quickly he sees things develop. And once he gets to ball carriers, he lowers the boom.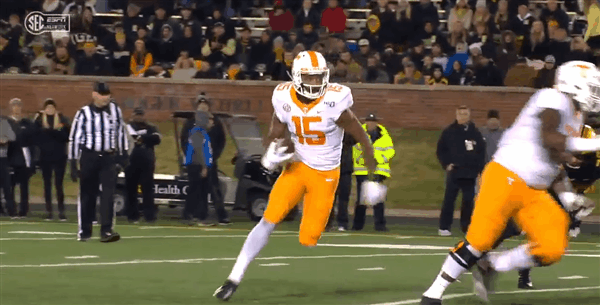 I always have soft spots for prospects like Bolton — players whose weaknesses tend to be far more physical rather than actual on-field football things. He's a rock of a linebacker at 6-foot, 232 pounds, but that comes at the expense of arm length, where he's going to struggle to stack and shed NFL offensive linemen. And while his athleticism isn't an issue on tape, he doesn't quite have the range of any of the last six first-round like backers who were all in 4.5-second-or-lower territory.
2020 Outlook
Bolton quite obviously can't "fix" his physical limitations. As an NFL team drafting him, you will just have to accept them. What he can do is prove that his lone year as a starter in 2019 was no fluke with a repeat performance.
Dylan Moses was physically built in a lab to play the linebacker position — almost quite literally. Before he was even 10 years old, Moses was doing three-a-day workouts with his father — who was a former Northwestern State linebacker — focusing on strength, speed, flexibility and conditioning to turn him into the physical freak who earned scholarship offers before he was in eighth grade.
Alabama's Dylan Moses beating Mekhi Becton off the edge at 20 years old…

dude is specialpic.twitter.com/6FyPGlMSVp

— Austin Gayle (@PFF_AustinGayle) June 25, 2020
Now, Moses is right up there with Micah Parsons for the most explosive linebacker in college football. Performance-wise, however, he's been a good ways behind Parsons on the football field. He earned only a 67.7 grade in his lone year as a starter in 2018 before a torn ACL robbed us of a possible breakout campaign in 2019. He didn't have a single pick or pass breakup on 38 targets that season.
Moses excels at tracking down ball carriers, though. He's missed a grand total of five tackles on 107 attempts over his entire college career. That will play well in zone schemes that ask their linebackers to limit yards after the catch in coverage.
2020 Outlook
Health is obviously the biggest box that Moses needs to tick in 2020. After that, it's his playmaking ability. He had fewer splash plays in his lone year as a starter than Chazz Surratt — a former quarterback — did. That's not everything at the position, but it's something you'd like to see in a high draft pick.
Surratt's grade last season (62.9 overall) isn't going to support his ranking here. As with any grade, though, the context has to be utilized. There are three very important reasons he still makes this top five:
1. It was Surratt's very first year playing linebacker after switching from quarterback.
2. A vast majority of his negatives came from missing 27 tackles on 130 attempts.
3. Surratt plays with uncoachable violence that translated most notably as a blitzer, where he had 30 pressures on 101 pass-rushing snaps.
He's yet another player with the ideal physical tools at the position. Now, if those missed tackle problems persist into Year 2 at linebacker, then we have a serious problem. However, I'll trust a guy who can make plays in coverage like the one below to figure it out.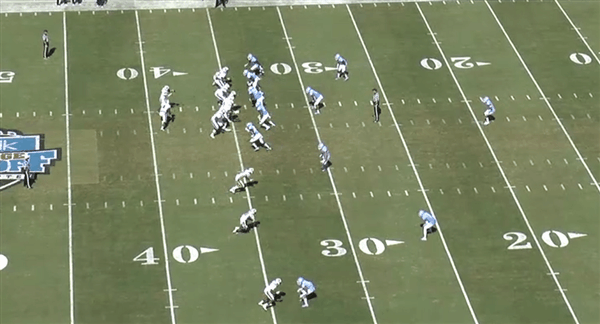 2020 Outlook
The goal for Surratt in 2020 is to … well … look more like a linebacker. Missed reads and missed tackles dominated his tape from 2019. Those aren't death knells by any means, but you'd like to see them cleaned up if you're interested in drafting him highly.
Wisconsin has put out some quality linebackers in recent years, and Sanborn looks like he'll be continuing that trend. In his first season as a starter, he put together an impressive 83.7 coverage grade with three picks and three pass breakups. He plays under control with tremendous balance and can mirror running backs on angle-routes in space.
Sanborn's negatives are quite obvious. He has a severe missed-tackle problem that saw him miss 24% of his attempts last season — that's a ridiculously high rate for any position, let alone what should be a sure-tackling one like linebacker. He's also another linebacker whose athleticism is solid but not what traditionally goes Round 1 at the position.
2020 Outlook
Listed at 6-foot-2, 232 pounds, Sanborn needs to continue to fill out his frame. He doesn't quite have the explosiveness to play that light in the league as some of the other players on this list do. A lot of his missed-tackle issues stem from a lack of play strength, and that needs to change before he declares. With no fall season in the Big Ten, there's almost no chance he declares without being able to prove that's changed on the football field.
JOK, as he's affectionately known by Irish faithful, is one of the most electric linebackers in the country — and not always in a good way. His tape is a rollercoaster of jaw-dropping plays as well as blown assignments. Plays like the one below where No. 6 (right linebacker) looks like he's lost were unfortunately not an uncommon occurrence on his tape.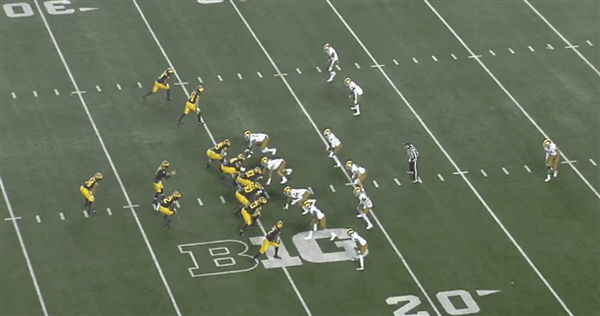 He plays the "rover" position in Notre Dame's defense, which is essentially the overhang linebacker. It's a position that often trends more towards safety-body types, but at an explosive 220 pounds, JOK is modern-linebacker size.
In the Notre Dame defense, JOK is often asked to cover the slot, which should tell you something about what he's capable of athletically. He checked in at 37th on Bruce Feldman's Freaks list this offseason with a 39-inch vertical and a 10-foot-3 broad jump at that size. With that explosiveness, you get reps like the one you see below, when he comes across the formation and looks like more like a cornerback than a linebacker.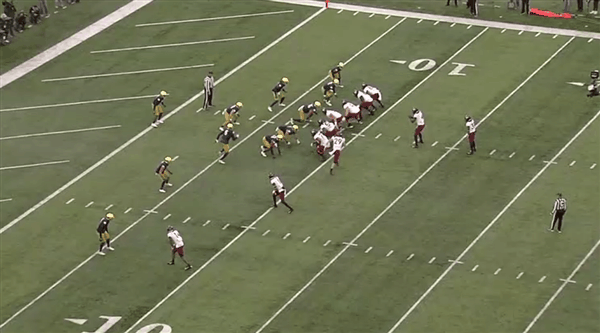 There are very few linebackers at the college level who can make those kinds of plays — JOK has the uncoachable aspects of the position down pat.
2020 Outlook
Obviously, eliminating the disastrous negative plays is priority No. 1 for JOK this season. From there, proving he can engage and disengage from blocks more consistently would be another plus. His role will never translate fully to the NFL, so showing all the skills needed to play a more traditional linebacker role will be key.
Cox has the sort of length that some NFL teams love at the linebacker position. Watching the 6-foot-4, 231-pound Cox, it's difficult not to be reminded of another former FCS linebacker in Darius Leonard. They can both shut down passing windows with ease as well as get off blocks far better than their weight suggests. That length has led to 12 combined picks and pass breakups over the past two seasons.
That's coming against FCS competition, though. This fall, Cox is going to have to come with a little more physicality than he showed at North Dakota State. He's a versatile athlete who played overhang for the Bison, but when asked to stick his nose in it, he was often taken backward. He got ran through a few times, and that's against running backs who likely won't hold a candle to what he'll see in the SEC.
2020 Outlook
Transferring from North Dakota State to LSU is a massive step up in competition level, so you can pretty much throw out his previous tape if he plays this fall. Filling the shoes of last year's first-rounder, Patrick Queen, will also provide an excellent comparator for his performance.
Britt is the type of linebacker whose strengths and weaknesses are very well defined. Ask him to play downhill or in a straight line, and you know exactly what you're going to get. Britt is a thumper who brings the pain as well as any linebacker in the country. He can stop an offensive tackle in their tracks and plug a running back in the hole with ease. Last season, he finished with an elite 89.8 run-defense grade because of that ability.
Unfortunately for Britt, linebacker in the NFL is no longer a straight-line position. He's stiffer than you'd like and lacks the change-of-direction ability to match and mirror. He'll most certainly have to be protected within a scheme in the league. Britt got forced to cover the slot against Florida's Freddie Swain this past season, and you can see for yourself how that ended.
Freddie Swain with ???? speed as the Gators go up 7-0 on Auburn with their second play from scrimmage. pic.twitter.com/bqKVyuH5ds

— Run Pod Option (@RunPodOption) October 5, 2019
All reports suggest that he is everything you want personality-wise at the linebacker position — he is the heart and soul of Auburn's defense. He may not be everything you want at the position, but he'll have a role in the league.
2020 Outlook
With only one year of starting experience under his belt, a second season will only help Britt in the eyes of the league. His deficiencies may not be fixable, but I'd still like to see some quicker reads out of him in coverage to try to make up for those issues.