It's time to finally rank the quarterbacks who make up the "Big 5" in the 2021 NFL Draft. Another quarterback could certainly sneak into the first round, and even one of these five could fall out, but the consensus is that Mac Jones, Trevor Lawrence, Trey Lance, Zach Wilson and Justin Fields have separated themselves from the field.
All five can play, but they do present unique strengths and challenges for whichever teams draft them. In ranking the signal-callers, I looked at what type of player they are and what scheme would suit them the best, at least early in their careers.
It's not a team fit but a scheme fit. For example, the Green Bay Packers and Matt LaFleur won't be picking a quarterback in the first round, but LaFleur's scheme would look good on a certain quarterback. You can also find the rankings of quarterbacks 5-10 here.
Subscribe to
Trevor Lawrence has been the presumed No. 1 pick in the 2021 NFL Draft since he was in high school, and there is really no point in questioning it. He possesses all the traits necessary to succeed at the next level, but what stands out the most is his adherence to timing.
It does sometimes act as a detriment, but overall, he knows exactly when routes are going to break and get open, and he times his dropback footwork perfectly with the route concept. It allows him to evade pressure, if needed, but still stay within the timing constraints of the called play.
Clemson also created an offense that allowed him to showcase his arm talent by throwing wideside out-breaking routes, such as corners and speed outs. When he threw the fieldside corner route against Alabama in the national championship game as a freshman for a completion, it basically locked him in as the top pick in this year's draft.
Scheme Fit: Matt LaFleur's offense
LaFleur created an offense around Aaron Rodgers' strengths — sideline go balls and out-breaking routes. That's very similar to what Trevor Lawrence was asked to do at Clemson. There weren't many targets over the middle of the field, but he can be a generational "9 ball" thrower like Rodgers. Rodgers and Lawrence's 2020 target heatmaps are eerily similar.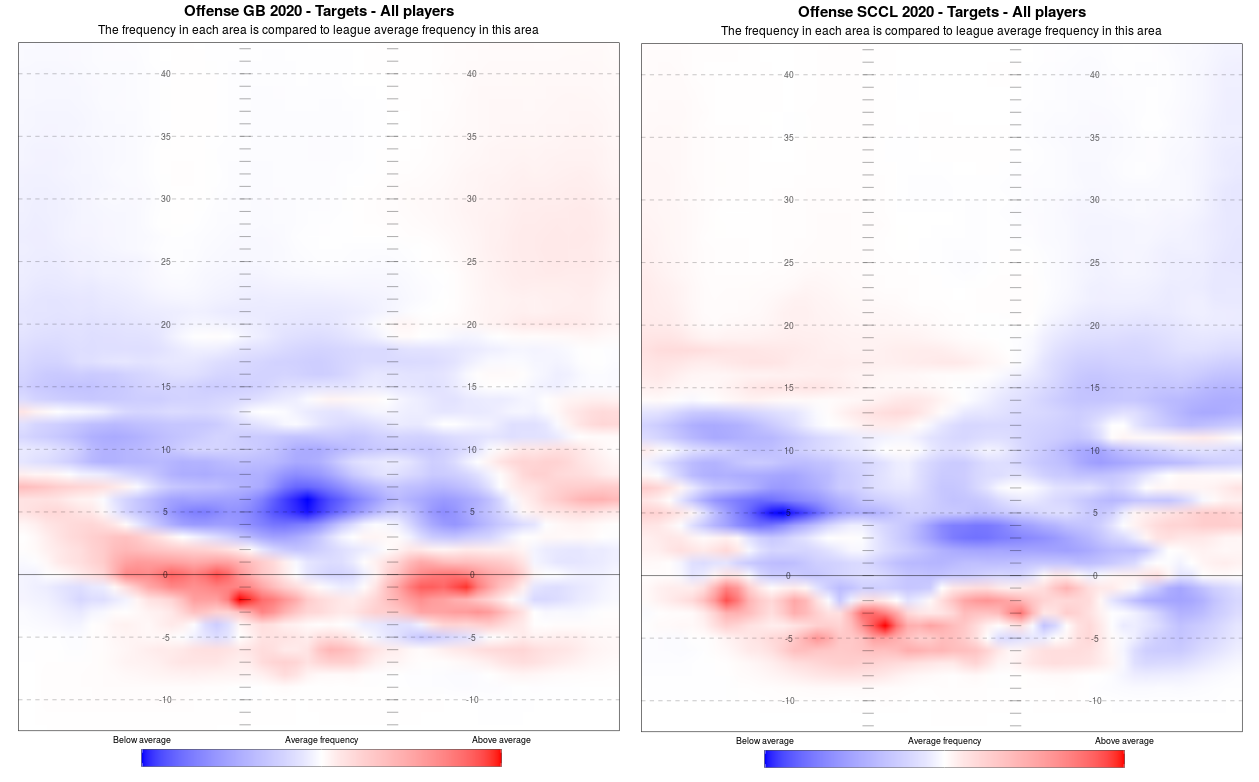 Fields has the unfortunate distinction of being in the same draft class as Trevor Lawrence, but don't forget that Fields was also a five-star recruit and ranked higher than Lawrence by some platforms.
He then went on to have a wonderful two years at Ohio State after transferring from Georgia. He would be the consensus number one pick in most draft classes. He has everything you want from a quarterback: the ability to go through reads on any concept, elite speed and devastating accuracy.
Somehow he's fallen on mock draft boards and rankings, and if he does fall in the draft, he will be a tremendously valuable pickup to whoever drafts him. Fields' "problem" might be that he tries too hard to play the quarterback position and might make life a bit harder on himself by trying to read every concept out all the time. That's a fake problem, anyway.
He gets dinged because he takes time to throw the ball, but that can be attributed to Ohio State's offensive scheme, which allows its receivers to make decisions on routes that most teams will lock.
Scheme Fit: Bill O'Brien's offense from 2017-2019
Bill O'Brien didn't give Deshaun Watson many easy, schemed-up throws, instead making him drop back time and time again and throw all sorts of different concepts. That's what Fields can do from the get-go, as well. Stick routes, in-breaking routes, three-step drops, five-step drops, you name it.
Sure, we'd like to see a young quarterback be given play-action passes and screens, but if there's one signal-caller in this year's draft who can handle a less quarterback-friendly offense, it's Justin Fields.
3. Trey Lance, North Dakota State
It's not easy to wade through the North Dakota State system to find pro-level quarterback concepts. They are going to run the ball, bully the other team and then call play-action shots to get people wide open down the field.
However, when Lance was asked to look like an NFL quarterback on certain concepts, he performed at a high level. He was always willing to go through his reads and make the right decision. When the Bison did call dropback passes, they gave Lance full-field reads, and he was able, time and time again, to move through the concept and find completions.
He is also a very savvy quick-game thrower. The accuracy is a concern; otherwise, he'd be competing with Lawrence and Fields for the top spot in the rankings. But what you lose in accuracy you gain with elite running ability.
Scheme Fit: Kevin Stefanski's offense
Baker Mayfield was the most protected quarterback in the NFL last season, with Stefanski's combined use of the running game, play action and screen passes at the forefront of the league. That's the type of environment Lance needs to be in early in his career. The Browns had the fourth-highest play-action rate on first down and the second-highest run rate on first down. North Dakota State's 2019 offense would have ranked 22nd in overall play-action rate among the 130 FBS teams.
Zach Wilson shot up the draft rankings after an incredible 2020 season that saw him finish as PFF's highest-graded passer. He has all the traits you'd want from a quarterback, but his rise to superstardom is fishy.
When BYU had to play tougher opponents in non-pandemic years, Wilson struggled. Mind you, the whole offense struggled, but Wilson was not the tide that lifted all boats. He finished with grades of 80.5 and 76.2 in 2018 and 2019, respectively. In 2020, with loads of time in the pocket and wide-open receivers, he finally looked like a competent quarterback.
We can make all the comparisons of Wilson to the sudden stardom and rise of Joe Burrow last season, but Burrow was pressured just under 10 percentage points more than Wilson in their final seasons. LSU's 2019 team pass-blocking grade was 68.7, while BYU's 2020 team pass-blocking grade was 80.2. Wilson lived a relatively easy life in 2020.
Scheme Fit: Kyle Shanahan's offense
With this fit, you are looking for someone who can scheme up open throws down the field for his quarterback and then use Wilson's lightning-quick release for the underneath option routes Shanahan likes to run. In Wilson's breakout 2020 season, BYU used outside-zone play action 92 times — the most in the country. Shanahan used it the sixth-most times in the NFL last season. It's a good match.
Mac Jones might have the rudest awakening to the NFL because of his lack of athleticism. He is stunningly accurate, but that might not be enough to make up for all the different looks he'll get from NFL defenses that will inevitably confuse him and force him to make plays with his legs.
The other quarterbacks in front of him all have the ability to create outside of structure better than Jones. He might have to take his lumps early before really blossoming into a true top-end NFL talent. What Jones does bring is mistake-free football.
Sure, Alabama had the offensive skill talent and offensive line around him to create a good environment on almost every throw, but Jones rarely made a mistake reading the field. If you are looking for an offense with perfect execution on every snap, it starts and ends with the 2020 Alabama Crimson Tide led by Jones.
Scheme Fit: Bruce Arians' offense
You are looking for a team that runs a good number of deep over concepts so that there is carryover for Jones going into the professional ranks. Arians' offense has always been a downhill running and play-action deep-shot offense.
When Jones used play action at Alabama, it wasn't to roll out and find flat routes; it was to stay in the pocket and hunt for big plays. Arians is similar in that regard. He utilizes "duo" runs that smash the defense in the teeth and then takes big shots on play action.