As it stands right now, the defensive interior class looks like one of the weakest positional groups in the 2021 NFL Draft. Only two players earned first-round grades in PFF's soon-to-be-released 2021 NFL Draft Guide, and only a few more look like viable Day 2 prospects — at this point, we're just hoping that we haven't seen the last of too many of these guys at the college level.
[Editors Note: PFF's customizable NFL Mock Draft Simulator gives you the opportunity to be the GM of any team and is now updated with a select group of 2021 prospects] 
1. Marvin Wilson, Florida State
From a grading perspective, no interior defender in this class can hold a candle to what Wilson has done in his career up to this point. He earned a 90.0 grade on 553 snaps as a true sophomore then earned a 90.7 grade on 509 snaps before a hand injury ended his 2019 season. The pop in his hands is unmatched in this class, and he can heave 300-pounders with a swat.
My favorite part of his game is his motor. Wilson is never done as a pass-rusher and keeps fighting to get to the quarterback. That's a trait I want in a guy who has shown he can play over 50 snaps a game, as he did in 2019.
Florida State DI Marvin Wilson, @PFF's top interior pass-rusher through three weeks, put on an absolute show against Virginia on Saturday.

Dude is special. pic.twitter.com/PolwpzymG6

— Austin Gayle (@PFF_AustinGayle) September 15, 2019
There are far more "toolsy" prospects in the 2021 class, and that's ultimately Wilson's biggest shortcoming as a prospect. He wins with upper-body strength and technique rather than with explosiveness. And there are very few consistent pass-rushers at the NFL level who can get by in such a manner, with the strength difference between grown men rarely getting to the level it is in college. What Wilson can do to make up for that is similar to what made Derrick Brown a top-10 pick and Vita Vea a top-15 pick — he can play the nose. Every team in the NFL wants a player who can push the pocket lined up over the center while holding the point of attack against double-teams.
2020 Outlook
Don't be surprised if we see more of Wilson at nose tackle than the 35 snaps he played there last season — he's got the right build to do it. That's his route to pushing his draft stock higher.
2. Christian Barmore, Alabama
Barmore has it — that unmistakable combination of size, strength, agility and flexibility that pretty much every elite defensive tackle in the NFL possesses. That's why he is where he is on this list despite having played only 269 career snaps. On a snap count that low, it's difficult to make too many sweeping conclusions about his play other than that he's damn good.
He earned an 83.0 run-defense grade and an 88.1 pass-rushing grade on his snaps last season. If anybody who's yet to have their season canceled is praying for football in 2020, it's Barmore. The man possesses top-10 traits; that's likely where he'll end up.
2020 Outlook
If Barmore's four games as a starter last season were any indication, we are in for a treat in 2020. He struggled to a 50.6 overall grade against Michigan's elite interior offensive line — most of whom got drafted last spring — so improving against better competition this year could go a long way. Even in that game, though, he wouldn't be denied entirely.
Dear lord is that Christian Barmore in there?!

Against LG Ben Bredeson. Got under his pads after going for the rip move and just walked him back into QB!

Barmore doesn't need to 'Get on a 1/2 Man' to win. He can walk the full man completely backwards… Powerful/explosive dude pic.twitter.com/EFESqDes6F

— Ben Fennell (@BenFennell_NFL) August 1, 2020
Circle the October 24th matchup against Tennessee's Trey Smith on your calendars now.
3. Levi Onwuzurike, Washington
The players whose physical tools still far outweigh their on-field performance are the ones most impacted by the cancellation of football this fall, and Onwuzurike certainly falls into that category. His high-end reps are arguably as impressive as any in the country.
Levi Onwuzurike will toss bodies around…. ???? pic.twitter.com/PwDIOUqcoz

— Ben Fennell (@BenFennell_NFL) August 19, 2019
He is a 6-foot-3, 288-pound ball of explosives … when everything goes right. He still struggles to consistently shoot his hands and hips in unison, often popping up at the snap then engaging blocks. The senior still struggles with a pass-rushing plan, too, and he earned a 78.6 pass-rushing grade with 31 pressures in his first season as a starter last year. If he can simply harness those reps above more regularly, there's no telling what kind of impact Onwuzurike could make.
2020 Outlook
He's still firmly a Day 2 pick without having to take another snap on a college football field. If he does declare, the Senior Bowl one-on-ones will be his Super Bowl. Onwuzurike is more of a classic fit in a four-down front as a 3-technique instead of a three-down front like the one Washington ran. If he can do some serious work on the linemen in Mobile, he could sneak into the back end of Round 1.
4. Cory Durden, Florida State
Would you believe me if I told you that Durden, of all people, had the most pressures (45) of any returning defensive tackle in the country in 2019? Truthfully, I hadn't even heard of him until I started doing 2021 Draft prep in May. It's impossible not to notice him when watching Marvin Wilson, though that's for both good and bad reasons.
The 6-foot-5, 315-pound Durden plays like a bull in a china shop. Limbs flailing and liable to end up 3 yards in the backfield or be taken 3 yards off the ball on any given snap. What he lacks in technique Durden makes up for in effort and ridiculous quicks for his size. How many 315-pounders are capable of nearly Clowney-ing a running back like Durden did last year?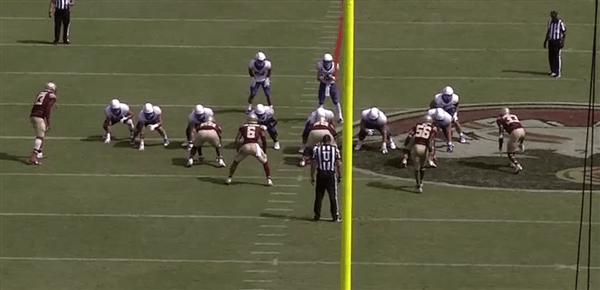 That play is a perfect microcosm of Durden's out-of-control nature. Last season, he missed 15 tackles on 47 attempts. All in all, Durden was downgraded 56 times in the run game — for comparison, LSU's Tyler Shelvin was only downgraded 19 times. Durden is far from a polished product, but he offers the kind of ability to make plays that few in this class possess.
2020 Outlook
There's a lot to clean up. More consistent pad level, better balance … the list is long. All I really care about is progress at this point. It won't all go away overnight, but showing that he can play more within structure will be huge for Durden's draft stock.
5. Alim McNeill, N.C. State
Nose tackles aren't supposed to move the way McNeill does. At 326 pounds, McNeil is rumored to run a sub-5.0-second 40-yard dash. That's reaching Dontari Poe levels of scooting for a big fella. If you watch even a handful of McNeill's tape, you'll believe the rumors. Centers simply could not match up with him athletically enough to reach-block McNeill, and he was damn near unblockable when they slanted him.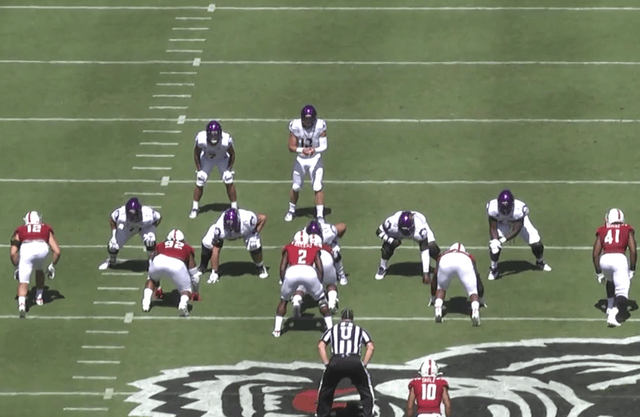 He didn't win a ton as a pass-rusher, with 18 pressures on 252 rushes last season, but when he did, it was in the blink of an eye. Seven of those pressures resulted in sacks, and his 80.8 pass-rushing grade is a reflection of just how quickly he was winning. Only a true junior this upcoming year, McNeill needs to play lower more consistently if he wants teams to look at him as a nose tackle.
2020 Outlook
McNeil has to up his game against better competition this year, or else he'll be returning to N.C. State in 2021. The only games he had that earned grades of 75.0 or higher as a pass-rusher came against Eastern Carolina, Western Carolina and West Virginia. Doing that against some real interior lines is a must.
6. Tyler Shelvin, LSU
At 6-foot-3, 346 pounds, Shelvin is one of the easiest evaluations in the entire draft class. He will hold the point of attack at the nose, he will eat double-teams and his ability to play as low as he did at his size and age is absurd. All those things, though, revolve solely around the run game.
How you value him depends on how you value run defense at nose tackle. He is about as sure a thing in that regard as you'll get. The problem is he may never offer you any pass rush whatsoever — he only had six pressures on 316 pass-rushing snaps last season. That's not to say that he doesn't have some juice for a man his size…
Tyler Shelvin is a bull Part 2 pic.twitter.com/L5CymEDR5s

— Are You Serious #AYS (@AYSSPORTS) December 8, 2019
…but we rarely saw that translate in the passing game.
2020 Outlook
I'd like to at least see Shelvin get the chance to rush the passer this season; it almost looked like he was coached to save his energy at times on passing downs last year. At his weight, though, any pocket-pushing seems like a pipe dream.
7. Malik Herring, Georgia
Herring fits the bill of "solid yet unspectacular" to a T. He uses his hands as well as any defensive interior prospect in this class and dictates the course of pretty much every interaction. It's the reason why he earned an elite 90.5 run-defense grade last season with equally good grades in run defense and in the pass rush.
The issues with Herring are threefold. One, he wasn't even really starting until down the stretch last year for Georgia. Two, he's not really an interior player, having taken 153 snaps between the tackles last season. Finally, Herring isn't quite the athlete that most in the NFL are looking for. He toes the fine line between versatility and tweener, though he's trending more towards the latter at the moment.
2020 Outlook
I'm not sure where Herring's stock goes from here. He's already so technically sound in both the run game and as a pass-rusher that it's going to be difficult to improve too much. Playing a full-time role just as well all season is all we need to see. In my opinion, bulking up and proving he can get the job done on the interior is his best path towards a higher draft slot in 2021.
8. Darius Stills, West Virginia
What some call undersized, I call a tried and true body type at defensive tackle in the NFL over the past decade. Stills stands a portly 6-foot-1 (on a good day), 285 pounds, and you won't see him face many offensive linemen who can get lower than him.
While he doesn't have many pass-rushing moves at his disposal yet, Stills came on very strong over the second half of 2019. He racked up 18 pressures over his final five games while averaging over 60 snaps a game. The crazy thing is he did a lot of that work at the nose tackle position, where he spent 220 of his 621 snaps in 2019.
2020 Outlook
West Virginia isn't particularly known for developing defensive line talent, and it shows with Stills' unrefined skill set. If we can see that player we saw down the stretch in 2019 for a full season, though, that should push Stills into the Day 2 conversation.
9. Jordan Davis, Georgia
This class is loaded with some young, jumbo nose tackles, and Davis could end up being the best of the bunch. He's a hulking 6-foot-6, 330 pounds, but rarely does he move like that. When he plays low enough to win leverage battles, the line of scrimmage moves way backward. He's got the kind of big-boy power that results in some jaw-dropping reps — such as when he lifted Florida's left guard off the ground entirely.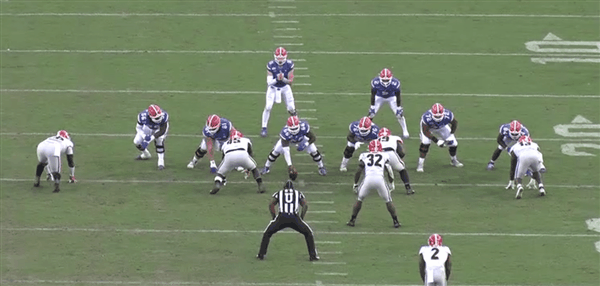 The problem wasn't ability, but how often that ability flashed. It's tough for a 6-foot-6 man to fire off low every snap, and even in a limited role, Davis was horribly inconsistent. Wide runs especially gave him fits, as he was much more comfortable heading downhill than moving laterally.
2020 Outlook
Davis is yet another guy we'd like to see more of — 265 snaps all last season is minuscule, especially considering we never saw a full-time role and that he had a single-game high of 27 snaps. The fact that he ran so hot and cold as not even a starter is terrifying. That has to change in 2020.
10. Jaylen Twyman, Pittsburgh
Twyman has officially opted out of the 2020 season and will be entering the 2021 NFL Draft. That's not the worst thing for him from a draft perspective, as he's a very skilled defender but needs to remake his body. Listed at 6-foot-2, 290 pounds, Twyman doesn't have the get-off or the anchor to hold up in the NFL at such a light weight. Of course, he'll be compared to former Pitt defensive tackle Aaron Donald at his weight, and when you watch Twyman play, it's obvious that he watches a good deal of Donald tape.
Jaylen Twyman with the cross chop-club.

He rushes ½ a man, cross chops the OL's low-setting hands, reduces his pad surface & finishes with the club.@JaylenTwyman wears @AaronDonald97's old number at Pitt. With 10 sacks on the season, he's playing like him too! #PassRush #H2P pic.twitter.com/bykYeaxDvu

— DLineVids (@dlinevids1) November 25, 2019
That cross-chop is one of Donald's signature moves and it is rare to see it employed at the college level. That's where any Donald comp ends, however. Twyman doesn't play with near the juice or near the power. Too often he gets stuck on blocks while trying to shed, and he can quickly get moved off the line of scrimmage. His 11 sacks weren't nearly indicative of his consistency as a pass-rusher — he generated only 36 pressures on 444 pass-rushing snaps last season.
2020 Outlook
There's a reason Twyman came back to school even after a monster 11-sack season, and it's likely because his report from the draft evaluation committee likely didn't come back too pretty. He's a fringe Day 2 guy at best at the moment.