Managing an NFL roster is akin to playing Whac-A-Mole: As soon as you solve one problem, another immediately pops up. It's impossible to be comfortable with all 53 spots on a roster; frankly, it's impossible to be comfortable with all 22-25 "starting" spots on a roster (factoring in that nickel cornerbacks, inline tight ends, etc. are not always considered starters). 
The NFL Draft presents the best avenue to accumulate talent at multiple spots and address any deficiencies a club may have heading into the season, but should teams view the draft as the best means of fixing issues in the current year?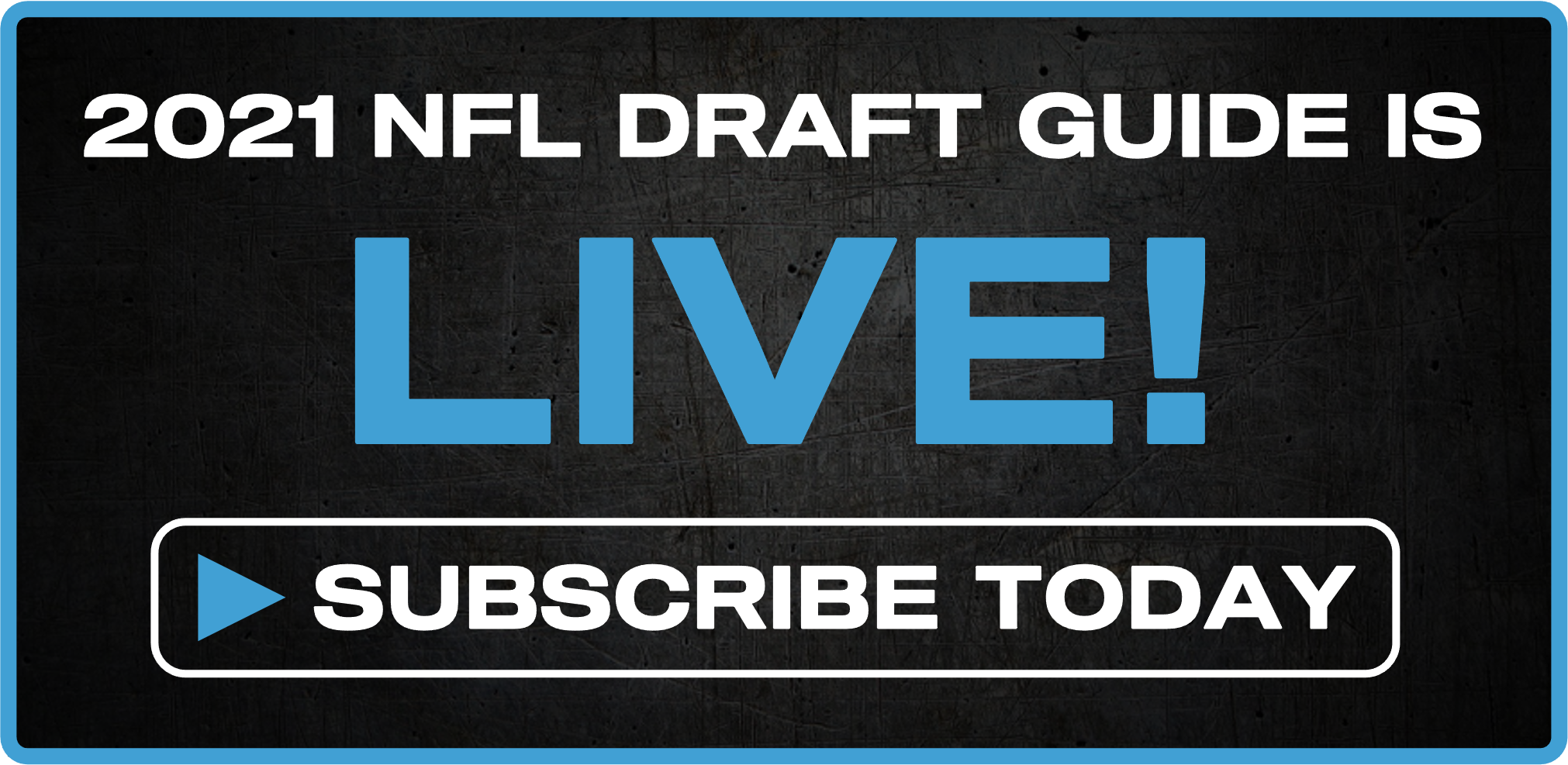 Starting with the 2011 draft class, we looked at the snaps played in the rookie season for each player by round and position. In the first two rounds, teams will generally find immediate contributors — every position on average played at least 300 snaps in their rookie seasons. (It should also be noted that some positions play a higher volume of snaps than others, like offensive line and secondary vs. defensive line and tight end.) 
Average rookie season snaps, 2011-2020
| | | | | | | | | | | | | |
| --- | --- | --- | --- | --- | --- | --- | --- | --- | --- | --- | --- | --- |
| Round | C | CB | DI | ED | G | HB | LB | QB | S | T | TE | WR |
| 1 | 940 | 661 | 545 | 539 | 840 | 532 | 695 | 710 | 872 | 687 | 569 | 560 |
| 2 | 803 | 473 | 353 | 368 | 783 | 313 | 500 | 468 | 618 | 666 | 432 | 571 |
| 3 | 673 | 299 | 327 | 267 | 505 | 292 | 320 | 256 | 356 | 211 | 294 | 396 |
| 4 | 260 | 217 | 203 | 231 | 226 | 206 | 261 | 105 | 269 | 257 | 230 | 207 |
| 5 | 177 | 176 | 188 | 171 | 166 | 185 | 164 | 50 | 150 | 239 | 188 | 255 |
| 6 | 251 | 128 | 140 | 78 | 98 | 121 | 112 | 95 | 93 | 89 | 161 | 81 |
| 7 | 65 | 114 | 62 | 43 | 94 | 42 | 38 | 6 | 121 | 116 | 38 | 68 |
Of course, some teams will give more snaps to players they've invested more resources in, whether they deserve them or not. Nevertheless, if a player drafted later is clearly a superior option in training camp compared to the other players at a particular position group, odds are he'll find the field on Sundays. For reference, teams tend to play around 1,000-1,100 total snaps on each side of the ball in a given season. 
Outside the first two rounds, only two positions on average contribute 400-plus snaps in their rookie seasons: centers and guards. Interior offensive line are not considered premium positions and tend to be drafted later as a result, so a third-round center may be the third center off the board, whereas a wide receiver could be the 10th-15th.
Teams aren't likely to find an immediate contributor at any spot after the second round, outside of shoring up the middle of the offensive line.
Average of five highest snap totals per position in 2020
| | | | | | | | | | | | | |
| --- | --- | --- | --- | --- | --- | --- | --- | --- | --- | --- | --- | --- |
| Pos. | C | CB | DI | ED | G | HB | LB | QB | S | T | TE | WR |
| Snaps | 1,119 | 1,068 | 857 | 966 | 1,131 | 716 | 1,105 | 1,089 | 1,103 | 1,116 | 957 | 999 |
Finally, there are fewer snaps to go around at a spot like quarterback where only one player is on the field for each snap. The figures above represent the average of the five-highest snap totals at each position in 2020. 
All of this is to say: When conducting mock drafts heading into the NFL Draft on April 29, keep in mind that addressing an immediate need on a roster with a pick after the second round may not make all that much sense. 
We looked ahead to the 2022 offseason to get an idea of the pending free agents at each position for each team, then broke them down by snaps played in 2020 and wins above replacement generated in 2020. Some of these players will be extended between now and the 2022 season, but there is of course no guarantee that will happen.
From this analysis, 14 team teams have needs in 2022 that jump out across the following positions: WR, TE, EDGE, DI, LB and CB. These are positions that fans of each club are not addressing when using the PFF Mock Draft Simulator as often as they perhaps should. 
2022 Team Needs: TE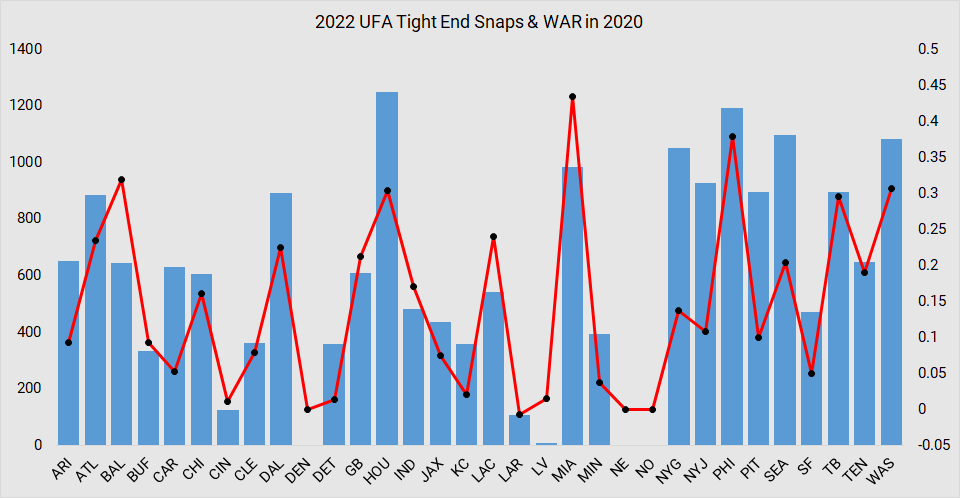 Florida TE Kyle Pitts has been mocked to the Atlanta Falcons more than any other player, but if Atlanta elects to go with a quarterback or perhaps trade down from No. 4, tight end will remain a need going forward. The Falcons traded a second-round pick to the Baltimore Ravens for 2018 first-round TE Hayden Hurst last offseason and more recently sent a 2022 seventh-round pick to the Buffalo Bills for blocking tight end Lee Smith, but more depth at the position is a must. 
Marcedes Lewis is still one of the league's best blocking tight ends heading into his age-37 season, and Robert Tonyan was productive enough to earn a second-round restricted free agent tender from Green Bay, which will pay him $3.384 million for 2021. But neither player offers much long-term upside, and 2019 third-round TE Jace Sternberger has had a slow start to his career thus far (though tight ends do tend to come along slowly). While much has been made the last few offseasons about the lack of wide receivers for the Packers, and rightfully so, a more dynamic pass-catching tight end could also serve as a valuable addition for Aaron Rodgers. 
Houston had the most snaps and fifth-most WAR generated in 2020 by tight ends that will be free agents after the 2021 season, headlined by 2018 third-rounder Jordan Akins. Akins very well could be a priority for new general manager Nick Caserio to extend once he's finished signing a record number of free agents. (The Texans are the only team to eclipse 30 free agent signings this offseason; Caserio's former team, the New England Patriots, are second at 22 — no other team has reached 20.) Even if that's the case, 2019 third-round TE Kahale Warring has played just 52 total snaps in his first two seasons, and the depth chart is pretty thin after that.
The Chargers weren't impressed enough by TE Hunter Henry's performance on the franchise tag in 2020 to extend a multi-year offer, or perhaps they were just outbid by a huge deal from New England. Either way, 34-year-old Jared Cook is the new TE1 in Los Angeles. Donald Parham, a 2019 UDFA, is an intriguing young player at a towering 6-foot-8, but the Chargers need to further address the tight end position. 
Seattle made a nice signing in the second wave of free agency, poaching receiving TE Gerald Everett away from the division rival L.A. Rams on a one-year, $6 million deal. However, that guarantees nothing beyond 2021. The team's 2018 fourth-round TE, Will Dissly, will once again serve as the inline tight end, now a full year removed from a torn ACL, and he certainly flashed in 2019 before the injury with a 79.6 grade through Week 6. But he will also be set to hit free agency. 
Seattle is thin at the wide receiver position, but that is very apparent. Their tight end scarcity is discussed much less, though perhaps that has something to do with the fact that Seattle only currently has three draft picks. A late-round flier on a tight end prospect could be a smart way to look to the future, even with pressing needs in the near-term. 
While Bruce Arians' offense doesn't utilize the tight end position a ton, they're still an important component of any offense. Former first-rounder O.J. Howard is set to play in 2021 on the fifth-year option after returning from an unfortunate Achilles injury, and the great Rob Gronkowski plays on a year-to-year arrangement that could end at any moment considering he already retired after the 2018 season. It's possible the Super Bowl champs will be looking to replace Howard, Gronkowski and Cameron Brate after they try to repeat in 2021, so it may be wise to get a head start and draft a guy who can develop in a talented tight end room.
Players to target: Miami TE Brevin Jordan, Notre Dame TE Tommy Tremble, Boston College TE Hunter Long, Virginia TE Tony Poljan, Boise State TE John Bates, SMU TE Kylen Granson, Georgia TE Tre' McKitty
2022 Team Needs: WR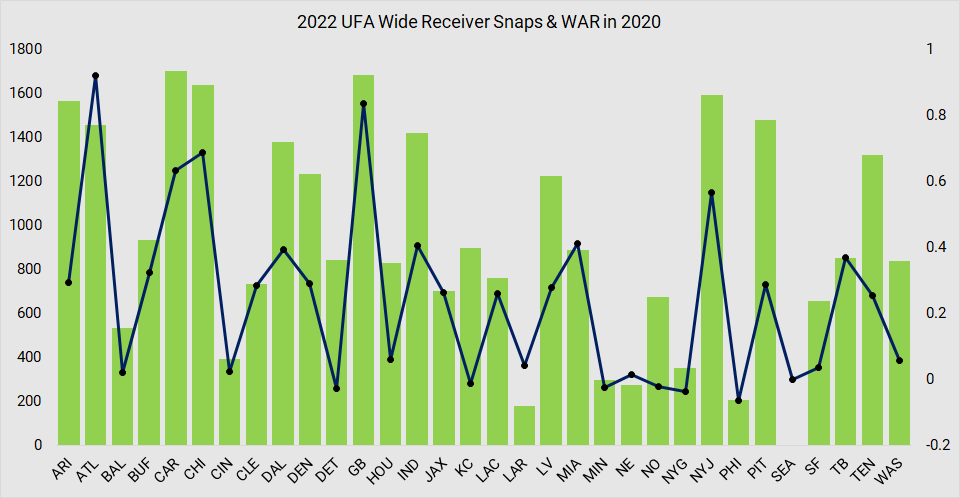 Cleveland was successful deploying this strategy last season with the sixth-round selection of Donovan Peoples-Jones, who filled in admirably once Odell Beckham Jr. was lost for the season with injury. The rookie finished the season with a 71.8 grade. Rashard Higgins was the direct replacement on the outside, and he came up big in several moments during the Browns' march to their first playoff appearance since 2002, but he will hit free agency again in 2022. 
With Jarvis Landry set to become a free agent a year after that, and Beckham the following year, Cleveland would be wise to find Baker Mayfield's weapons of the future on rookie deals while he's in line for a big extension in the near future.
The Chargers' offensive line was so bad in 2020 and such a glaring need for 2021 that folks may have lost sight of the rest of the roster, particularly on offense. Beyond star Keenan Allen, the Chargers have 2017 first-rounder Mike Williams set to play on the fifth-year option in 2021, followed by Jalen Guyton (undrafted; 52.2 grade in 2020), Tyron Johnson (undrafted; played just 264 snaps in 2020 but did produce a 78.4 grade) and K.J. Hill (2020 seventh-rounder).  
Players to target: Tennessee WR Josh Palmer, Oklahoma State WR Tylan Wallace, North Texas WR Jaelon Darden, USC WR Amon-Ra St. Brown, BYU WR Dax Milne, Auburn WR Seth Williams, Louisville WR Tutu Atwell, Clemson WR Cornell Powell, Iowa WR Ihmir Smith-Marsette, Stanford WR Simi Fehoko, UAB WR Austin Watkins, Michigan WR Nico Collins, Clemson WR Amari Rodgers
2022 Team Needs: EDGE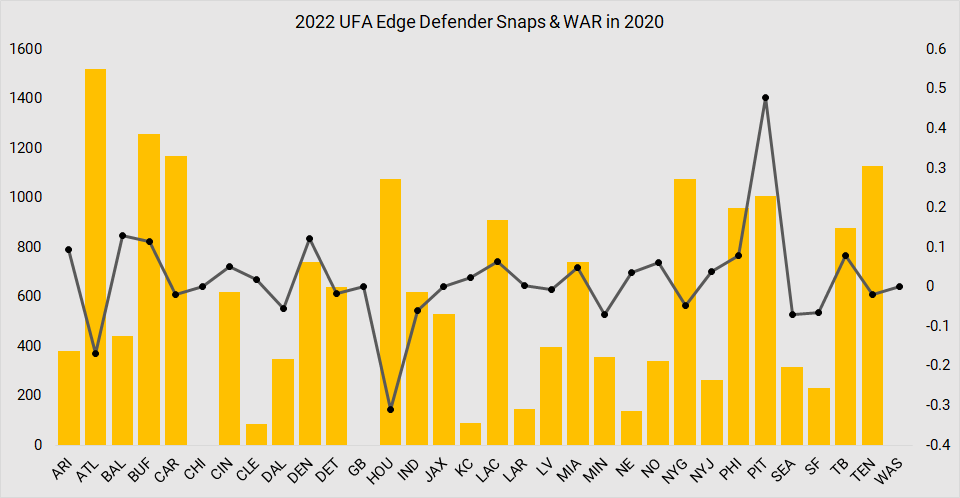 The Saints lost Trey Hendrickson to free agency on a four-year, $60 million contract with the Bengals, but they were wise to not enter the market at that price. Nevertheless, 2018 first-round TE Marcus Davenport, whom they traded an additional first-round pick to go up and get, is set to hit free agency after 2021 unless New Orleans elects to exercise his fifth-year option. With injuries limiting Davenport's availability in each of his three seasons to start his career, including a 2020 campaign in which he played just 36% of defensive snaps, that may be a very tough decision. 
Philadelphia was able to rework Brandon Graham's contract this offseason to keep him around after a career year in 2020 that earned an 81.5 overall grade and 80.8 pass-rush grade. However, he'll be 33 this upcoming season, and 2017 first-rounder Derek Barnett is set to play on the fifth-year option before hitting free agency, barring an extension. Former fourth-rounder Josh Sweat is also a pending free agent. 
While the Eagles navigated their way out of a cap catastrophe, they still have a lot of money tied up in older players and may not be able to keep either young edge rusher around coming off a strong 2021 if they look for sizable new deals. 
Players to target: Tulane ED Cameron Sample, Tulane ED Patrick Johnson, Vanderbilt ED Dayo Odeyingbo, Florida State ED Joshua Kaindoh, Duke ED Chris Rumph II, Buffalo ED Malcolm Koonce, Miami ED Quincy Roche, Iowa ED Chauncey Golston, Florida State ED Janarius Robinson
2022 Team Needs: DI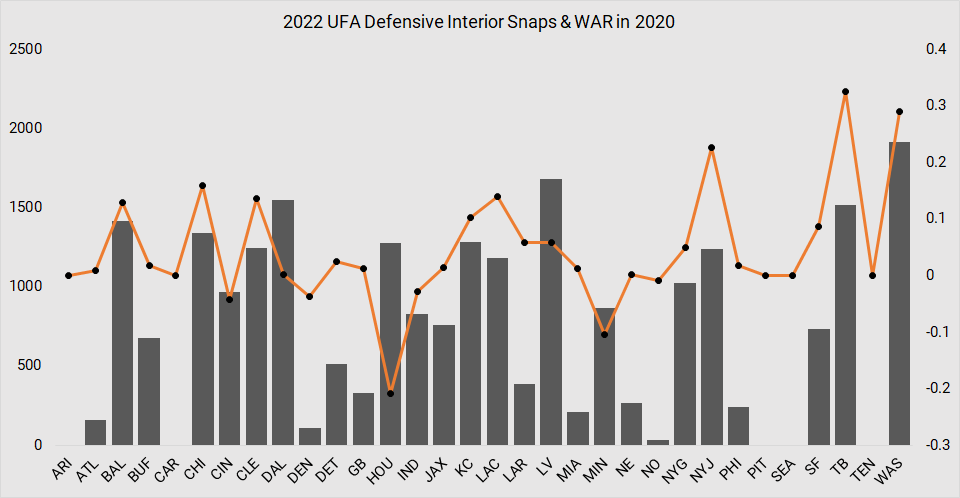 The Ravens drafted Justin Madubuike in the third round in 2020, and he had a strong rookie campaign with a 72.1 overall grade, albeit on just 259 snaps. He figures to take another step in 2021, but Baltimore still needs to find eventual replacements for Calais Campbell and Brandon Williams, who are both headed to free agency after 2021 at 35 and 32 years old, respectively.
DI Akiem Hicks was reportedly told to seek out a trade around the same time Chicago bestowed that same right to CB Kyle Fuller, but it appears the Bears had a change of heart and Hicks will stick around for 2021. Nevertheless, he's entering the final year of his contract and will turn 32 this season. 
Players to target: Florida State DI Marvin Wilson, Louisiana Tech DI Milton Williams, LSU DI Tyler Shelvin, Ohio State DI Tommy Togiai, Iowa DI Daviyon Nixon, USC DI Jay Tufele, Texas A&M DI Bobby Brown III, USC DI Marlon Tuipulotu, BYU DI Khyiris Tonga, Arkansas DI Jonathan Marshall
2022 Team Needs: CB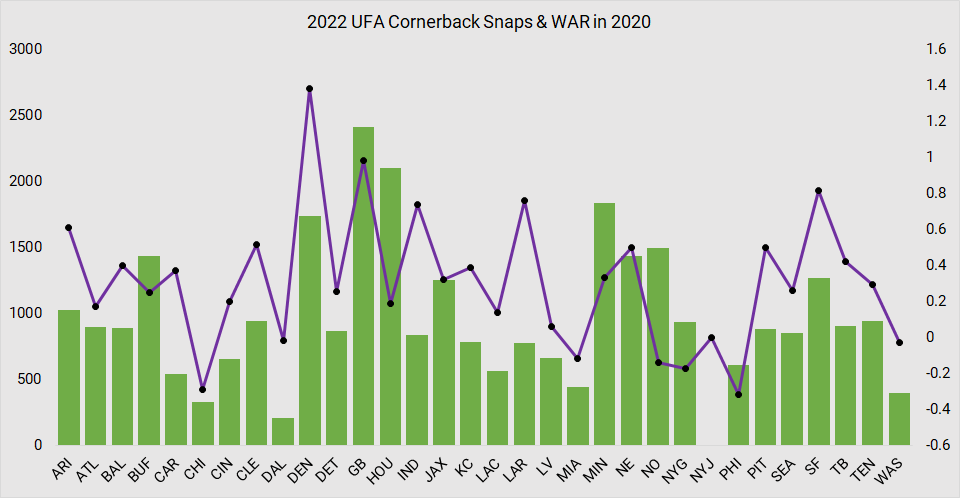 Denver cut ties with A.J. Bouye to begin their offseason and quickly replaced him with Ronald Darby in the first wave of free agency. The Chicago Bears' late release of CB Kyle Fuller provided another solid veteran at the position. However, Fuller signed a one-year deal and Darby has been prone to injury issues in the past. 
Players to target: Oregon CB Thomas Graham Jr., Minnesota CB Benjamin St-Juste, Wisconsin CB Rachad Wildgoose, Oklahoma CB Tre Brown, Michigan CB Ambry Thomas, Oklahoma State CB Rodarius Williams, Ohio State DB Shaun Wade, Syracuse CB Trill Williams, Central Arkansas CB Robert Rochell, Michigan State CB Shakur Brown, LSU CB Kary Vincent Jr., USC CB Olaijah Griffin 
2022 Team Needs: LB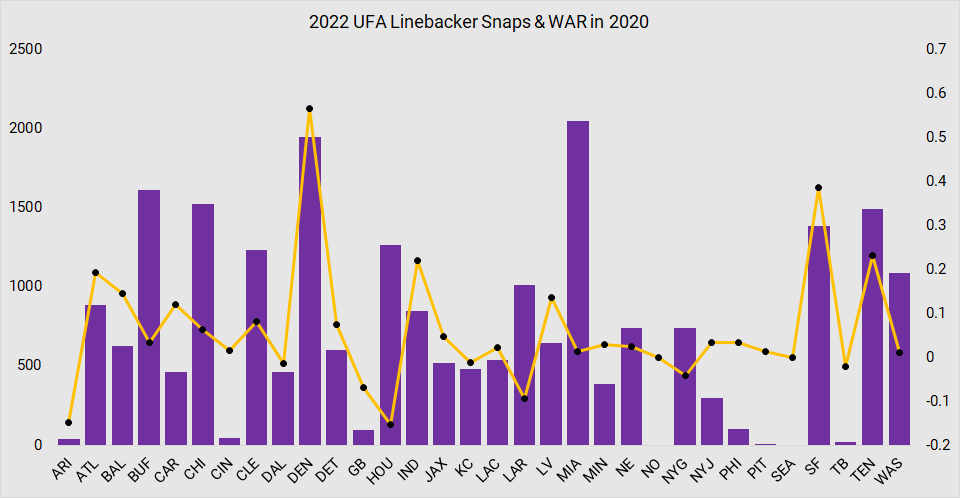 The Titans were able to keep Jayon Brown in the fold for 2021 after he missed the majority of the 2020 season with an elbow injury, but he will certainly be looking to cash in coming off his one-year prove-it deal in Tennessee. Former first-round pick Rashaan Evans is entering the final year of his rookie deal, and there are rumblings that Tennessee will elect to decline his fifth-year option.
Miami just made a trade with the Houston Texans, swapping ED Shaq Lawson with LB Benardrick McKinney, but they had more snaps played in 2020 by pending UFAs in 2022 than any other team.
Players to target: Ohio State LB Justin Hilliard, Georgia LB Monty Rice, Ohio State LB Pete Werner, Alabama LB Dylan Moses, Michigan LB Cameron McGrone, Ohio State LB Baron Browning