Day 1 of the 2021 NFL Draft in Cleveland is in the books, and like every year, we witnessed some trades. On draft day itself, we saw only three trades. However, a few trades also took place prior to the draft, which implicated the first-round swaps.
In this article, we will analyze each trade for each team, starting with a purely analytical perspective and then discussing other factors that influence my opinion on it. When running the numbers, we use our draft outcome model based on the estimated distribution of the outcome of each draft pick in terms of PFF WAR. You can find the average WAR value of each draft pick here.
More of PFF's 2021 NFL Draft tools here: 
2021 NFL Draft Big Board | 2021 NFL Draft Guide | 2021 NFL Draft Stats Export | NFL Mock Drafts | NFL Mock Draft Simulator
The Jets moved up nine spots and gave up two third-rounders in the process, one of them being the 66th overall pick. They got back pick No. 143, which mitigated the losses a bit, as they lose this trade 67% of the time without getting that selection. Last year, we discussed that asking for at least a Day 3 pick is always a good strategy when dealing Day 2 picks to move up.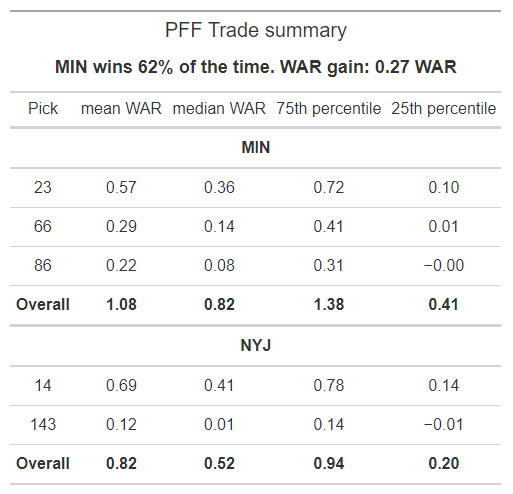 Using the Jimmy Johnson trade value chart, this trade is almost even, showing again that most teams still use the outdated guide, which doesn't come close to reflecting the true value of a pick.
From the Vikings' point of view, this trade was a no-brainer, as they received two valuable Day 2 picks to move down only 9 spots in the first round. It turns out that the 70th percentile outcome of what they gave up is worth as much as the median outcome of what they received. What makes the trade even better is that they still were able to pick Virginia Tech tackle Christian Darrisaw, a prospect who was thought to be on their radar at Pick 14.
Vikings grade: A
From the Jets' point of view, it's hard to find any justification for this pick. They surrendered much more trade value than they received, but they also used the pick for what they announced as an offensive guard. Here is the thing about spending a lot of resources to grab an offensive guard in the first round of the NFL draft: Teams are generally not good at finding the best guards in a draft class, and guards age very well and are fairly cheap on the market. That is, they can be acquired in free agency and will still play well for a relatively long time.