If every prospect who possessed the requisite athleticism ended up being successful in the NFL, I wouldn't have a job. But there's a big difference between having the tools and those actually tools translating into a quality football player. Below are the players who have flashed the skills to be starters in the NFL but, for whatever reason, haven't proved it consistently on a college football field. These are the 25 guys who need football this fall for the sake of their draft stock.
Note: Players who have already opted out were not included, nor were prospects like Florida State safety Hamsah Nasirildeen or Oklahoma State receiver Tylan Wallace, who've already put on good tape but simply need to prove they're healthy.
Subscribe to
In a class full of freaky pass-rushing specimens, Paye may be the freakiest. But in three seasons with the Wolverines, little he's done from an on-field perspective could be described as freaky. He earned only a 77.8 pass-rushing grade last year, with many of his wins coming from slants and stunts. Charging head down toward the quarterback is currently his most effective pass-rushing move. He could be a top-10 pick if he gets the chance to show anything more this fall.
At 6-foot-7, 265 pounds, we might be talking about Kaindoh in a similar light to Gregory Rousseau if he had stayed healthy last season. The former five-star recruit hasn't done much more than tease that high-end play up to this point. His 69.5 pass-rushing grade on 122 snaps in three games last year was a career-high, and he's never had more than 24 pressures in any of his three seasons at Florida State.
Outside of the "Big 3" at the top of the 2021 quarterback class, Trask certainly "looks the part" of a first-rounder, at 6-foot-5, 239 pounds with a laser. Now, can he play the part? Last season that big arm netted him all of nine big-time throws and a 66.4 passing grade.
Little came on strong down the stretch in 2018 with one pressure allowed in his final six games, but he only played one game (against Northwestern) in 2019 before going down for the season. Seventy-two snaps in two seasons prior to the draft is a tough sell.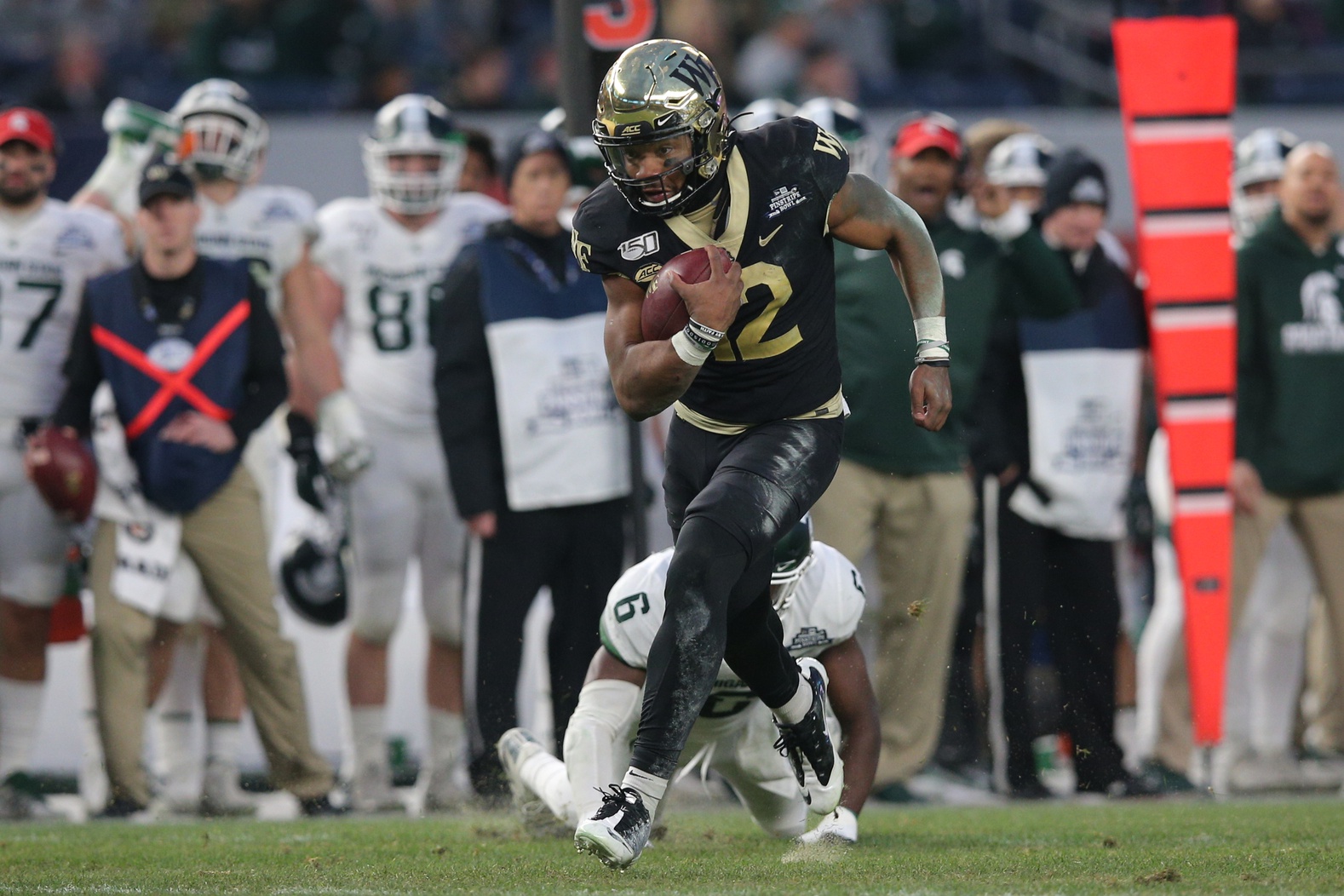 Newman was set to go from an RPO-heavy Wake Forest attack that threw very few NFL concepts to one coached by Todd Monken, whose last two stops were at the Browns and Buccaneers. Newman earned an 85.7 passing grade for the Demon Deacons last season, but that's not nearly as translatable to the NFL as if he did that again this season.
Wade came back to school with the expressed intent of proving himself as an outside cornerback. He's manned the slot the past two seasons for Ohio State, with all of 55 snaps on the outside. Wade will still be drafted relatively highly by teams that see him as a safety, but unless he proves it on the outside, teams will be hesitant to take him as a pure cornerback.
The Sun Devils have now had back-to-back first-rounders at receiver, and Darby has the physical tools to make it a trifecta. Darby has another gear down the football field and has averaged 20.8 yards per catch in his career. The problem is that he rarely sees the ball — his career-high in targets came just last season, with 55.
Surratt is one year removed from playing quarterback for the Tarheels. In his only season at linebacker, he alternated splash plays with some ugly reads and missed tackles. The athleticism and, maybe more importantly, the mentality for the position are both there for him to be a special player. We just need to see last season's missed-tackle figure (27) chopped by a good margin.
He's arguably the most explosive running back in the nation — 10 of his 129 rushing attempts went for 20 or more yards last season. That 129 figure is why we need to see more, though. With only one career game with 17-plus carries, Brown is an unknown as a lead back.
Jackson's redshirt sophomore season in 2018 was superb, as he allowed only 10 pressures on 431 pass-blocking snaps. After suffering a knee injury Week 1 in 2019, Jackson struggled to 18 pressures on 99 fewer pass-blocking snaps. He is unlikely to come off the board before Day 3 without another season.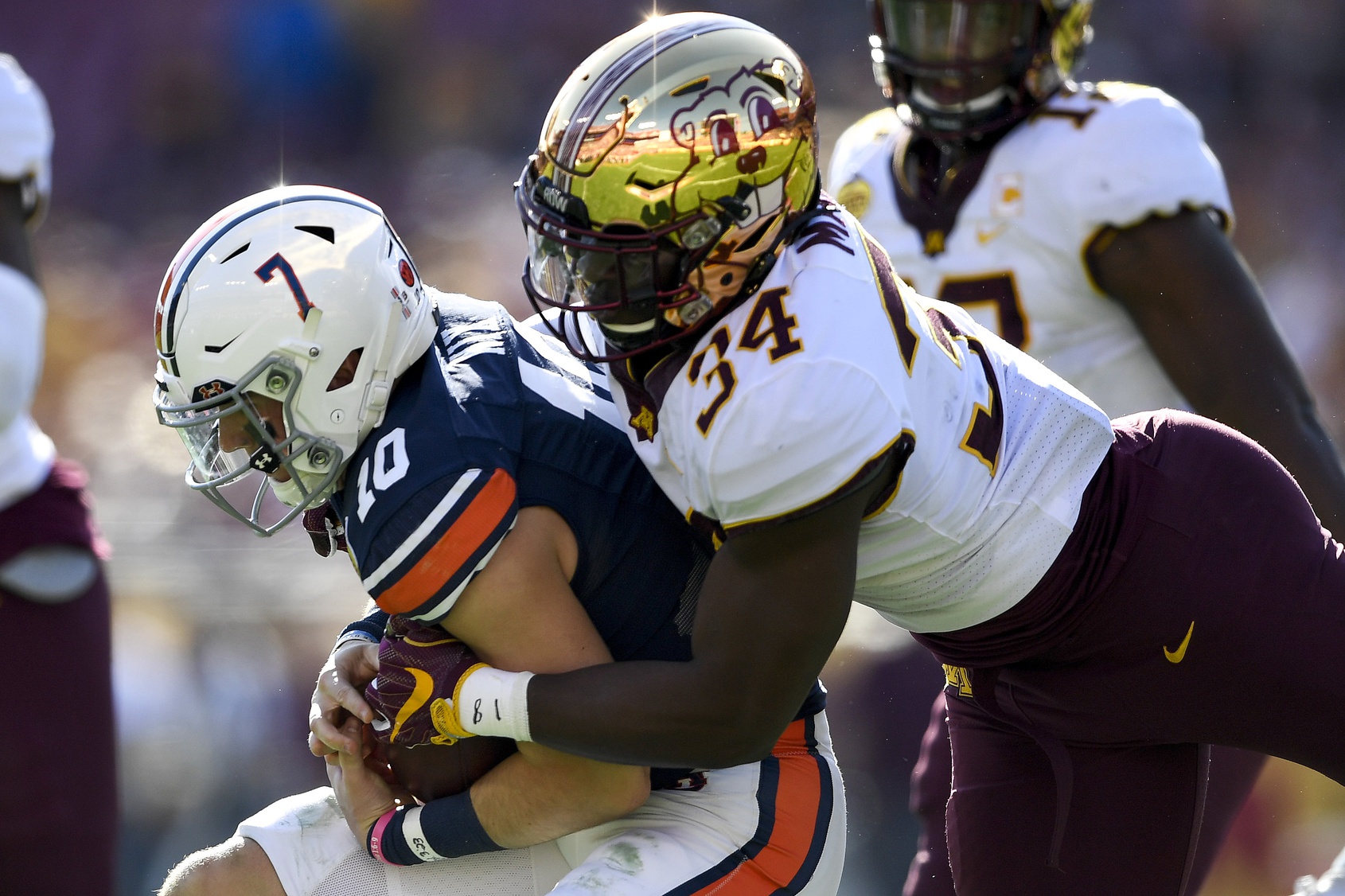 Mafe has struggled to see the field for the Golden Gophers despite being one of the twitchiest edge defenders in college football. In three seasons, he's played all of 347 snaps, though he has earned a career pass-rushing grade of 82.9. We just need to know what he looks like in a starting role.
Van Lanen burst onto the scene as a starter in 2018 when he earned a 90.8 overall grade. Then he got "Chase Younged." In two games against the Buckeyes, Van Lanen allowed seven pressures and earned an overall grade of 39.6. That sort of demolition is going to be difficult to shake from the minds of NFL evaluators.
Onwuzurike has put together dominance in small stretches in the past, but his play is yet to match his explosive physical tools. He had three games earn grades in the 80.0s last season (USC, Stanford and Oregon State) while also having two in the 50.0s (Oregon and Colorado).
Owusu-Koramoah's first year as a starter was a tale of two seasons. In Weeks 1-9, he too often looked like a fish out of water as the overhang player in Notre Dame's defense, and he earned a 62.3 overall grade. The final six games of the year, though, he didn't have a single below-average game grade and earned an overall grade of 85.2 over that span. He'll be a first-rounder if he can continue the latter for a full season.
Toney has been one of the nation's most electric players with the ball in his hands. He's averaged 10.9 yards after the catch for his career. The problem is that we simply haven't seen the ball in his hands enough. He's caught only 50 passes — though still broke 23 tackles — and missed half of last season with a shoulder injury.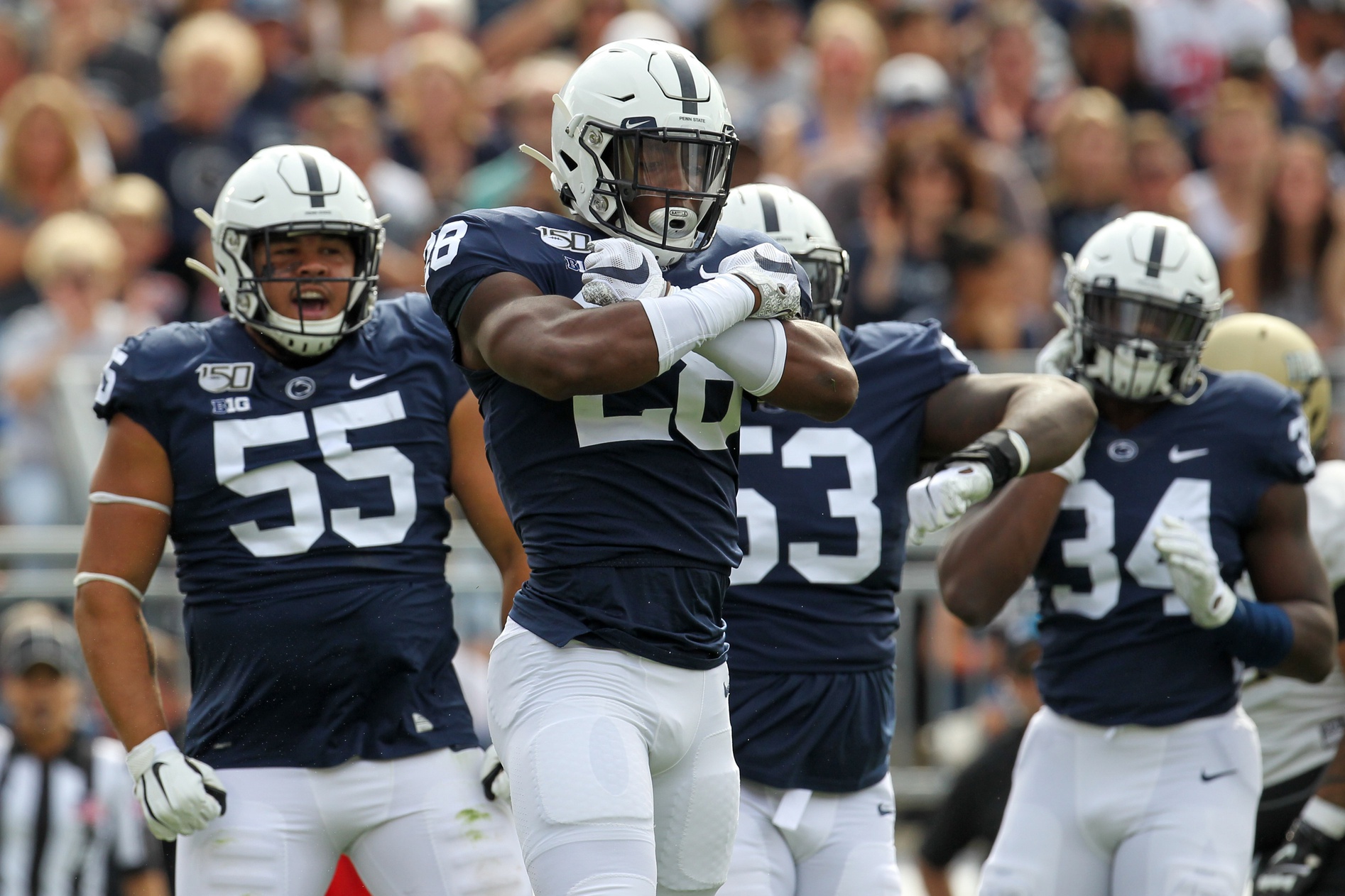 Only a redshirt sophomore, Oweh obviously has plenty of time to prove himself at the college level if he does return to school. That said, he's already getting first-round buzz, and that may be too much to pass up. With only 397 career snaps to his name, the freaky edge defender could have made a lot of money with a big first year as a starter.
Evans once looked like the next big thing when he averaged 7.0 yards per carry on 88 carries as a freshman back in 2016. He's been known as a versatile receiving weapon, with one drop on 41 career opportunities, but never quite took hold of the lead role before he found himself off the team in 2019 for reported academic reasons. The fifth-year back was due for a second chance this season, but now that may not come.
Costello's 2019 was an utter mess. He earned a 63.7 overall grade on 189 dropbacks for Stanford last year as multiple injuries cost him most of his season. A change of scenery was necessary, and now Costello gets to prove he can do it with his arm in a pass-heavy Mike Leach offense.
Adebo couldn't miss as a redshirt freshman in 2018, and his 24 combined picks and forced incompletions ranked second in the nation. That was decidedly not the case this past season, as that number got cut in half as Adebo went from allowing 5.7 yards per target in 2018 to 8.0 yards per target in 2019.
Roche was as unblockable as anyone not named Chase Young last year … in the AAC. Doing it at Temple is not nearly the same as doing it against Power 5 tackles. After putting on 10 pounds over the course of the offseason, if Roche can continue that dominance in the ACC, he'll get serious early-round consideration.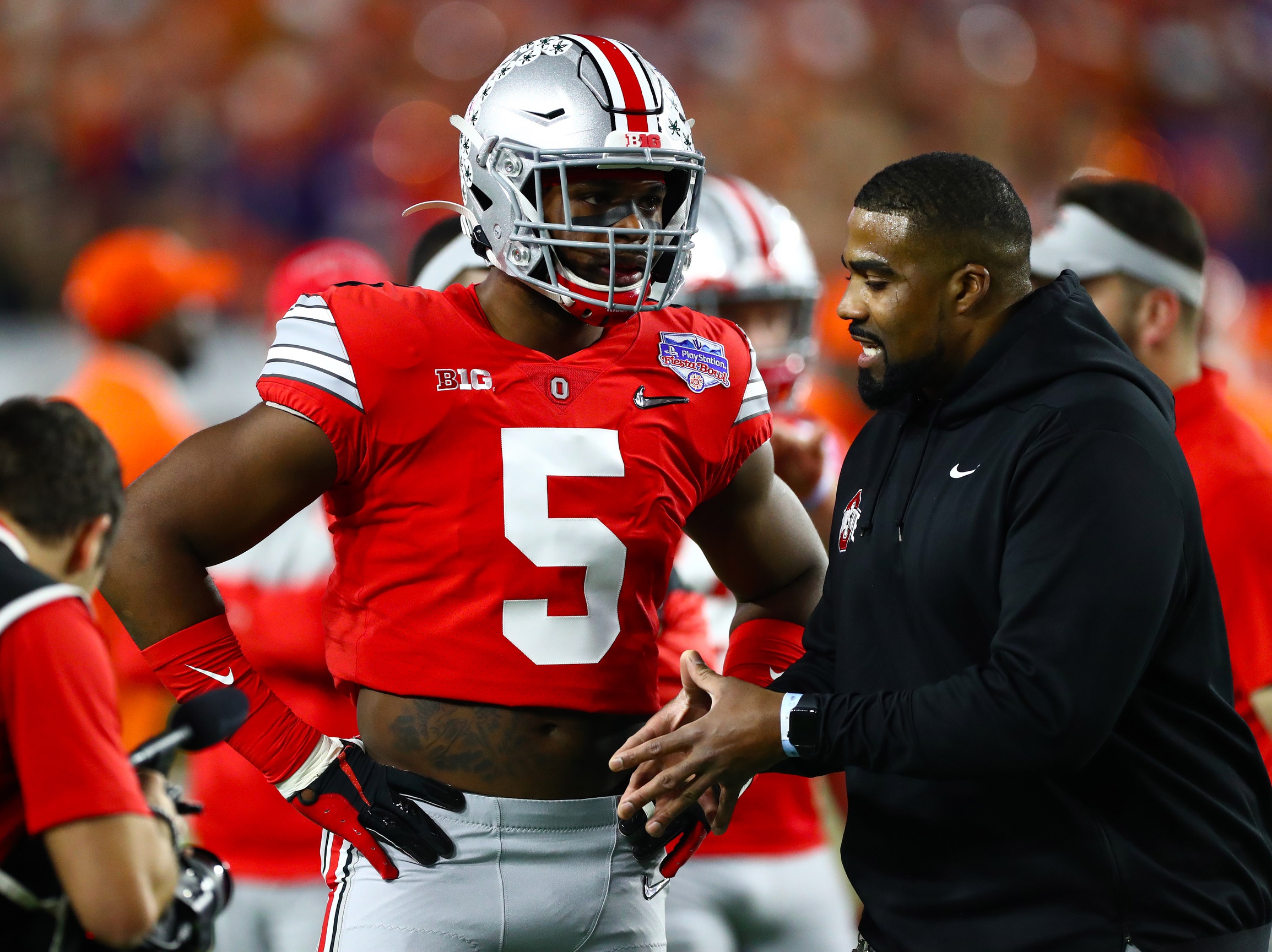 Browning was a former five-star coming out in 2017, but through three seasons hasn't even been able to crack a full-time starting role. While the physical tools are there, his 38.9 and 46.2 coverage grades the past two seasons aren't going to get him many early-round looks in the NFL.
Ray looked poised for a big 2019 season after earning a 79.0 overall grade on 326 snaps as a sophomore in 2018. He aggravated a foot injury three games in, though, and would ultimately miss the rest of the season. Now a redshirt junior, Ray is still ready for that breakout campaign.
Ingram was starting for the Tigers way back as a freshman in 2017; he didn't allow a sack all season and finished with a 72.3 overall grade — a terrific grade for a true freshman. His career took a turn, however, as Ingram was then suspended for all of 2018. He wasn't handed his starting job back when he returned and only split time at left guard on the Tigers' 2019 National Championship team.
After dealing with injuries throughout 2019, Cooper made the difficult decision of shutting down his season to preserve a year of eligibility. Cooper first broke into the starting lineup in 2018 and had a career-high 74.8 pass-rushing grade on 70 pass-rushing snaps last season. He had an impressive six-pressure performance in his lone start against Michigan last year, but that's hardly enough to put his draft stock to where it could be.
Yes, Cox has already put out good tape. Doing that against FCS competition doesn't carry near the weight as it does against SEC competition, however. The long, rangy linebacker earned overall grades of 80.3 and 84.1 in his two seasons as a starter at North Dakota State before transferring this offseason.