Shaun Wade was next in line at Ohio State. The former five-star recruit turned in quality production playing inside of two 2020 first-round cornerbacks (Jeffrey Okudah and Damon Arnette) for two consecutive seasons. He opted to return for his redshirt junior season to see first-team reps at outside corner and secure his place among the first 32 picks of the 2021 NFL Draft.
But Wade's spot in line is now in jeopardy. The Big Ten officially canceled its 2020 fall football season in early August, and there are doubts surrounding the possibility of spring football. If Wade doesn't play another snap of college ball, he will face an uphill battle in his pursuit of first-round status in 2021.
Subscribe to
Seventeen cornerbacks have come off the board in Round 1 over the past seven years (2014-20). Wade would be the first cornerback selected in the first round with fewer than 421 career defensive snaps played at outside cornerback since 2014 — he has just 55 career defensive snaps at outside corner.
Defensive Snaps at Outside Cornerback for First-Rounders Since 2014 | Compared to Shaun Wade
| | | |
| --- | --- | --- |
| Name | Team | Snaps |
| Trae Waynes | Michigan State | 641 |
| Kevin Johnson | Wake | 599 |
| Marcus Peters | Washington | 554 |
| Byron Jones | UConn | 421 |
| Jalen Ramsey | Florida State | 799 |
| Eli Apple | Ohio State | 1608 |
| Vernon Hargreaves | Florida | 1231 |
| William Jackson | Houston | 1478 |
| Artie Burns | Miami (FL) | 964 |
| Marlon Humphrey | Alabama | 1620 |
| Adoree' Jackson | USC | 1790 |
| Gareon Conley | Ohio State | 1398 |
| Tre'Davious White | LSU | 1759 |
| DeAndre Baker | Georgia | 1901 |
| Mike Hughes | UCF | 969 |
| Jaire Alexander | Louisville | 1161 |
| Denzel Ward | Ohio State | 902 |
| Shaun Wade | Ohio State | 55 |
Wade's career snap alignment numbers are more representative of a box safety/slot cornerback prospect than an outside cornerback. He's played 81% of his defensive snaps at slot cornerback (864), 10% in the box, 5% at outside cornerback and nearly 4% split between defensive line and free safety alignments.
Shaun Wade's 2019 Snap Breakdown
| | |
| --- | --- |
| Alignment | Snaps |
| Slot Corner | 443 |
| Box | 53 |
| Defensive Line | 13 |
| Outside Corner | 12 |
| Free Safety | 6 |
All of Wade's snap alignments, advanced stats and player grades are made available in PFF's new CFB Premium Stats+ subscription. Subscribe today!
Projecting Wade as a top-flight cornerback prospect without significant experience outside is premature. There's a high chance his only legitimate opportunities at outside cornerback come at the 2021 Reese's Senior Bowl, and even that is a longshot. The famed January all-star game is still in jeopardy due to COVID-19 concerns.
That's not to say a 6-foot-1, 195-pound defensive back with a five-star pedigree and fluid movement skills can't develop into an outside corner. But it's largely a traits-based projection. What isn't a projection is just how well Wade has performed playing a box/slot cornerback role at Ohio State over the past two seasons (2018-19) — that should drive his draft stock and high-floor evaluation.
Slot cornerbacks are valuable starters in today's NFL. Wade's size/length, movement skills and physical approach to the position all combine for a high-floor projection to slot cornerback/box safety at the next level.
NFL teams averaged higher expected points added (EPA) per play targeting slot receivers than wide receivers over the past three seasons (0.246 vs. 0.213). And in each of the past six seasons, the NFL average for percentage of offensive snaps played with three or more wide receivers on the field is north of 60% — a massive surge from 39% in 2006.
Players of Wade's caliber can make a difference by limiting opposing offenses from taking full advantage of the slot/middle of the field.
Wade is a hard-hitting, physical presence when playing pre-snap alignments in the box, at slot cornerback or even along the edge of the defensive line. He thrives playing the ball in front of him, especially when working within zone coverage concepts, and is an excellent force player in the run game. He earned the 20th-ranked PFF run-defense grade when positioned in the slot, box or along the defensive line among qualifying Power Five defensive backs, and his PFF coverage grade in zone coverage concepts (74.2) ranked 10th among primary slot and box defensive backs.
Ohio State also went out of their way to blitz Wade from slot cornerback and the box this past season, awarding him 15 total pass-rush opportunities that resulted in five total pressures, including a strip-sack, in 2019.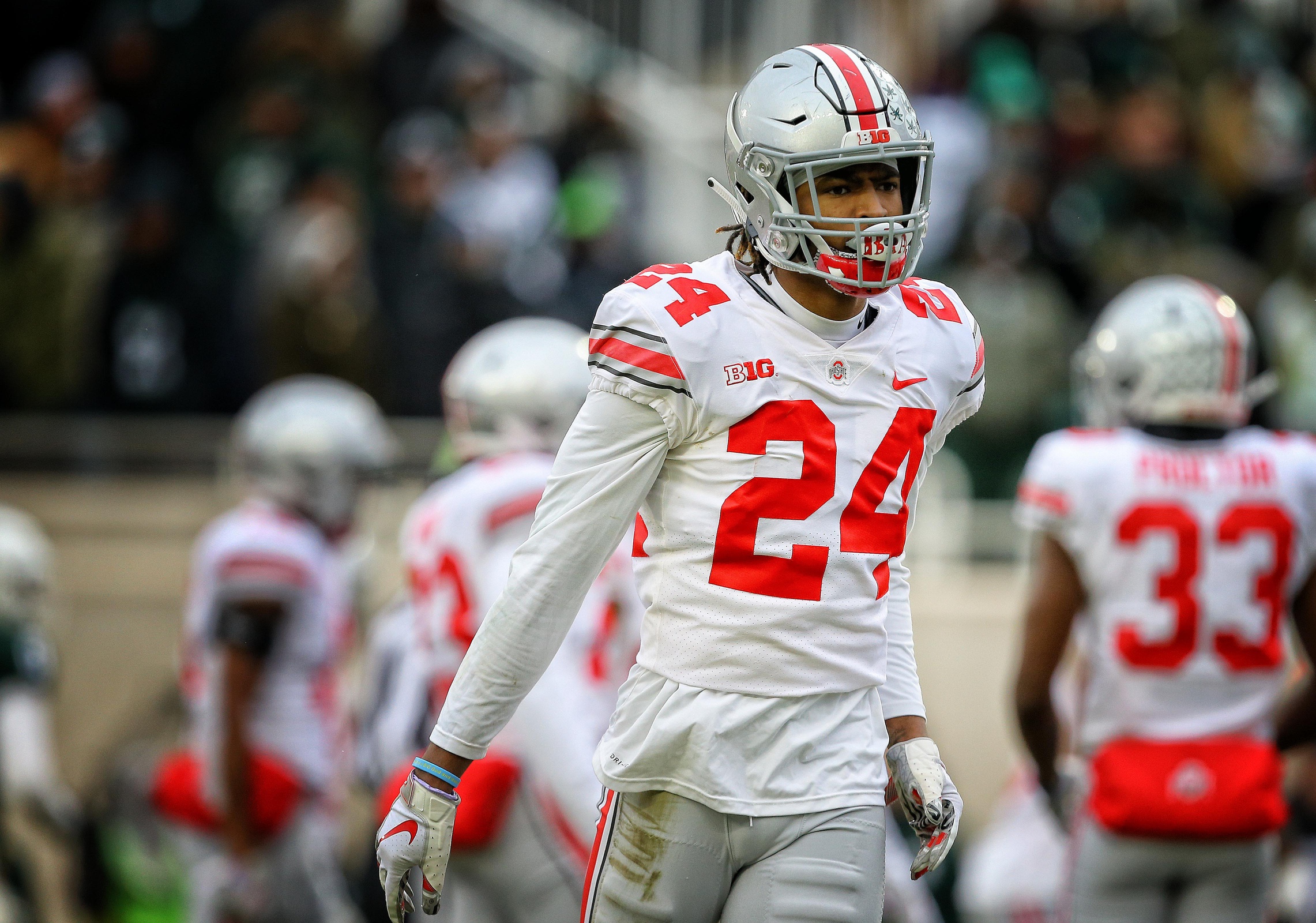 In coverage, Wade allowed just 51 receptions on 101 targets for 690 yards, three touchdowns and 22 first downs while also recording three interceptions and 15 forced incompletions in that span. He ranked 11th in completion percentage allowed (50.5%), 20th in forced incompletion percentage (14.8%) and 22nd in passer rating allowed among qualifying Power Five defensive backs.
He also ranked inside the top-five in passer rating allowed on targets of 10-plus yards (40.9) and in passer rating allowed against vertical routes (44.1) among primary slot cornerbacks in the Power Five over the past two seasons. He's a fluid athlete who can flip his hips and turn with speedy receivers running vertical routes down the field.
Driving the disparity in Wade's low two-year slot coverage grade (66.6) and strong advanced coverage stats (passer rating allowed, completion percentage allowed, etc.) is the fact that he's beat in coverage infrequently, but his limited mistakes still often resulted in big gains.
Among the 87 Power Five defensive backs who faced 40-plus slot targets in 2018 and 2019, Wade ranked 77th in yards allowed per reception (13.5). More than 50% of his receptions allowed went for 10-plus yards, and only three other Power Five defensive backs allowed more receptions of 10-plus yards from the slot than Wade (26).
Another driver in that disparity is the percentage of Wade's targets that were either thrown off target or dropped by the intended receiver. A whopping 32% of his slot targets were either dropped or uncatchable over the past two seasons, good for the 10th-highest rate among qualifiers.
To best limit big chunk plays to opposing slot receivers, Wade needs to improve his press technique. He has the length and movement skills necessary to consistently thrive in press concepts, but inconsistent hands at the line of scrimmage cost him dearly in 2018 and 2019. Among the 35 Power Five defensive backs with 100 or more press coverage snaps played from the slot over the past two seasons (2018-19), Wade ranks 27th in yards allowed per coverage snap (1.61).
He already showed significant improvement overall and in his press technique from 2018 to 2019. His overall PFF grade and PFF coverage grade both improved by more than 10 points year over year. He also finished the season ranked 11th in overall PFF grade from the slot (76.8) among Power Five defensive backs with 200-plus snaps played at slot cornerback in 2019.
Without a clear-cut opportunity to show further improvement and test his talents with the big dogs at outside cornerback in 2020, Wade could slip into the Day 2 conversation. But a high-floor box defender/slot cornerback prospect with obvious, untapped potential at outside cornerback is a prospect to bet on early in the second round as the NFL continues to prioritize receiver-heavy personnel and nickel/dime defenses.