With 150 of the top potential prospects for the 2020 draft evaluated, it's time to get back into the mock draft game. With selection order based on Vegas win total odds, let's look ahead at who I believe will be the 32 players that end up in the first round next spring.
[Editor's note: PFF's Preseason 2020 NFL Draft Guide is LIVE and features 150 Two-Page Player Profiles, giving you advanced stats, game grades and much, much more. All existing EDGE and ELITE subscribers have access to the guide and can download it here.]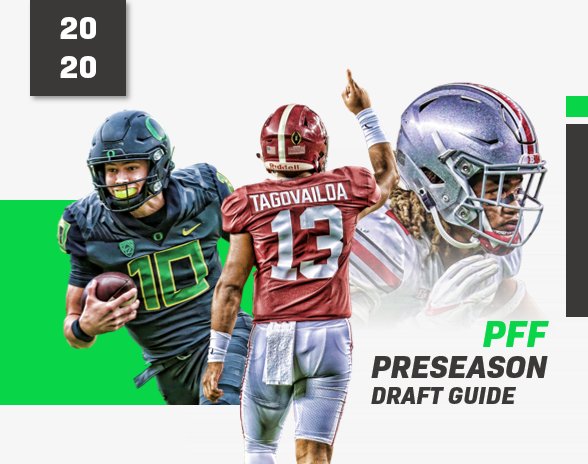 1. Miami Dolphins – QB Tua Tagovailoa, Alabama
Tagovailoa had the highest percentage of perfectly placed passes among Power-5 quarterbacks last season. Consistent accuracy and ball placement is far and away the trait the data says to covet most when projecting to the NFL.
If the Bengals really are picking at No. 2 overall, chances are they'll be ready to move on from Andy Dalton. Herbert's blend of size, athleticism and arm talent is too rare to pass up at the top of the draft. His inconsistency is terrifying, but he can answer those concerns in 2019. 
3. Buffalo Bills – Edge Chase Young, Ohio State
Young checks pretty much every box you could check as a defensive end already. He's got size, length and athleticism that's all ideal for the position plus elite production already. As a true sophomore, he led the nation in pressures.
Jeudy can do things physically on a football field that receivers even in the NFL couldn't dream of. There isn't much about the receiver position he can't do at this point. He would have easily been the top WR on our draft board if he was allowed to declare for the 2019 draft.
There are only a handful of human beings in the world that can move the way he does at 6-foot-5, 320 pounds. He's been limited to a degree in pass protection up to this point in Georgia's offense, but he's already incredibly accomplished for a rising junior.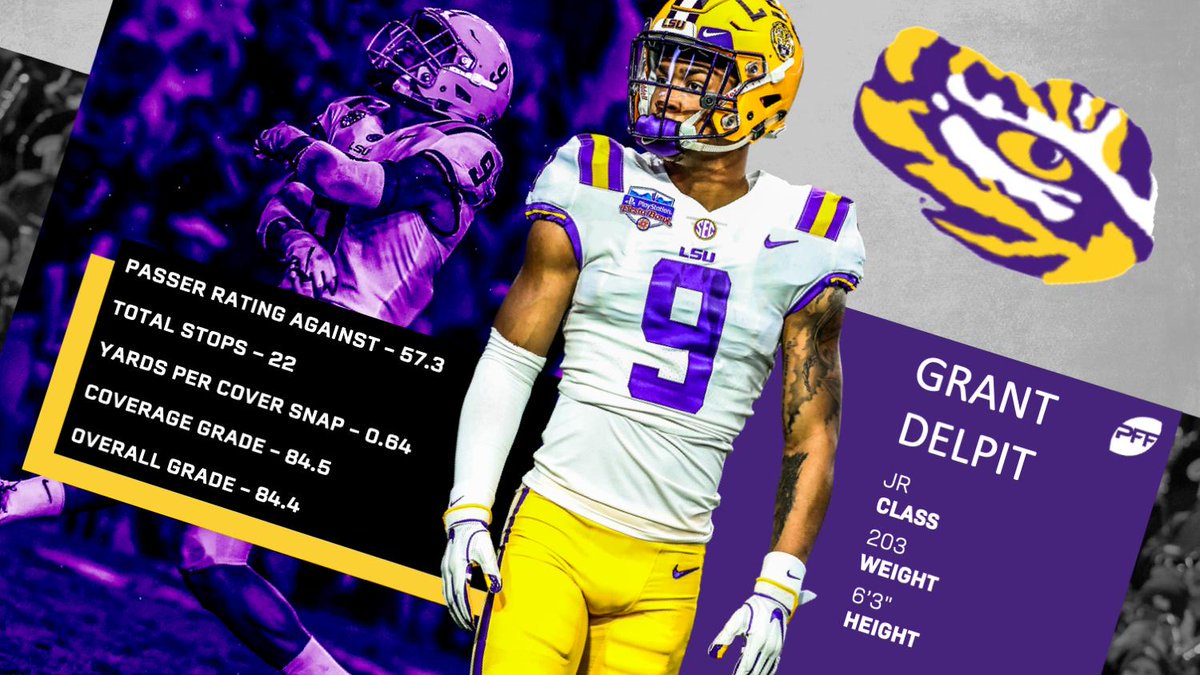 The Lions' secondary could use an influx of talent pretty much anywhere, but Delpit's versatile coverage ability seems like a perfect match for Matt Patricia's defense. Delpit can seamlessly go from the slot, to box, to deep safety and still make plays.
7. New York Jets – CB Jeffrey Okudah, Ohio State
Okudah doesn't have a lot of ball production to speak of at this point, but a lot of that is a factor of the defense. He doesn't do a lot other than play press-man in Ohio State's defense and in that role he's stingy as can be. Okudah allowed all of nine first downs as a true sophomore.
The Broncos find their Emanuel Sanders replacement. Reagor put over 1,000 yards with a quarterback group at TCU that was one of the lowest-graded in all of college football. Despite his smallish stature, Reagor was still among the NCAA leaders with 15 contested catches. 
The Giants' rebuild of their offensive line continues. Wirfs topped Bruce Feldman's freaks list over the offseason, and he simply doesn't get overpowered on the football field. The only concern is if he can hold up at tackle in the NFL or if his future is at guard.
10. Oakland Raiders – DI Derrick Brown, Auburn
Brown is a clean projection from college to pros with how physically dominant and productive he already is. The question is whether or not he'll add enough as a pass-rusher and be able to be an every-down player at 320 pounds.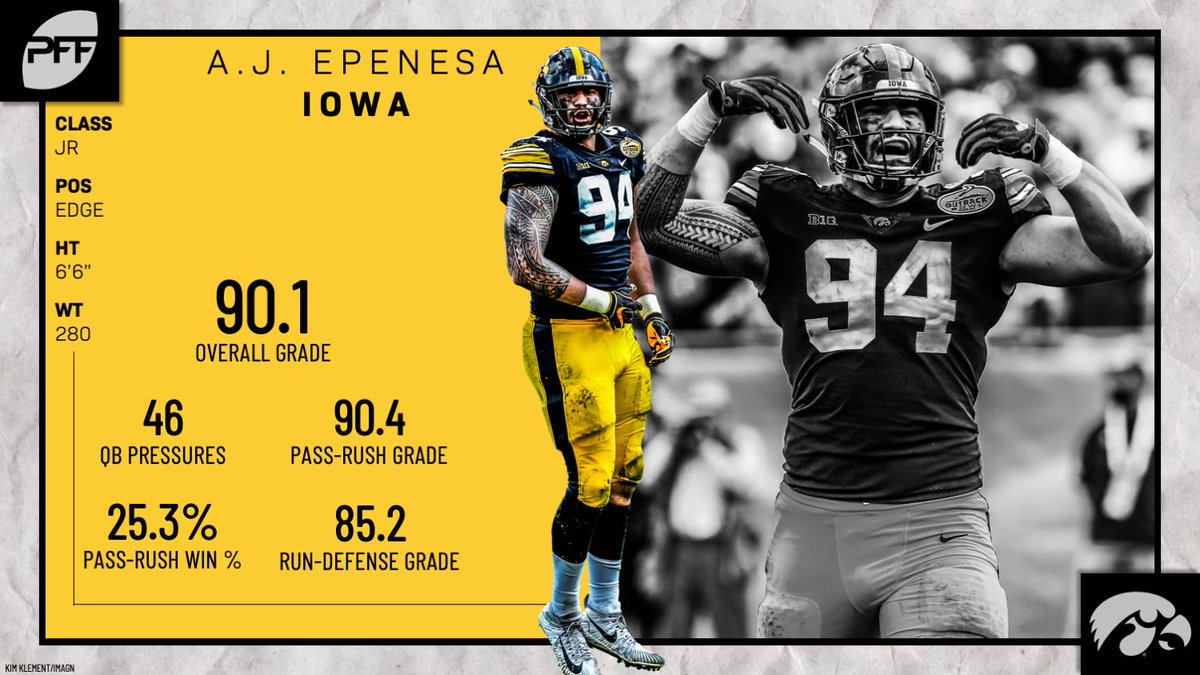 Epenesa is poised for a monstrous 2019 season after he dominated in a rotational role last year. He racked up 46 pressures, including 10 sacks, on only 244 pass-rushing snaps. That's the type of pass-rush the Bucs have been missing for a while.
12. Tennessee Titans – Edge Julian Okwara, Notre Dame
Okwara looks poised for a big senior year after he racked up 61 pressures in a breakout junior campaign. He's still a slight 6-foot-5, 240 pounds, but we're not particularly worried as he's already one of the best bull-rushers in the country.
13. Carolina Panthers – IOL Tyler Biadasz, Wisconsin
The No. 13 spot might be a tad high for an interior offensive lineman, but that's how good Biadasz has been in his career at Wisconsin. He's earned top-three marks at center in each of the past two seasons and could easily step in at either guard or center for the Panthers.
Shenault is a broken tackle machine. In his breakout sophomore campaign, Shenault broke 29 tackles on 87 receptions. He may not be a complete receiver yet, but he's deadly with the ball in his hands and the Jaguars need any sort of playmaker they can get.
Hall looks tailor-made to play cornerback for a press cover-3 team in the NFL. Length and ball skills are the two traits that have made Richard Sherman arguably the best cornerback in the league over the past decade, and Hall has an impressive combination of both himself.
16. Houston Texans – OT Walker Little, Stanford
Little, much like Andrew Thomas, is still coming along in pass protection but has physical tools you don't see every day from a true sophomore. While the Texans invested heavily in the 2019 draft on their offensive line, that doesn't necessarily mean their woes will be going away anytime soon.
[Editor's note: PFF's Preseason 2020 NFL Draft Guide is LIVE and features 150 Two-Page Player Profiles, giving you advanced stats, game grades and much, much more. All existing EDGE and ELITE subscribers have access to the guide and can download it here.]
17. Baltimore Ravens – LB Isaiah Simmons, Clemson
Simmons is a freak athletically who can do pretty much everything you want a modern linebacker to do in coverage. With already one of the best secondaries in the NFL, Simmons would make the lives of everyone on the back end easier with his length and ability to cover ground.
Moses fits the mold that the Falcons like defensively. The Alabama linebacker is an explosive athlete who limits YAC in space extremely well and can also add as a blitzer. He's missed five tackles on 107 attempts in his career.
19. Seattle Seahawks – CB Paulson Adebo, Stanford
The Seahawks finally get their Richard Sherman replacement as the comparisons between the two go deeper than their alma mater. Adebo led all of college football last season with 23 combined pass breakups and interceptions.
Davis has yet to show us much as a pass-rusher, but he's a physical specimen who already dominates in the run game. He's earned run-defense grades over 89.0 and pass-rushing grades below 70.0 each of the past two seasons. The Vikings have worked wonders with long, athletic defensive linemen in the past, though.
21. Dallas Cowboys – S Kenny Robinson Jr., West Virginia*
Robinson is yet another safety that can do pretty much anything asked of him. He started his career at West Virginia starting at cornerback as a true freshman. Midway through that year, he'd switch to safety and has racked up six picks in a year and a half since. 
*Kenny Robinson Jr. announced he'd transfer from West Virginia in June 2019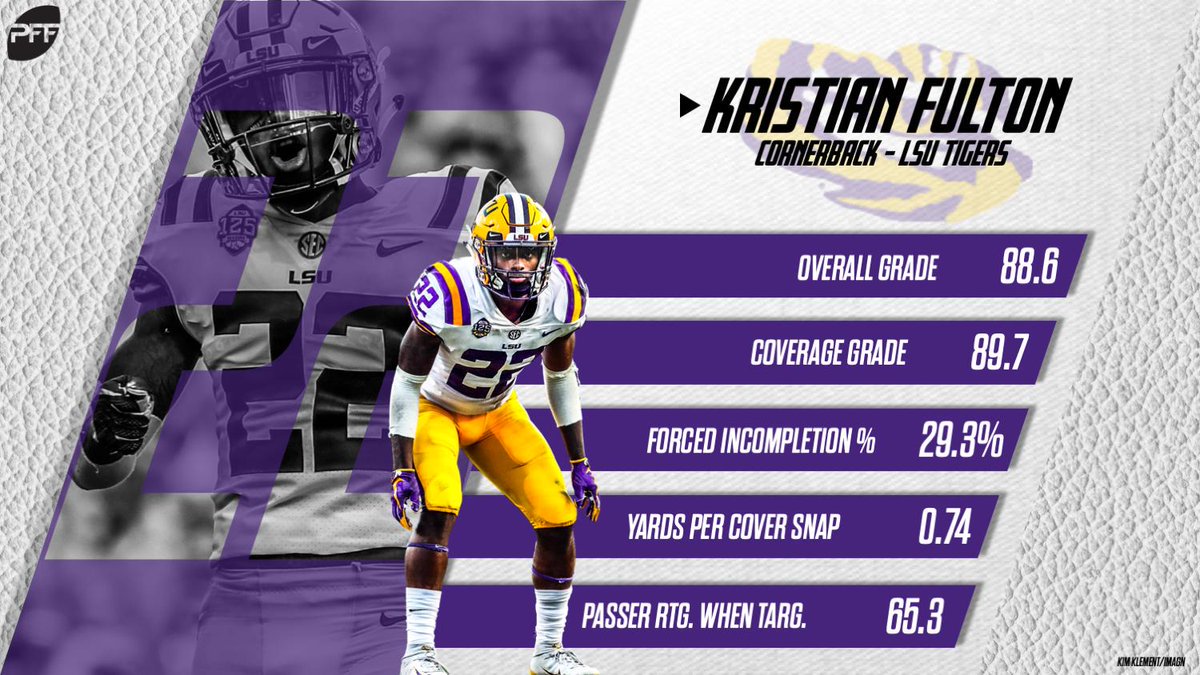 Corner has been a sore subject for the Steelers of late, and Fulton would change all of that. The LSU cornerback graded out higher (88.6) and forced incompletions at a higher rate (29.3%) than former teammate Greedy Williams. 
The Packers finally get a legit No. 2 across from Davante Adams. Lamb is a more complete receiver than first-round teammate Marquise Brown and if they were in the same class, Lamb would have been ranked higher on our board.
24. Indianapolis Colts – DI Javon Kinlaw, South Carolina
Kinlaw is a name that's sure to start generating some buzz with a larger workload in 2019. On 297 pass-rushing snaps last year, Kinlaw earned an 88.7 pass-rushing grade – the highest of any returning interior player. 
25. Oakland Raiders – Edge Yetur Gross-Matos, Penn State
The Raiders address pass-rush once again because you can never have too many. Gross-Matos is still a project though heading into his junior year. The Penn State edge rusher managed only 25 pressures on 315 pass-rushes last season.
26. Cleveland Browns – OT Prince Tega Wanogho, Auburn
Tega Wanogho has only been playing football for five years now and only started playing offensive line when he got to Auburn. That makes his 88.4 pass-blocking grade all the more impressive and all the more intriguing to the tackle needy Browns.
You know the Eagles can never get enough defensive linemen. Onwuzurike is one of our favorite breakout candidates for the 2019 season. He earned a 91.0 run-defense grade and 82.5 pass-rushing grade on only 391 snaps last year.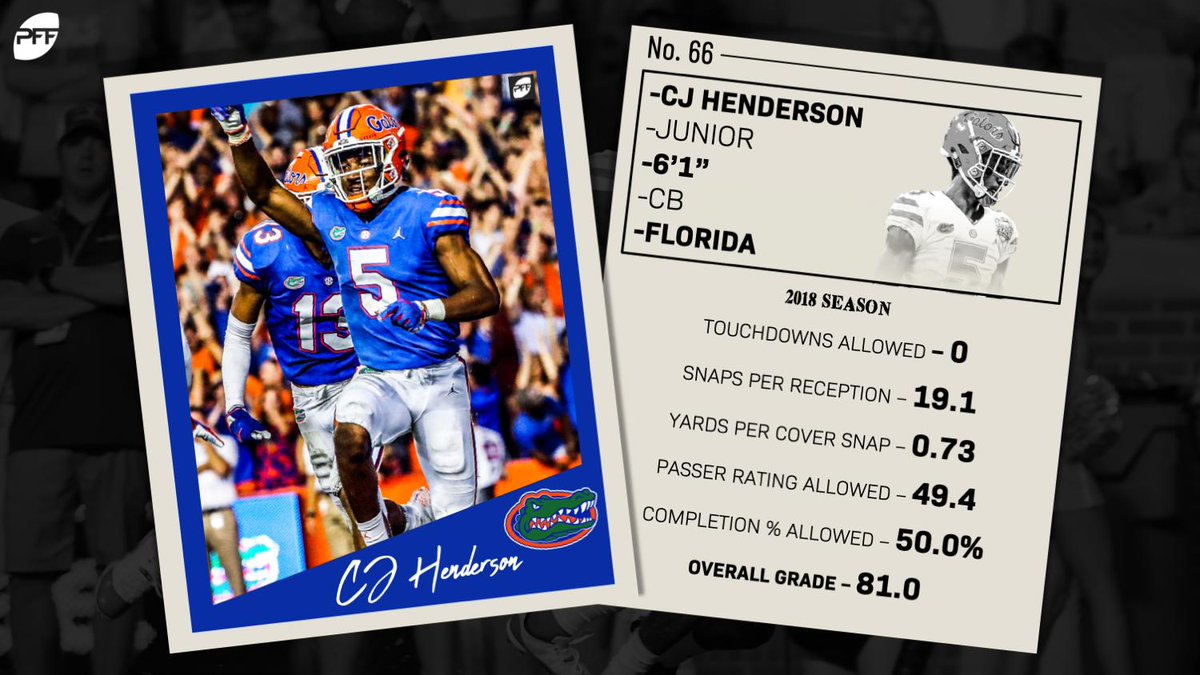 Henderson doesn't have any exceptional traits like some of the other cornerbacks that went earlier in the first round, but all he did was shut down receivers weekly in the SEC. He allowed only 18 catches for 249 yards all season.
Pinkney's receiving ability is right up there with last year's top-10 pick T.J. Hockenson's. While Pinkney isn't near the blocker that Hockenson is, the Vanderbilt tight end is arguably a more polished route-runner already. He broke nine tackles on 50 catches last season.
Higgins has unbelievable body control and hands for a man his size. He hauled in 12-of-23 contested catches last year, broke 11 tackles on 59 receptions and had only two drops. With Sammy Watkins almost guaranteed to be a cap casualty in 2020 with a $21 million cap hit, Higgins would fill a need. 
31. Los Angeles Rams – Edge Curtis Weaver, Boise State
If you're not familiar with Weaver's game yet, you will be shortly. He's one of the most productive and versatile edge defenders in this class.
Will this be the year the Patriots finally address the quarterback position early on in the draft? Costello does a lot of things that would appeal to the Patriots. Most chiefly among them his ability to throw into tight windows – which he did more than any other quarterback in college football last year – and throw with anticipation.