We are 106 picks in — not even halfway through the 2020 NFL Draft. It's been an eventful three rounds so far, and we saw some top-32 talent on the PFF Big Board get pushed all the way down past the second round on Friday. That's not uncommon, though — the Pittsburgh Steelers came out and said last season they had a first-round grade on third-rounder Diontae Johnson. That just means there are a lot of picks that we absolutely loved. Here are our favorites from Friday night.
[Editor's note: Check out PFF's 2020 Mock Draft Hub, NFL Draft Big Board and NFL Mock Draft Simulator. PFF Elite subscribers can also download the 1,250-page 2020 NFL Draft Guide. For extensive coverage of the 2020 NFL Draft, check out all of PFF's 2020 NFL Draft coverage in one place.]
From a need, value and fit perspective, this pick is a home run. At 6-foot-4, 223 pounds, Pittman offers some legit size that the Colts don't currently possess in their receiving corps and fits the mold of receivers that Philip Rivers has had success with over the course of his career with the Los Angeles Chargers. Pittman not only has great ball skills, as evidenced by his five drops on 176 catchable in his career, but he can also get open underneath and at the intermediate level with ease.
The Giants quietly got two excellent football players with their first two selections. McKinney isn't a freak athlete, but he played almost the exact same role as Isaiah Simmons did last season and got none of the fanfare. McKinney played 200-plus snaps each as a deep safety, in the box and in the slot for the Crimson Tide. On those, he earned a 79.3 run-defense grade and an 88.1 pass-rushing grade.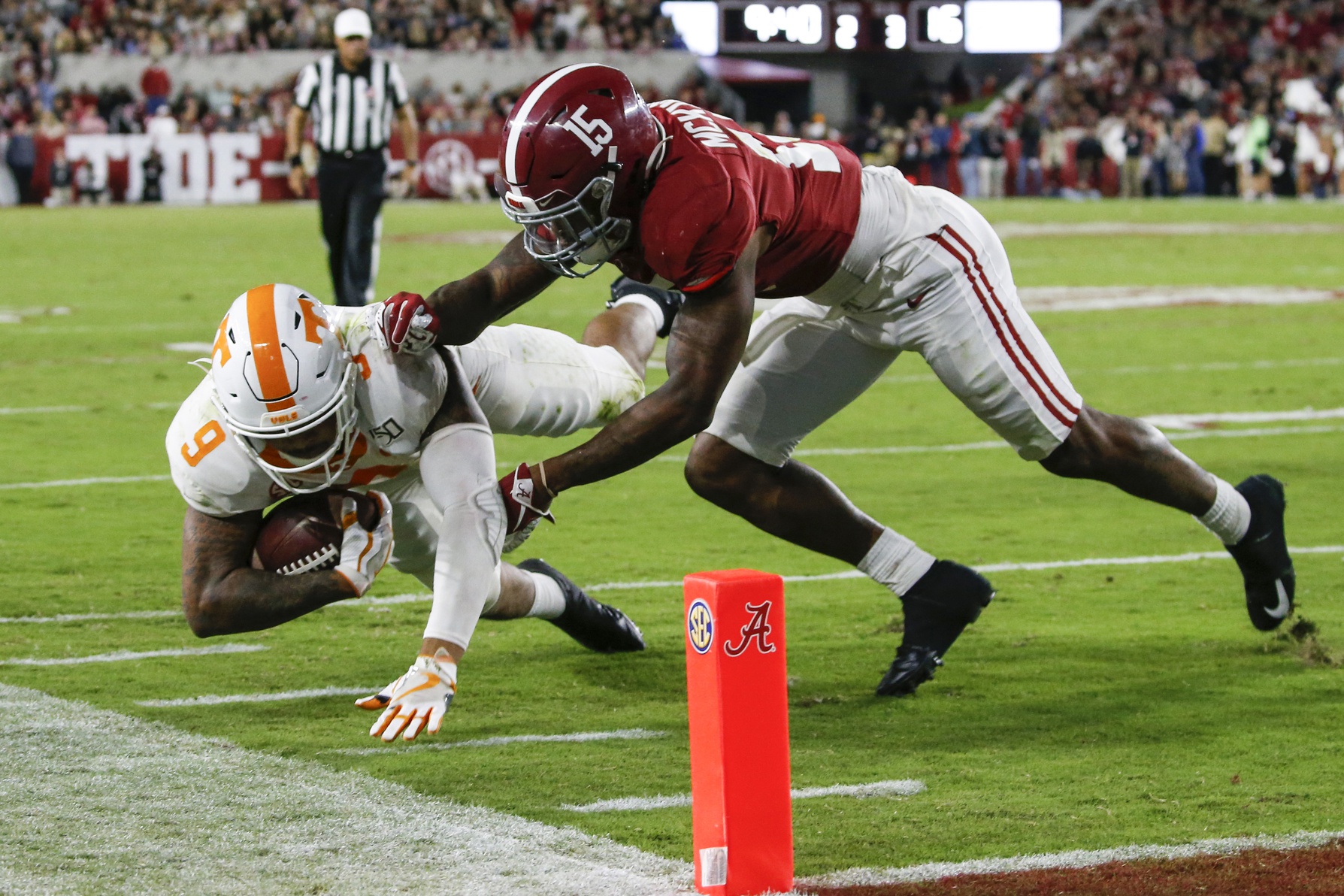 This was a fall that we saw coming here at PFF based on Delpit's massive tackling problems. You don't miss over a quarter of your tackles at the safety position and still expect to get drafted in Round 1. Still, Delpit possesses special coverage ability that's seen him average over eight interceptions plus pass breakups per season in his three years at LSU. I'd just try to keep him away from run support at this point.
Johnson is one of the most instinctual corners in the entire draft, and he goes to a landing spot in Chicago where that ability can thrive. We saw Johnson's grades improve every single year of his college career after he saw 506 snaps as a true freshman back in 2017. In his final seven games with Utah, Johnson allowed only 112 yards combined.
Epenesa was a former five-star recruit who has been posting terrific pass-rushing grades ever since his true freshman year at Iowa. He may not have the burst you typically want to see to win at the NFL level, but he has the power to make up for it. His hands shock on contact, and he already has multiple ways to win. He's earned a 91.3 pass-rushing grade for his career — the second-best mark in the draft class among Power-5 edge defenders behind Chase Young.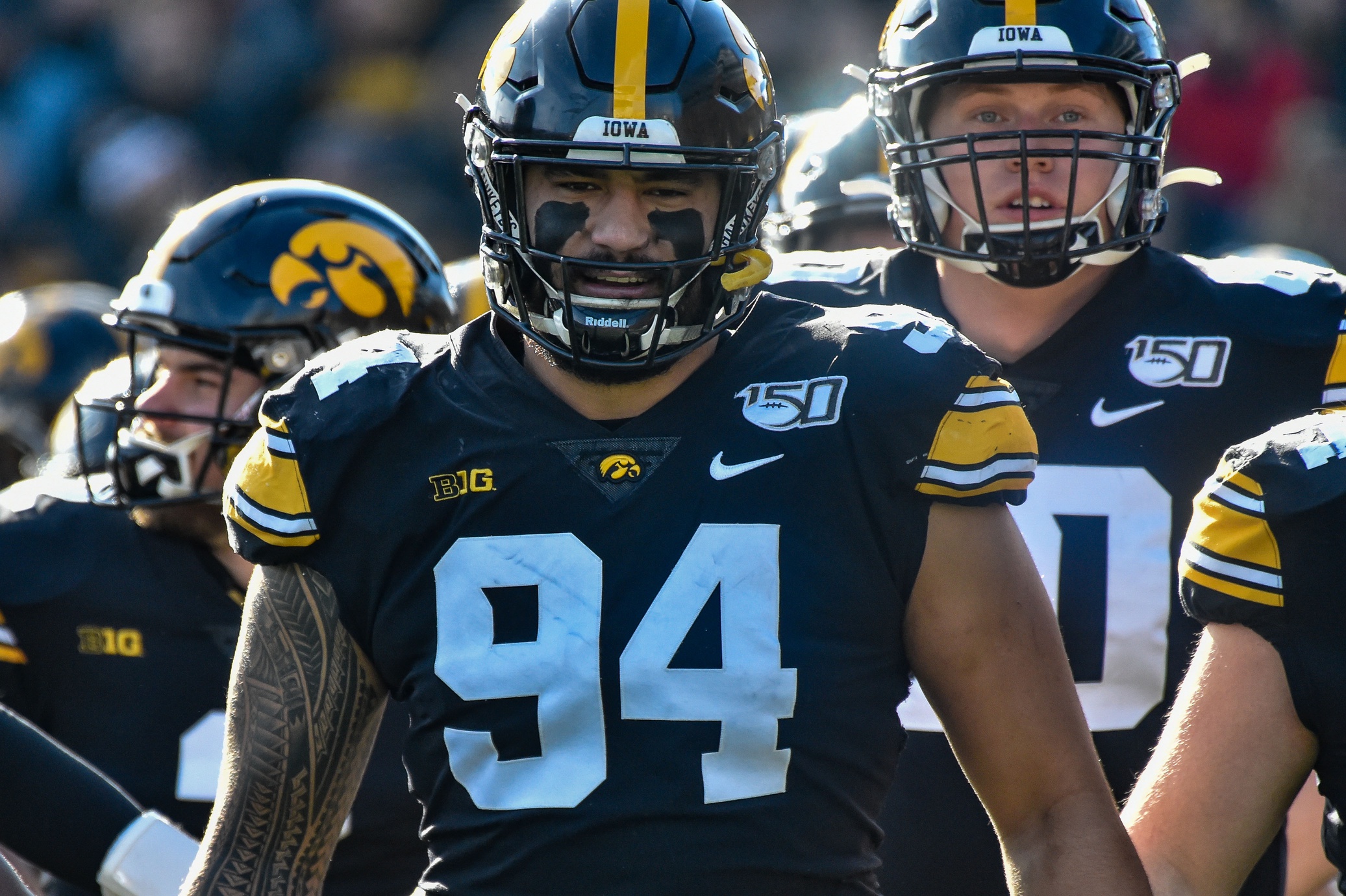 How Fulton fell all the way to the back end of Round 2, I'll never know. He played elite-level football the past two seasons against SEC competition, and his athletic testing had no red flags whatsoever. His fall, though, is the Titans' gain. Fulton's 29.1% forced incompletion rate over his career was nearly five percentage points better than the next closest cornerback in the draft class. He's a Day 1 starter in the slot at least for Tennessee.
The Chiefs had one of the most uninspiring linebacker corps in the NFL last season. Gay changes that in 2019. He tested out on Isaiah Simmons levels of freaky at the combine with a 4.46-second 40 time, 39.5-inch vertical, and 11-foot-4 broad jump at 6-foot-1, 243 pounds. That would be one thing in a vacuum, but we've already seen it translate to the field with his 93.9 career coverage grade being the highest of any player in the draft class, regardless of position. We only got to see him in coverage for 293 snaps in his college career, though.
Of all the players that we at PFF were high on this year, Okwara is the one who I can't understand why he didn't get more love. Usually, edge defenders who check in among the top 10 on Bruce Feldman's 'Freaks' list get over-drafted in the NFL and not under-drafted the way we see Okwara. Although he's undersized, Okwara is already one of the best bull-rushers in the entire draft class and can convert speed to power exceptionally well. He played only nine games this past season before breaking his leg but earned a 90.4 pass-rushing grade in those outings.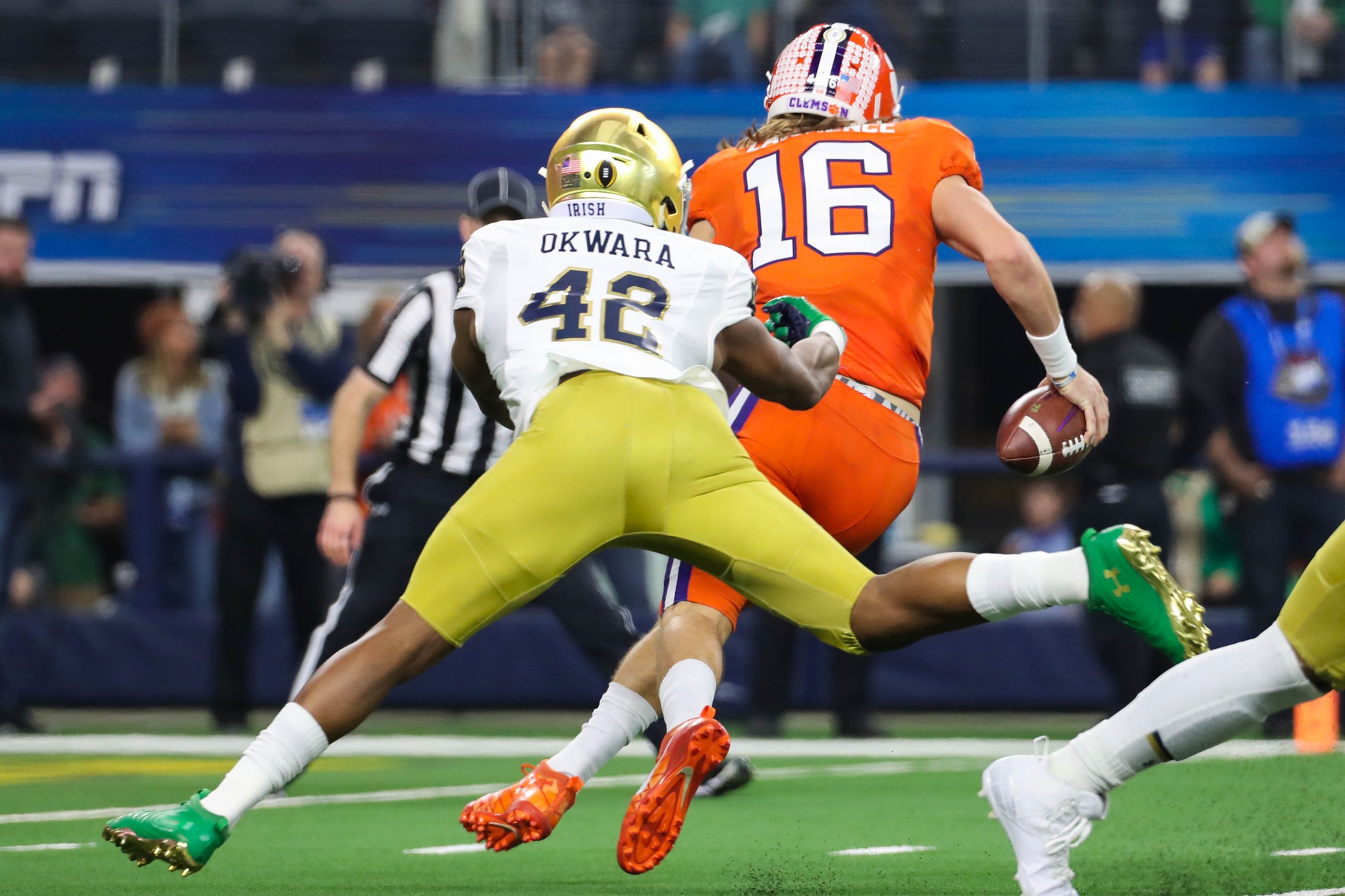 Jackson is quite easily my favorite pass-protecting guard prospect in the entire draft. On 460 pass-blocking snaps last season, Jackson allowed all of 10 pressures. Of those 10, only one came via a true one-on-one pass-rushing situation. This was nothing new, though, as he allowed even fewer pressures in 2018 (seven) on 398 pass-blocking snaps at right guard for Rutgers before transferring. He should be able to replace Graham Glasgow seamlessly for Detroit.
In a class that featured Derrick Brown (pick No. 7) and Javon Kinlaw (pick No. 14), Elliott was the highest-graded defensive interior player in the country last season. Even if you limit it solely to games played in the SEC, it's once again Elliott who comes out on top. He earned run-defense and pass-rushing grades of 91.1 last season. While he's a bit of a one-year wonder and isn't quite the freak athlete that Brown and Kinlaw are, that level of production is a steal in the third round.