This is the year to need offensive line help. While the tackle class is stacked with some elite talent, the interior class is lighter at the top but goes deeper in terms of quality. While tackle-to-guard converts are popular in the NFL for interior linemen, only two such players made our top 10, as this class is chocked full of true guards and centers.
[Editor's Note: PFF's 2020 NFL Draft Guide is LIVE and available to all EDGE and ELITE subscribers. Download your copy today!]
1. Netane Muti, Fresno State
Muti dabbled at tackle for Fresno State back in 2018 and played a rock-solid game and a half there before an Achilles tear ended his season. He came back to guard in 2019 and was similarly dominant through three games before a shoulder injury ended that season. The injury concerns are massive, but it's not as if they were related and recurring. Muti is pound for pound the most powerful guard in this class. He tosses defenders on a regular basis, and on 697 pass-blocking snaps for his career, Muti allowed only 14 pressures. That combination of power and pass-blocking proficiency is why he's OG1.
2. Jonah Jackson, Ohio State
We are always going to love some pass protectors, and Jackson is as advanced in pass pro as any interior lineman in this class. You may know him better as the Rutgers player who actually graded well back in 2018. For his career, he's allowed only one lone sack or hit on 1,020 pass-blocking snaps, which speaks to arguably his greatest trait — not losing quickly. Even when he does allow pressure, Jackson is almost always still holding on for dear life and riding guys past the pocket. His hand usage is exceptional, and he plays with a balance unmatched in the draft class.
Jonah Jackson: Pass-blocking statistics, 2016-19
| | | | | | | | |
| --- | --- | --- | --- | --- | --- | --- | --- |
| Season | Team | Pass-blocking grade | Pass-blocking snaps | Sacks allowed | Hits allowed | Hurries Allowed | Total Pressures |
| 2019 | Ohio State | 77.8 | 460 | 1 | 0 | 9 | 10 |
| 2018 | Rutgers | 87.1 | 398 | 0 | 0 | 7 | 7 |
| 2017 | Rutgers | 66.9 | 155 | 0 | 0 | 8 | 8 |
| 2016 | Rutgers | 78.4 | 7 | 0 | 0 | 0 | 0 |
3. Cesar Ruiz, Michigan
The lone true junior on this list, Ruiz declared early because he's already shown all the physical tools needed to succeed at center in the NFL. He's so graceful for a 6-foot-4, 320-pound center that you often forget just how big he really is when watching his tape. He's still not quite a power player, though, as indicated by his 64.9 run-blocking grade from last year, but at only 20 years of age, he could still develop a good deal physically.
4. Damien Lewis, LSU
Lewis was born to play guard in the NFL. At 6-foot-3, 332 pounds, Lewis looks as if he couldn't get under 300 pounds even if he trained for a marathon. He also looks like he wouldn't cede an inch on a bull-rush against a Mac truck. And he routinely didn't until Auburn's Derrick Brown came along. While Brown got him a couple of times in that game, the matchup was must-see TV for any trench-play enthusiast. Both got their nice wins in, and Lewis held up about as well as any guard did against Brown all season.
5. Tyler Biadasz, Wisconsin
Biadasz has been one of the best run-blocking centers in the country for three straight seasons now. His lowest single-season run-blocking grade over that span was an 82.1 back in 2017. The reason why he dropped down our board from the beginning of the season has to do with his work in pass protection. We thought we'd see a lights-out year from the redshirt junior in 2019,  but instead, Biadasz earned the lowest pass-blocking grade of his career at 70.5 and got taken off his feet far more often than we'd like. Biadasz has the size to play any position on the interior, even though he never played anything but center in three seasons at Wisconsin.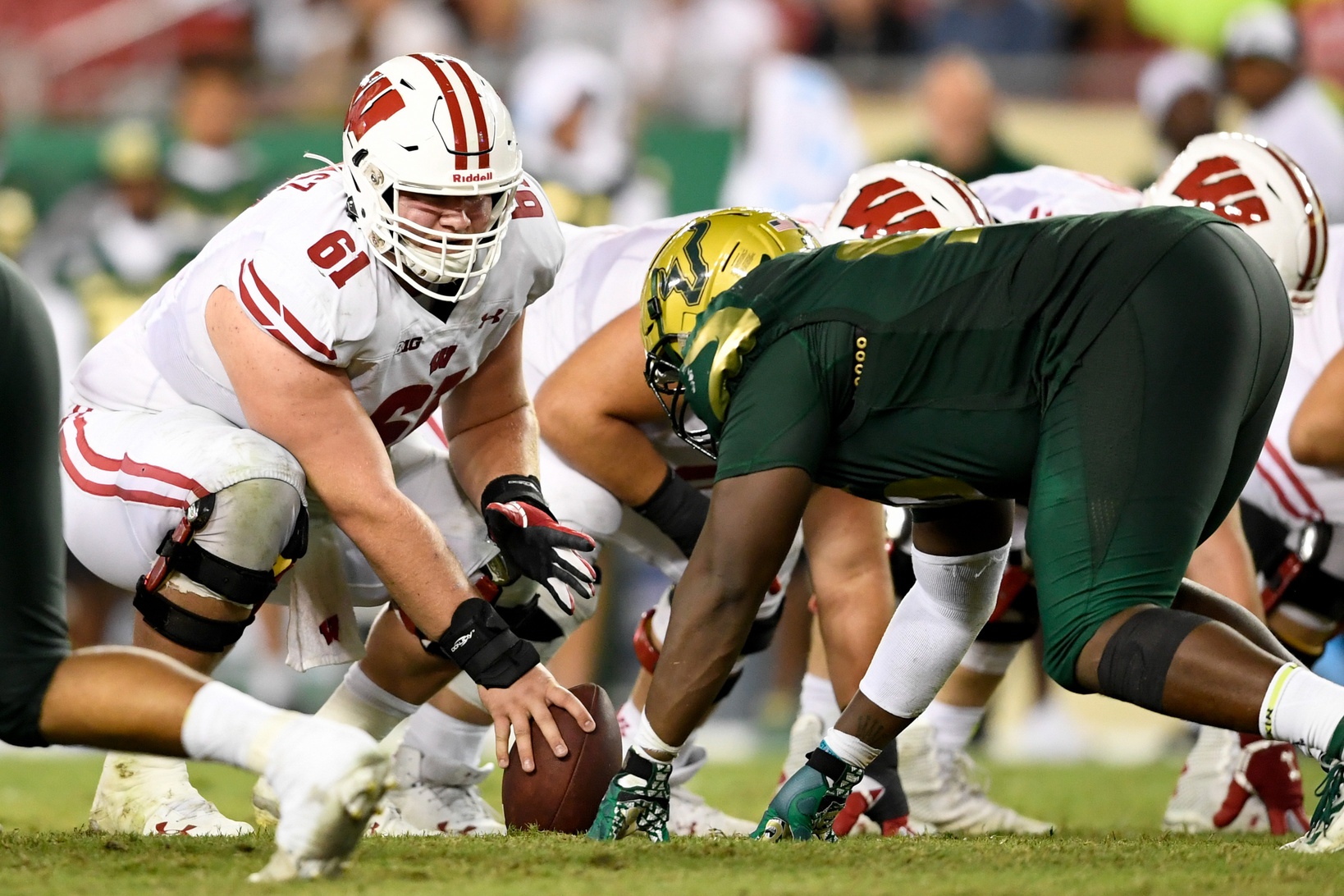 6. Robert Hunt, Louisiana
It's a shame that Hunt was forced to drop out of the Senior Bowl, as he could have flown up boards with a strong showing there. But even without it, he's a borderline top-100 player on our board. At 6-foot-5, 336 pounds, Hunt is far more nimble than his size suggests. Getting depth in his pass sets at tackle for the Ragin' Cajuns came naturally to him, and he only allowed two pressures on 196 pass-blocking snaps this past year before an injury cut his season short.
7. Nick Harris, Washington
Harris had serious play-strength concerns on his 2018 tape that I thought improved a good deal in 2019. Then he showed up to the Senior Bowl at a slight 293 pounds and got overpowered in the one-on-ones all week. That's concerning, to say the least. Still, Harris was easily the most athletic lineman in attendance and can make blocks in the run or screen game that others can only dream of. That will be coveted highly in certain schemes.
8. Matt Hennessey, Temple
Hennessey is one of the smoothest athletes on the interior in the entire draft class. I'd bet good money that whichever team drafts him will be a team that relies heavily on outside zone in the running game. He's not only smooth but also adept in pass protection. He's allowed only 15 pressures on 1,353 pass-blocking snaps over the past three seasons as a starter. The worrisome thing was his Senior Bowl performance, though, where he got overpowered a bit against better competition at nose tackle. He'll never be a people-mover and could struggle out the gate with the transition, but he'll be a starter soon.
9. Isaiah Wilson, Georgia
The first thing you notice about Wilson when watching tape is his size. He's not just big, he's the biggest. Listed at 6-foot-7, 340 pounds, Wilson really isn't carrying too much bad weight on him. Then you notice the way he moves. This man tracked down linebackers with ease last season for Georgia. Only so many men that large that can move as well as he can, and they tend to make good tackles in the NFL. The worry with Wilson is that, at his height and weight, playing consistently low can be a struggle. As such, he loses far more leverage battles than you'd expect and can get walked back into the backfield. Kicking him into guard may not fix the leverage issue, but it will put him on an island far less frequently.
10. Logan Stenberg, Kentucky
Stenberg is a force as a guard at 6-foot-6 and 322 pounds, and he has some of the strongest mitts of any guard in the class. Those mitts also routinely get him in trouble, though, as he's been flagged 24 times over the past two seasons. He's a little stiff and not the most fleet of foot at the position, but he's held up well in pass protection with only one pressure allowed in 2019.