In Week 1 last year, Alabama defensive tackle Quinnen Williams earned a 90.0 grade on 35 snaps against Louisville after playing only 151 snaps in his career prior. He'd go on to be the third pick in the NFL draft after recording the highest-graded season we've ever seen from a defensive tackle. While going from backup to top-five pick is a rarity, every year we see players go from afterthoughts to early-round selections. These are the players from Weeks 0/1 that put their name on the draft map with their breakout performances. 
[Editor's Note: All EDGE and ELITE subscribers have access to PFF's Preseason 2020 NFL Draft Guide. Subscribe today to download your copy!]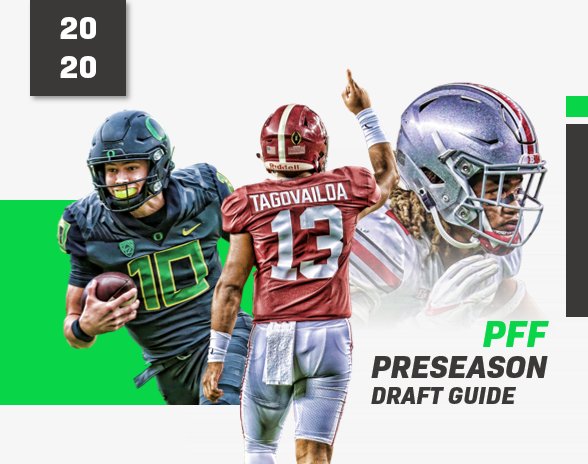 Edge Jonathan Greenard, Florida
It's difficult to dominate more than Greenard did in Florida's win over Miami. He earned an 81.5 run-defense grade and 90.7 pass-rushing grade on 69 snaps. It was a far cry from the player we saw only rack up 27 pressures on 257 pass-rushes at Louisville in 2017. Greenard may not be the freaky athlete that teammate Jabari Zuniga is, but he's the type of pass-rusher that has an answer for everything. His moves don't look pre-planned, but rather he reacts to what the tackle throws at him.
QB Jacob Eason, Washington
You don't start as a true freshman at Georgia without talent, so it's not necessarily a surprise that Eason lit up Eastern Washington this week. That true freshman season back in 2016, though, was nothing special even by freshman standards. He earned a 65.7 overall grade and a shoddy 68.1 adjusted completion percentage. Three years later, though, he looks like a completely different player. His arm strength blended with touch down the field is what really stood out as he racked up three big-time throws in the game. 
Edge Terrell Lewis, Alabama
Anfernee Jennings is the biggest name in the Alabama edge group, but Lewis may end up being the better prospect. Lewis missed all of 2018 with a knee injury and played only 202 snaps in his career prior. On 24 snaps against Duke, he looked borderline unblockable. His listed  6-foot-5, 252 pounds may seem a tad small for the edge, but he's got so much power in his lower half that he makes up for it. He combines a deadly bull-rush with a handful of moves that can win the edge. Lewis' 91.6 grade Week 1 was one the highest among Power-5 edge defenders in the country.
OT Scott Frantz, Kansas State
Kansas State has been a bit of a tackle pipeline in recent years, and Frantz looks like he could be next in line. While this is his fourth year as a starter, Frantz has never added much as a run blocker. Last season, he earned a 52.1 run-blocking grade. He already looks noticeably stronger though this season, and his 82.9 run-blocking grade against Nicholls State was the highest of his career. Frantz has exceptional hands that lock defenders in both the run and pass games. 
WR KJ Hamler, Penn State
At 5-foot-9, 176 pounds, the redshirt sophomore wide receiver may not ever be terribly high on the NFL's radar. This past week, though, Hamler showed that his size doesn't define him. A slot weapon in the Penn State offense, Hamler hauled in all four of his targets for 117 yards. He showed game-breaking speed and what I loved the most was his adjustment to an underthrown deep ball at the start of the third quarter. Hamler had a step on the safety deep but then ducked under him to get in position to go up and secure the jump ball. Ball skills like that can make up for size deficiencies at the next level.