Before you know it, the NFL season will be coming to a close and it will officially be draft season. With a good portion of the 2018 college season in the books, it's time to take an early look at some of the PFF favorites heading into next spring. These are players who may not be getting a ton of love nationally but have graded extremely well throughout their careers, and pass the eye test of our analysts.
This list of draft names to know if brought to you by Eckrich, the Official Smoked Sausage of the College Football Playoff.
QB K.J. Costello – Stanford (Jr.)
Costello definitely checks the 'looks the part' box on any scouting report, but it's not just his size (6-foot-5, 215 pounds) though. Costello has an easy, quick release that can snap off laser beams up and down the field. It's led to the seventh-most big-time throws of any quarterback in the college football this season (24). Costello's 12 interceptions might be off-putting to some, but he's suffered from some ugly interception luck. His 10 turnover-worthy throws are actually fewer than Justin Herbert (12) even though Herbert has nearly half the interceptions (8).
 RB Devin Singletary – FAU (Jr.)
He may only be averaging 5.2 yards per carry but Singletary currently owns the highest rushing grade in the country. No back has been more difficult to bring down this season than Singletary. He's broken 89 tackles, 26 more than any other running back in the country. Singletary's exceptional balance isn't anything new either, he was third in the nation a year ago with 83 broken tackles.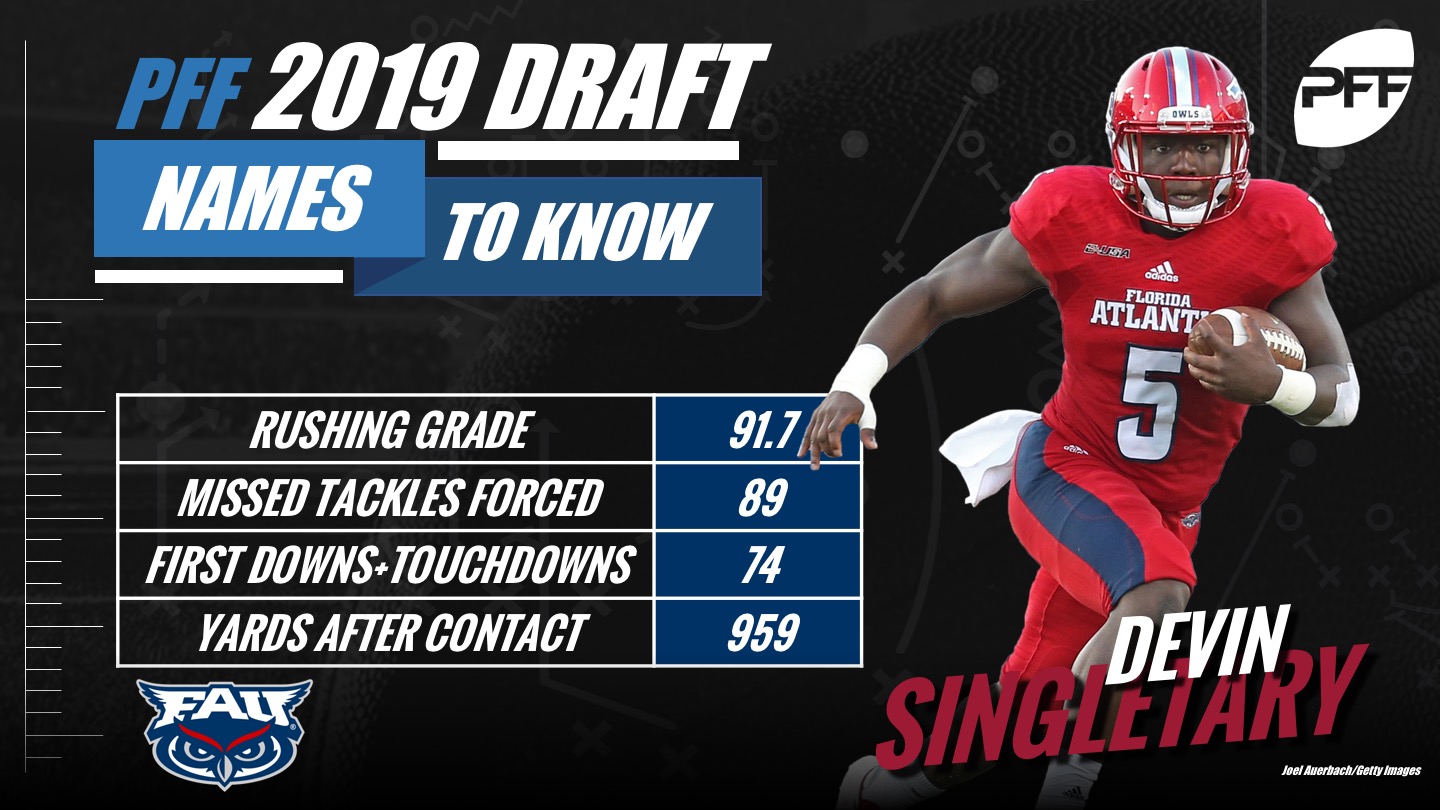 WR Andy Isabella – Massachusetts (Sr.)
If you thought Isabella was a small-school fluke, this past weekend's performance might change your mind. Isabella went down to Athens and beat the brakes off a Georgia secondary loaded with NFL talent. He caught 15 of his 16 targets for 219 yards including both of his targets against highly-touted cornerback Deandre Baker. Isabella's 4.17 yards per route is the best figure since Michael Gallup in 2016. Listed at only 5-foot-9, 186 pounds, Isabella may be limited to the slot at the next level, but that's a role that's only growing in importance in the modern NFL.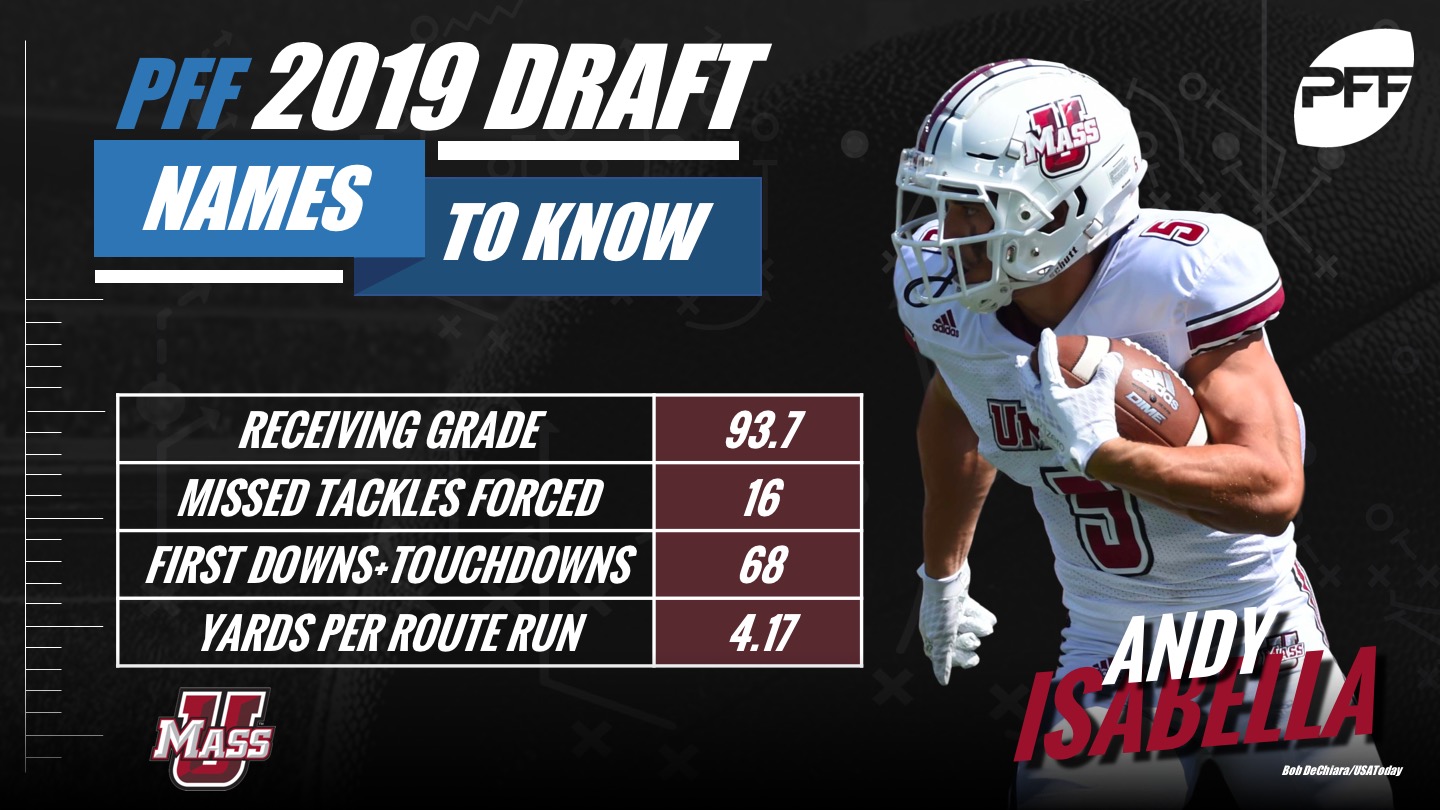 OT Dalton Risner – Kansas State (RS Sr.)
You'd be hard pressed to find too many more offensive linemen in the past decade with a more impressive college career than Risner. He's played 3,230 snaps at right tackle for Kansas State and allowed only 27 pressures. Over a dozen offensive linemen in college football have given up more than that this season alone. The lowest single-season grade in his four-year career was an 87.9 overall way back as a freshman. That's as dominant as we've seen for an offensive lineman in our grading system since we started grading college back in 2014.
OG Calvin Throckmorton – Oregon (RS Jr.)
Pretty much any interior offensive linemen, sans Quenton Nelson, is going to fly under the radar. You won't hear his name called on many Oregon broadcasts (although you should because it's an awesome name), but Throckmorton has been fueling the Oregon offense this season. He had an 89.5 pass-blocking grade a season ago and has a 91.7 pass-blocking grade this season. He likely projects better to guard at the NFL level, but has already shown he can pass protect at a high-level on the edge.
Edge Oshane Ximines – Old Dominion (RS Sr.)
Ximines already has well deserved Senior Bowl invite so he hasn't flown too far under the radar. It's hard to go too unnoticed though when you rack up 35 sacks in your college career. Watching Old Dominion games, their opponents have certainly taken notice. Ximines rarely gets the chance to go 1-on-1 because of how often he gets game planned for. He already has a full set of pass-rushing moves and is exceptional with his hand usage as most of that was on display in his 99.9-overall graded performance against WMI this past weekend. He isn't anything special athletically, but back-to-back seasons of 90-plus pass-rushing grades are hard to ignore.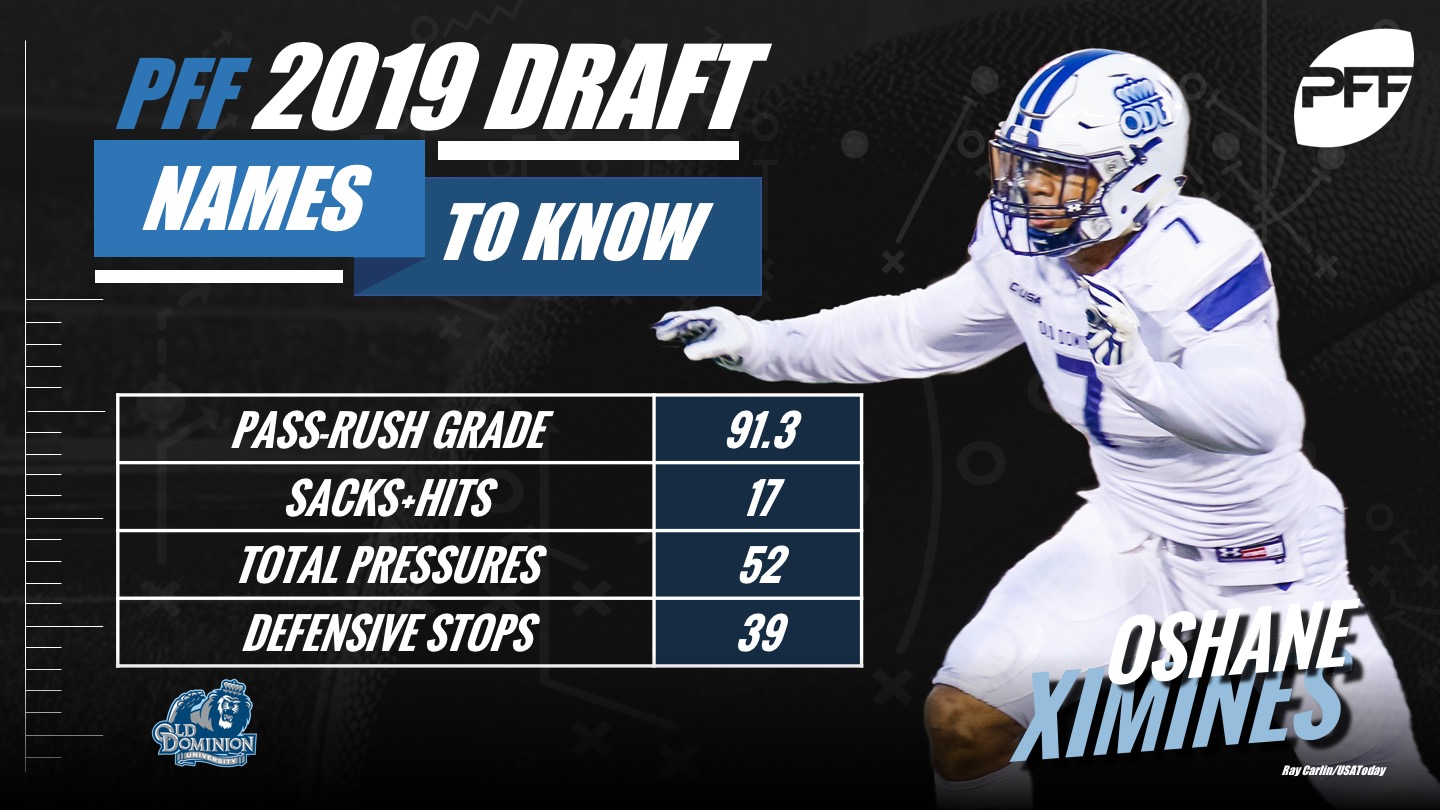 Edge Ronheen Bingham – Arkansas State (SR.)
The only player in the same stratosphere as Nick Bosa over the past couple seasons in terms of win-rate as pass-rusher is little-known Bingham. Bosa was the NCAA leader at 31.4% win-rate before his injury while Bingham isn't too far behind at 30.2%. The Arkansas State edge defender's explosiveness pops off the tape against the lesser competition he faces. He's far from a finished product, but his violent hands and relentless motor will do well for him at the next level. Earlier this season against Alabama, Bingham clowned top-tier tackle Jonah Williams on a spin move worse than any other defender has this season.
DT Jerry Tillery – Notre Dame (Sr.)
Tillery flashed big-time potential at times throughout his career, but never quite put it all together until this season. Listed at 6-foot-7, 305 pounds, Tillery's length and strength are elite. He already knows how to utilize his long limbs with an array of pass-rushing moves. His 90.9 pass-rushing grade is third best among interior defensive linemen in the country while his 37 total pressures are the second most.
LB Te'Von Coney – Notre Dame (Sr.)
Yet another Notre Dame senior who's had a productive career yet taken their game to another level this season. Coney may not be flashy but he has fantastic instincts for the position. He's rarely caught out of place and is as assignment-sound as any linebacker in the country. Coney has been targeted 32 times this season and allowed only 16 catches for 102 yards. The Notre Dame linebacker has the second-highest grade among all linebackers in the country (91.3).
CB Kristian Fulton – LSU (Jr.)
The other LSU cornerback. The biggest difference the top two cornerbacks on the field so far this season though has been prior reputation. Greedy Williams was a standout in 2017, earning third-team All-America honors in his redshirt freshman season. Fulton, on the other hand, was in the midst of a two-year ban he received for cheating on an NCAA drug test. That ban was cut short on appeal this offseason and Fulton has hit the ground running. He's allowed only 16 catches on 41 targets through 10 games for a passer rating of 62.4. Unfortunately, though, that's where his stats will likely finish the season after suffering an injury this past week against Arkansas.
CB Brian Peavy – Iowa State (RS Sr.)
Peavy has been one of college football's most productive corners during his career in Ames. He had an 82.7 overall grade as a redshirt freshman back in 2015, and has had grades of 76.2, 87.8, and finally 89.9 this season. He's amassed nearly 3,000 snaps in his college career and has never had fewer than six pass breakups in a season. He's never going to garner much high-end draft interest standing 5-foot-9 without exceptional athleticism, but Peavy's playmaking ability in zone coverage could make him a fantastic slot corner at the next level.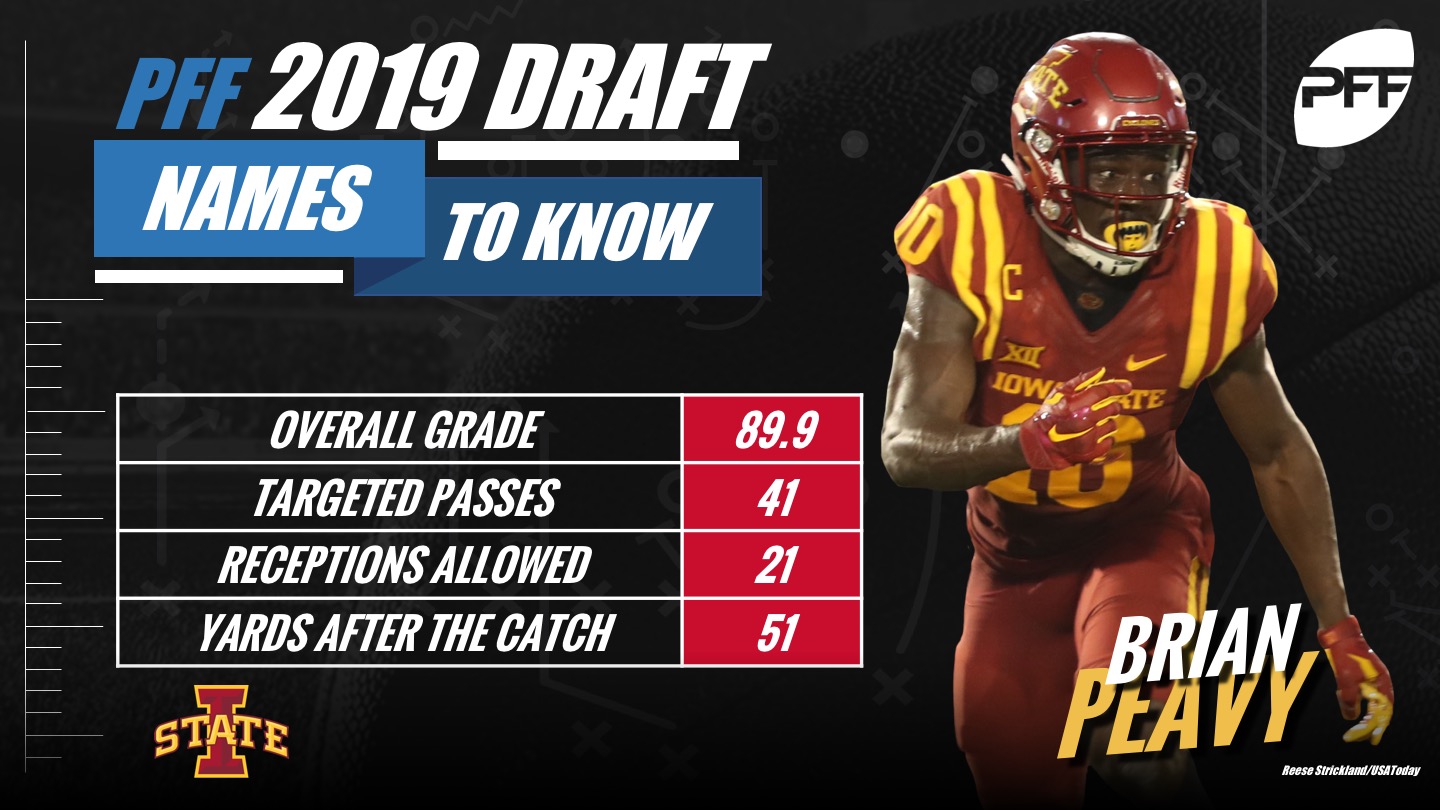 S Darnell Savage – Maryland (Sr.)
When throwing on his game tape, it doesn't take long to see that the Maryland safety lives up to his surname. Savage plays the safety position like he's mad at the football. He's at his best when he can attack downhill on receivers and ball carriers alike, amassing numerous highlight-reel hits this season. Last season, Savage's seven pass breakups were the fifth most of any safety in the country and this year he's been even stingier. He's allowed all of 190 yards in his coverage and a passer rating of 30.7 when targeted.