The 2017 season for Minkah Fitzpatrick will go down in the history books as the junior cornerback/safety hybrid earned both the Bednarik and Thorpe awards, just the third time a defensive player has won both in the same season. Fitzpatrick has received much-deserved praise for his play ever since high school and into each subsequent year of his career at Alabama.
In all three of his seasons for the Crimson Tide, Fitzpatrick finished with plus-grades while playing all across the Alabama defense in their 'star' role.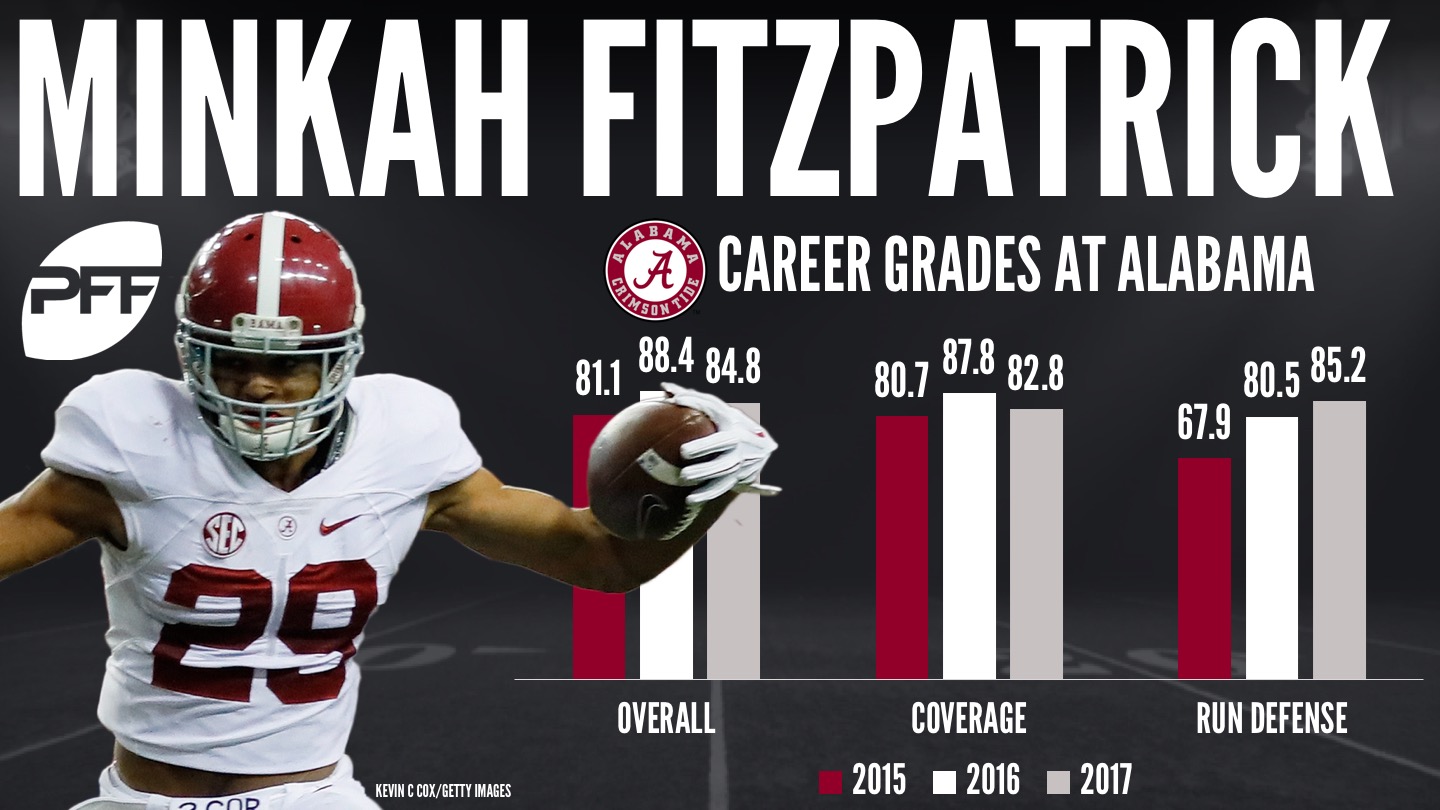 While he will undoubtedly hear his name called at the opening stages of the draft in April, where exactly did Fitzpatrick find his success in his final season in Tuscaloosa?
Last week, we featured where and how our top 10 wide receivers for the 2018 NFL Draft won on their respective route trees. This week, we'll be doing the same, but for our top cornerbacks in the draft. Covering a bevy of routes will be paramount for utilization across the field at the next level for these prospects and something some of these cornerbacks will be used to.

With that, here is where Minkah Fitzpatrick won in his primary coverage in 2017:
Breaking it down on a route-by-route basis, for wide receivers we used five targets as a minimum threshold to showcase their passer rating when targeted per route. For defensive backs, they are often less targeted than the top wide receivers, so we lowered our threshold to a three-target minimum per route, which still effectively showcases a player's prowess on any given route with enough of a sample size to avoid one bad play or one good play skewing the numbers too much in one side's favor.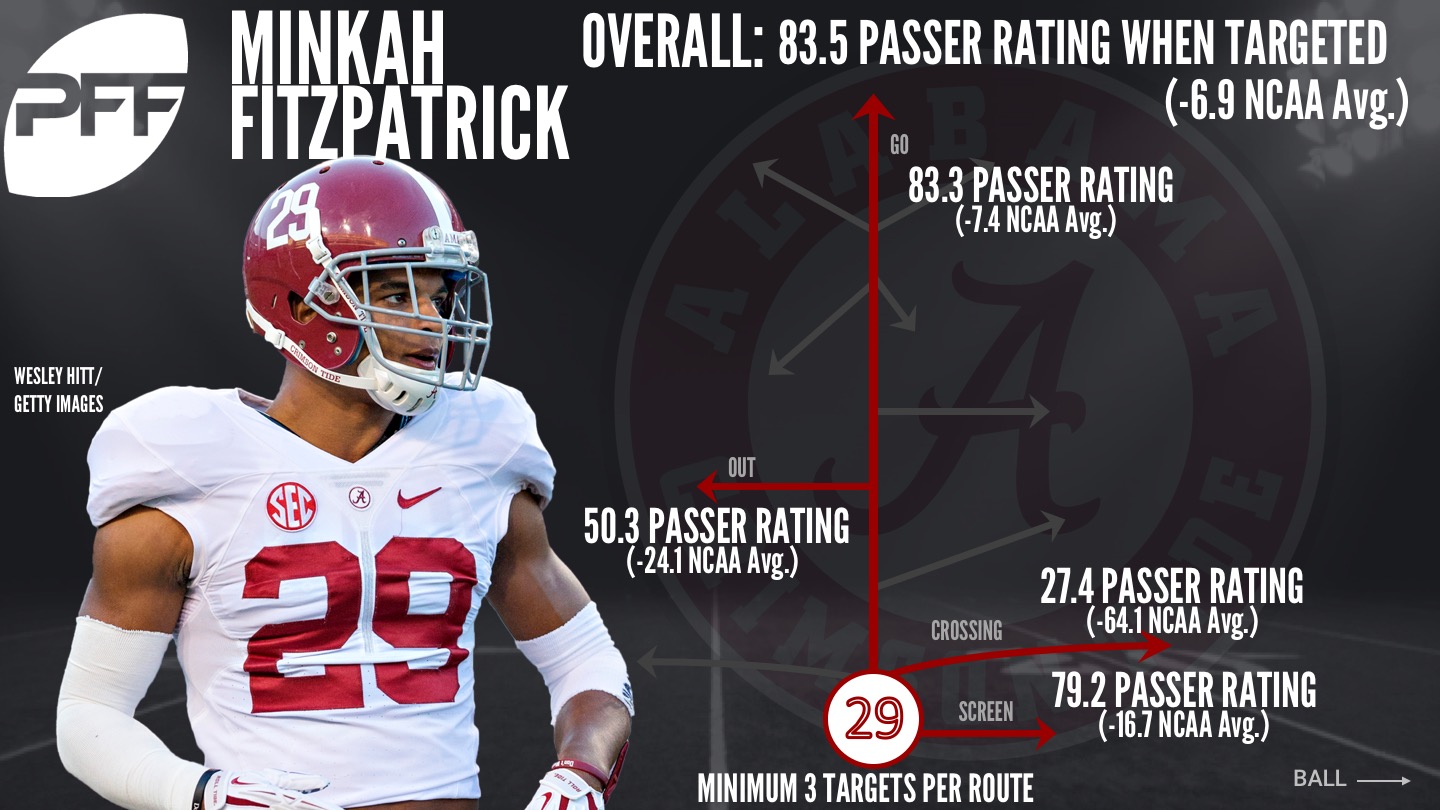 Logging the majority of his coverage snaps in either one of the slot positions, Fitzpatrick was heavily targeted on quicker-developing passes in the short game, sporting an average depth of target at just 5.8 yards past the line of scrimmage. What jumps out immediately on Fitzpatrick's route tree, is his success on crossing routes specifically.
He was targeted seven times on crossing patterns, allowing just three to be hauled in for a moderate 49 yards with his lone interception this season. All told, that equalled a passer rating of 27.4, or 64.1 points below the NCAA average for quarterbacks targeting a crossing route. Rounding out the shorter-developing routes is his 42.9 percent catch rate allowed on out routes, which he allowed just one yard after the catch on three receptions.
In total this season, he sported a passer rating of just 83.5 into his coverage, and while that number is relatively higher than most of our top cornerbacks in the draft, it is heavily weighted down by his only one interception. In actuality, his prowess from the slot, an increasingly valuable position, is almost unmatched in the draft class.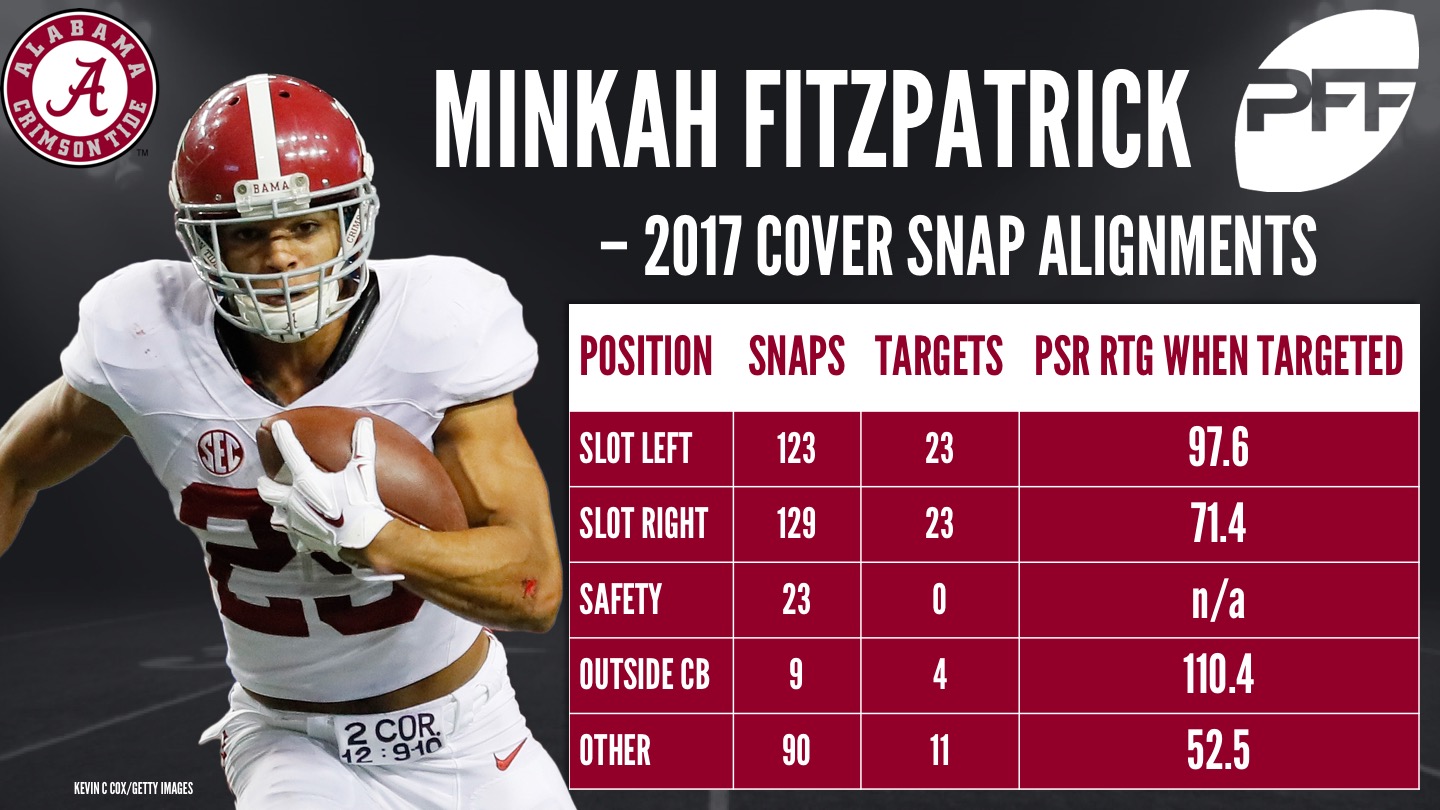 Fitzpatrick saw 23 targets from either side of the defense in the slot this past season, allowing 18 receptions from either alignment, but not allowing a single touchdown from inside. Those 'other' 90 snaps in coverage came from a safety alignment, showcasing his ability to play in coverage across the defensive formations in Alabama.
His utilization will be crucial at the next level, but in a league where a true slot defender is becoming increasingly important, Fitzpatrick's services should be highly coveted. Few in the class have demonstrated the ability over the years to cover both inside and outside as well as from a safety alignment and it's clear why Fitzpatrick has received comparisons to now-Houston Texans defensive back Tyrann Mathieu.
2018 NFL Draft
---
Mock Drafts: 1 (Oct. 31, 2017) | 2 (Jan. 18, 2018) | 3 (March 8, 2018) | 4 (April 3, 2018)
Top 100 Draft Board | Top 10 WRs on the route tree | WR prospect fits | DI prospect fits | Underrated west coast prospects | 5 boom-or-bust prospects
Position ranks: QB | RB | WR | TE | OT | OG/C | EDGE | DI | LB | CB | S
Draft Quarterback Study: Lamar Jackson
Draft Corner Route Trees: Josh Jackson | Minkah Fitzpatrick | Denzel Ward | Donte Jackson | Isaiah Oliver | Carlton Davis 
Predictive Analytics: PFF College grades translation to NFL for pass-rushers | PFF College grades translation to NFL for QBs